More people in the United States die from causes related to pregnancy and childbirth than any other industrialized nation. The most recent data available shows from 2018 to 2019, maternal mortality rates increased by 2.7 per 100,000 births, according to the Centers for Disease Control and Prevention. 
Significant racial and ethnic disparities persist — pregnant and postpartum Black Americans are 2.5 and 3.5 times more likely to die by causes related to pregnancy and childbirth than their white and Hispanic counterparts, respectively. 
Oklahoma is ranked 38 in maternal mortality with 33.9 deaths per 100,000 live births; Black and Indigenous people are three times more likely to die from childbirth or childbirth-related complications than white people, according to the Metriarch Data LookBook Vol. 2.
Though the numbers reflect a dreary outlook for expecting parents, local organizations, doctors and advocates are working to change health outcomes. Dr. Syeachia Dennis, a family physician and assistant dean at the University of
Oklahoma-University of Tulsa School of Community Medicine, puts some of the numbers into perspective: Some of the overall increase in maternal mortality can be attributed to people having babies later in life, which can go along with more chronic diseases like hypertension, diabetes and obesity. But digging into the racial health disparities reveals something deeper.
"I think specifically when you're looking at marginalized populations — Indigenous people, Black people — you definitely have to look at social determinants and structural determinants of health," says Dennis, assistant dean of equity and community engagement. 
When Dennis was in medical school in the early 2000s, she was taught Black and Indigenous populations have extra risk factors with pregnancy. "It was just kind of laid out there that those are the people who are at risk for all these different things — premature labor, preeclampsia …" but it left her wondering why these disparities existed between demographic groups.  
There have since been studies that show it is not just about varying lifestyle factors, Dennis says. "We see that especially for African Americans, even if you have someone who's from a high socioeconomic status, has an education, they still are more at risk for an adverse outcome during their pregnancy, than someone who doesn't have their level of education who happens to be white. We're beginning to understand there is a social context, a structural context, to that, including racism and including the fact that chronic stress increases the weathering on the body."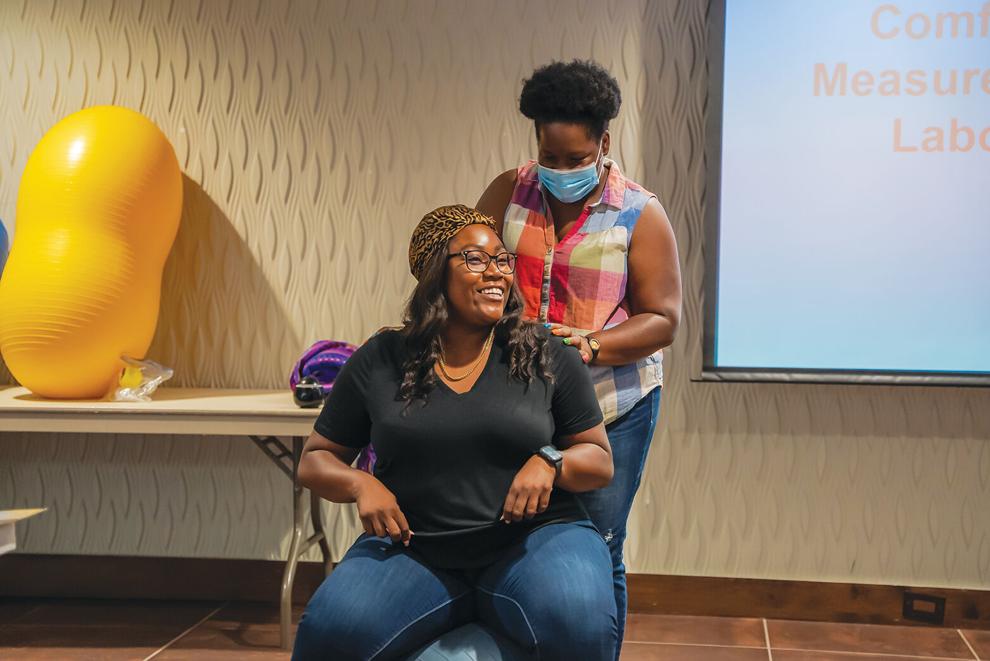 Weathering causes physiological responses in the body that increase the risk for diabetes, obesity, hypertension, stroke and more, Dennis says. "Those are the things a lot of marginalized populations carry into a pregnancy, that then contribute to their increased risk of adverse outcomes." 
Thus, the gap in health outcomes is two-fold: Some health disparities begin long before a patient gets pregnant, and racism in the health care setting also plays a role, Dennis says. 
Implicit and explicit bias can influence providers to rely on their own assumptions about a patient more than the patient's experiences. For the past five to 10 years, Dennis has seen more training on implicit bias in the field, and communities are addressing health care access. However, an increase in access does not necessarily result in better health outcomes because not all access is equal.
Patient education and self-advocacy are other keys to better health outcomes. Dennis is working with Tulsa Birth Equity Initiative, a local nonprofit with programs that address maternal health disparities, to develop a program for those planning to get pregnant in the next year. 
"We're working to develop a preconception group (with) shared medical visits to increase people's understanding about improving their health before they get pregnant," Dennis says. "It's almost like Lamaze, but before you get pregnant."
"Patients, especially those with comorbidities (hypertension, obesity, diabetes) go through a series of classes designed to ensure patients understand how these different conditions impact health and how you can improve those different conditions." The idea is to learn how to better manage chronic conditions before pregnancy and learn how to advocate for yourself within the medical system.  
Tulsa Birth Equity Initiative started in late 2019 as a community-based doula program that provides doula services to expecting parents. The organization also trains individuals to provide doula services on their own, Director LaBrisa Williams says.
 "When we say community-based doula training, we mean we employ people who are from the same community they're serving or have some shared lived experience," Williams says. "We serve teen parents with doula services, and we partner with and get a lot of referrals from a program out of Tulsa Public Schools called Strong Tomorrows (which helps expecting students through high school)."  
Tulsans Lauren and Brandon Oldham discuss their birth experience, as well as why they chose to hire a doula, Ashley, who trained via Tulsa Bir…
One of TBEI's doulas was a Strong Tomorrows student. "She has shared lived experience because she was a teen parent (in the) program, so really having some foundational connection to build that (doula-parent) relationship on is important," Williams says. 
TBEI-trained doulas are with a family during the prenatal, childbirth and postnatal phases for up to three months after childbirth "to make sure parents and support folks have all they need," Williams says. 
The organization will hold doula trainings in September, which are free and open to the public for registration and publicized on TBEI's Facebook page.  "Our mission is to equip families in Tulsa to have healthy births with dignity and to reduce maternal health disparities," Williams says. "We really envision a Tulsa in which all people are centered and respected before, during and after pregnancy."  
Next on the agenda, TBEI will launch a program called "Creating Safe Spaces for Black Women" this year, Williams says. It is hard to say exactly what it will look like because it will be community driven, but the program will include engagement sessions and group get-togethers. TBEI is hosting listening circles where Black women and Black mothers can share what they need from group. "Some (sessions) will be based around wellness activities and reducing stress, but it's really just a safe space for them to come connect and be in a safe space with peers," Williams says.
 For Dennis and others in the medical community, addressing health care disparities is a matter of revamping education and training aspiring physicians with community-minded practices. "(We're taught patients and physicians) can work together to really make these changes in patients' lives, and we can, and we do — it happens all the time," Dennis says. "But I think just grappling with the fact that the context our patients live in is such a large contributor to our patients' health. 
"My work is getting our med students, our learners, to really understand that and then figuring out how we can use our power and influence to improve the policies and systems impacting our patients' health. Because at the end of the day, those are the things that are going to be the controlling factors that get communities healthier."