Finding a niche: Ross Group
Although Tulsa's Ross Group was established in 1996, for most of its existence, the nature of its work has kept the company out of the public eye. Working across the U.S. for clients such as the Department of Defense, Ross Group has completed over $1 billion worth of contracts for the federal government alone.
However, with its recent investments in local projects like the Tulsa Boxyard, a retail development at the intersection of East Third Street and South Frankfort Avenue, and the beautifully restored Tulsa Club at 115 E. Fifth St., Ross Group has contributed substantially to the revitalization of Tulsa's downtown.
"It was about five or six years ago when we really started as a developer, and you began to see the Ross Group blue fence panels," says Matt Newman, vice president of development for Ross Group. "No one really knew who we were or where we'd been, but we were a very large construction company, just with a client you really didn't have to advertise for — that is, the federal government."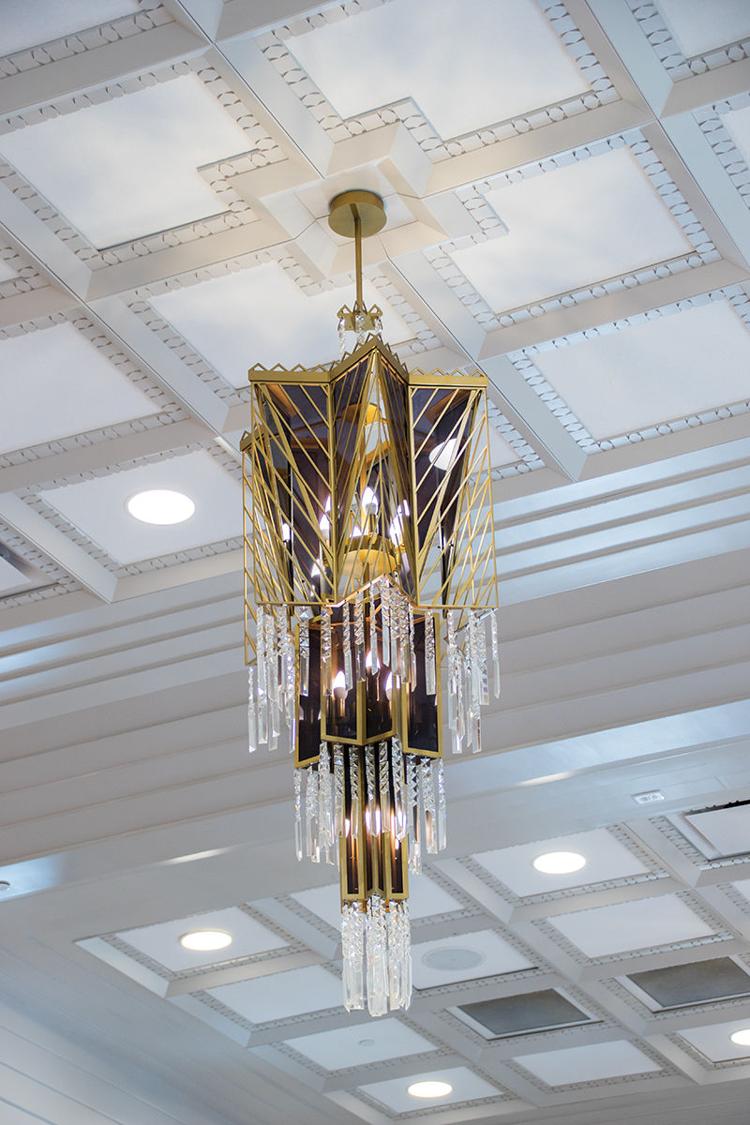 Six or seven years ago, Newman says, the company started to look at other opportunities to directly integrate within the company. Today it is a development, engineering and construction company with offices in Tulsa, Oklahoma City, Dallas and Houston.
"It's the old adage that it took 25 years to be an overnight success," laughs Warren Ross, the company's president, about the Ross Group's increased local presence.
The company's roots go back to 1979 when Jesse Ross founded J. Ross Acoustics and Drywall, a small contracting company specializing in carpentry and interior finishes. After graduating from Massachusetts Institute of Technology, where he studied mechanical engineering with a minor in urban planning and policy, Warren Ross returned to Tulsa, joining his father in the business and incorporating the Ross Group Construction Corp. in 1996.
A graduate of Tulsa's Bishop Kelley High School, Ross learned the construction business from his father while growing up in Catoosa. He recalls helping his dad estimate jobs at the family's kitchen table during high school, as well as plenty of hours doing demolition and pushing brooms on construction sites.
"My father was a proud union carpenter, and my family, even back to my grandfather were builders," Ross says. "I think I naturally had that building gene in me."
Although the government contracts served it well for decades, the Ross Group began to transition into more private, commercial construction endeavors as federal budgets began to shrink.
"We also are passionate about serving our local communities by redeveloping areas/buildings not in use and bringing them back to life," Newman says. The company saw the opportunity to diversify its business by applying the experience gained through its previous work to the niche market of renovating older buildings. One of its first projects was transforming the former International Harvester Building, at 510 E. Second St., into the Ross Group headquarters.
"That proved to the private, commercial world and the local Tulsa development community and construction community that we can take this expertise and knowledge we gained over the past 30 plus years on the federal government side and apply that to the construction projects on the private market, with ourselves as proof of concept," Newman explains.
According to Ross, the company's years of work for the Department of Defense taught them a lot about job safety, and because many military bases include historical buildings, Ross Group also gained significant skills in the area of historic rehabs, including the knowledge needed to navigate the regulatory labyrinth that goes along with that.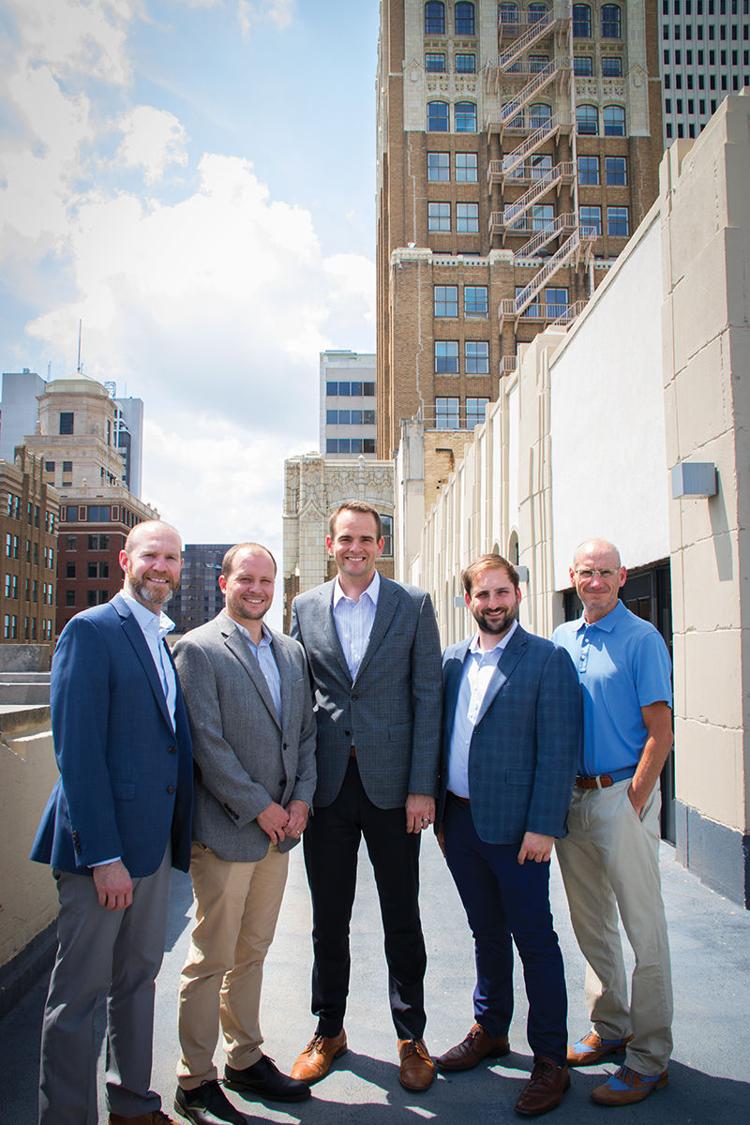 "We recognize that we are really good at bureaucracy," Ross says with a grin. Ross also is proud the company just surpassed 10 years without a lost time incident.
That specialized knowledge and skill set translated well when the company began to renovate some of downtown Tulsa's oldest buildings, including the iconic Tulsa Club.
This elegant art deco landmark was originally built in 1927. With its grand ballroom, Turkish baths, Italian stonework and flashy design, it was emblematic of the oil-boom culture. The building changed hands multiple times in the '90s, falling into disrepair and surviving three different fires. Ross Group bought the property in 2015, and in April of this year, the doors opened once again on this 11-story, 96-room, restored hotel. Ross Group still owns the Tulsa Club as a partnership with Promise Hotels.
"The Tulsa Club building really resonates and speaks to me personally and to our company. We like to hang our hat on it — the time it took for us to put that together and really bring back a classic monument to the city of Tulsa and the history of Tulsa," Newman says. "(It has been rewarding) just seeing the community welcome that building back and seeing people walk through and really enjoy the space, knowing what it took for us to bring that building to life."
The hotel itself is highly focused on preserving and celebrating the building's unique history. General Manager Chad Hovarth says the lobby-level bar, Commerce, and the hotel's restaurant, Chamber, pay homage to the early partnership between the original Tulsa Club and the Chamber of Commerce. 
"My favorite thing is when I give tours to people that spent their childhood coming to this building," Hovarth says. "They have so many amazing stories about the past of this building. It has even brought some people to tears because they are just so excited with what has been done to this building.
These three downtown restaurants are all waiting for you and, with one bite, will secure your place "in the know" about the Tulsa food scene.
"I've heard about the past VIP lounges, weddings, boxing matches in the ballroom, birthdays, and even heard stories about the staff having wheelchair races in the ballroom. There is just so much history to this building, and that is what makes it special."
Looking forward, Hovarth says they have an opportunity to create truly unique programming at the hotel. Plans are in the works for events like rooftop yoga, wine dinners, a New Year's Eve party, Breakfast with Santa, Scotch and cigar events, and more. "The Tulsa Club was always the place to be in the past; now our goal is to make it the place to be seen today," Hovarth says.
He has kudos for the Ross Group, too. "They have looked for perfection in every detail of the building," he says. "Keeping the careful balance of restoring a building to be truly historic, but bringing it up to speed with all the modern technology that a hotel has to have nowadays."
The family business: Brickhugger LLC and The Mayo
For sisters Macy Snyder-Amatucci and Shelby Snyder Hendrick, the Mayo Hotel in downtown Tulsa is much more than a business investment. It's home to countless family memories.
Snyder-Amatucci was a high school senior and Hendrick was in middle school in 2001 when their parents, John and Tori Snyder, purchased what was then an abandoned, dilapidated building at 115 W. Fifth St.
With no intention beyond saving an historical structure from demolition, the Snyders never anticipated their decision would grow into a family business. Eighteen years later, Brickhugger LLC owns and operates numerous properties in downtown Tulsa, as well as Pawhuska and Lubbock, Texas.
For Snyder-Amatucci, Hendrick and their parents, restoring and managing historic buildings is both a passion and a full-time job.
"Downtown Tulsa was dead. It was probably the riskiest investment you could make," Snyder-Amatucci says of her family's purchase of the Mayo. "The second we purchased the property, we had a lot of expenses associated with it. It was a dilapidated building getting ready to be torn down."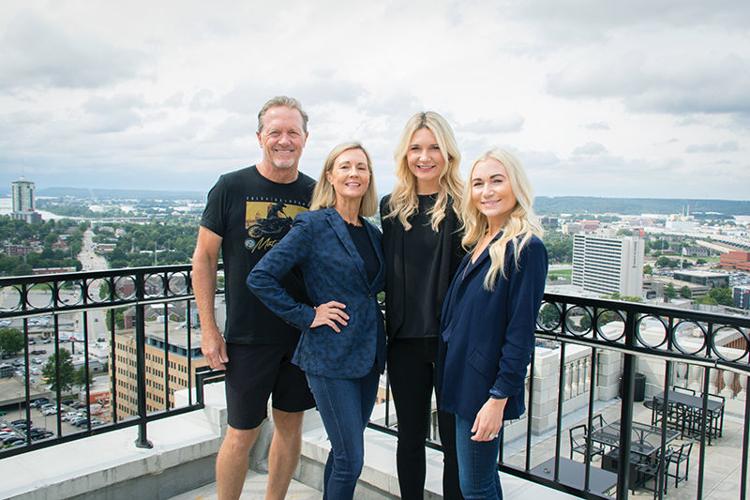 The building was purchased for $1. It was $250,000 for the parking lot behind it. "The plan was just to keep it from being torn down, and then figure out how to pay the loan every month," Hendrick says.
The women credit their father's love of history and his background in construction, along with their mother's legal expertise, as the necessary catalysts to bring the hotel back to life and turn that initial project into the business it is today.
They began by creating and renting out covered parking in the basement and did some work to eventually allow weddings and other events in the lobby of the old hotel. Meanwhile, the rest of the building was in ruins and empty. After the passage of Vision 2025, funds became available to encourage developers to invest in downtown housing. Snyder-Amatucci says Brickhugger was awarded $4.9 million, which piqued the family's interest in developing apartments in the building. Soon, the announcement of the BOK Center's location cemented the idea to complete the hotel and add housing. They closed the hotel in 2007 to complete the major renovations, with popstar Britney Spears as the first guest on Sept. 15, 2009. The Mayo officially opened December 2009.
Today, the Mayo is an upscale hotel that boasts a rooftop bar with an incredible view of the Tulsa skyline, a beautifully refurbished ballroom, meeting spaces, coffee shop and restaurant. It's also home to 76 luxury apartments.
Snyder-Amatucci is president of Mayo Hotel and Lofts Hospitality, the family's hotel management arm, and RTGS Broadway Development, which does historic development. Much of her time is spent overseeing the Snyders' hotel operations, which also include the Aloft Tulsa Downtown Hotel and their family's latest venture: the Frontier Hotel Pawhuska, located in the triangle building just across the street from Ree Drummond's booming Pioneer Woman Mercantile. Snyder-Amatucci says the fact both the Mayo and the Frontier Hotel are independent of any national hotel chain affiliation gives them the ability to brand the businesses in a unique way.
"The Mayo Hotel is the only luxury boutique hotel operation in Tulsa, because we are not affiliated with any hotel brand. With that said, we have the ability to constantly be changing as Tulsa changes and continue to offer a unique historic Tulsa experience," she says. "We are the one and only Mayo Hotel; you won't find our lobby, ballroom or hotel rooms anywhere else."
Hendrick agrees. "It also allows us to keep it local. We use local vendors. Often with franchise agreements you're required to use all of these different out-of-state, or even overseas, vendors.
"We want to spend all of our money locally because the majority of our business is with local Tulsans having their events here or bringing their corporate clients here. It's really important for us to not have any rules or regulations about having to buy outside Oklahoma. We want to buy local."
That desire to keep it local extends to the development side as well, including Tulsa real estate agents, architects and construction companies on all of their projects.
"Tulsa is such a specific market," Hendrick says. "People don't really understand that. It's unique and progressive. Tulsa is its own thing."
Although Snyder-Amatucci's primary focus is the hotels, Hendrick works mostly on the residential property and development side of the business, including the Mayo apartments, the Vandever Lofts with their 40 units, and the Y Lofts on the corner of West Sixth Street and South Denver Avenue — 79 affordable living spaces created out of the repurposed downtown YMCA.
Ongoing projects in Lubbock include the Courthouse Lofts, 25 apartments and office space housed in the former Federal Courthouse building; a 10-acre development with industrial warehouse properties at the edge of downtown; and plans for 50 apartments in the former County Jail. The Snyders see Lubbock as an untapped market of historic properties with opportunities for renovation, along with a 25% state tax credit.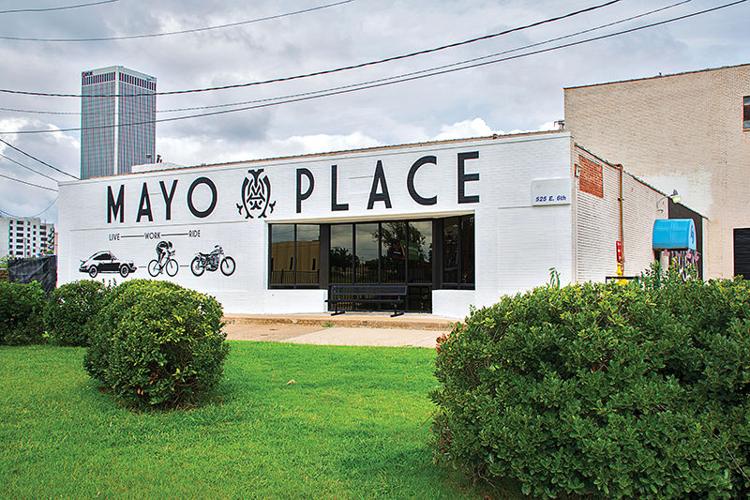 "Right now, Mayo Place is our next, big project," says Snyder-Amatucci of a multi-use planned development on the grounds of the former Nordam headquarters at 525 E. Sixth St.
According to Hendrick, Mayo Place willcombine residential, restaurant and retail developments. "It will be like a neighborhood. It's secure. It's its own entity," Hendrick explains. "But it also operates off of the East Village connection and all of the other great developments others have done."
Mayo Place also is home to the Mayo Moto Museum, a passion project for their father, John Snyder, who was a competitive motocross racer growing up and who has returned to racing vintage bikes in the past few years. The museum is a collection of over 200 motorcycles and plenty of gear and memorabilia — a bike lover's paradise.
This June, Snyder created a festival called the Mayo Moto Street Classic, collaborating with California custom cycle company Roland Sands Design to bring Super Hooligan motorcycle racing to Mayo Place. The event attracted 3,500 fans to town for a day of professional and amateur motorcycle racing, art and music. Plans are underway for the 2020 event.
Working in a family business presents challenges, as well as rewards.
"It's nonstop," Hendrick says. "We talk business at the dinner table. It's very hard to turn off, and for our business, it's not always good to turn it off. We really don't ever fully turn it off because we are a business that always needs attention."
Snyder-Amatucci concurs. "Our business, whether it's the hotel side or the apartment side, is 24/7. If we have mechanical emergencies that happen overnight, we have to deal with them, or we have employee-related things going on during a weekend."
In many ways, Hendrick believes their experience exemplifies the "American Dream."
"You start out, and it's a huge risk," she says. "I think a lot of people never take a risk like this in their lives, and for us, every single risk hasn't been an immediate reward. It has been a ton of hard work and time.
"We were born in Texas, but we all grew up here. We didn't have this handed to us. We didn't grow up with the benefit of just being able to invest in things. We worked hard for every single thing we had, and so did our parents. Now we can look at the things we developed and owned and managed and what we have in the future to develop, and it all came from
hard work."
John and Tori Snyder continue to be involved in all the family businesses, and the sisters have a great appreciation for their parents' contributions.
"My mom raised all three of us, and then she went back to law school (at the University of Tulsa). She was a Texas A&M business graduate," Hendrick says. "When you think about everybody's talents in the family, she gave us the idea that it's never too late to do anything, and invest in your home place. With her, we have all of the legal knowledge and her experience. She is really knowledgeable about tax credits and those legal aspects. It's super complicated. Our dad has the construction background, and he has the vision. It's really the perfect combination of the yin to the yang."
It's that shared vision and a shared love for the city that ties this family together.
"We grew up in Tulsa. We all live here," Hendrick says. "Our siblings and our family are here. Our kids are here, and we want them to grow up here. We're heavily invested in Tulsa. We're building this for the future. You always want your kids to have it better than you did, and I think we want to leave Tulsa better than we found it." 
Arena District update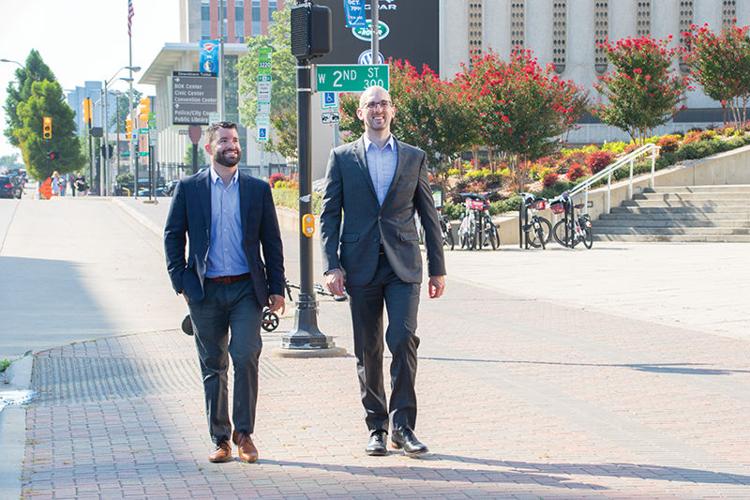 Anchored by the BOK Center and the Cox Business Center, the Arena District occupies a 30-block area on the western edge of downtown. However, while development in the Blue Dome District to the east and the Tulsa Arts District to the north has created thriving neighborhoods with a robust mix of entertainment, business and residential properties, this distinctive wedge of downtown hasn't quite reached its potential.
The Arena District Master Plan, a collaborative project launched in February 2018 with members of the City of Tulsa's staff, representatives from the community and a consulting team, is working to create a guide to integrate, develop and revitalize this district.
"What we haven't seen, despite that level of success for those anchoring institutions, is that spurring of additional development happening around them and the creation of a larger neighboring community," explains Nick Doctor, the City's chief of community development and policy.
The "surge populations" served by these facilities (large numbers of people coming in for specific events, then leaving immediately after), the "legacy institutions" (older buildings whose historical use no longer aligns with area development goals) and the neighborhood's lack of walkability are some of the challenges the district faces, according to Doctor.
"A big part of what the Arena District Plan calls for is making this a vibrant 18-hour neighborhood with multiple uses," he says. "Part of that is having increased residential density in downtown. How can we make downtown a place that is accessible to everyone from a residential perspective, and how do we start aligning our incentives around that, as well?"
In the broad picture, the Plan looks at ways to connect the Arena District to other entertainment areas. Other goals include building brand identity for this particular part of town and improving the streetscaping and signage to make it more welcoming to visitors and residents alike.
"One of the first priorities in the Plan for Denver Avenue would include streetscaping," says Brian Kurtz, executive director of the Tulsa Downtown Coordinating Council. "Denver is a major spine in the Arena District, and it's also one of the main connecting points between downtown and the riverfront and on to the Gathering Place."
Both Kurtz and Doctor emphasize the intentionality of the plan, from engaging the community and developers in the process to creating a document that is immediately actionable.
"One of the key benefits is how much of the Arena District right now is owned by the public sector — whether it's local, county or federal — and how that helps control the destiny of some of these projects," Kurtz notes. "Very specifically, the Plan calls for a convention center hotel and identifies the existing site of the municipal court building as the desired location. The fact that's controlled by the City really helps move the process along."
More information about the Arena District Master Plan can be found at cityoftulsa.org.