If you like to entertain at home, as I do, the holidays can be one crazy time of year. Planning recipes, organizing shopping trips, setting the table — a person can get a little harried. This year I'm getting some professional help. I've called on some of Tulsa's best chefs to lend their expertise in holiday cuisine, while party planner extraordinaire Karen Kantor helps out with gorgeous flower arrangements and table settings. Pick one — or all! — of their great ideas to help create your holiday feast, or just for a great dinner in.
Duck prosciutto with huckleberry gastrique
Serves 8 to 10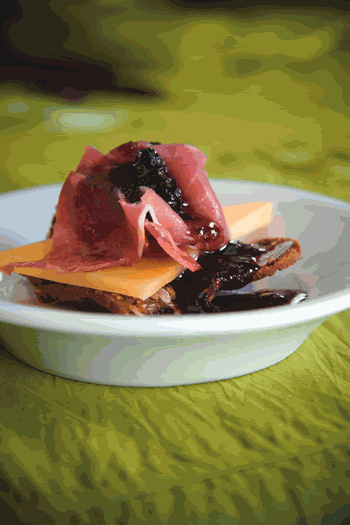 2 10-ounce duck breasts
2 cups kosher salt
1/2 cup sugar
2 sprigs fresh thyme
1/2 tablespoon black peppercorns
2 garlic cloves, thinly sliced
2 bay leaves, crumbled
1 teaspoon juniper berries
Huckleberry gastrique (recipe follows), for serving
1. Place duck breasts in the freezer for 20 minutes to harden skin and fat. Trim skin and fat to 1/8 inch. Combine salt, 1/2 cup sugar, thyme, peppercorns, garlic, bay leaves and juniper berries in a medium bowl. Place half of the salt mixture in a 9-inch-by-9-inch baking dish. Place the duck breast on the salt mixture flesh side down. Cover breasts with remaining salt mixture. Cover with plastic wrap and another 9-inch-by-9-inch dish, and place a few cans of food or soup in the dish to weigh it down. Allow duck breasts to marinate for 4 days.
2. Rinse off salt and pat the duck breasts dry with paper towels. Wrap in cheesecloth and refrigerate for 3 weeks. Slice thinly to serve, paired with huckleberry gastrique if desired.
Huckleberry gastrique
Makes about 2 cups
A sort of French sweet-and-sour sauce, gastrique is a vinegar- and sugar-based sauce that is evaporated down to a syrupy consistency and often mixed with fruit. Huckleberries are wild, blue-black berries that closely resemble blueberries but are slightly less sweet and have small, hard seeds. Blueberries or lingonberries serve as a fine substitute.
1 cup sugar
3 tablespoons water
1/2 cup apple cider vinegar
1 cup huckleberries
1. Combine sugar and a few tablespoons water (just enough to be able to stir sugar) in a heavy saucepan. Cook over medium-high heat until the sugar becomes caramelized — turns a light amber color. Do not stir with spoon or spatula; just swirl lightly to combine.
2. Remove from heat and carefully add vinegar. Do not stir; just swirl pan lightly to combine. Place back over medium-low heat and simmer until sugar dissolves. Add huckleberry and reduce sauce to desired consistency; it should be thick and syrupy.
Prosciutto, chicken and goat cheese strata
Serves 8 to 10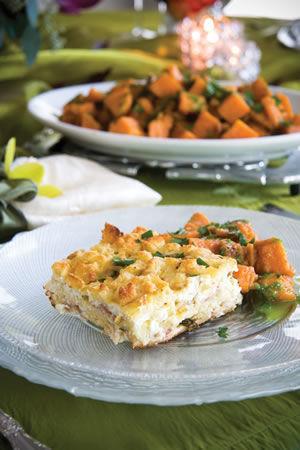 18 slices potato bread, crust removed
6 ounces thinly sliced prosciutto
2 skinless and boneless chicken breasts, grilled, cooled and shredded
8 ounces crumbled goat cheese
4 ounces grated Monterey Jack cheese, about 1 1/2 cups
1/4 cup chopped chives
6 tablespoons fresh basil, sliced
5 large eggs
2 cups milk
1 tablespoon Dijon mustard
1/2 teaspoon salt
1/4 teaspoon freshly ground black pepper
3 tablespoons butter, melted
1. Line the bottom of a 13-inch-by-9-inch-by-2-inch glass baking dish completely with 1 layer of bread, cutting some slices to fit. Arrange half of prosciutto and chicken evenly over bread. Sprinkle half of goat cheese and half of the Monterey Jack. Sprinkle half of the chives and basil. Top with a second layer of bread. Layer remaining prosciutto, chicken, goat cheese, jack, chives and basil atop bread. Cut the remaining bread into 1/4-inch cubes and sprinkle over the top.
2. Whisk eggs, milk, mustard, salt and pepper in a bowl. Pour egg mixture over strata and press down on bread with spatula, encouraging it to soak up liquid. Drizzle melted butter over strata, cover and refrigerate overnight.
3. Heat oven to 350 degrees, uncover strata and let stand at room temperature for 30 minutes. Bake until center is set, about 1 hour. Remove from oven and preheat broiler. Place strata under broiler until top is golden, about 30 seconds. Cut into large squares and serve.
Chef Anthony's "Ocho Rios" sweet potatoes
Serves 8 to 10
Executive Chef Anthony Card of the River Spirit Casino tosses simmered sweet potatoes with a butter, brown sugar and rum mixture. Garnished with a grass-green herb oil, these sweet, boozy potatoes are sure to become a holiday favorite — definitely a part of my Thanksgiving table this year.
2 pounds sweet potatoes
1 cinnamon stick
1/4 pound unsalted butter
1/2 cup dark brown sugar
1/2 cup dark Jamaican rum
1/2 teaspoon freshly grated nutmeg
1 tablespoon pure vanilla extract
1/2 teaspoon sea salt
1/4 cup coarsely chopped pecans (optional)
Chopped flat-leaf parsley, for serving
Chive oil (see recipe on p. 106), for serving
1. Peel and rinse sweet potatoes, then cut into 1 1/2-inch cubes. Add to a saucepan along with cinnamon stick, cover with cold water and bring to a boil. Simmer until potatoes are tender to the touch but not overcooked, 25 to 30 minutes. Drain well, discard cinnamon stick and return potatoes to saucepan.
2. Meanwhile, combine butter, brown sugar, rum, nutmeg, vanilla, sea salt and pecans. Add mixture to drained potatoes, stirring to combine, and continue to cook over low heat for 10 minutes. Serve, topped with parsley and a drizzle of chive oil.
Editor's Note: Alcohol will cook out of dish and you can taste the dark rum flavors.
Spinach, beet and walnut salad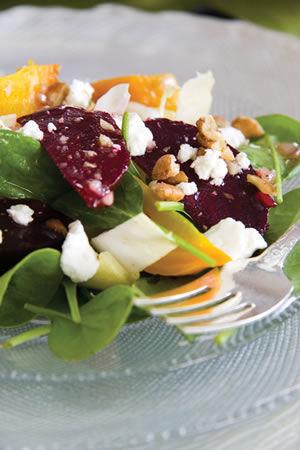 At The Canebrake, nestled near Lake Fort Gibson in Wagoner, guests can enjoy wonderful cooking, then snuggle into cozy cottages for the evening. Chef Sam Bracken uses walnut oil to lend an obviously nutty flavor to this hearty winter salad, but extra-virgin olive oil can be used as well.
1 1/2 pounds medium beets, greens trimmed
1/2 cup walnut oil
1/4 cup sherry wine vinegar
2 large shallots, minced
Sea salt (or kosher salt) and fresh-cracked black pepper to taste
12 ounces baby spinach
4 heads Belgian endive, thinly sliced crosswise
1 cup walnuts, toasted and coarsely chopped
6 ounces soft fresh goat cheese, crumbled
1. Heat oven to 400 degrees. Wrap beets in foil and bake until tender when pierced with a knife, about 1 1/2 hours. Cool slightly and peel off skins. Cut each beet into 1/2-inch-thick wedges, place in a bowl and cover.
2. Whisk together oil and vinegar, add shallots and season with salt and pepper to taste. Pour 3 tablespoons dressing over warm beets, toss gently and cool in refrigerator. Can be made up to a day ahead, but keep the dressing and beets separate until just before serving.
3. Combine spinach, endive and 3/4 cup walnuts in a large bowl. Pour remaining dressing over and toss gently by hand. Check seasoning and divide mixture among 8 to 10 plates. Garnish with beet wedges, goat cheese and remaining walnuts.
Braised chestnut soup with apple cream and shaved truffle
Serves 8 to 10
The Chalkboard restaurant, nestled cozily in the historic Ambassador Hotel, is known for rich European cuisine — and this festive winter soup by new Executive Chef Cameron Werry is no exception. Werry has shaken things up a bit, however, such as his rare Ahi tuna crusted with fennel pollen. For a smoky flavor, Werry likes to toast his black peppercorns — heat them in a dry skillet until fragrant, being careful not to burn them.
1 cup brandy
1/2 cup (1 stick) plus 1 tablespoon unsalted butter
1/4 cup olive oil
4 leeks, white parts only, thinly sliced and rinsed well
4 cups fresh or frozen peeled chestnuts*
3 sprigs fresh thyme
2 bay leaves
5 cups hot chicken or vegetable stock
5 cups hot water
1 cup heavy cream
Kosher salt and freshly ground black pepper to taste
1 cup apple juice
1/2 cup heavy cream
3 medium Fuji apples, peeled, cored and diced
1 black truffle, enough to add a few
shavings to each bowl
1. Heat oven to 375 degrees. Bring brandy to a boil in a small saucepan, reduce to a simmer and cook until reduced to 1/4 cup; set aside.
2. In a large oven-proof saucepan or braising pot, melt 1 stick butter and olive oil over medium heat. Add leeks and cook, stirring occasionally, until soft, about 10 minutes. Add chestnuts, 2 of the thyme sprigs, bay leaves, stock and 5 cups hot water. Stir to combine, cover and place in the oven. Cook, stirring every 15 minutes, until chestnuts are tender, about 45 minutes total.
3. Remove pan from oven, stir in 1 cup heavy cream and let cool. Puree the soup in batches in a blender, then strain through a mesh sieve into a saucepan. Whisk in the reduced brandy and season to taste with salt and pepper. Soup can be refrigerated at this point for up to a day. Reheat gently before serving.
4. For the apple cream, combine apple juice, remaining 1/2 cup heavy cream and remaining thyme sprig in a small saucepan over high heat. Bring to a simmer and cook until reduced to 1/2 cup. Melt remaining 1 tablespoon butter in a sauté pan over medium-low heat and add apples. Sauté apples until soft but still slightly crunchy, about 5 minutes. Remove thyme sprig from cream mixture and add cream to the apples. Season to taste with salt and pepper and set aside.
5. To serve, place a hearty spoonful of the apple mixture in the center of each bowl. Ladle soup around apples and top with a few shavings of truffle.
*Peeled chestnuts are available at Williams-Sonoma, Whole Foods and Petty's Fine Foods, especially around the holidays.
Chive oil
Makes about 1 1/2 cups
Executive Chef Anthony Card at the River Spirit Casino drizzles this aromatic oil over his famous sweet potatoes, but it is also nice spooned over grilled fish or chicken, or over slices of tangy goat cheese on warm crusty bread.
4 ounces fresh chives
2 garlic cloves
Kosher salt and freshly ground black
pepper to taste
10 ounces vegetable oil
Combine all ingredients in a blender until very smooth. Season to taste with salt and pepper.
Lemon raspberry cake
Makes 1 4-layer cake
This is just one of the gorgeous desserts served at the Savory Chef Café (the café is tucked behind the Savory Chef's vast retail space and offers lunch daily and dinners on Saturday evenings) and makes a gorgeous centerpiece at any holiday dinner. For a festive holiday twist, use sweetened cranberry preserves in place of the raspberry, and grated orange zest in place of lemon zest.
2 1/4 cups cake flour
1 tablespoon baking powder
1/2 teaspoon, plus a pinch salt
1 1/4 cups buttermilk
4 large egg whites
1 1/2 cups sugar
2 teaspoons grated lemon zest
2 sticks unsalted butter, room temperature
1/2 teaspoon pure lemon extract
5 cups confectioners' sugar
1/4 cup whole milk, plus more if needed
1 teaspoon pure vanilla extract
2/3 cup seedless raspberry preserves
1 1/2 cups sweetened coconut, toasted if desired
1. Heat oven to 350 degrees. Grease and flour 2 8- or 9-inch round cake pans. Sift together cake flour, baking powder and 1/2 teaspoon salt. Whisk together milk and egg whites. Place granulated sugar and lemon zest in a large bowl, or the bowl of a stand mixer, and rub together with your fingers to infuse the sugar. Add 1 stick butter and mix for 3 minutes. Beat in extract. While beating, add 1/3 of the flour mixture, then half of the egg mixture. Continue beating, adding half of the remaining dry ingredients and the rest of the egg mixture. Beat for 1 minute, then add the last of the dry ingredients. Beat batter for 2 minutes. Divide batter equally among prepared pans. Bake until cake is springy and toothpick comes out clean, 30 to 35 minutes. Cool completely.
2. To make the frosting, beat together confectioners' sugar, milk, vanilla extract, pinch of salt and remaining stick of butter in a large bowl until fluffy, adding additional milk if necessary to achieve desired consistency.
3. Unmold cake from cake pans. Cut each cake in half crosswise to make 4 layers. Place one layer on a platter or cake stand. Smear a thin layer of frosting over layer, followed by a thin layer of preserves. Repeat between remaining layers. Frost sides and top of cake, then pack sides and top with coconut. Chill cake, if desired, to harden frosting.