Luxe Furniture and Design has gone through several iterations and locations in Tulsa.
It was originally Norwalk Furniture, changed to Luxe Home Interiors in 2008, and was rebranded Luxe Furniture and Design in 2014.
In March, the store moved from its location in the Kings Landing Shopping Center on Riverside Drive to a new larger space at 10545 S. Memorial Drive.
Tamara Noel's relationship with the store has changed, as well. She went from a loyal customer to its owner in 2013, transforming her passion for interior design into a career.
"I spent seven years working on the trading floor of a local natural gas company," Noel says. "Although I always knew I was meant for entrepreneurship, my time there in the corporate world taught me a lot about business, time management, risk-taking and networking."
Luxe offers furniture and home accessories for every room, but also more specialized areas like nurseries, home offices and even outdoor spaces. Luxe carries some privately labeled products, but most of the inventory is sourced from approximately 30 different manufacturers to offer a variety of styles at various price points.
In addition to furniture, the store also offers complimentary one-on-one design services with one of the company's six designers.
"They're here to help you execute your vision," Noel says. "They come out to your home and take measurements and learn how you and your family use your home to provide the best recommendations and options for furniture and decor. They help you with the big picture."
Noel and her team attend market events each year to see and hear about the latest trends, materials and pieces in interior design.
"A lot of it follows the trends in fashion — the colors, patterns, textures," she says, but Luxe isn't beholden to them. "We see what's out there and what's right for us. What's right for Oklahoma customers is different than what's right for California customers."
Luxe Furniture and Design
10545 S. Memorial Drive | 918-459-8950 | luxetulsa.com
9 a.m.-7 p.m., Monday-Thursday; 9 a.m.-6 p.m., Friday-Saturday; noon-5 p.m., Sunday.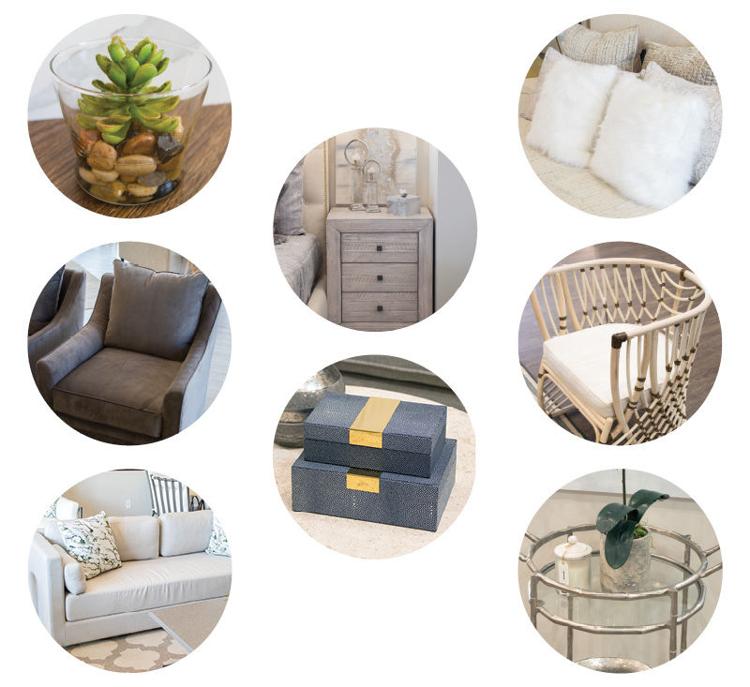 Succulents are still popular. The best thing about these — they never die. $33.
A Luxe best-seller, the Clancy nightstand is a good size while offering a neutral, yet interesting, finish. $521.
Perfect for a sofa or bed, these white sheepskin throw pillows offer neutral texture. $60 each.
Another popular item, the custom swivel chair is customizable, comfortable and provides great function. $702.
Shagreen, which is faux stingray and shark skin, adorns this set of boxes. $93.
Wooden, woven decorative accent chairs add an organic element. $515.
Perfectly suited for a patio, the Sunbrella fabric on this upholstered outdoor sofa can withstand the elements. $3,380.
Bar carts are still a must. This silver bamboo bar cart delivers modern style. $381.