Metal muffin tins, a mechanical bull, plastic horse toys. The artist wish list for Ahha Tulsa's "The Experience" reads like a psychotropic-induced dream. And perhaps that's not too far off. 
When the exhibit opens to the public June 30 at 101 E. Archer St., visitors of all ages will be treated to an interactive, multimedia, art adventure that transforms not only the entire second floor of the building, but perhaps their definition of art, as well.
"'The Experience' will be vastly different from anything previously shown at Ahha," says Amber Litwack, director of education, public engagement and national partnerships for Ahha Tulsa. "Visitors will be surprised by the immersive, fantastical, encompassing nature of the exhibition, as well as components that will shift visitor perception about what art is."
JP Morrison Lans is one of five lead artists working on the installation. Morrison Lans, who considers herself primarily a drawing artist, has turned her skills to sculpting for this exhibit. She has enjoyed both the artistic and logistical challenges this project presents.
"Everything we're doing needs to be durable enough to last the extent of the exhibit (which is undetermined, according to Ahha Tulsa) while also accommodating the restrictions of the space so that they can reset the space for whatever comes next," Morrison Lans explains.
She hopes the whimsical, playful nature of this exhibit will appeal to a broad audience. "Art should be fun, or at least engrossing to the point where it brings people in who maybe weren't looking at art much before," she says. "It's a way to give people an entrance into more complicated work and perhaps lead the way to some of the more esoteric, conceptual stuff that deserves attention but doesn't necessarily catch the eye."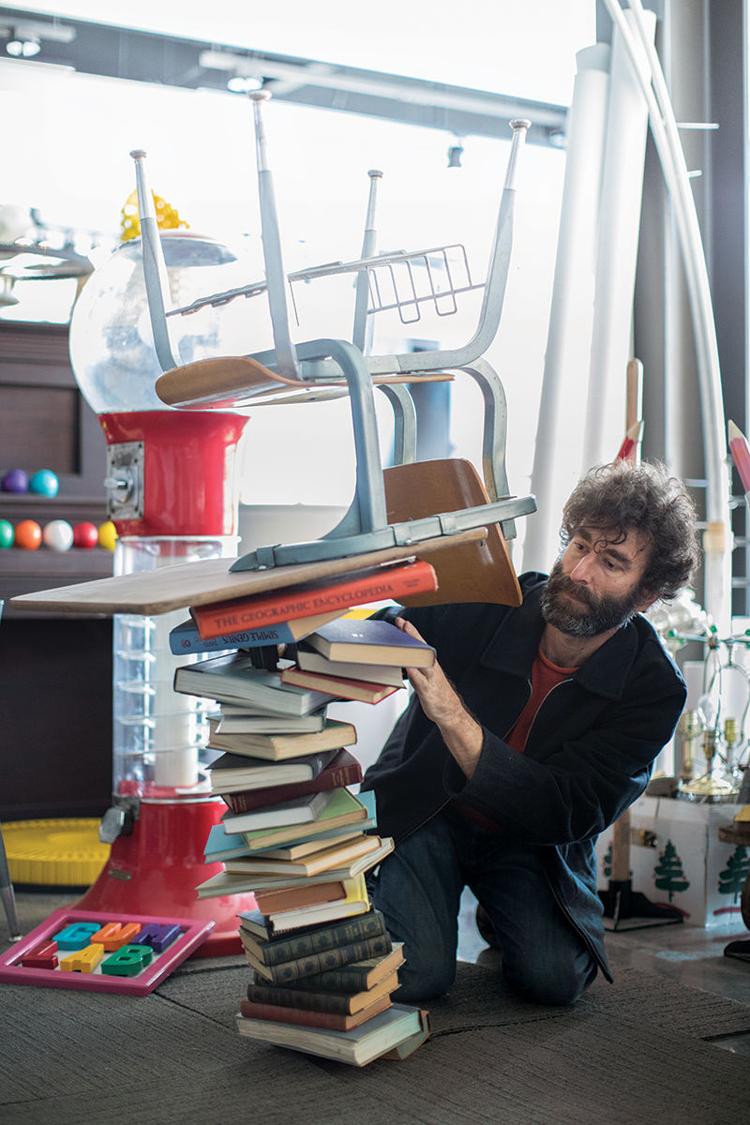 David Reed James grew up in Southern California and moved to Tulsa in 2013. When he's not traveling the U.S. sculpting enormous props for films like "Black Panther" and "A Wrinkle in Time," he can be found on the second floor of Ahha Tulsa, crafting his own fantastical corner of "The Experience."
"I've always been really hands on," recalls sculptor David Reed James. "My brother and I used to build a Halloween tunnel every year. My dad would take us to collect giant appliance boxes, and we made a maze through the backyard. It got more and more elaborate."
James' space includes a sleep chamber, where people are invited to publicly nap, and a hairdryer tree made from PVC pipe. "I hope to give adults the opportunity to behave as children again," he says.
---
---
"The Experience"
Member preview: May 22-June 24
Public launch: noon, June 30
For more information, visit ahhatulsa.org.
---
---
What's in a name?
The building formerly known as the Hardesty Arts Center is now called Ahha Tulsa. The Arts and Humanities Council of Tulsa Board of Directors voted recently to change the name to "something modern that encompasses the organization's mission to cultivate creativity in Tulsa, while also honoring its decades-long history," according to staff.