The first year as a teacher can be difficult. Three years ago, Cassandra Knuffman was hired as a Tulsa Public Schools elementary teacher. Even with a degree in education, Knuffman was challenged in her role, navigating the tough situations she faced. She remembers crying in her classroom that first year, and struggling to handle situations with parents and administration.
Knuffman is one of approximately 180 teachers to benefit annually from mentoring through Tulsa Public Schools' novice teacher program. This effort represents a partnership with New Teacher Center, a national organization "dedicated to improving student learning by guiding a new generation of educators," according to the NTC website. TPS has had a district-level novice teacher support program for approximately six years, and has partnered with NTC since the launch.
Novice teachers, by definition, have less than three years of experience. For this school year, TPS hired 446 teachers, 35 percent of which hold alternative or emergency certifications. It's no secret that hiring and retaining qualified teachers is an issue for Oklahoma, ranked 50th in the U.S. for starting teacher pay and first in budget cuts to education.
Katy Ackley, director of the novice teacher support program for TPS for the past three years, says two of the top reasons teachers leave are low pay or classroom management issues (lesson plans, overwhelming expectations, feeling unsupported).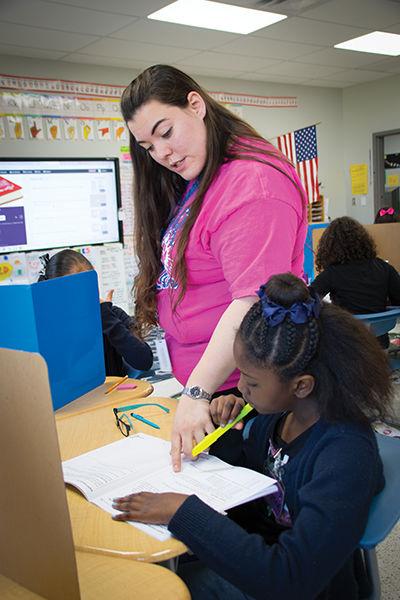 "One is within our control, one is not," Ackley says. "By increasing the investment in classroom management, we hope more teachers will remain in the classroom."
The Foundation for Tulsa Schools is the funding connection between TPS and New Teacher Center, according to Brian Paschal, the foundation's president and CEO.
The TPS/NTC program works like the-house-that-Jack-built with an education twist. TPS has a contract with the New Teacher Center. The foundation reimburses the district for the associated NTC costs and provides partial funding for the novice teacher initiatives. For the 2018 fiscal year, the foundation committed $281,000 for novice teacher supports.
In past years, the foundation had funded smaller teacher projects, or "grants for great ideas" as Paschal calls them. Over the past decade, the foundation has added a focus on larger, strategic investments including support for the Office of Student and Family Support Services, Community Schools and STEM education.
TPS already had a working arrangement with New Teacher Center, but when the contract had to expand for multiple reasons, including the adoption of new state standards, the foundation stepped up.
"Last year 32 percent of novice TPS teachers didn't return," Paschal says, citing that there could be several reasons — including underfunding and misaligned state priorities — for the departures. "That affects classrooms, students and teachers."
Retention rates for teachers who receive mentoring through the novice teacher program have historically been much better, approaching 80 percent.
The tab to re-staff 400 or 500 teachers can run as high as $3 million. That includes recruitment, training and replacing the loss of knowledge. "If small investments reduce turnover, it reduces the costs to the district," Paschal says.
"By nature, I'm optimistic," adds Paschal, who came to the foundation from the Tulsa Regional Chamber. Education, to him, is a way to ensure Tulsa's success and prosperity.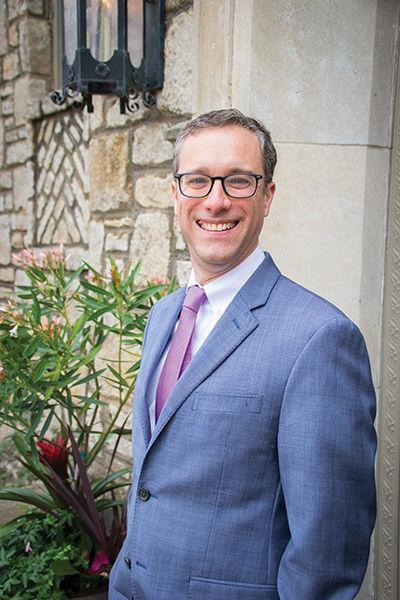 "I see how much education plays into our ability to attract companies, to grow a workforce. We can't get to where we want to be as a city without investing in our future workforce," he says.
Knuffman's mentor is Nicole Sendejas, a TPS instructional coach with an undergraduate degree in elementary education and a master's in curriculum. When Sendejas entered the program four years ago, the focus was the innovative side of teaching: incorporating technology, games, the real world. For the past two years, it has been back to basics.
"There's some truth to the fact that some people are just natural teachers," she says. "Others take longer." Sendejas begins with a baseline assessment of where each teacher is and what their core beliefs are, then merges that information with the bigger system.
For instance, Cassandra Knuffman was already an innovative teacher. Mentoring, for her, simply reaffirmed her ideas and took them to the next
level with materials and resources.
"As a teacher, you're on an island. You're not sure what's successful," Sendejas explains. She taught Knuffman to focus on individual students. Acknowledging correct behavior and areas where the student is succeeding sets a tone in the classroom.
Students want to please teachers they know care about them. "Behavior is a choice. They choose whether they want to please or annoy," Sendejas says. And, although this exercise isn't about academics, it has an effect in that arena, too.
Thirteen mentors have a caseload of up to 15 teachers each. Right now, 150 first-year teachers are receiving one-on-one mentoring support. Mentors are trained teachers on a contract who have been released from teaching duties to provide full-time mentoring support. Mentees are identified by their previous experience level, the pipeline by which they enter TPS and by the subject areas they teach. Typically, mentor and teacher meet two to three times a month for a total of up to three hours of one-on-one time.
During the sessions, mentors help teachers with lesson planning, they observe and provide feedback, they advise and support and, finally, they analyze student learning. How'd the lesson go? Did the students learn? How can we change the lesson to work better? The pair also address teacher-driven goals and specific teacher needs.
Mentoring, like teaching, is based on strong personal relationships. "Nikki encouraged me to push myself," Knuffman says. "She taught me to be a builder, not a belittler; by being a builder, not a belittler."
Knuffman admits her first years of teaching have challenged her.
"Veteran teachers can do their job, then go home to have dinner with their families and think about other things," Sendejas explains. "Novice teachers are always planning their days. They don't have their rhythm yet." It's her goal to help them find it.
Since being mentored by Sendejas, Knuffman has participated in professional leadership on a team basis, something she never would have had the confidence to do before being mentored.
"I know I'm making a difference with new teachers. They tell us all the time," Sendejas says.
Program director Ackley wants to make Tulsa the best place to teach in the state. Despite the low pay and high stress of the field, she encourages those in other professions to consider teaching.
"Here's your chance to make a difference in the lives of kids. To lead them to bigger and better things," she says. "What more important work can we do?"