Over the past decade, the local T-shirt industry has grown with gusto. The designs range from kitschy and humorous to modern and edgy, but all have found an audience. Regardless of style, there's no doubt Tulsa is overflowing with creative talent.
However, for most designers, this isn't a quest to create the hottest logo or the next big catch phrase. It's their megaphone to the world.
Local artist Steve Cluck believes tees give a voice to the sentiments so many Tulsans feel.
"I have lived here my entire life and I love it here, so I wanted to say something nice about our community, which is what inspired I Heart Tulsa and Don't Hate the 918," Cluck says. "It has been very meaningful that the message of positivity resonated with so many other people. I think people have been wanting to say how much they love Tulsa, and the shirts give them a way to say it."
There's no doubt pride runs deep here in the heartland, but maybe these artists were the galvanizing force that finally brought it to the surface.
Go to: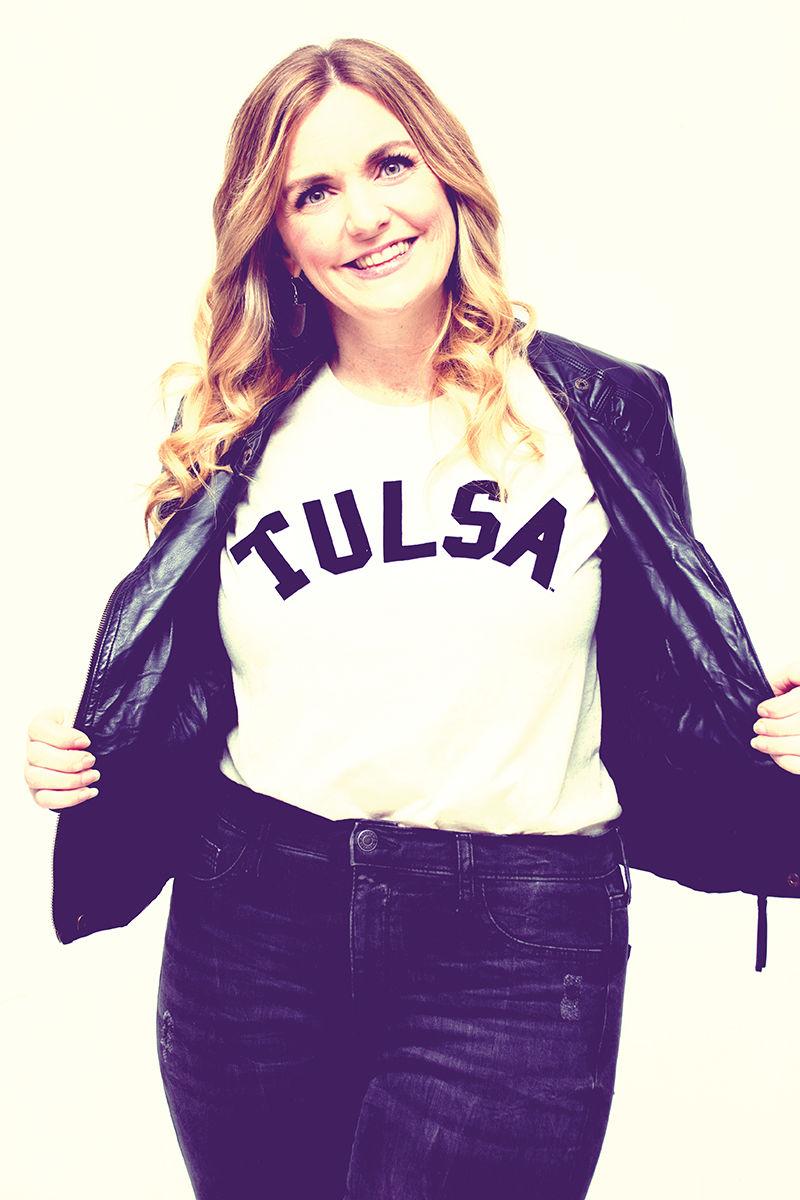 A focus on family has been the driving power behind LivyLu. In 2003, Tiffany Riley and her mother, Brenda Holder, started a craft purse company hoping it would eventually enable Riley to stay home with her two young children.
The pair found a niche in sorority and collegiate gifts and apparel.
"We were selling our purses to stores in college towns, and they requested we add T-shirts to our line," Riley says.
While Riley's children, Luke and Olivia Louise — the company's namesakes — were at school, she and her mother worked from her home, making every product by hand.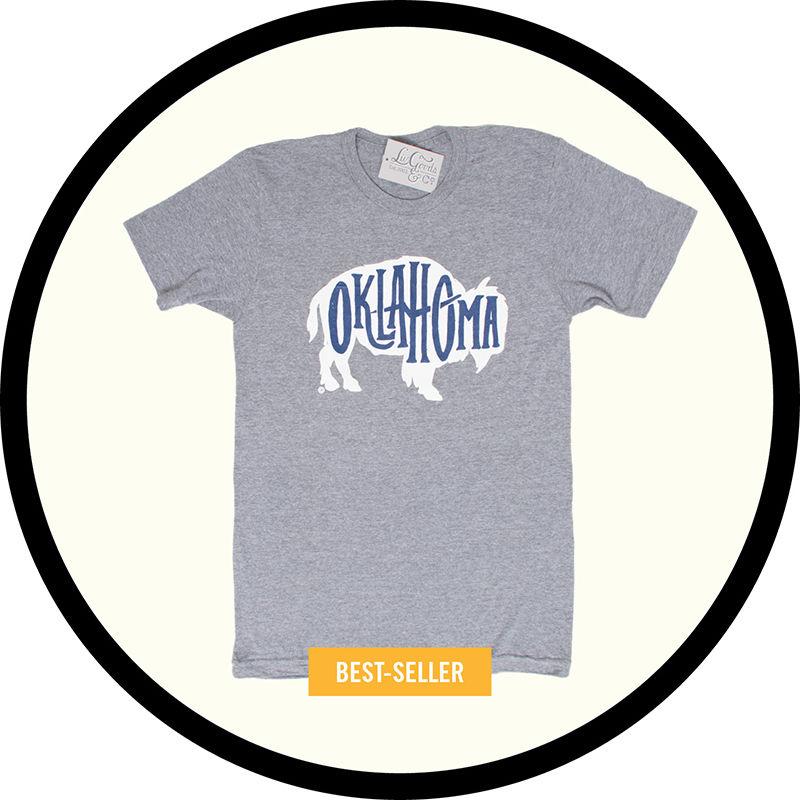 Riley moved her business out of her home and added new team members she affectionately calls the LivyLu crew.
"It's still a family business — the LivyLu crew is a family," Riley says.
In fall 2017, LivyLu opened its first store. Located in the Pearl District, LivyLu is popular with women college age and older. Riley and her team find inspiration in vintage designs and images for their products.
"We just design things we like and hope everyone else feels the same," Riley says.
And apparently they do.
"The Oklahoma bison tee is our all-time best-seller," Riley says. "I love our Tulsa flocked tee. It's simple and amazing. I'm a Tulsa native, so I love sporting anything with hometown pride."
However, customers don't have to be from Tulsa to enjoy the products. Currently, LivyLu carries unique designs for 13 states, six collegiate teams and various other themes, as well as home goods and children's apparel. They also can create custom designs for high schools, groups and personalized children's apparel.
LivyLu products can be purchased in the store at 1316 E. Sixth St. and at shoplivylu.com. Limited selections also can be found at local retailers Stash, Ida Red, MetroShoe Warehouse, J's Hallmark, Trinkets, J. Spencer, Lolly Garden and Pavilion.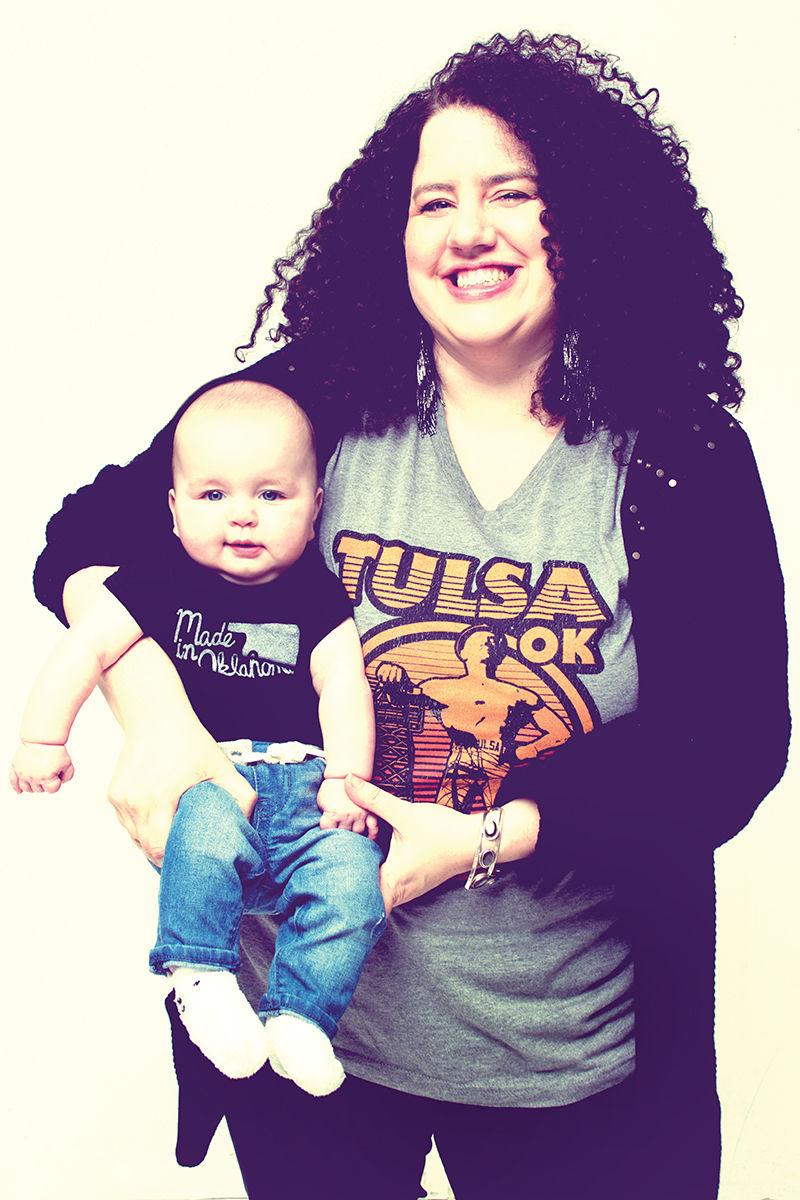 This award-winning gift shop carries everything from retro candy to Tulsa snow globes, and a multitude of goods in between.
Owner Angelene Wright has a simple formula for stocking an endless selection of Oklahoma products. "If we want to buy it, we make it happen," Wright says.
An ardent promoter of all things Tulsa, this state pride superstore is the perfect pit stop for visitors and locals. Chances are you've even seen several people sporting a shirt from Ida Red General Store; they've been outfitting Tulsans since 2008.
Wright collaborates with a creative team to cultivate original designs.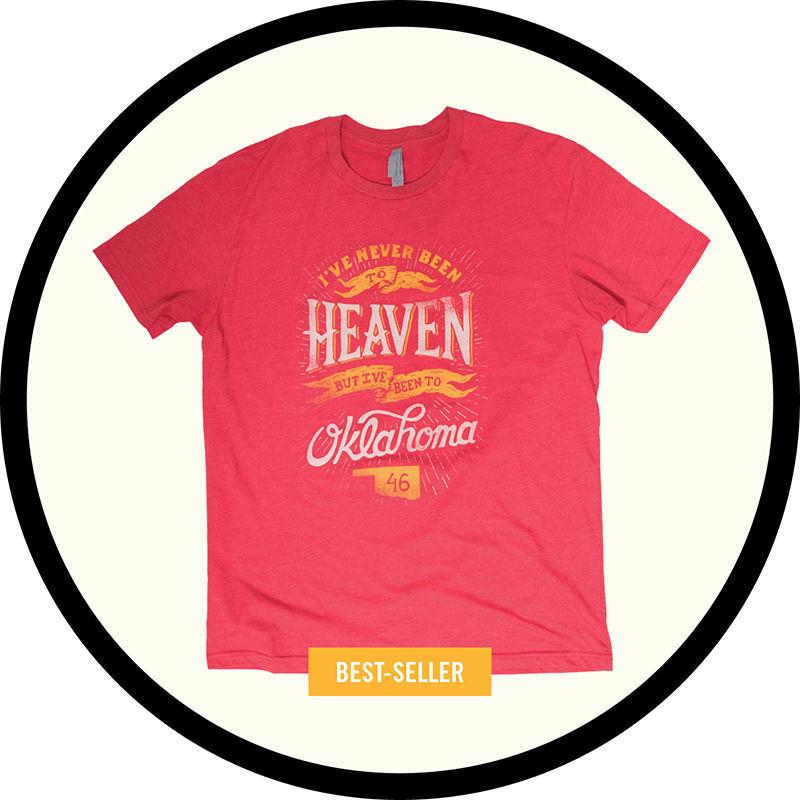 "My new favorite items are our Leon Russell T-shirts that are licensed by his family, and they are exclusive to Ida Red," Wright says.
"We have a shirt that says 'Someone in Tulsa loves me', and I just love that one," Wright says. "It's such a great shirt to mail to someone who's  not from here. It's so sweet."
Along with their Ida Red line of apparel and gifts, they carry many other local designers and a wide variety of novelty candy and soda.
You can shop Ida Red's products at either location — 208-A N. Main St. or 3336 S. Peoria Ave. — or at idaredgeneralstore.com.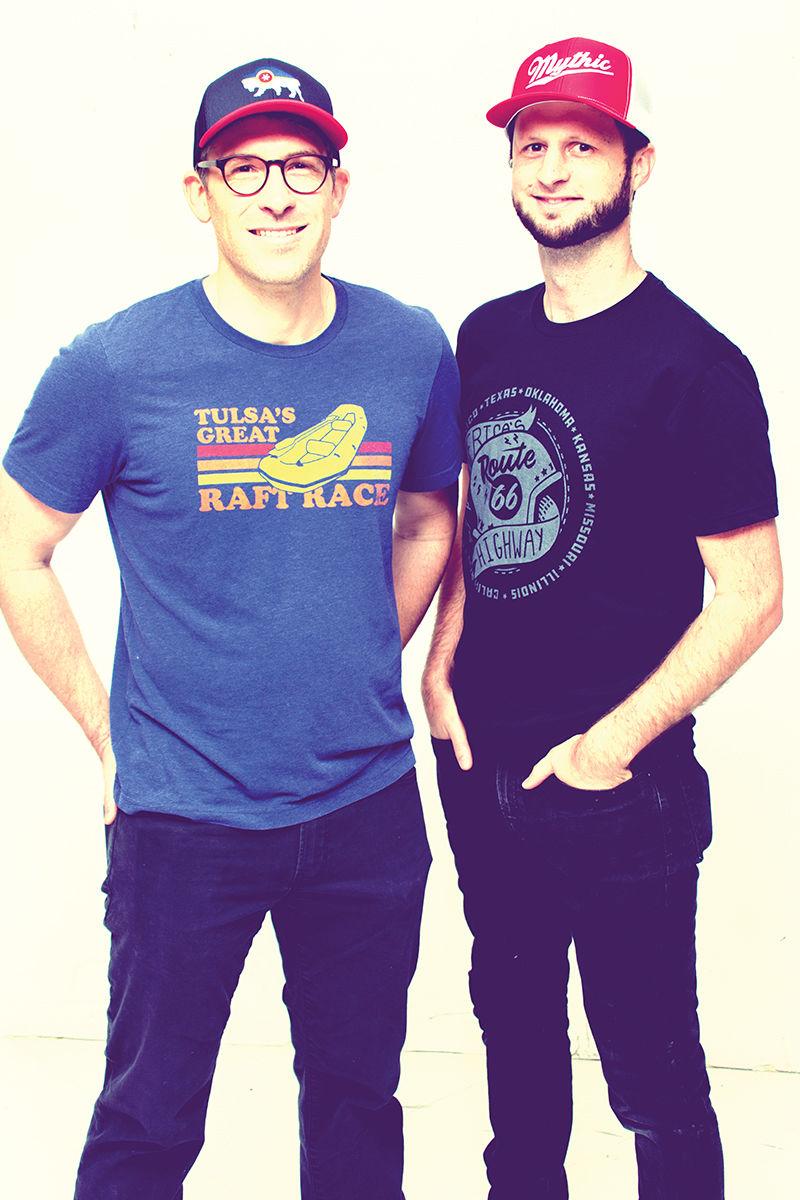 Mythic Press was born from the collaboration of Cole Cunningham, a marketing professional, and Hershel Self, a skilled printmaker and designer. Mythic's designs focus more on corporate and event branding than retail merchandise.
"Our team has produced designs for Woody Guthrie Center, Kilkenny's, Coney I-Lander and the Great Raft Race, among others," Cunningham says.
"Merchandising is one of many ways in which a brand can increase its visibility, recognition and customer engagement," he adds. "It requires more than simply slapping your logo on a T-shirt. The personality of your brand must be expressed across a variety of products, using a consistent message that resonates with your target customer. That's where we come in."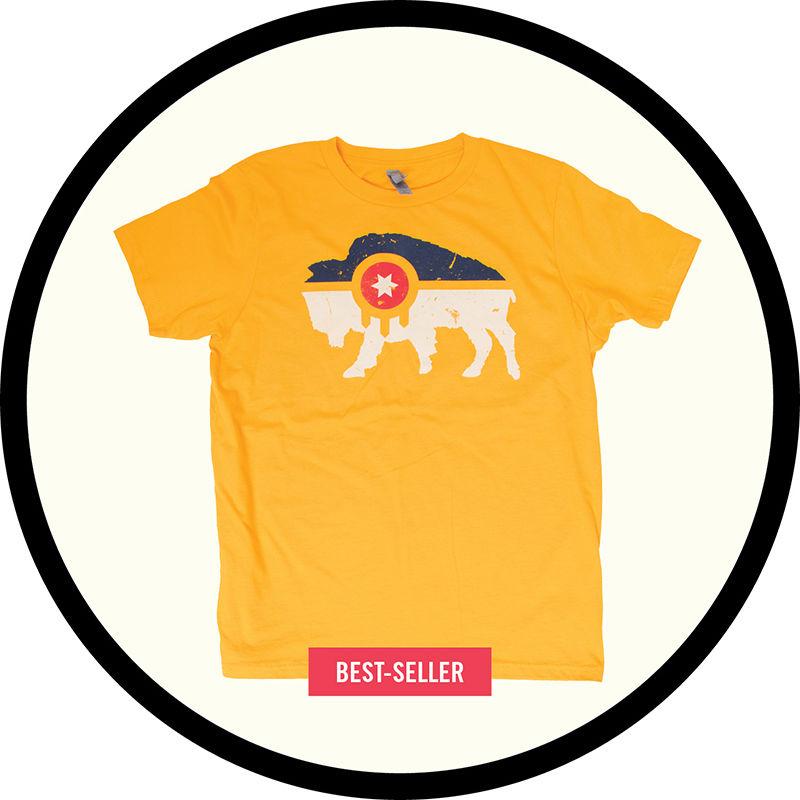 Cunningham says they've worked hard to develop a process that clearly defines the goals of each project.
"We try to tailor each design to the intended audience. It's also important to understand the constraints," he says. "For example, if an event only has $5 per shirt in their budget, we are going to have to get creative with fewer colors and print locations on the shirt. We look at our clients as partners and work together to find the best solution for their needs."
Although Mythic Press' primary focus is brand merchandising and marketing, it does sell original creations in its shop at 2020 E. 11th St.
Mythic Press's newest concept was inspired by Route 66, on which their shop is situated.
"Our most successful retail design is the bison flag," Cunningham says. "However, given our shop location and interest in the Mother Road, we are working on some new collections. Stay tuned."
To shop Mythic Press's products, go to shop.mythic.press.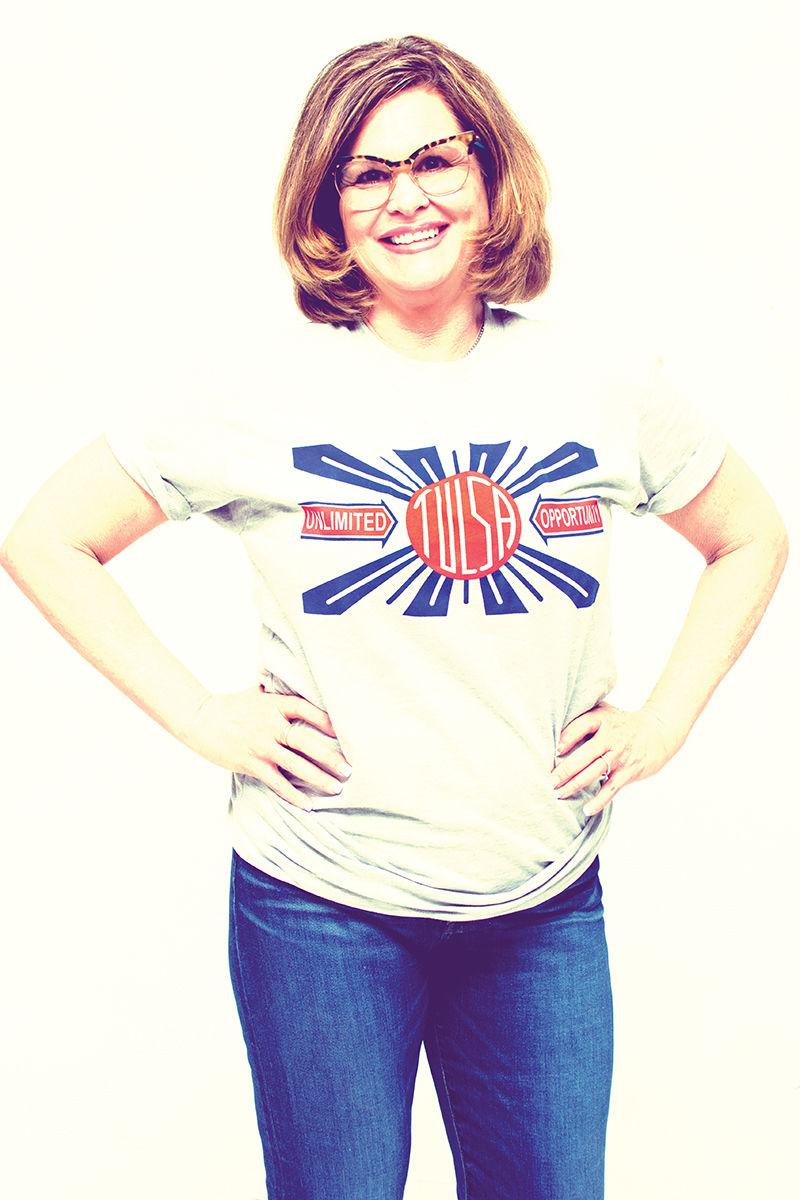 If local nostalgia is what you're craving, proceed immediately to downtown Tulsa. Tucked in a cozy nook on South Elgin Avenue, Boomtown Tees offers an ample dose of yesteryear to those who have called T-Town home for decades.
While handling the marketing for Boomtown Tees, Joann Frizell fell in love with the store's concept and persuaded the original owner to sell her the business in 2015. Frizell believes her demographic only has one criteria.
"To love Boomtown Tees, you have to love Tulsa and Oklahoma," she says.
And if you possess the prerequisite, you're bound to find something you like. Its apparel ranges from newborn to 4XL and also is available at boomtowntees.com.
All printing is done in house by Frizell's son Travis, and his friend, Parker Anderson. Tulsa-based graphic designer Cody Bailey handles custom designs for groups, events, schools, etc.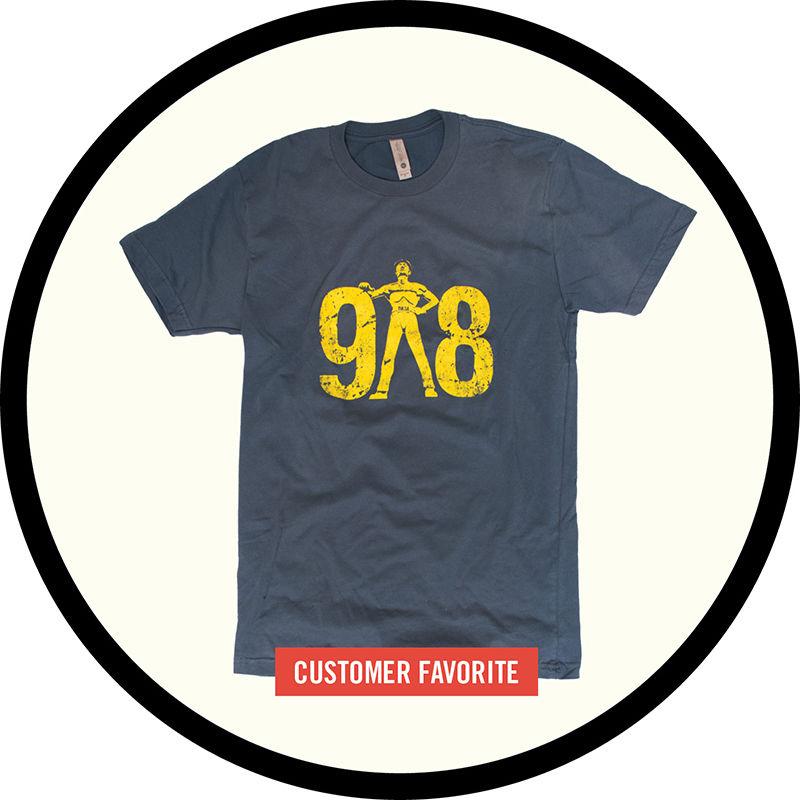 Conveniently, Boomtown has a 25-minimum order, so they can screen print anywhere from a couple dozen T-shirts to 10,000.
If you ever screamed on Zingo, admired the architectural genius of the Camelot Hotel, or cheered on Tulsa's long-defunct pro football team the Oklahoma Outlaws, then the voluminous stock of clever Tulsa tees will be a refreshing walk down memory lane.
However, its products go beyond iconic T-shirts. Boomtown Tees sells Oklahoma-themed jewelry, pint glasses, souvenirs and more.
Frizell believes people gravitate to designs that take them back to another place and time. Each month they release an original design for just $10.
"Our $10 shirt is consistently our best-seller each month," Frizell says. "It's a brand new, Oklahoma-flavored tee."
Though when it comes to her favorite design, Frizell prefers to go back to where it all started: the 1924 Tulsa Flag shirt, depicting the city's first flag. It is emblazoned with the words "unlimited opportunity," which applies perfectly to Tulsa's trendy T-shirt industry.
See all of Boomtown's offerings at 114 S. Elgin Ave. or visit boomtowntees.com.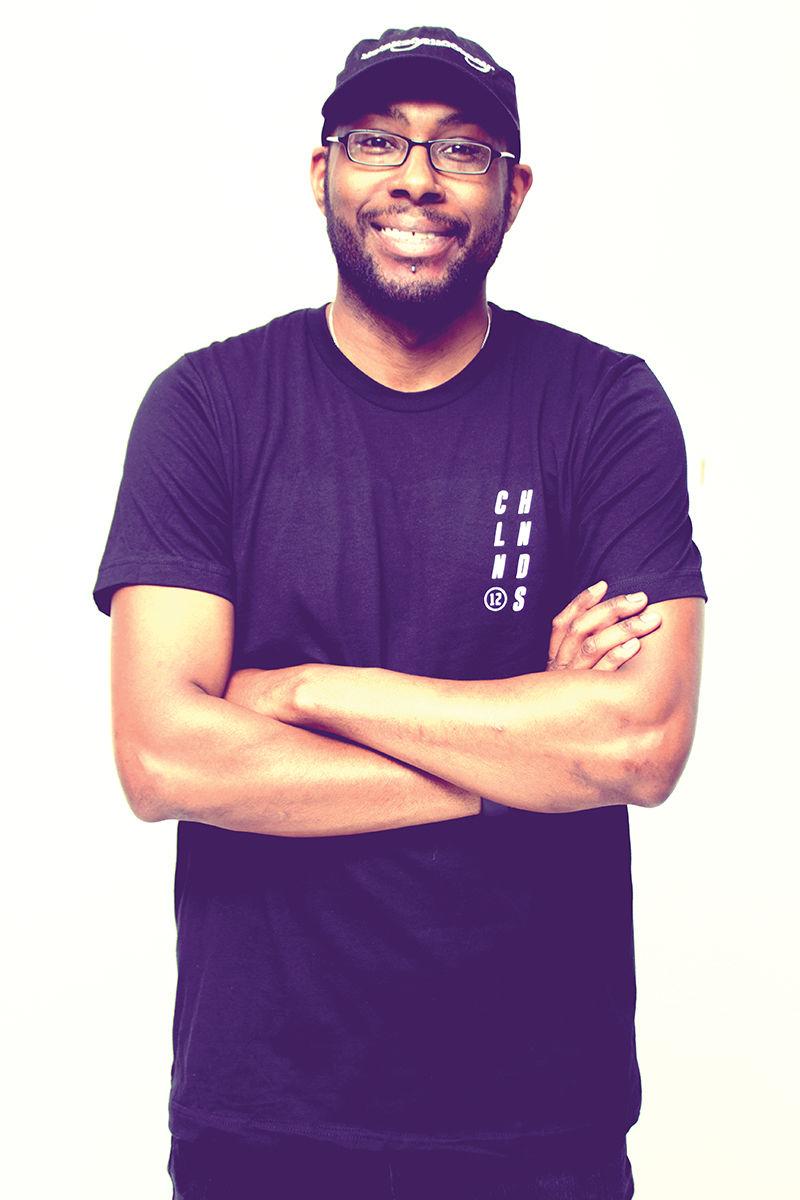 Aaron Whisner, Case Morton and Justin Baney created Clean Hands in 2012 as a screen-printing studio. Gleaning inspiration from vintage typeset and pop culture logo designs, their apparel is simple yet bold.
"Our favorite design and best-seller is probably our classic box logo tee," Whisner says.
Clean Hands' T-shirts are high quality, and most are limited run. Although its T-shirt designs have remained popular, business took an unexpected turn five years ago.
In 2013, Clean Hands was commissioned to paint the iconic three-story portrait of Woody Guthrie on the eponymous museum located across from Guthrie Green.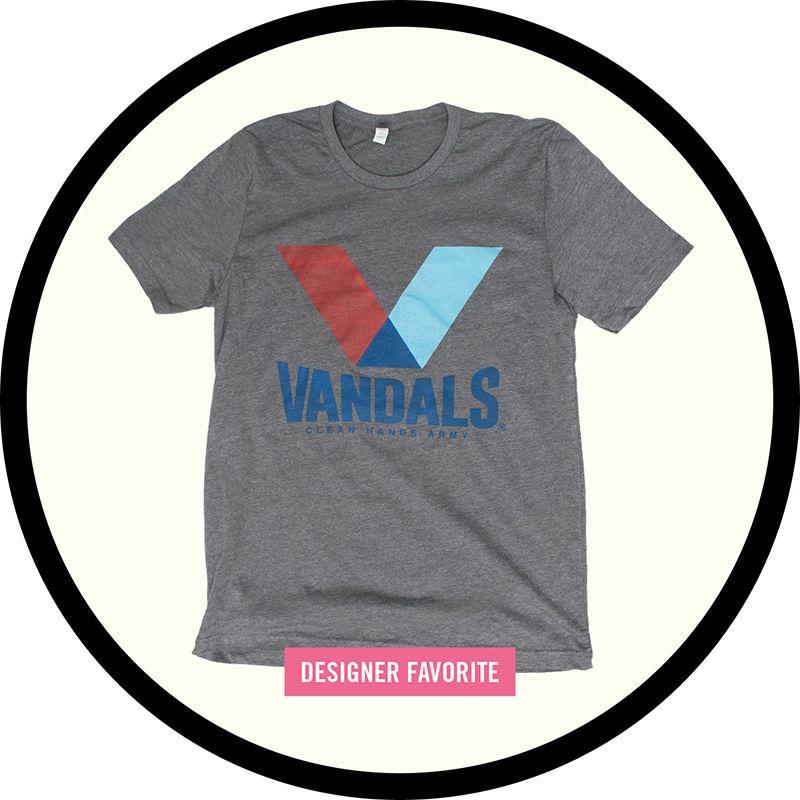 For Whisner, the murals represent a larger vision. Regardless of the medium, murals or apparel design, he's driven to promote art in Tulsa. "My motivation comes from wanting to progress and inspire cultural growth in our city, to inspire the next generation of artists who may not see these types of large-scale works firsthand unless they travel to a larger city," he says.
Ever the trendsetters, Clean Hands is taking a cue from the food truck scene and going mobile to promote its screen-print designs. In a sincere effort to connect with local artists, the guys from Clean Hands see mobility as an opportunity to widen Tulsa's creative culture.
"We will be setting up at our commissioned mural jobs, providing community demos, selling shirts and supplies in parts of the city we wouldn't reach otherwise,"
Whisner says. "Our business is the only one of its kind in our city. We believe in the power of public art and inspiring future generations to create."
To learn more about Clean Hands and its merchandise, visit cleanhandsarmy.com.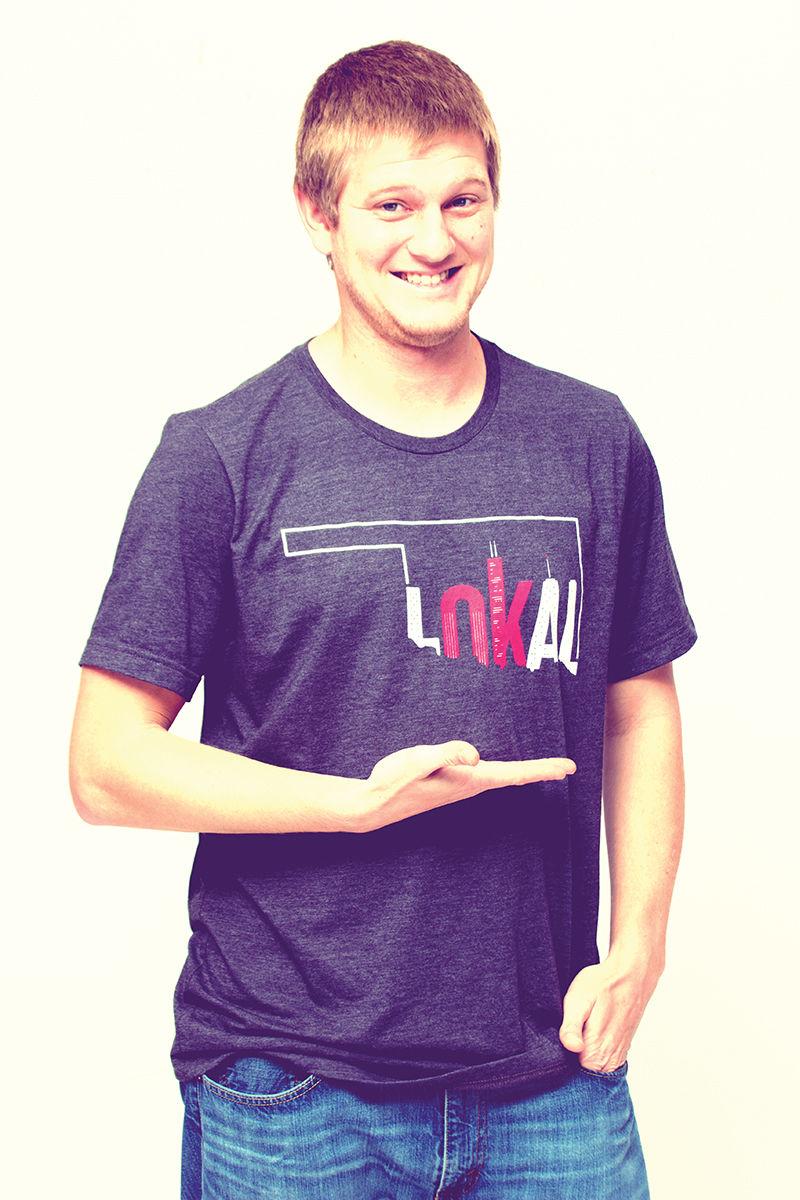 The name says it all.
Owner Brandon Townsdin fused Oklahoma and local to create LoKaL. Founded in 2017, LoKaL Apparel has stuck by its commitment to community. All aspects of production are done in the state, and Townsdin recently launched a program to give a portion of the profits to a different Oklahoma charity each month.
"I saw the local T-shirt trend, and I wanted to be a part of it. There's so much local pride here," Townsdin says. "However, I also wanted to create something that could fulfill a campaign for local goods."
Some of LoKaL's designs have a tribal feel, incorporating feathers, arrows and dreamcatchers.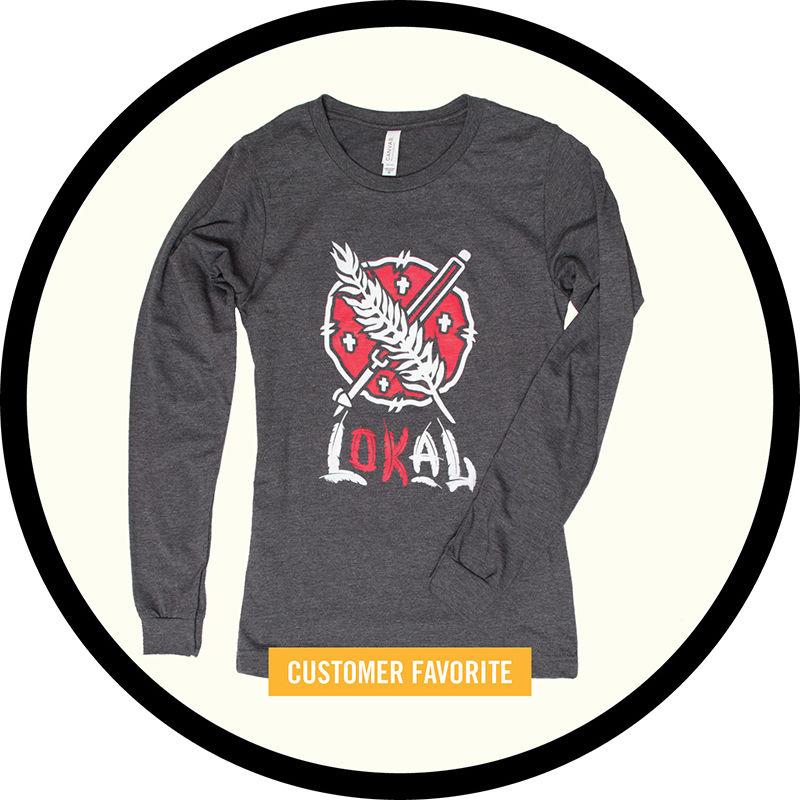 To create a niche in a quickly growing field, Townsdin distinguished himself in a few ways. "We went for a higher-quality shirt. I think that sets us apart," Townsdin says. "We really wanted people to enjoy what they have, not just choose it for the design."
"Our most popular shirt is the skyline design, which incorporates the skylines of Tulsa and Oklahoma City" in one shirt, Townsdin says. "It has clean lines and an urban feel as opposed to the tribal feel in our other designs."
In the fall, he found out how well his designs were catching on.
"We were at Oktoberfest, and I ran into a guy with a tattoo of my skyline design on his arm. He said he saw it on Facebook and thought it looked cool," Townsdin says. "For me that was ultimately fulfilling."
LoKaL Apparel can be found at lokalapparel.com
Siblings John Hatfield and Laura Sanders have many fond memories of their family vacations.
"We grew up traveling the U.S. in an Oldsmobile station wagon complete with wood-grain paneling," says Sanders, an Oklahoma native.
Little did they know the impact those childhood memories would have today.
"Hat and Field Supply Co. started with a discussion about a year and a half ago," Sanders says. "My brother, John, has been in advertising and graphic design for 20 years, and I have been in marketing/retail for 25 years. Coming from an artistic family, it was the natural thing to do."
When it came time to brand their business, they summoned the memories of those cross-country trips in the family roadster.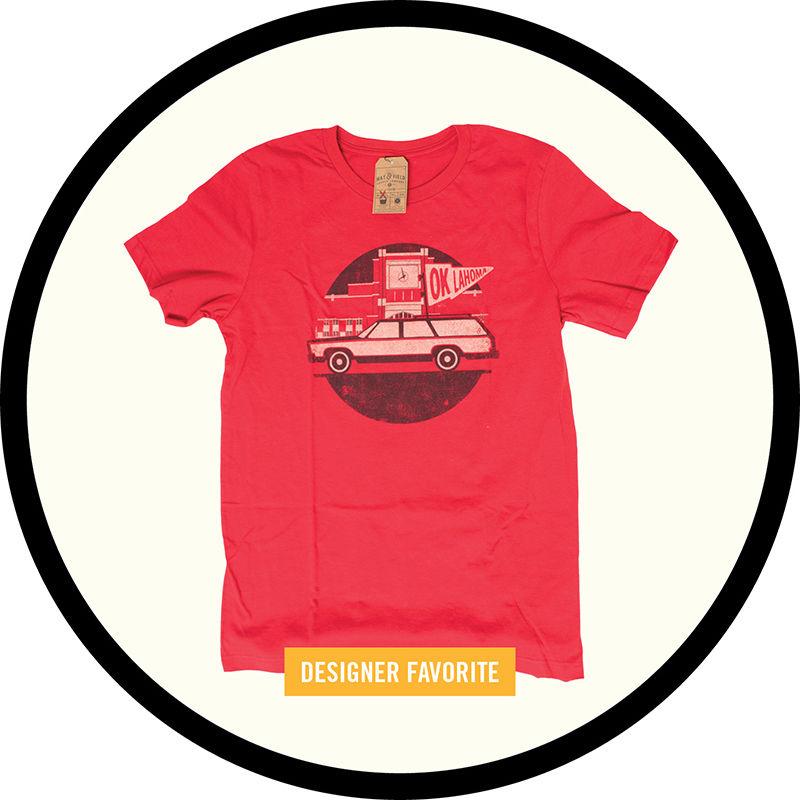 Although they agreed on the trademark, the siblings and Owasso residents differ on their favorite designs.
"My favorite design is anything with the (station) wagon," Sanders says, "especially the OU wagon from our collegiate line. John's is the OK Stamp design, which can be found on T-shirts, mugs and pillows we've created."
Although they design for Oklahoma and beyond, customers love their State Pride design.
"It's simply the state of Oklahoma with OK," Sanders says.
Along with T-shirts, they sell coffee mugs, home goods, children's apparel and designer stickers.
There is something for everyone at Hat and Field Supply Co. Customers range from newborns to grandparents. In fact, a company created from family traditions is inspiring other families to create memories.
"We actually have had four generations buy matching designs for a photo," Sanders says.
She is grateful for the opportunities this business has provided. "We feel very fortunate that we get to create and work together while reliving our childhood memories," Sanders says. "We also love working with small businesses and supporting the shop local movement."
Hat and Field Supply Co. products can be found at hatandfieldsupply.com, Sweet Tooth, Hard Rock Hotel and Casino, Surcee in Owasso, J and J in Claremore, and multiple boutiques throughout Oklahoma.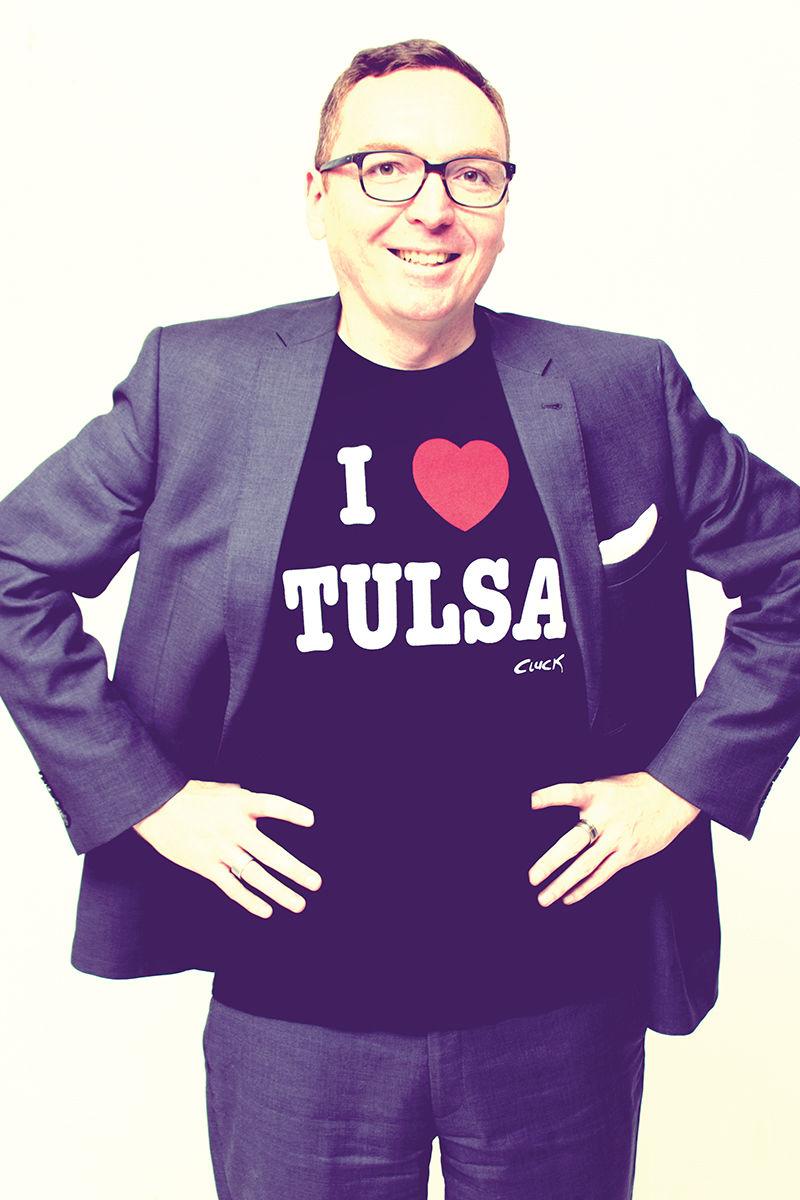 While majoring in fine art at the University of Tulsa, Steve Cluck was experimenting with different forms of printmaking. Originally, he just printed T-shirts as gifts to friends.
"I made the first 'I Heart Tulsa' shirt to give as a gift to a classmate who was moving to India," Cluck says. "I wanted her to have a souvenir of her time spent in Tulsa."
It didn't take long until he was inundated with requests for the shirt, and a phenomenon was born.
In 2006, Cluck was wearing his "I Heart Tulsa" shirt at a local coffee shop when he was confronted by a young man.
"He said 'Why do you love Tulsa? It's terrible here.' I responded with 'Hey, I love it here. Don't hate the 918.' And that gave me the idea for the next shirt."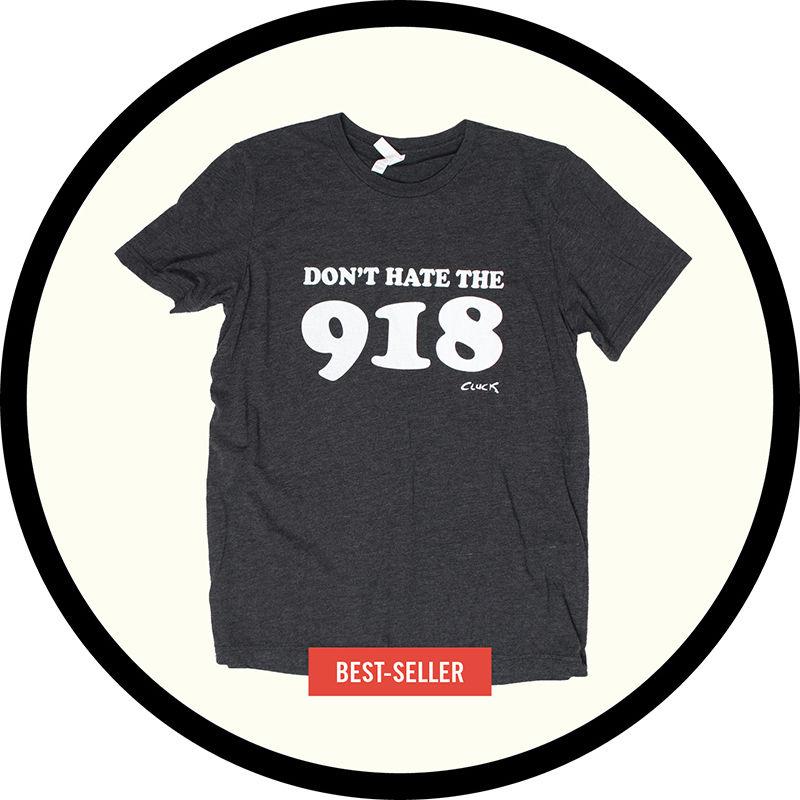 "I like clean, simple graphics that convey the message clearly and hearken back to an earlier era, an era when many of us were kids and life was simpler."
Cluck's other unique and recognizable designs include "Mimosa Mafia" and "I Speak Okie." He credits their success to a community hungry to express its hometown pride.
"The shirts have been embraced by a community of Tulsans and Tulsa-lovers who were eager to say something nice about our city," Cluck says. "Back when I started making the shirts in 2005, few people were saying anything nice about Tulsa and Oklahoma."
The "Don't Hate the 918" shirt remains his favorite design and inspired him to create the 918 Project. It's an ambitious plan to photograph 918 people in his signature tee who make the 918 area great by September 2018.
"The 918 Project has been the most rewarding experience I have had in relation to my T-shirt lines," Cluck says. "It feels good to put the spotlight on 918 people who are doing good things in our community."
Cluck's designs are available at Ida Red, Decopolis and at cluckcreative.com. To follow the 918 Project, check him out on Facebook or Twitter: @stevecluck.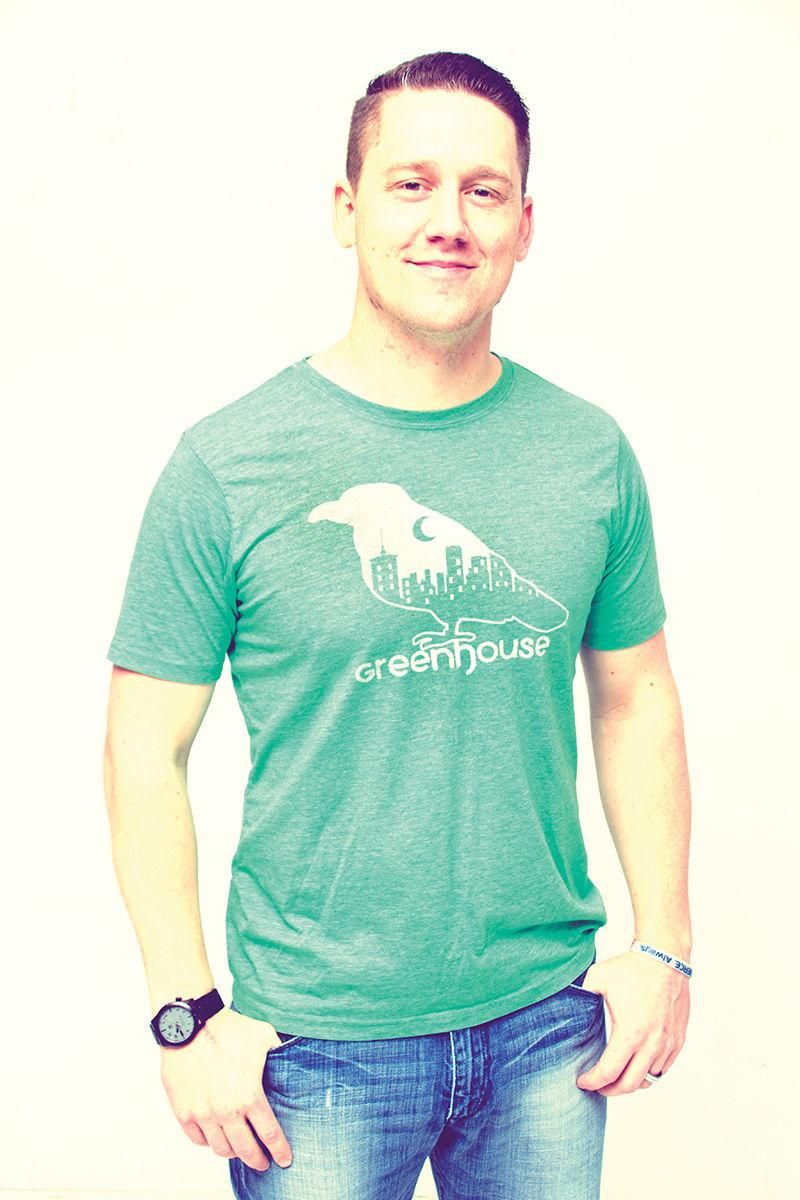 GreenHouse Clothing LLC was established in 2005 and is co-owned by three brothers from Tulsa, Bryan, Jason and Tim Schooley. They founded it with the desire to make interesting and comfortable T-shirts for themselves, friends and family.
"As broke college kids needing some cool new shirts, we decided to start making them for ourselves, then our friends, then to anyone else interested," Bryan Schooley says. "Thirteen years later we're still at it."
They split their focus between original retail designs and custom work for businesses, schools, churches and gyms. Schooley is motivated by the process.
"Each customer presents a new challenge, idea or concept that keeps us evolving," Schooley says.
For the past two years, they've been designing for a Shirt of the Month Club in conjunction with other work.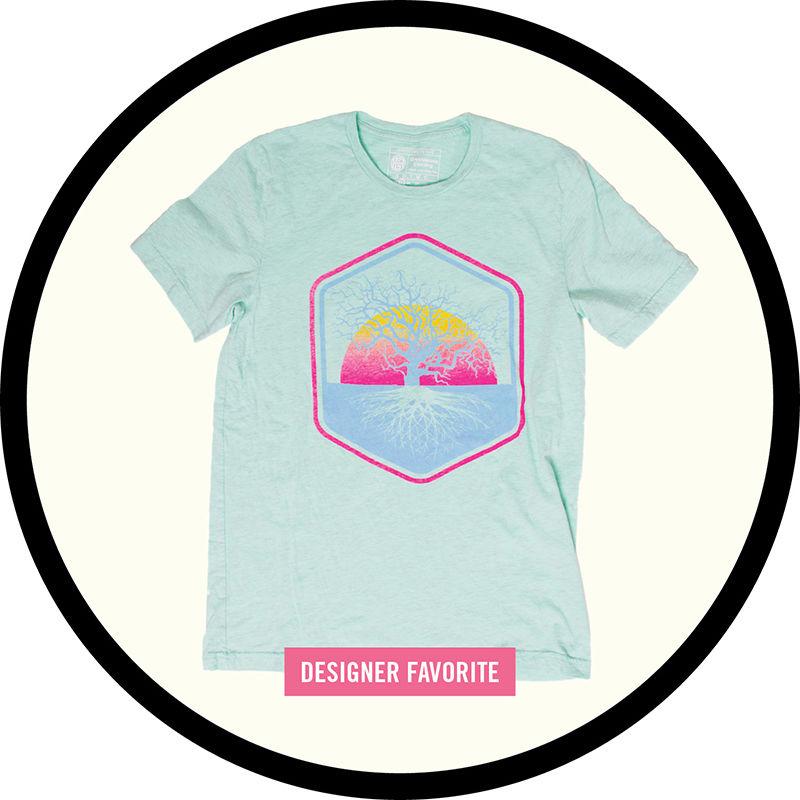 Their collection rotates occasionally; however, one design has remained a perennial powerhouse.
"One design that has been around since day one would be our Crow City design," Schooley says. "It's sort of an homage to 'No matter where we fly, we'll always be at home in Tulsa.'"
Greenhouse's designs have an outdoorsy vibe, and it carries both children's and adult sizes. Along with apparel, Greenhouse sells glassware, tumblers and other knick-knacks.
The Schooleys pull from all aspects of their lives to find inspiration for their exclusive designs.
"We have children, family, friends and a whole host of other outside factors that occupy our minds and hearts that often bleed onto the shirt in one way or another," Schooley says, "but what we hold most sacred and what acts as our design compass is one question: 'Would we wear it?' If we can answer yes, then we go to print."
Greenhouse Clothing's retail store is located at 4817 E. 34th St. Purchase online at greenhouseclothing.net.