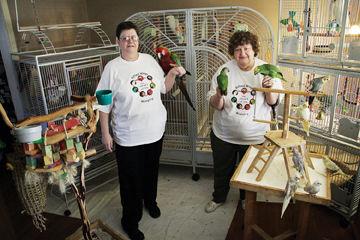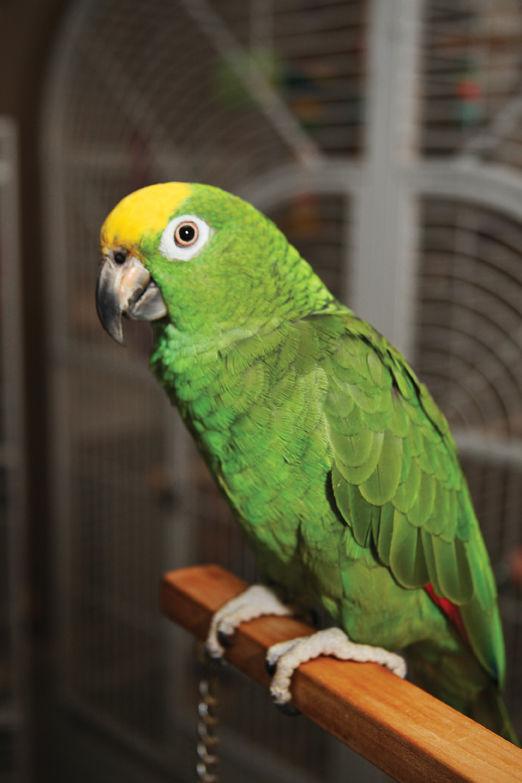 We know about therapeutic dogs. We've heard of therapeutic cats in nursing homes. We're familiar with therapeutic horse riding.
But therapeutic birds?
Maureen Horton and Joyce Legere founded "On a Wing and a Prayer," a pet-assisted therapy program, 11 years ago with two parakeets.
It has, you'll excuse the phrase, taken wing and soared. Now the home aviary includes 65 to 70 exotic birds of the parrot family — Amazons, an African grey, Eclectus, cockatoos, cockatiels, a macaw, parakeets and more.
It is a noisy but well-mannered flock, devoted to the two owners/trainers.
"Hush," the two women tell the chattering cages of birds, and the room is silent.
The birds are also strong-minded and independent.
"Say 'hello' to Connie," Legere instructs Calle, the large macaw sitting on her arm.
"Goodbye," Calle says firmly.
"They're not trick birds," Horton says, "but they are talented birds."
Chloe, a Yellow Crown Amazon, sings tunefully, speaks clearly, clucks like a chicken and crows like a rooster. Rico, a Yellow Nape Amazon, joins in. "I'm going to the store," he says. Paco sings opera but had to be moved from a nursing home for his naughty penchant for shouting "Fire!"
Almost every week, 15 to 20 of the smaller therapeutic birds visit hospices, nursing homes, schools, organizations, churches and libraries.
Patients hold and stroke cockatiels so tame that silver-and-white Tiny often falls asleep in a human lap. The cockatiels sit on shoulders and nibble fingers and hair while Horton tells the group about exotic birds: the species of parrots; their diet; why their temperatures are 108 degrees; the love story of Tiki and Sedona, who are non-speaking Sun Conures.
The effect is magical.
Horton tells of non-responsive patients in wheelchairs who suddenly begin speaking again while petting a cockatiel as their relatives weep at the transformation. She describes how a group of young but violent criminals — murderers, arsonists and rapists — clamored to touch a cockatoo named Bela.
"For a few minutes," Horton says, "these hardened criminals became children again."
The birds minister to the people, she says: "They're God's little ambassadors."
Editor's note: To book a performance, make a tax-deductible donation or volunteer, call 760-5472; write P.O. Box 14182, Tulsa, OK 74159; or e-mail gifted.wings.ministry@cox.mail.