It's unseasonably warm in early January, and there are a lot of people taking advantage of the sunny day in downtown Tulsa.
That makes it a busy day for Jason Edwards, a patrol officer for the Tulsa Police Department. He's part of the Impact Team, a TPD initiative that focuses specifically on downtown issues, including homelessness.
"Community policing is what we do," says Edwards, who is one of five officers on the team. "Our role is to figure out how we can make life better for all parties. We enforce the laws to help businesses run smoothly. When we encounter a person who is (emotionally) down, we try to intervene and help them."
From his patrol car, Edwards waves at a group of homeless folks congregating near an intersection. He rattles off some of their names as he turns the corner onto South Denver Avenue and sees a man hanging out on private property a few feet away from a no trespassing sign.
"My goal here is to inform this individual that he's on private property and he needs to go," Edwards says. "We have a list of businesses that have filed a no trespassing letter with the city. My job is to bridge the gap between the businesses owners and our homeless population."
Zero Heroes: 5 Tulsans work to end homelessness
He parks his squad car, exits the vehicle and approaches the man, who is drinking a tall boy of Steel Reserve beer.
Edwards points out the sign and asks for the man's identification. The man says he is staying at John 3:16 and is waiting on a bus to take him to his job at a nearby casino. As Edwards walks back to his car, the man announces he has a warrant for a DUI.
Edwards gets into the car then enters the person's info on his laptop.
"No, no, no," says Edwards as he erases the info and retypes it. He shakes his head and contacts dispatch on his radio to verify the man has 10 warrants. After a few minutes, dispatch confirms the list of charges.
"My hands are tied here," he says. "Had he really had just one warrant I have the authorization to let him go about his day, but he has 10. Now I have to take him in."
A second officer arrives at the scene and Edwards updates him on the situation. They proceed in arresting the individual. Edwards pours the remaining beer on the ground and then walks the man to the car.
Less than a mile away is the municipal jail, which opened in March 2018 and detains individuals with municipal charges up to 10 days. If there is no space available or sentences are longer than 10 days, the City has an agreement with the Okmulgee County Criminal Justice Authority to house prisoners.
As Edwards escorts the individual to jail, he asks the man if he has heard of the special services docket. The man hasn't.
"I think the special services docket would be a great fit for you," says Edwards to the 41-year-old man riding in the back seat. "You can attend classes and get connected to services. It will lessen your fines or possibly eliminate them. It's there to help you get back on your feet and have a chance at a better life." Multiple factors, including arresting officer recommendation, can allow someone to enter the special services docket. It provides six months of counseling, classes and court check-ins, along with reducing or erasing the fines.
The man says he'll look into it.
Thirty minutes later, the person has been processed, and Edwards has finished his paperwork. It's the fourth time Edwards has booked someone in two hours.
"I don't know if he'll even realize it, but I didn't give him any citations for public intox, open container or trespassing," he says. "He doesn't need another $800 in fines. He needs treatment if he's going to have a chance. I suggested on the form he enters the special services docket. I hope he does it."
Further reading: The challenges of being a Tulsa Police officer today
Further reading: 3 Amazing Women Who Care For Tulsa's Homeless Citizens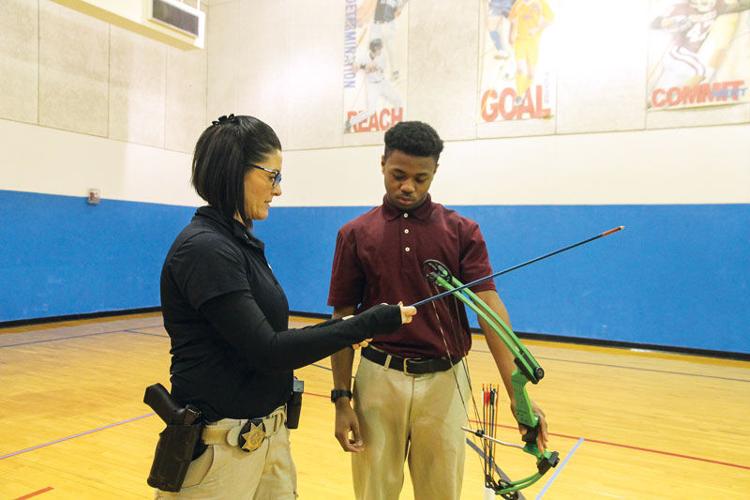 Creating change: 21st Century Policing in Tulsa
The work Edwards and many other officers do today is completely different than a few years ago.
Edwards is in his second year on the force's Impact Team, which maintains a shared database that lists every homeless person they encounter. Edwards says it helps officers keep track of previous incidents and serves as a starting point to locate an individual if needed. He also has a map of the more than 200 homeless camps spread across Tulsa.
In December, the team did a two-week outreach project with the mental health community through which they made contact with 150 homeless individuals in an attempt to connect them with services to receive help.
While the Impact Team has been in service for several years, its expansion stems from the Tulsa Commission on Community Policing, a group created by Mayor G.T. Bynum to strengthen Tulsans' trust in their police department. Commission members include members of the Mayor's Office, city councilors, TPD representatives and community stakeholders.
In forming the commission, the Mayor's administration spent many weeks searching for a city on which to model a program, but couldn't find one that was what Bynum calls "the gold standard," so it used a report on 21st-century policing released by the Obama administration.
"We recognized we could use that report and its recommendations for local policing as a foundational document, but we really needed to bring all these different groups in Tulsa together and help us define what community policing looks like here," Bynum says.
After several months, the commission had developed six pillars:
Building trust and legitimacy
Policy and oversight
Technology and social media
Community policing and crime reduction
Training and education
Officer wellness and safety
A list of 77 recommendations to meet the demands of the citizens was developed. Among those items were the deployment of body cameras, the creation of citizen advisory boards, youth outreach, implicit bias training, and community engagement and collaboration. To date, TPD reports it has fully implemented 97 percent of those recommendations. TPD is working to put into practice a way to evaluate community policing efforts, as well as juvenile reintegration and a remodel of the school resource officer program. Bynum and police leadership meet every two weeks to discuss progress. The full list of recommendations and results can be found at cityoftulsa.org.
"We've come a long, long way from where we were two years ago, but it isn't something where you flip a switch and now we have community policing," Bynum says. "It certainly isn't that when we don't have enough officers to have it implemented in its fullest form, which we want it to be."
Read the Tulsa Commission on Community Policing Appendix
What is community policing?
"From the police perspective, it comes down to this: For us, it means working with our community to solve their quality-of-life issues that relate to crime or the fear of the crime."
— Deputy Chief Jonathan Brooks
Read the Tulsa Commission on Community Policing Executive Summary
Bigger force, bigger impacts
Earlier, independent third-party research had shown that TPD was understaffed by more than 200 officers. For the police to be more proactive and have the opportunity to devote more time to building and strengthening relationships, the city needed significantly more boots on the street. Bynum and the City Council approved funding through Vision Tulsa in 2016 that resulted in an all-time high for police hiring: 90 new officers each of the past two years.
"To put that in perspective, over the last two decades, our average was about 30 new officers a year," Bynum says of the police force that had 740 officers when he took office. "We've funded at least six years' worth of hiring over the last two years."
But, he says, "We recognize that even at the record-setting pace it will still take four to five years to get to where we need to be from a staffing standpoint in the police department. That's the big one. The most expensive part of the overall program is the staffing levels, and that will take the most time of anything else we're doing."
The need for diversity
Deputy Chief Jonathan Brooks, who oversees the Operations Bureau and the community policing initiative, says the department is looking for diverse candidates to meet the needs of our growing city. The U.S. Census Bureau estimates that as of July 2018, Hispanics or Latinos make up 12.7 percent of Tulsa County's population, African Americans make up 10.8 percent, Native Americans are 6.8 percent and Asians are 3.4 percent of the population.
Brooks says diversity is important to TPD since the Tulsans it serves come from numerous cultures, races and ethnic groups and speak a variety of languages.
"Having a diverse workgroup embedded in our department fosters approachability, openness, understanding and communication between the department and all communities of Tulsa," he says. "Additionally, learning and having exposure to various cultures fosters understanding from both sides.  Communication and understanding result in a relationship which begins the trust-building process."
TPD is using focused and targeted recruiting, according to Brooks.
"We're recruiting minority and bilingual candidates," Brooks says. "We've had success recruiting out of west Texas for bilingual (candidates), and we're working on recruiting more diverse candidates out of universities. We just held a forum for potential female officers that was highly successful."
Mental health and community policing
As part of the community policing initiative, TPD has put a larger emphasis on mental health, developing more tactics like the Tulsa Sobering Center, which opened in midtown in May 2018 and is operated by 12&12. The City pays $250,000 annually to fund it.
"We have to look at all the factors that create crime," Brooks says. "That's why we opened a sobering center. It doesn't sound like it's part of community policing, but when an officer comes in contact with somebody who's in crisis with an addiction problem, what would have happened to them two years ago? We'd take them to jail, and they'd get in this revolving door of the criminal justice system."
Further reading: Could yoga be part of the solution to addiction?
Now, adults who have been detained for public intoxication, who have not committed any other crimes, can be taken to the Tulsa Sobering Center for a 10-hour period to "sleep it off" in a safe, clean environment. They also are connected to services such as counseling and addiction recovery.
Along the same lines, TPD also launched a Crisis Response Team, which made headlines in October 2018 when it helped prevent a woman from jumping off the Peoria Avenue bridge that runs above the Broken Arrow Expressway. Tulsa's CRT was a TPD initiative and part of the department's comprehensive mental health plan. It also is included in the community policing plan.
"It's not just an officer going out to address these mental health or medical issues, it's an officer with a social worker, with a paramedic from Tulsa Fire, and they're riding together," Brooks says. "They go out as a team. They take the priority calls that deal with mental health."
Positive engagement with the community — especially youth
Though mental health outreach has become a major priority for TPD, it also is devoting considerable resources to creating positive experiences with citizens at an early age.
Among the new tactics is the Tulsa Police Activity League, which launched in June 2018. TPD Community Relations Officer Khara Rogers says its goal is "to have activities, athletic programs and stuff like that for kids to create a positive relationship between officers and kids, and the community overall."
TPD entered a partnership in 2017 with Tulsa Public Schools to take over operations of the HelmZar Challenge Course on North Peoria Avenue. It's now the SKYWAY Leadership Institute, which allows Rogers and other officers to host students to participate in the ropes course, or do wall climbing or other activities.
Rogers is based out of SKYWAY but spends most her time driving around Tulsa in "The Pink Car" to work on mentoring projects such as a partnership with First Tee, a golf program for kids, "Bigs and Blue" with Big Brothers Big Sisters and a basketball program with YMCA. She also visits Tulsa Housing Authority complexes to host workouts, create obstacle courses or other fun activities for the residents.
The Police Activity League spends two days a week at the Tulsa Boys' Home teaching archery classes on Wednesdays and functional fitness on Thursdays. Many officers have taken part in the program with Rogers.
"It has been phenomenal seeing the officers interact with the kids in the archery program," Rogers says. "It took them a while to warm up to us, but once they did it has been great. The whole concept is for them to understand that the police are there to help.
"We're not the bad guy. A lot of the kids out there have seen police in a negative circumstance either in regard to a substance abuse situation or a Department of Human Services situation. We've had officers talk to them one-on-one and figure out why they're angry, and they open up."
For her first five years on the force, Rogers patrolled the Gilcrease Division that runs from downtown to Sand Springs. She says she misses some of the fieldwork but finds her new role more rewarding.
Effects of positive police interactions
Rogers considers the positive interaction with kids a demonstration that police are a positive thing in their life rather than the depictions on TV or in movies or what their family or friends tell them.
"If we step up and make a positive impact on them early in life," she says, "they'll be more likely to have positive interactions with us when they get older."
Rogers says if they are successful, it also could result in stronger relationships with the adults in those kids' lives.
"Our focus with the activities is kids up to 17 years old, but our interaction hopefully carries over to their parents," she says. "They maybe don't have a positive image of us either. If they see it or the kids come home and tell them about a positive experience, then their perception might change. We want to build a better relationship with the entire community. That's the ultimate goal."
It's an investment in the city and its citizens' future, and Brooks says they won't see the results "for about four to six years, as the kids become adults."
"The youngest generation is the one we're most focused on," Rogers says. "That's why we're going into schools. We've started Project Trust (a program for high school students to spend time with officers and learn about police operations) and are rebuilding our school programs and our community and school resource officer programs to try to re-establish that relationship with the youth because they will soon be adults. They're the ones we want to recruit to work and stay in our community."
How Tulsa strives to set the standard for community policing
Some proponents of community policing in Tulsa believe more needs to be done to address police accountability.
"We have to be serious and intentional about changing the culture," says Vanessa Hall-Harper, District 1 city councilor. "Let's change the policies and put the infrastructure in place that the community can trust, then we can move on to those community relations initiatives.
"You can't have the community relations without the accountability. The policy and the accountability is the foundation. If the community can trust that the system is fair and just, then those things will hold water. They'll hold weight."
In May 2018, Hall-Harper was among a group of individuals and the NAACP Legal Defense and Educational Fund that sent Bynum and the City Council a letter outlining the six recommendations they found to be the most important in changing police culture. Hall-Harper says all six came from the 21st-century policing report that served as a foundation for the commission. 
One of her big sticking points is independent, third-party investigations of police actions instead of an internal affairs investigation. She points to neighboring Sand Springs as an example of a police force that doesn't investigate its own. 
Despite this, Hall-Harper says she is confident the culture shift needed for police and her constituents to truly work together is coming. Six months after Bynum took office, he released arrest data that stated African Americans are two times more likely to be arrested and police are five times more likely to use force in an encounter. These are things Hall-Harper wants to see improved. 
"I do believe the City under Mayor Bynum has done more than any previous administration," Hall-Harper says. "The fact he said he was going to release these numbers in spite of those that didn't want him to speaks volumes. Now we need to take those extra steps to make sure real cultural shifting takes place.
Listen now: An interview with Vanessa Hall-Harper on the need for civilian oversight within the police department.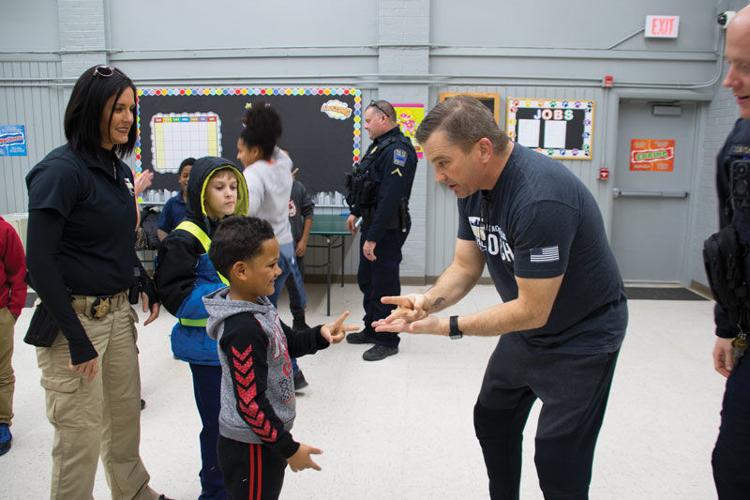 "I think under this administration we have the greatest opportunity so far. I'm hopeful we'll do something about it. I'm not going to give up until it happens."
Two years into the overhaul, the mayor agrees the work is not done, but he's pleased with the progress the Tulsa Police Department has made in its efforts to build a more positive relationship with Tulsans of all ages and all addresses.
"I feel good about where we are," Bynum says. "The department has demonstrated its commitment to doing this. The City Council and I have committed by funding the department in the right ways, so that it can be carried out."
AP News: Tulsa mayor setting up office to monitor police force
Is Tulsa on its way to becoming that Holy Grail of community policing that Bynum's team never found?
"The feedback we get from other cities is very encouraging," he says. "When they find out about our program and how comprehensive it is, we have other cities that have been approaching our department leadership, saying they want to adopt our community policing program.
"I'm not aware of anybody that's doing it in as comprehensive of a way as we are in Tulsa. That's the way it should be. We want to be the gold standard of cities."