Entertaining potential, maximized
Located in a wooded south Tulsa neighborhood, a white, inefficient kitchen spurred the redesign of the entire living and entertaining areas of Dason and Lynn Gwartney's home.
Lynn Jessee and Hillary Holt, interior designers for Kitchen Concepts, were tasked with creating a rustic, open space that would blend seamlessly with the tranquil backyard views.
"When the Gwartneys purchased their home, it had an antique-white builder's grade kitchen," Jessee says. "This was different in that we are often asked for a white kitchen, but in this case, they wanted something rustic and traditional."
The couple's other must-haves included updated appliances, organization and an area for entertaining. They also wanted the beautiful backyard to be visible from both rooms. Before, the layout was spread out and divided with the refrigerator on one side and oven on the other. A large peninsula separated the kitchen and living areas, making both rooms feel enclosed and small.
The redesign removed the peninsula and an out-of-place cabinet, which blocked the backyard view. "When we design a kitchen, we think of each purpose: an area for prep, an area for cooking, an area for clean-up and an area for entertaining," Holt says. Now, the homeowners have an additional 5-plus feet of living room space and a workable, open kitchen layout with designated areas.
The designers achieved balance by incorporating warm, dark colors "but with a splash of gray to bring it up to date," Jessee says. Outdated, exposed hinges and short cabinets were replaced with wood cabinets that extend to the ceiling.
Light gray walls and the addition of a hand-painted French tile backsplash by Walker Zanger provide soft color and elegance while maintaining the rustic style.
Black granite countertops were replaced with Caesarstone in Bianco Drift, a light color to add further contrast to the warm tones. A large black island with ample storage and stove now offers functionality and seating where those cooking can still be part of the conversation.
All new appliances, including an industrial-sized refrigerator, beverage cooler and icemaker, now offer maximum function and, truly making it an entertainer's kitchen, a butler's pantry just off the kitchen was converted to a wine bar for displaying wine and serving as a drink station.
The warm tones visually extend to the floor as the once gold-colored wood was hand-scraped and refinished in a darker shade. New built-in matching bookcases and a rock fireplace in the adjoining living area complete the rustic vibe and make one cohesive space for cooking, eating, entertaining and relaxing.
Family-friendly function in an outdated kitchen
A stunning pond view and serene greenbelt sealed the deal for Bob and Patty Stuart in choosing their '80s-era traditional home. However, the couple knew it would need a significant remodel.
Its wrap-around galley-style kitchen was closed in and flanked by a separate living space on either side, all finished off in dark colors of gold and brown. The confined spaces simply wouldn't work for the empty nesters with five children and seven grandchildren, with one on the way.  
The Stuarts called upon Brenda Rice and Gina Miller, co-owners of GHD Interiors, to create an open concept floor plan in the kitchen, family and living room spaces — all in a more modern yet traditional style with timeless architectural details, incorporating a light color palette and use of quartz, iron and cast-stone finishes. Additionally, they wanted to fully remodel the master bathroom and add major updates throughout the entire home.
Patty's greatest must-have was a chef's kitchen, Rice says. The first order of business was removing the walls on either side of the kitchen and adding a large white island with inset stove and seating for six or more. "This stove is my command post," Patty says of her new centrally located workspace, where she can cook and visit with her children and grandchildren while enjoying natural light and outdoor views in every direction.
"Over the holidays, we had 23 people for dinner without having anyone on sofas, which was nice, and I could be cooking and still be a part of the group instead of facing the wall," Patty adds. "That was a huge goal that I put on Brenda and Gina. I love to cook, and I need to see my family while I'm cooking."
Light tones with rich finishes help modernize the room. For countertops, Rice and Miller chose Quartzite in Perla Venata. "It's creamy, warm and has a lot of movement in it, but it's light in color," Miller says, "and we chose brushed gold cabinet hardware that added a modern look with a traditional material for both the kitchen and master bath."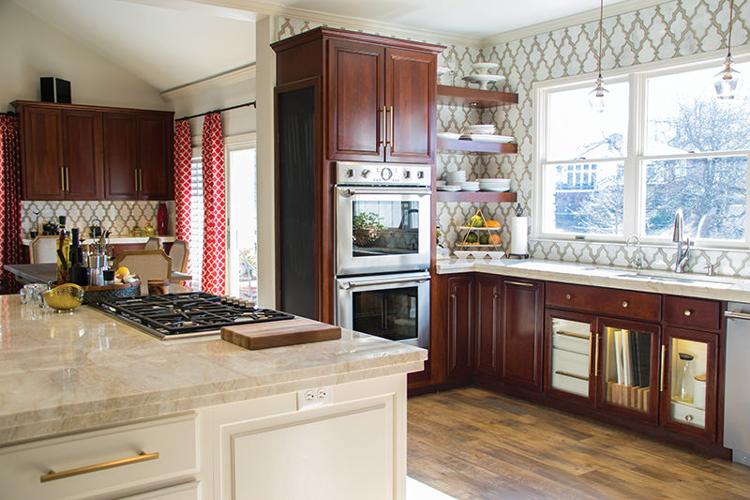 The designers repurposed the existing walnut-toned cabinets in various ways, such as creating a dessert/buffet area in the family room, which Patty says functioned perfectly for the recent holiday spread. "The goal here was to wrap the whole (family and kitchen) room with that consistent cabinetry that brings the whole space together," Rice says.
Repurposing cabinets allowed for splurging on black and gold full globe light pendants. "In the kitchen you don't want to see lightbulbs," Rice explains. "When you're sitting at the island, you're looking up a lot, and the full globe gives a beautiful glow.
"The gold and black with the glass gives the accents we need for the look, but you want to cover those light bulbs."
Miller says, "The new marble backsplash features a wood-grain tile outlining a Carrara marble in a classic quatrefoil pattern, which has been used since Roman times, adding sophistication and elegance." A similar backsplash, with reversed use of colors, behind the bar in the living room provides cohesion with the design.
Floating shelves in the kitchen and bar area along with oversized hardware add to the modern touches. "And there's just so much functionality," Miller says. "You can see the ease of getting to your dishes and service in the bar area. It makes it a much easier home to live in and feel comfortable."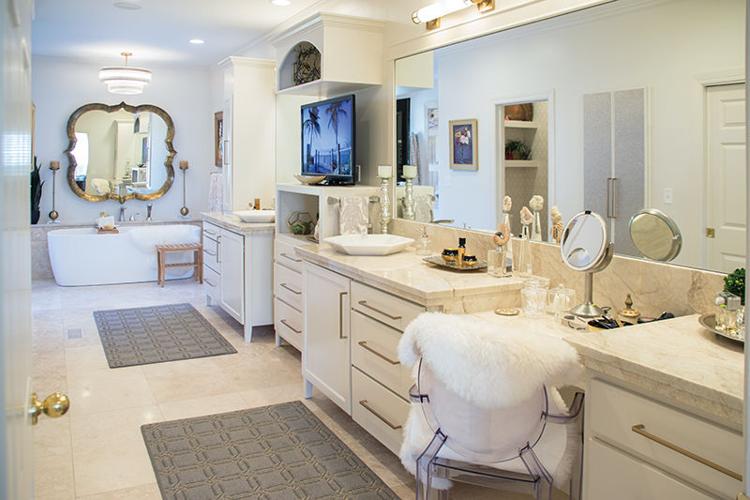 A family-friendly, light-colored luxury vinyl plank flooring was chosen for its durability and easy cleaning ability while adding the warmth of wood and a base for the light color palette. One paint color — Sherwin-Williams Shoji White — was used throughout the entire home on all surfaces to add to the updated style.
In the master bath, the designers continued the theme of modernizing the space while fulfilling the request of creating a "spa feeling with over-the-top shower amenities." Formerly dark from ceiling to floor, the redesigned space is light and airy and showcases a soaking tub and enlarged steam shower with a rain shower head. Rectangular transom glass windows from the living area were repurposed as windows in the shower/tub area to give natural light. Increased storage and vanity space with gold accents and modern hardware finish off the luxurious feel.
"We gave Brenda and Gina a long list," Patty says. "We wanted the house to be warm and comfortable and have movement with every room being used. We wanted everything to flow really well, and they did an incredible job of accomplishing that."
A modern classic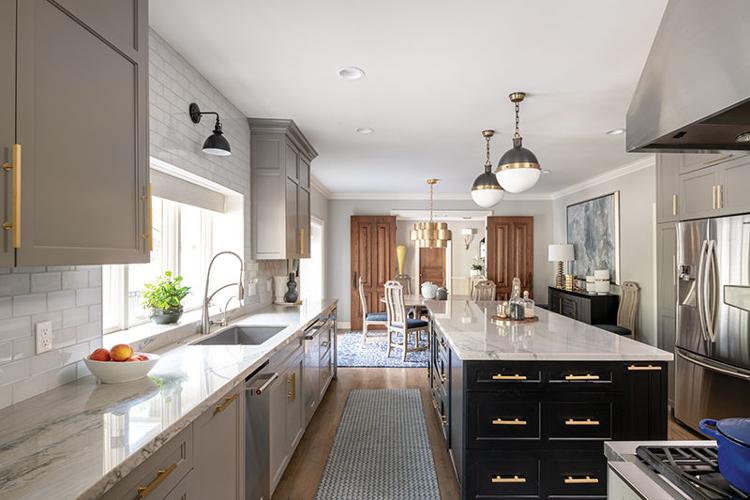 The recent redesign of this midtown "Tulsa classic" is one Julia Kirkendall, principal designer of Kirkendall Design, says she won't soon forget.
"It was built in the '70s with great architectural elements, and the client wanted the kitchen to reflect the rest of the house," she says. "The project was very fulfilling as a designer because we could greatly improve their quality of living in the home by the major remodel of their kitchen." The remodel also included all of the home's bathrooms, and over the years, almost 90 percent of the home has been updated.
A confined kitchen made the space unenjoyable for the homeowners. They wanted a room for family experiences, not just a separated work zone. Their must-haves included leaving the range and sink in their original locations and the additions of a sit-down island and large pantry.
To open up the space, Kirkendall's plan involved removing a wall to connect the kitchen to a small living area with large windows. The reworking of walls allowed for the new walk-in pantry, featuring a classic schoolhouse door with obscured glass.
Small workspaces were expanded, and old cabinets were replaced. "There was also a peninsula that came across and created a U and divided the kitchen from the eating area," Kirkendall says. "It didn't flow; it was a big division in the middle of the room." The newly installed, light gray cabinets feature soft-close doors and drawers and pull-out shelves in all the base cabinets. A large island in a contrasting blue/black color offers ample space for food prep, cooking and serving purposes.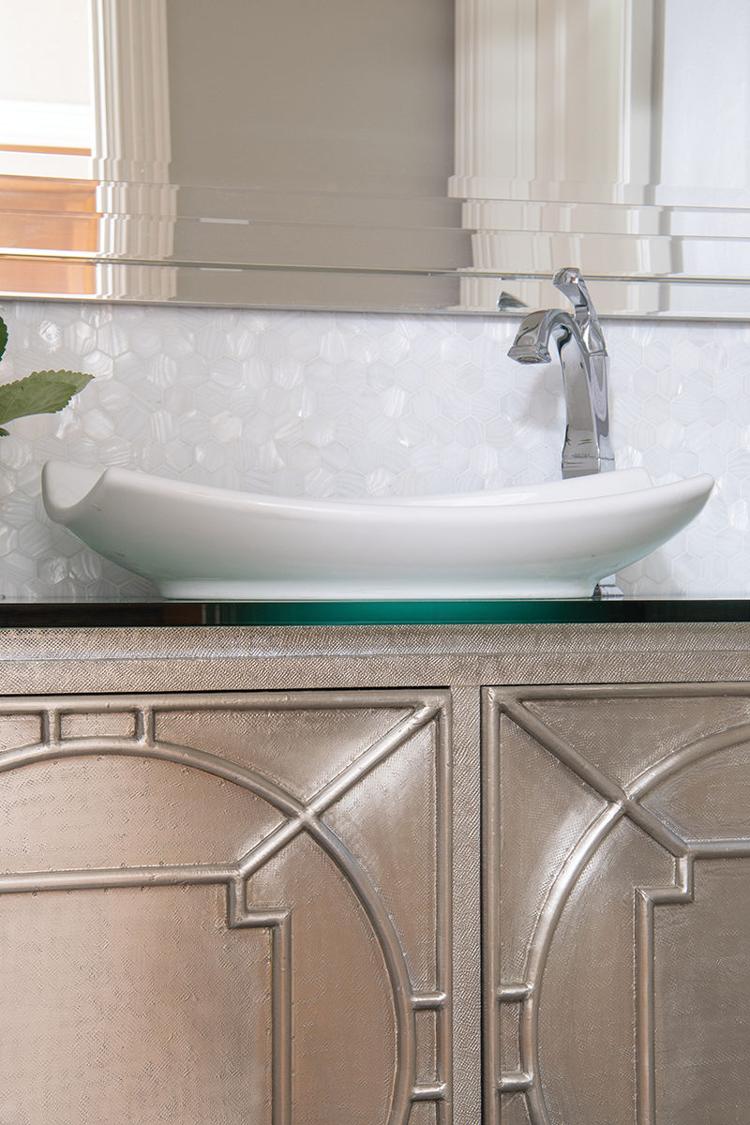 Light-colored granite in Sea Pearl and a glass subway tile backsplash help brighten the space, and long modern pulls in brushed brass bring balance and a mix of metals to the new stainless steel appliances. Globe lights over the island again harken to the old schoolhouse theme. Over the table, a unique diffused light chandelier in brushed brass ties into the hardware and mix of metals.
Warm wood floors replaced the uneven terra cotta tile, and the rest of the home's floors received a custom refinish in light taupe. "A big thing people are looking for is customization. You can't get this from a can; it's a custom mix," Kirkendall says.
Although kitchen window curtains were replaced with electric blinds controlled by remote, the family's heirloom table and chairs remained, but with updated upholstery. "It's a modern classic design," Kirkendall says of the overall finished product. "Modern because of the sleek features and hardware, classic because we brought in elements like the subway tile and kept the antique table."
Because the homeowner loves for each space to have its own personality, Kirkendall delivered a distinct look for each bathroom while keeping the "modern classic" cohesion. Directly off the foyer, "the powder bath had to be smashing," Kirkendall says. A new vanity was finished in German silver with a glass-top counter. A tile wall behind the sink serves as the backsplash, and a shallow sink basin finishes off the vanity area. Clear globe pendant lights give ample light to the space without obstructing the view.   
In the pool-accessible bathroom, she chose navy blue for the vanity, a color the homeowners love. "Adding the touches of brass in the hardware and lighting really set this room apart," Kirkendall says. "We have built-in storage for towels, sunscreen and pool necessities and a leather bench to sit down on to change your clothes. The herringbone tile floor was a perfect fit to show some design but keep it simple and classic."