Derek Penix is a Tulsa artist whose art has earned him numerous accolades and awards over his years of painting, including the 2016 Gold Medal Award from Oil Painters of America's 25th National Juried Exhibition.
On Feb. 28 and March 1, Royce Myers Gallery will host receptions for Penix's first one-man show in Tulsa. Through April at the SoBo District gallery, approximately 30 pieces of Penix's work will be on display and for sale, including new works from his cityscape series.
"All paintings to me are more about the abstract than the actual subject matter," Penix says. "The quality of the light, the shapes and colors. But being from Tulsa I was thinking about how I could paint downtown from a unique perspective and this idea was born. An aerial view."
Many of the paintings at the show will be ones Penix has created over the past year, including a sycamore tree at Philbrook, koi from the Linneaus Teaching Garden and peaches from a tree in Porter.
Penix says Royce Myers was one of the first to inspire the artist as a young man and from that he has been able to show in galleries across the country and teach workshops to other passionate painters. 
2019 Blank Slate Challenge Timelapse from TulsaPeople Magazine on Vimeo.
Go to the next page to see what four local designers did to style this piece of art.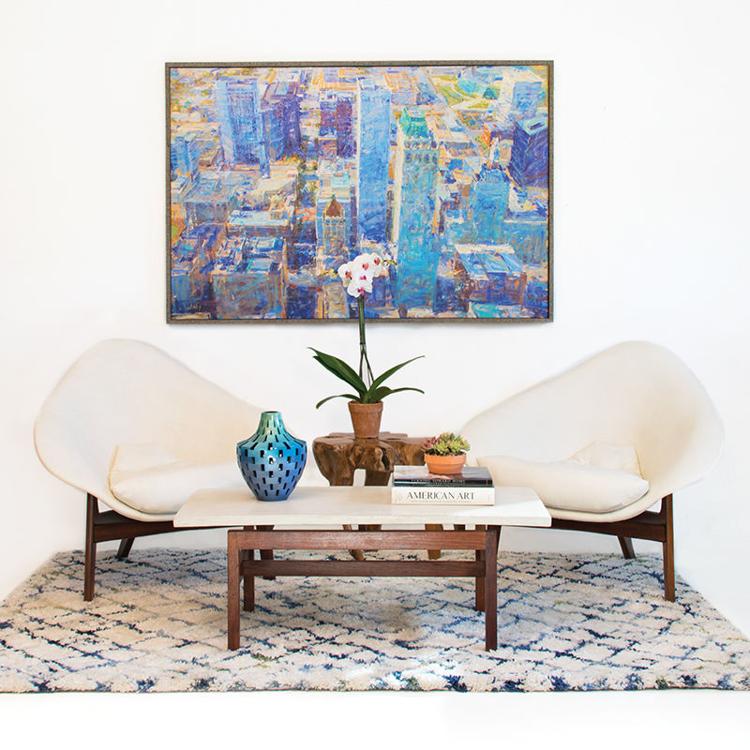 This Tulsa cityscape by Tulsa artist Derek Penix is timeless. Placing two vintage 1960s chairs and a midcentury modern coffee table by Joseph Gilbert Artisan Woodworks on a plush shag rug from Rug Fashion Store gives the setting a warm, retro vibe.
— Royce Myers, owner, Royce Myers Gallery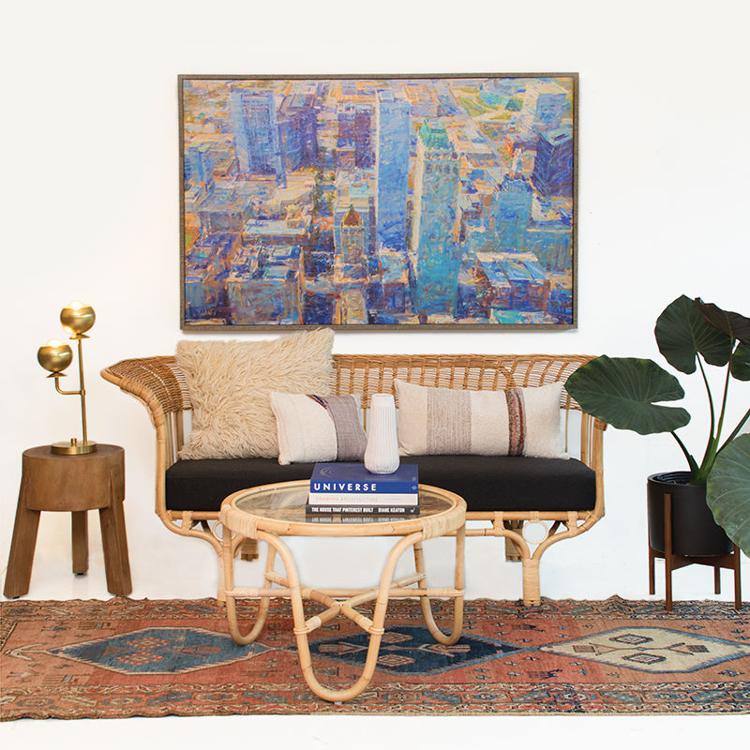 We imagined this beautiful, bright view of downtown Tulsa in a sophisticated yet casual sitting area. The natural materials of the iconic Albini sofa and the rattan coffee table mixed with an antique runner add warmth and a sense of heritage. The handmade ceramic vase and handwoven pillows lend an
artistic vibe, and the midcentury planter rounds out a modern, fresh, bohemian mix. 
— Lisa Wakefield, owner, Jenkins and Co.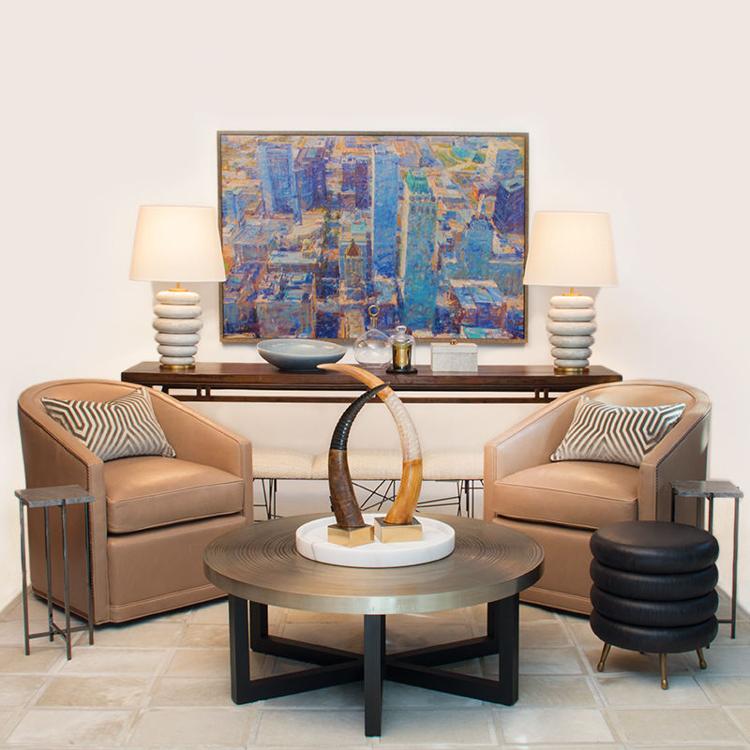 My vision for this challenge was to create an inviting space that is perfect for entertaining but also provides a quiet place to relax and unwind. These are the spaces we all desire in our homes, and when you can achieve several functions in one space it allows for more efficient use of your home. The combination of traditional and current styles, along with the layering of natural materials and textures, come together to create a curated look that is timeless and inviting while letting the art be the focal point of the room. 
— Sherri Duvall, principal designer/owner, Duvall Atelier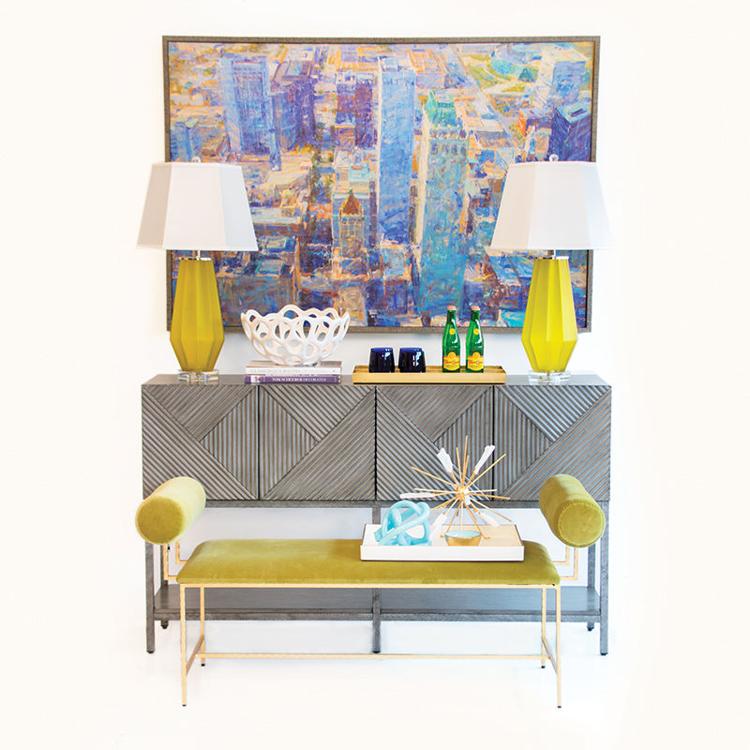 Anchoring the painting with a neutral base, like this gray console, opens the option to highlight colors in the painting with accessories. Instead of holding on to the blue in the painting for color cues, citron glass lamps and a pear green velvet bench provide a coordinating and colorful burst. I imagine this setting to be in a room for entertaining. An easy way to add in color and grab-and-go function is with glass beverage bottles — Topo Chico happens to be the favorite at our house — so I used it here, too.
— Sasha Malchi, owner, Shoppe Sasha