Three years ago, a coalition of agencies came together in an attempt to end chronic and veteran homelessness in Tulsa. What was intended as a two-year project to house 385 people has turned into an ongoing effort that has resulted in more than 1,000 Tulsans housed.
The local project Built for Zero Tulsa is part of a national initiative of more than 70 communities that was launched in 2015 by the New York-based nonprofit Community Solutions.
Approximately 6,500 homeless individuals flow through Tulsa shelters annually. Although many are temporary situations, some face chronic homelessness. According to the Department of Housing and Urban Development (HUD), the latter group faces disabling conditions and has been continuously homeless for at least a year or at least four times in the past three years.
"The issues that lead to homelessness are widely varied: poverty, domestic violence, abuse, medical conditions that drained financial resources, legal problems and more," says Greer Fites, 2018 chairwoman of A Way Home for Tulsa and Built for Zero Tulsa. "Because of this, and in order to tackle the issues, a wide variety of team players is needed to address these issues with homeless individuals."
Built for Zero, originally called Zero: 2016, is one project facilitated by A Way Home for Tulsa, which includes 24 organizations working together to assist those who are homeless or at risk of becoming homeless. Their goal is to reach a "functional zero," which means there are more housing units than individuals who need them.
Built for Zero, both nationally and here in Tulsa, is focused on ending chronic and veteran homelessness. These individuals are most at-risk and require the most resources.
The following five people are working hard alongside many more Tulsans to streamline processes, share information and work together in an attempt to end homelessness in our city.
They are known as Zero Heroes.
Mack Haltom and Michelle Pearson
Tulsa Day Center for the Homeless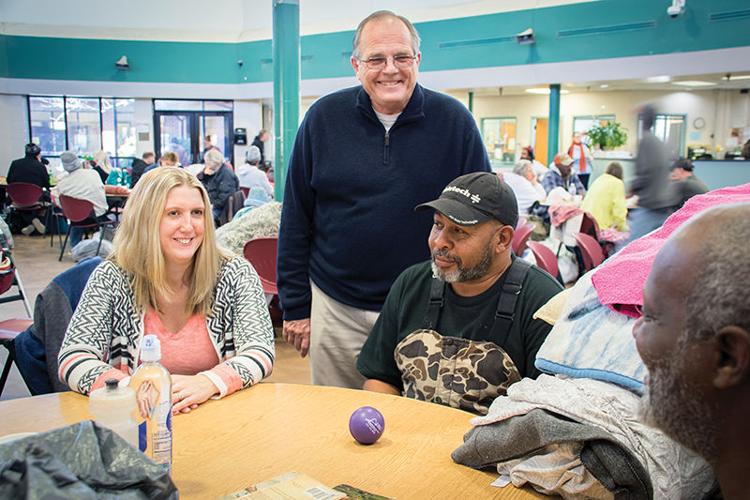 For nearly two decades, Haltom has worked for the Tulsa Day Center for the Homeless. He started at the front desk before becoming a case manager. Today he serves as the center's associate director.
Pearson started as a caseworker and eventually became director for Volunteers of America, where she worked 13 years helping Tulsans secure stable housing. After a brief hiatus, she returned to case management in 2016, this time at the Tulsa Day Center.
A day in the life of the Day Center
These two are among a case management staff of nine who work with many of the 300-350 people who utilize the Day Center on average each day. Their goal is to find permanent housing for those individuals through the Rapid Rehousing Program, which launched in 2014.
"We started the rehousing program because we wanted to get as many people housed as fast as possible," Haltom says. "When a person lives in a house, they are more stable, healthier and more likely to overcome addiction."
Since the program launched four years ago, it has provided 484 homes for 812 individuals. The Rapid Rehousing Program has an 82 percent success rate, which is better than the national average of 80. Success is defined as staying housed for three to six months after placement.
Pearson works with individuals to help them find housing and a job and to make sure they are on a successful path to self-sufficiency. She meets with clients weekly at first, then gradually reduces it to every other week for six months. She typically handles 15 cases at a time.
In 2013, the Day Center opened Hudson Villas, an apartment complex with 60 units. Many of those apartments are occupied by veterans. Case managers are onsite to assist residents in filing for disability, finding health care options and to help in other areas.
Fast Company: Why hospitals are subsidizing apartments for the homeless
The Day Center's case managers also work with numerous other property managers to provide housing in apartment complexes throughout Tulsa. Haltom is a big proponent of mixed-use apartment complexes, in which the chronically homeless live side-by-side with people who have not experienced those challenges. Not only does it help the previously homeless integrate into society, Haltom emphasizes that many people who have homes struggle with the same things that the homeless do — mental illness, substance abuse — but these challenges are less visible because they have homes.
When she's not working a case, Pearson dedicates time for outreach, which means going out and visiting a person who is homeless to begin building a relationship to assist that individual.
"I recently outreached an avid meth user," Pearson says. "I visited him three months in a row just to build his trust. By working with him, we were able to get his warrants recalled and got him into treatment. That's just one example of many."
Haltom says there is a stigma for those who are homeless, but he says most people are one paycheck away from being in the same situation.
"It can happen to anyone," Haltom says. "Our role is to support people. We're their family. We're on their side. We want to help them become self-sufficient and successful in life."
Noe Rodriguez
Mental Health Association Oklahoma
Rodriguez is a rapid-response homeless outreach coordinator for Mental Health Association Oklahoma. As part of his job, Rodriguez provides mobile street outreach to individuals and families experiencing homelessness wherever they may be, such as under bridges or in encampments in the woods. Through regular contact, he builds trust and relationships while connecting them to essential community services.
Through its housing and recovery programs, the Mental Health Association gives people experiencing homelessness an opportunity to start new lives as they successfully transition from living on the street to their own homes where they can thrive and become self-sufficient.
Mental Health Association Oklahoma's annual Carnivale fundraiser supports veterans confronting homelessness.
"I see people living in places no one should ever have to call home," Rodriguez says. "They are doing their best to survive living on the streets on a daily basis, so it is amazing to see their faces when they are handed their key to an apartment for the first time in months, years or even decades. It is an honor to be a part of this process and to share that moment with them."
Rodriguez's passion to help those in need came from situations involving his mother and father.
His father returned from the Vietnam War with a Purple Heart, a Silver Star and a Bronze Star, but also with untreated post-traumatic stress disorder and an alcohol addiction. He struggled for more than 20 years living in substandard housing with unreliable electricity and no gas. Finally, he built up the courage to ask Veteran Affairs for assistance; the VA took care of him until his death two years later.
Rodriguez's mom struggled with mental health conditions and heroin addiction for 10 years, which led to many ups and downs along the way.
"It is my mission in life to help veterans like my father and hurting people like my mother, especially those living on the streets of Tulsa right now," says Rodriguez, who also is an ordained Baptist minister.
Rodriguez is proud of the work he and the other organizations are doing to help those who are homeless. "Currently, A Way Home for Tulsa agencies are on a great course to providing a streamlined process through coordinated entry, which means there's no wrong door when someone is ready to get off the streets," Rodriguez says. "I am looking forward to collaborating to help end chronic and veteran homelessness in Tulsa."
A look back at MHAO's efforts in 2009
Sad state of affairs: mental health in Oklahoma
Community Service Council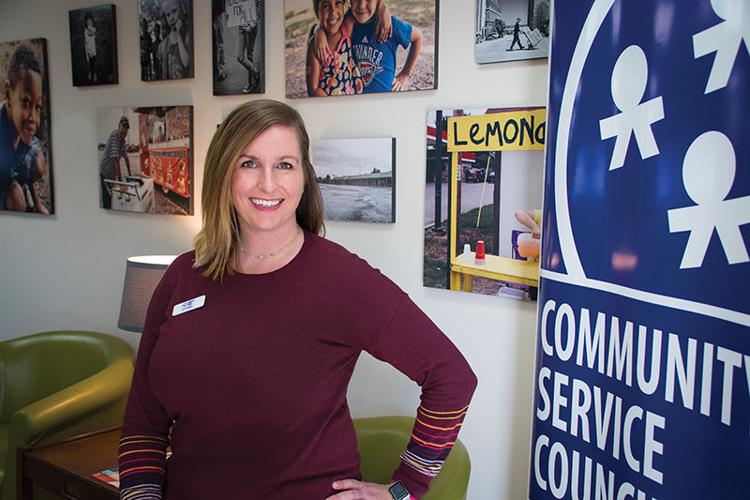 Four years ago, Willis began working with veterans at risk of homelessness. She says she spent months trying desperately to find solutions for the veterans, but quickly realized how challenging it was to navigate through official channels to find success.
That feeling of helplessness during a crisis stuck with her, and helped her facilitate the creation and implementation of All Doors Open. The program provides a standardized and fair way for individuals and families who are homeless or at risk of homelessness to access housing and support services based on their level of vulnerability.
By using a common assessment tool to triage and direct referrals, individuals and families have equal access to all the resources, regardless of where they first present for services.
"It's most often analogized to an emergency room," says Willis, who serves as lead coordinator for CSC's All Doors Open. "If someone presents with a gunshot wound and another person presents with a migraine, the person with the most acute need is admitted and serviced first, regardless of how long the person with a migraine has been waiting."
For the past five years, Willis has worked for CSC, which is the lead agency for A Way Home for Tulsa.
The organization's direct role in Built for Zero comes through coordinated entry planning and implementation. CSC also manages the Homeless Management Information System, a database that is used across organizations to keep track of those with whom the agencies connect.
"At CSC, it's our core belief that housing is a basic human right, and by providing housing-focused interventions and solutions, we can save lives and strengthen our community," Willis says. "I consider myself lucky to be able to work with an organization that aligns with my beliefs."
Another facet of CSC's operation is the Barrier Removal Residence Exchange for Veterans (BRRX4Vets) program that is funded by the VA Supportive Service for Veteran Families grant. It uses the Housing First model to provide temporary intervention and short-term assistance to very low-income veteran families who are homeless or facing eviction in 18 counties throughout northeast Oklahoma.
According to the National Alliance to End Homelessness, Housing First is a homeless assistance approach that prioritizes providing permanent housing for people experiencing homelessness, thus serving as a platform from which they can pursue personal goals and improve their quality of life. This approach is guided by the belief that people need basic necessities like food and a place to live before attending to anything less critical, such as getting a job, budgeting properly or addressing substance use issues.
Her career can be highly stressful, but Willis says that with each success story comes the motivation to help the next person off the streets. "For me, memorable moments occur every week, with each person now having a place to call home," says Willis, whose first role at CSC was working with the veterans program. "It inspires me to see folks come together and find lasting solutions." 
The Rev. Jeff Jaynes
Restore Hope Ministries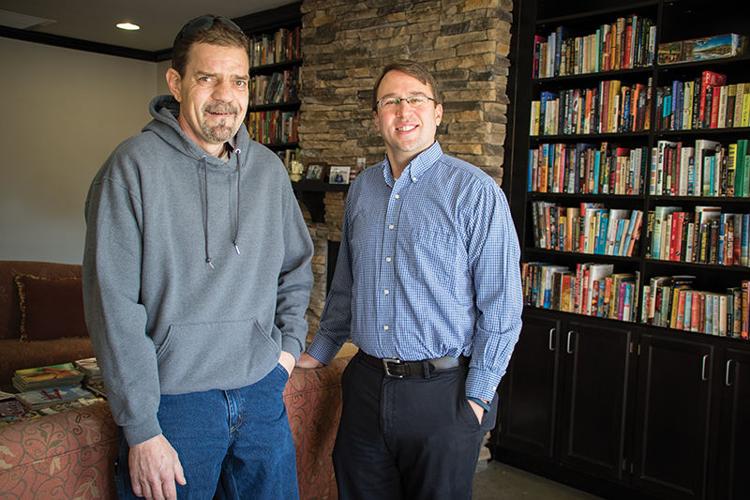 While many organizations work to move people from the streets into housing, Restore Hope works to keep more veterans and others from becoming homeless. "We do so by preventing eviction with emergency rental assistance and financial counseling for families on the verge of homelessness," says Jaynes, Restore Hope's executive director. "Since Built for Zero began in 2015, Restore Hope has prevented 2,136 people in our community from packing up their lives and moving into a shelter or on the streets.
"In doing so, we have not only helped those families, we have helped our community save the costs associated with homelessness and our response to those in housing crisis."
In 2017, Restore Hope assisted 852 people, and only five of those had a shelter stay. That's a success rate of 99 percent compared to the national average of 70 percent. Those stats are available and cross-checked through the A Way Home for Tulsa's master Homeless Management System, administered by the Community Service Council.
Jaynes' first experience with poverty came as a high school volunteer at the Tulsa Day Center for the Homeless. He says that experience and his Christian faith led to his passion for helping those in dire need of housing.
Every person who works in this field has an experience that sticks with him. For Jaynes, it was the story of a man named Ed, who everyone said would be homeless until he died on the streets. On an extremely cold night, Ed found shelter at the Day Center, where the staff helped him recover from frostbite. During that time, the staff was able to connect him with the Day Center's housing program. At the time, there was a cost associated with getting into the program, so Restore Hope assisted him financially.
"That move was almost six years ago now, and Ed has been successfully housed ever since," Jaynes says. "In fact, he got a job, reconnected with his family and now volunteers with the Mental Health Association to lead 12-step groups at one of their housing units. Not only has Ed been sober for years, people who have been in Ed's group have been sober for years, too."
Jaynes served as chairman for A Way Home for Tulsa and Built for Zero during its first two years. He says the day of the first press conference, he nearly refused to speak.
"I honestly did not believe we could accomplish those lofty expectations," Jaynes says. "I did speak, though, because we needed those goals — because people in our community needed a home — and my doubts were shown to be false. We exceeded every goal at every step along the way, housing hundreds of veterans and others who have been on the streets or in shelter for years.
"I am so proud to have helped lead Built for Zero at that time and to cheer on the heroic work of the case managers and front-line workers who truly worked miracles to move our neighbors into permanent housing."
You might enjoy:
Homeless in homeroom: The nearly 2,000 homeless students in Tulsa Public Schools face significant barriers to receiving an education.
Homeless since age 19, Adrian Brown worked with Youth Services to pursue a second chance at life.
Feeding the pets of Tulsa's most vulnerable
Helping veterans with disabilities through the Warriors in Saddles program at the Tulsa Boys' Home