George E. Day Jr. is the man behind some of Tulsa's most familiar structures, yet most Tulsans have never heard of him.
Talking to the architect and professional engineer, one gets the feeling this is — true to Day's practice — by design. "I don't like doing this type of thing," he says repeatedly, referring to self-promotion.
According to Day, most architects have huge egos. He would know, having spent most of his 58-year career managing them at firms from Enid to Tulsa. Day, who doesn't even keep a résumé, seems to be the exception.
Still at it: Meet 4 other Tulsans who don't let age slow them down at work.
You don't know his name, but you've seen his work.
However, when Tulsans attend a luncheon at the downtown DoubleTree Hotel or drive down I-44, past the glass high-rise between South Sheridan Road and South Yale Avenue, they are seeing the fruits of Day's labor. He and his colleagues designed both buildings and a score of other facilities, including the Union High School football stadium, the first in the state to use artificial turf.
Brookside's Stonehorse Shopping Center — formerly the Consortium and now part of Center 1 — is one of Day's favorite design projects. Completed in 1980, the center arguably resurrected the area and guided it to become the retail and dining destination it is today.
Now 83, Day is still working, though at a slower pace, and still flying largely under the radar. For most of his career, when others might have taken a moment to bask in their success, he was onto the next project. Make that multiple projects — up to 22 at one time.
These days, he takes on just one project at a time. But ask Day how old he feels, and he'll say 50. The figure has more weight when he pulls out his diagram demonstrating "Day's Theory": his idea that, to work at maximum capacity, intellect and education must be supported by a variety of quality experience. "I've worked with a lot of intelligent idiots," he jokes.
On the chart, intellect and education intersect with quality experience around age 50. In other words, Day still considers himself at the top of his game.
Meet another long-time Tulsa architect, Wally Wozencraft.
Heartbreak leads the way to a new career path
Day would not be an architect had he not suffered a college baseball injury that hurt his shoulder and broke his heart. The Oklahoma City native came to Oklahoma A&M — now Oklahoma State University — on a full baseball scholarship and accompanied the Aggies' to the 1954 College World Series. The team went to the series the following year, too, but by that time an over-pitched arm had forced Day to leave the sport. "I cried for a year," he says.
Day's new wife, Shirley, had a job in Oklahoma City, so Day transferred to the University of Oklahoma in Norman. He planned to continue the engineering degree he'd started at A&M, but he also became fascinated with architecture. "I started hanging around the architecture school because I was poor and didn't have a car," Day says. "It was love at first sight."
Influence from Bruce Goff
Contributing to Day's love affair with design was the then-dean of the OU School of Architecture: the famed architect Bruce Goff, who had himself been a student of Frank Lloyd Wright. Day calls Goff "an inspiring instructor … the greatest teacher around." In a total of seven years, Day earned degrees in both engineering and architecture — a rare and challenging combination that would set him on a path to designing and building (often for the same project) various types of structures all over the state.
Architect Jack Arnold's natural habitat
A stint in the army, and a place at the firm
The Days then moved to Enid, where George completed six months of active duty with the U.S. Army and transferred to the Army National Guard before joining an architecture firm where he soon became a partner. Twelve years later, in 1972, when citizens failed to pass a bond issue for capital improvements that would have improved the city and given his firm work for years to come, Day left Enid for Tulsa.
The Days come to Tulsa
Before joining BSW International, the Tulsa-based design firm specializing in restaurants, retail and lodging, Day spearheaded projects like developing the land that would later house the Hard Rock Hotel and Casino. After nine years with BSW, he retired as company president in 1997. Since then, Day's numerous housing developments have included Saddleback and the Lakes at Indian Springs in Broken Arrow, Crown Pointe at East 96th Street and South Harvard Avenue, and Spunky Creek in Catoosa.
An old-school engineer and architect
In recent years, Day — who still draws designs by hand and hires other architects to transfer his work to the computer — has worked on a few projects for the Tulsa Pipeliners Union 798, such as serving as construction and project manager for its training center at East 51st Street and South Memorial Road. He also was the architect for the renovations to the union's benefits building.
Day acknowledges a "prideful feeling" when he drives by a structure he designed or built. But how does he measure success? Client satisfaction.
Back at the ranch, George Day built a family — and a personal zoo?
While Day was at the drafting table, making deals and visiting construction sites, Shirley cared for the couple's three children. Their daughter is now an attorney on the East Coast, and their youngest son owns a wealth management firm in Tulsa. Their eldest son died from cancer in 2004.
Over their 63-year marriage, the Days have raised not only children, but also a menagerie of exotic and native animals on their rural property in Wagoner County. Called Sand Hill Wildlife Foundation, the sanctuary was, in its heyday, home to 200 animals of 15 species.
The couple was loaned a pair of Banteng — wild cattle from the tropical rainforests of southeast Asia — and Shirley says their herd of zebras, which grazed openly in a fenced pasture, astounded the staff of the Tulsa Zoo because they would come into the barn on cold days.
For several years, they bred ostriches and emus, selling their last birds just before the "emu crash" of the mid-'90s. At one point, "We could get $3,500 for a 6-week-old chick," Shirley says. That was back when optimistic investors thought demand for ostrich and emu meat would eat into the chicken and beef market. When the exotic bird bubble burst, Day says farmers who could once get $20,000 per adult bird couldn't get $5 for one.
Though he enjoyed the sanctuary days, George says, "I did the animals for Shirley," a lifelong animal lover who once carried a baby wallaby to a black-tie event. Eventually the animals became too much work and were sold or given to other sanctuaries.
Now the Days "only" have six dogs, two cats and a large group of white-tailed deer that they feed from the yard of their home, which George Day, naturally, designed and built himself.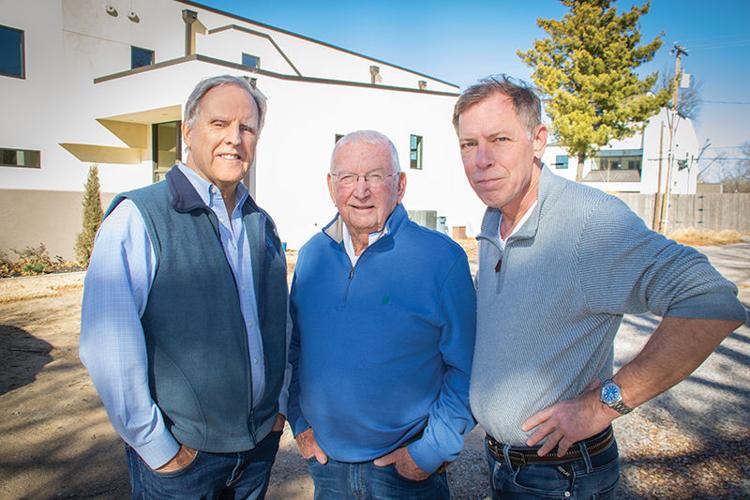 Trust and risk: The Gallery House and The Brooksider
Day's most recent project, completed this past fall, is the home of retired federal judge Sam Joyner. Day designed and built the stunning contemporary home, which is a stone's throw from Center 1. Its crowning feature is an interior ramp from the first to second floors. Reminiscent of the Wright-designed Guggenheim Museum in New York City, the ramp surrounds the open floor plan and is a progressive gallery space for Joyner's award-winning black-and-white photography. Fittingly, Day named the home "Gallery House."
Directly behind Joyner's home is its inspiration, a residence known as "The Brooksider." Its owner, Rusty Patton, has been Day's attorney since 1976. In the '90s, Patton had the foresight to buy up several empty lots just east of Stonehorse Shopping Center, which he felt was improving the area.
Around 2012, Patton hired Day to design and build his dream home on one of the lots, which was by then prime real estate. Completed in 2015, it is a modern three-story masterpiece that showcases Day's precision and intentionality. "I told George what I wanted functionally, and he interpreted it," Patton says. "There were only a handful of things I questioned, and then we made a decision together."
A single piece of 8-inch-thick, unfinished concrete vertically anchors the home from ground to third floor. Wrapping around the pre-cast concrete behemoth, the staircase begins with a thick slice of glossy pecan from a tree on the property that was lost to the 2007 ice storm. Day finished the wood himself. "Floating" glass treads and a glass landing make stair-steppers feel they are walking on air.
Patton walks from room to room, pointing out what he calls "Georgeisms": consistent details Day carried throughout the entire house, from the window layout to paint colors to the rounded corners of walls.
Luxury comes home: Local designers and architects have created these sublime kitchens and bathrooms.
"Architecture is worth the risk."
After Patton's home was completed, Joyner purchased the lot behind The Brooksider. Impressed by the home, Joyner asked Day to design and build his home, too. "Instead of interviewing George, he interviewed me," Joyner says of that first meeting with Day. "He explained that we were about to embark on a creative journey together."
Though the homes share a back fence and have many similar details, "They are totally based on the needs of their owners," Day explains. "The two houses are like brothers, not twins."
Day has built hundreds of homes in his career, but his own home, Gallery House and The Brooksider are the only three he also has designed. He says residential design can be extremely challenging for architects because it is so personal to the homeowners. It's a process that requires great trust.
"Most people retreat for safety," Day says. "Ninety-nine-point-nine percent of everything built is ugly because it is safe. It's because people don't have confidence and the patience to take a risk like Rusty and Sam did."
That Patton and Joyner would trust Day at his age is not lost on him. But the homeowners say they would do it all again.
On the wall in Joyner's entryway is a plaque with a George Day quote: "Architecture is worth the risk."
It's another theory Day has tested and proven.
More images of Gallery House: