Molly and Tyler Thrasher were headed home from a fun evening with friends when they saw the firetrucks in their neighborhood near the University of Tulsa campus. They hoped their friends several doors down were all right.
"I checked their house as we drove by and said, 'Whew, they're good,'" recalls Molly of that fateful night in December 2016. "I didn't even think it could be ours."
But Tyler had a gut feeling.
"We turned the corner, and I just felt it," he says. "It was weird — numbing at first. I didn't know how to process it all."
The Thrashers arrived home to see that an electrical fire had already devastated their 1934 house.
The young couple — he an artist, she a photographer — had just bought the home that May and married two months after that. A commissioned painting from their honeymoon had only arrived the previous week — and it, like almost everything they owned, was now gone.
Home, in ruins
The front of the Thrashers' house was relatively intact, but the inside was destroyed from smoke damage. The back half was burned to the frame.
Very little was salvageable from the fire. If it hadn't melted or turned to ash, it was covered in carcinogenic soot, which fire inspectors and restoration professionals warned them to avoid. A few sentimental items, like his sketchbook and her journals, were saved but had to be stored hereafter in plastic bags and not handled much ever again.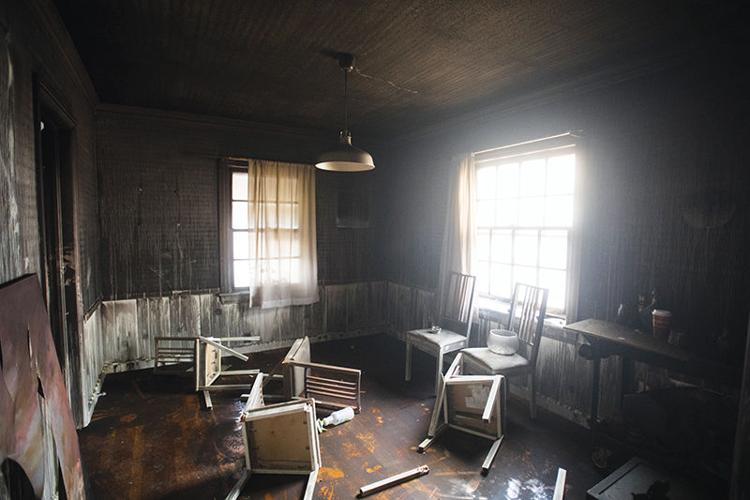 Gone were some paintings Tyler had been working on for weeks; a video he had just completed; half of a collection of rare succulents in the greenhouse out back. Travel photos and personal pictures were lost, as were the couple's computer hard drives — including one wedding project Molly was finishing for a customer, and an art book Tyler had been toiling over for two years.
"(The insurance company) made us do an inventory list of everything we lost," Molly explains. "Making that list was what made it all so real for us. It took a few months to make: an 80-something-page spreadsheet, every item, all the contents of our house."
Tragedy through an artist's lens
Partly crediting a dark sense of humor, the couple laughed — and coped.
"No, it wasn't good; we were just glad we were OK," Molly says. "Had we lost a person …"
"It would've been infinitely worse," Tyler chimes in.
They also might have benefited from looking at the situation as artists. For Molly, it was a chance to photograph the house she had so little time to call home.
"Shooting has always been cathartic," she says. "I've done a lot of first things with a camera in front of my face. My first airplane ride was actually to shoot it. It wasn't a commercial flight, so it was scary doing that. I had never been off the ground."
She had never been through a house fire either, so this was a first she couldn't pass up.
"That night, once they let us walk through the house, it was morbid, and we were shocked and sad from all the normal things you'd expect," Molly says. "But it also was fascinating."
"I was just documenting, mostly because it was so surreal," she says. "I guess I didn't want to forget. Also, the house felt so fresh before. This was our first house. So I don't know if I would even say it was art."
"The light was super-creepy," she adds, describing how the soot-covered windows somberly filtered the charred space.
Tyler saw the possibility of a photo-shoot backdrop. "My everyday human side wants to feel this, but the artist in me saw inspiration," he says. "It was a weird dichotomy. I should feel really awful, but all of a sudden there is so much art to be made from this.
"Not many people get to shoot in a burned-out building. I have a burned-out house, and I have nothing left but this house, so what can I do with this huge burnt pile of rubble? I'll shoot with it. Use what I have."
And "resurrect what you can" might be another part of that philosophy, as he wasted no time in getting a new version of that lost art book up and going.
"We had to get back on our feet," Tyler says. "I'm not one to sulk; I want to keep moving. So the next day, when we were going through all the stuff we lost, I was thinking, 'Yeah, we lost all our work, but let's just make more work. That's easy.'"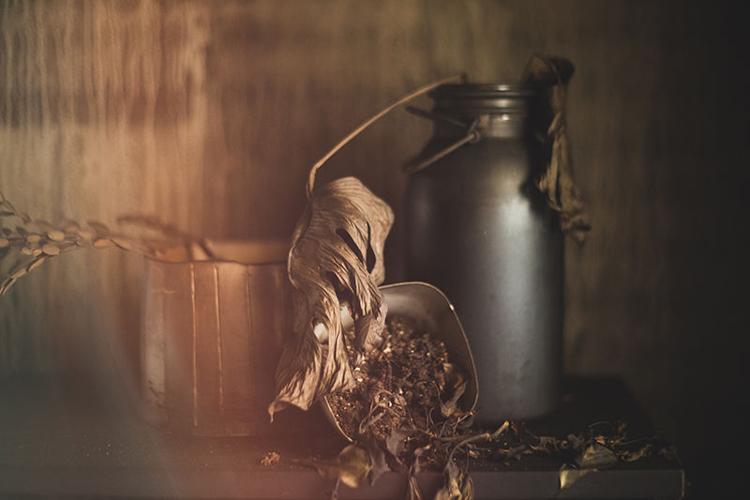 Tyler's work takes on new meaning
Tyler's book included pieces he'd created using chemical reactions — specifically, growing crystals on skulls and dead insects. As the project related to the chemistry and science behind his art, Tyler had named his book "The Wisdom of the Furnace," a nod to alchemists of antiquity who made chemical reactions in furnaces.
"After the fire, it dawned on me that the name took on a completely new meaning," says Tyler, who eventually reshot what he could — and more — and has since finished the book again. In November, he launched a Kickstarter campaign for the book, which he will self-publish this spring.
Tyler says his attitude throughout the ordeal was, "I'm going to take everything out of this fire.
"If it's going to take everything I have, I'm going to use it," he says. "I'm going to take as much inspiration and energy and creativity as I can and make this thing fuel more projects. There will be something I'm going to pull out of this besides loss."
'A human safety net'
Minutes after the Thrashers arrived home after the fire, family and friends arrived to help.
Molly's parents came, and her mom organized the couple's siblings to find them basic necessities for the next few days. For the foreseeable future, they would move into her parents' house.
"It was a shock for a long time," Molly says. "But we had a human safety net of family and friends."
Some of those friends started a GoFundMe page for the couple. Within 24 hours, the $15,000 goal was met and exceeded with about 400 people donating. Support came locally, as well as from across the country. Tyler alerted his social media network of the devastating event that meant many orders had been lost.
"The support we got so fast really helped," she says. "We just had so many people offering us places to stay. So many people brought us clothes. People we've never met were sending us artwork because they found out we had lost all of ours."
"We got more than 120 pieces of artwork in the mail," Tyler says. "It's weird to walk around the world, go into coffee shops and think there are hundreds of people who just showed up for us like that."
Rebuilding and rising from the ashes
The Thrashers rebuilt on the same spot. An appraisal of the property allowed insurance to pay them the cost to rebuild. While they didn't want anything more grand than what they'd had, the couple was able to build a safer home, with some interior upgrades, like tile to replace linoleum floors and granite in place of laminate countertops.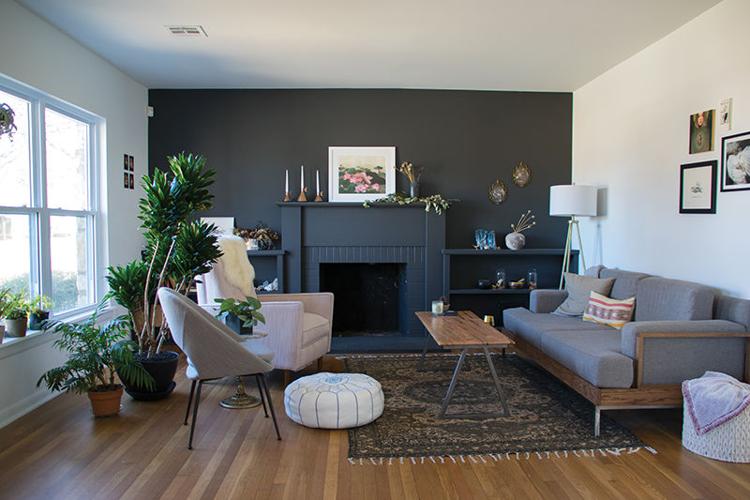 "I'm stubborn," Tyler says. "We were going to stay in this house, rebuild and make it safe."
"I didn't even think of moving," Molly adds. "It wasn't even presented as an option. It felt perfect for us."
In early 2017, Sparks Construction took on the job of salvaging what they could of the original home's exterior, sandblasting away the soot on the stonework. It was a gut job inside, though, with parts of the frame having to be redone. The entire process took almost six months. They moved back into their home in May 2017.
"We wanted the house to be modern in a safe way," Molly says. "But we wanted to keep some of the character of the house from the '30s."
They not only kept some of the original built-ins in the kitchen, like old phone nooks, but asked the contractors to add more. The wood floors, mostly original to the home, were able to be sanded and re-stained. The fireplace bricks were repainted and the mantel was beautifully recreated with minimal flourishes. Arches were added to open doorways, and Tyler requested a little pass-through between the dining room and living room.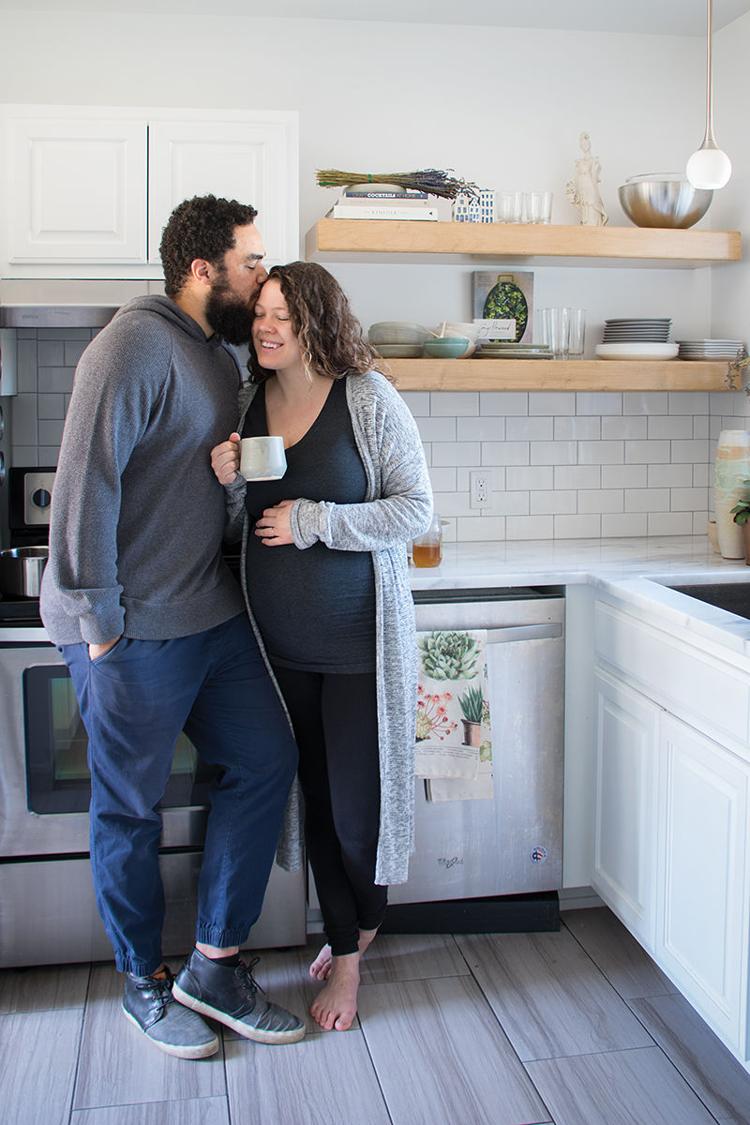 Life, renewed
And along the back wall where the fire started, they hung artwork so generously donated by friends and strangers.
"It's hard to be pessimistic," Tyler says of the outreach they received. "It's just downright disrespectful to retain your pessimism after 400 people whom you have never met have your back. I don't think I can begin to tell how grateful I am. … It made us better people."
At one point, he reaches over and protectively touches Molly's stomach.
"It's a boy," she says, beaming. He'll arrive in May — the same month they became engaged, the month they bought their first house, the month they brought that house to life again.
"We're very excited," Tyler says, smiling. 
Scroll down for more pictures of the Thrashers' rebuilt home.