From a distance, the skyline of downtown Tulsa hasn't changed much in the past 40 years. But within the inner-dispersal loop, the view is changing from the ground up.
Gone (or almost gone) are the days of vacant buildings and businesses of questionable morals. Instead, downtown is home to exciting local food,
professionals who can ride their bikes home for lunch and an ever-growing population of construction crews.
Building on that success, 2016 promises an influx of opportunities to eat, live, work and play downtown. 
---
---
Gates Hardware Building/Elgin Park
323 E. M. B. Brady St. N. 
When KSQ began extensively renovating the Gates Hardware building, "it was just a shell with four exterior walls and no roof," says David Short, the firm's president. 
Today, KSQ occupies the second floor, and preparations are underway for a new McNellie's Group restaurant, Elgin Park, to occupy most of the first floor. 
The sports bar-meets-brewpub is a collaboration with Marshall Brewing Co. The space will feature two hydraulic windows for inside-out seating as well as thoughtful sports references like barstools upholstered in the same leather Rawlings uses for its gloves — after all, ONEOK Field is just across the street. 
You can plan to enjoy MLB's Opening Day over an exclusive Elgin Park-Marshall brew in April.
The Boxyard
East Third Street and South Frankfort Avenue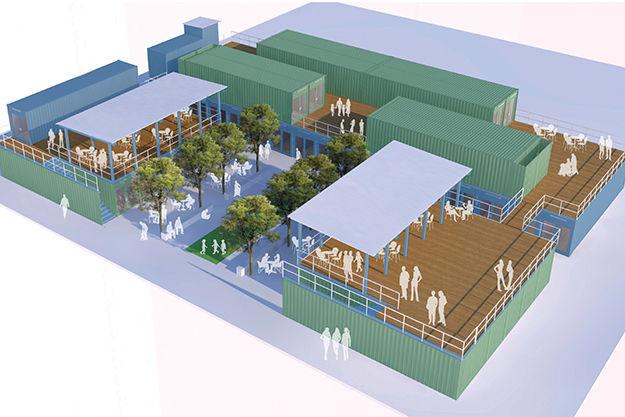 Extra-tall, repurposed shipping containers will form a new retail space in the East Village. Based on similar open-air malls in London, Las Vegas and Nashville, Tennesee, The Boxyard will be home to Dwelling Spaces, Masa restaurant, Stemcell science store, a rooftop bar and more. Tulsans also can expect public events coordinated by Dwelling Spaces' Mary Beth Babcock as the site's programming manager.
Casey Stowe of project developer Nelson + Stowe Development says The Boxyard will bring even more energy to the neighborhood. 
"It will be contained in a pretty small footprint," he says, "but you'll have 18-20 new businesses opening, just like that." 
See a new side of shipping by June.
Y Lofts 
515 S. Denver Ave.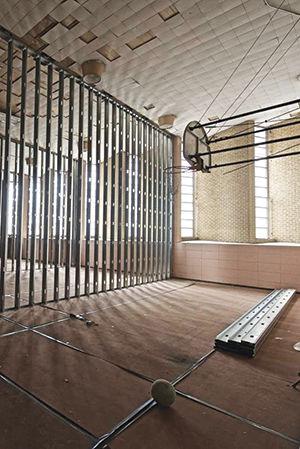 Brickhugger LLC, the development group that restored the Mayo Hotel, will begin pre-leasing units this spring in its newest project, the Y Lofts in the former YMCA building. The 80 units range in size from 400-2,200 square feet. 
"All the apartments will be different, so there will be something for every resident," Shelby Snyder, president of Brickhugger.  
As reported in the Tulsa World, progress on the project was delayed due to seeking the use of historic tax credits and finding the best developing practices for the unique spaces. 
Central Library
400 Civic Center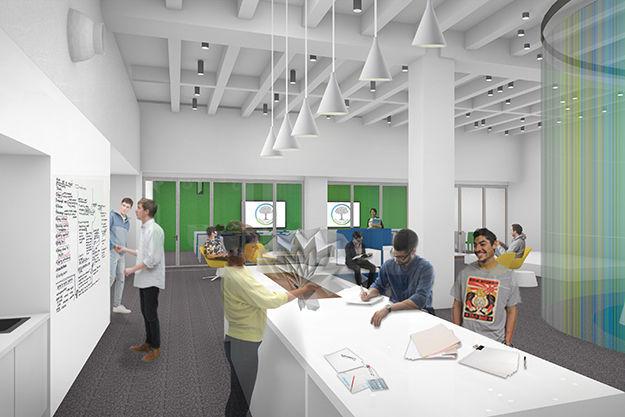 Across the street from the former YMCA, another iconic Tulsa structure is getting more than a facelift. The funds for the Central Library's $54 million LEED-certified renovation were raised through foundations, corporations, individuals and Improve Our Tulsa funds. The Central Library will house the first Starbucks inside a public library. Grab a cup of coffee and a book this summer.
The Edge at East Village 
211 S. Greenwood Ave.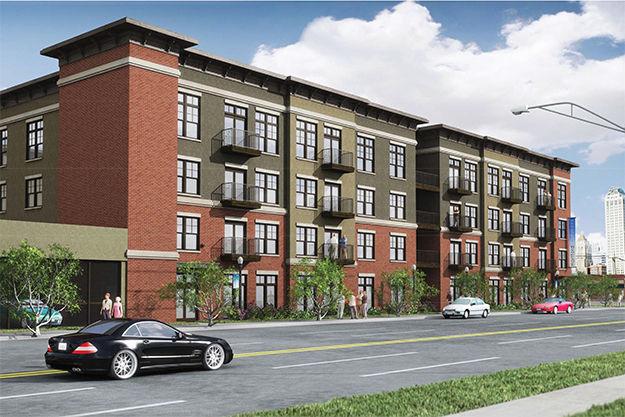 American Residential Group is partnering with Nelson + Stowe Development to bring downtown Tulsa the only new-construction residential offering opening in 2016. Several of the one- and two-bedroom units at The Edge will have balconies, and all residents will have access to the pool in the center courtyard. 
According to Becky Weaver of ARG, monthly rental rates are expected to range from $1,020-$2,000. The first phase of units will be ready for occupancy this spring. 
The Meridia
522 S. Boston Ave.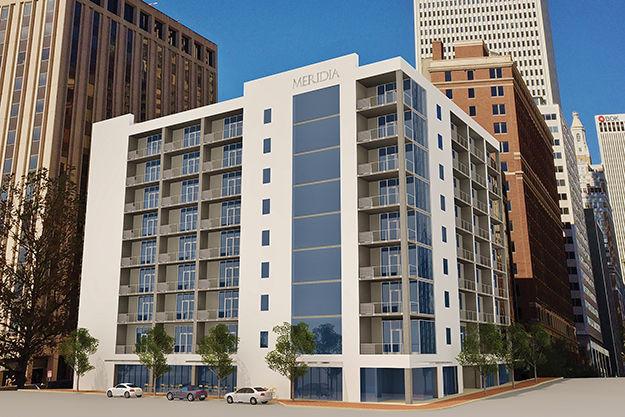 Walk by this building now, because by summer you might not recognize it. Over the next several months, the building will transform into 93 luxury apartments ranging from 710-1,600 square feet. Balconies will be included on 88 units. 
"All we are keeping is the bones of the building," says Hannah Demuth, River City Development property manager. 
McNellie's Group office/Bond Event Center
608 E. Third St.
The McNellie's Group has occupied the former Bond Baking Co. building since 2013 and has been in the process of remodeling it ever since. By this summer, the building will be home to the company's offices, a commissary kitchen and storefront bakery, and a 10,000-square-foot event space called the Bond Event Center, a venue for corporate retreats, weddings, fundraisers, parties and more.
Tulsa World/Palace Building
324 S. Main St.
The Tulsa World and its parent company, BH Media, are collaborating on the renovations of the Palace Building. The 1912 building had been vacant since 2012, but renovations will transform the property into 60 apartments with affordable rent and commercial space on the ground floor. A structure will be built over the existing parking lot to serve as a paper storage facility.
"The primary reason (to renovate the Palace Building) was a feeling within Berkshire Hathaway that this would communicate that we care about Tulsa and are here for the long haul," President and Publisher Bill Masterson says.
Also of note:
FIRST BAPTIST CHURCH OF TULSA will build a 70,000-square-foot children's and preschool building and renovate the existing Detroit Tower structure at East Fifth Street and South Detroit Avenue to improve accessibility for older adults. The project will affect nearly every age group in First Baptist's 1,500-member congregation. The church's third renovation in 14 years is expected to be complete by mid-2017. 
FOX HOTEL AND UNIVERSAL FORD BUILDING wraps up construction this month near East Cameron and North Main streets. The last projects to be finished will be the new brewpub, a collaboration between the minds at R Bar and Prairie Artisan Ales, and offices above The Tavern restaurant for Lilly Architects and Arts Alliance Tulsa. Antoinette Baking Co. opened first in the building, which is now also home to The Tavern and The Lounge speakeasy. In January, coworking space and business incubator 36°North celebrated its grand opening. The building's 31 apartments are all leased and occupied, and tenants include Tulsa Artist Fellowship participants, teachers with Teach For America and City Year and entrepreneurs with 36°North.
OKLAHOMA MUSEUM OF POPULAR CULTURE (OKPOP) will take up residence in the Brady Arts District on land donated by Bank of Oklahoma along Archer Street near the Center of the Universe. Expect 30,000 square feet celebrating Oklahoma's "creative spirit." Once architects and consultants have been determined, an approximately three-year timeline for design, construction and museum completion will be set. The state has allocated $25 million to cover the museum's construction, and fundraising is ongoing for exhibits and collection care. 
SANTA FE SQUARE is a six-story, multi-family living, hotel and retail space that will occupy two blocks between First and Second streets and Greenwood and Elgin avenues. It will grow out of the existing Santa Fe Depot and will be completed in 2017. 
THE VIEW is a new construction project from American Residential Group that will bring 195 high-end residential units and 15,000 square feet of retail and restaurant space to the newly vacated lot just south of ONEOK Field. Construction should begin this fall and take 16-18 months to complete.