Gary Black's passion for spectacles started in sales. He started his career in eyewear sales in 1996 at 17 years old, working for a sunglass chain specializing in prescription sunglasses.
When he decided to open his own Brookside store 12 years ago — Black Optical — his goal was to provide his clients with quality eyewear they couldn't find anywhere else in Tulsa.
"We built a lot of trust early on with our clients," he says. "We treated our business more like a relationship instead of just a transactional thing. We really get to know them and their needs in eyewear. Now our guests look to us as a cultural hub — they'll ask where to shop, eat and visit."
That trust and positive rapport brought Black success, with two additional stores in Oklahoma City in 2011 and Dallas in 2016. Most recently Black Optical has even launched several design collaborations with international eyewear brands.
"This year we designed a joint collection with Krewe (an independent eyewear company based in New Orleans), from inspiration all the way to manufacturing, and we're now working on a second release," he says. "The first collection was five styles, and this one will probably be about 10 frames in various colors."
So how does Black Optical keep up with the eyewear trends?
"We don't really follow trends because if it's a trend, we feel that it has already passed," he says. "We do go to a couple of trade shows, one in Paris and another in New York, but we're also very curious about what people are wearing, whether it's on someone local or someone in the streets. We are always looking. That's the fun for us. We like to discover new things and pass them along to our clients."
The next goal for Black Optical is to design its own branded collection of eyewear, something Black is hopeful will happen in 2020.
"I just can't believe 12 years has passed," he says. "We're going to keep creating and want to start producing frames that we dream of that you can't find anywhere else."
Black Optical
3524 S. Peoria Ave. | 918-794-0383 | blackoptical.com
10 a.m.-6 p.m., Monday-Saturday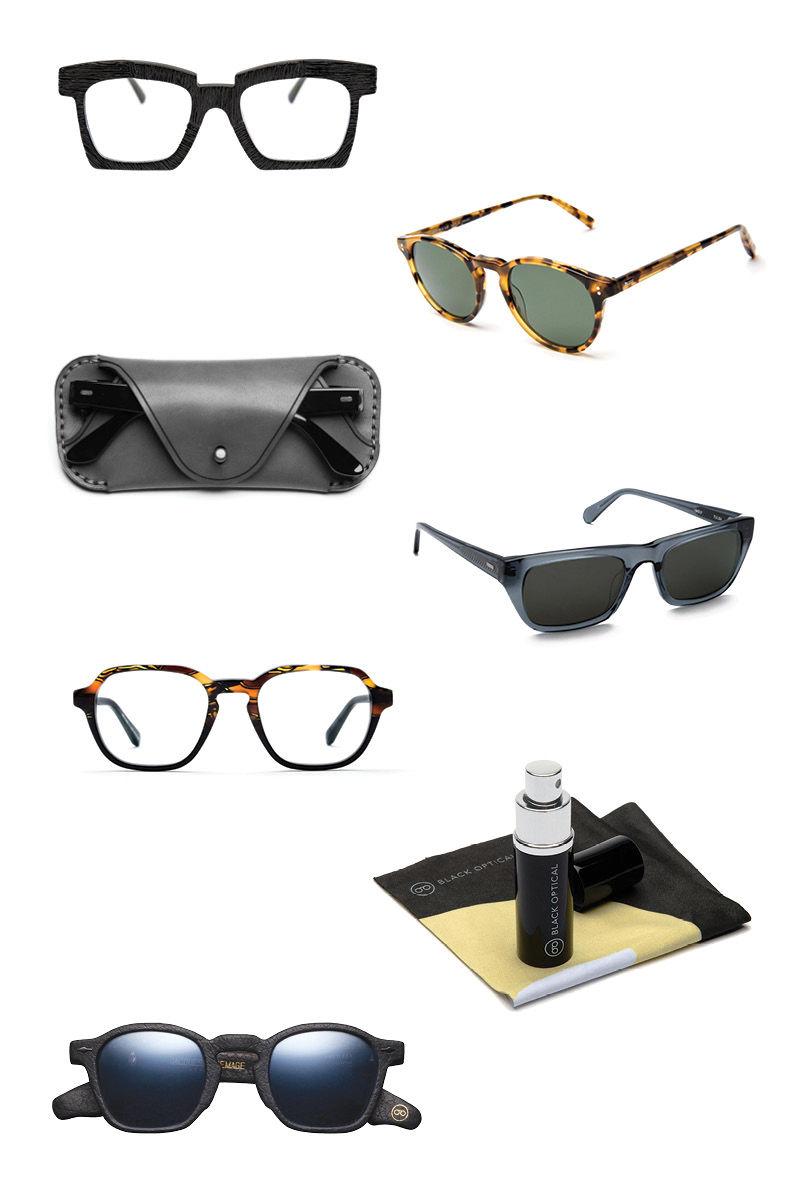 From the top:
You might recognize the "K-5" by Kuboraum's striking black-etched frames — they're a favorite of Oprah Winfrey. Starts at $475.
The P3 is a classic, round frame with a keyhole bridge evocative of the World War II era — think Gregory Peck in "To Kill a Mockingbird" — but updated in modern colors. Starts at $195.
Makr Eyewear Sleeve cases are a collaboration with Black Optical designed to easily pop into a handbag or a front jacket pocket. Made of Horween leather, they come in a variety of colors and are sleek and soft. $95.
The "Tulsa" sunglasses are part of a recent collaboration with Black Optical and Krewe. Starts at $215.
The popular "Cole" frame is named after Black Optical's Dallas store location on Cole Avenue. This frame is made of handcrafted acetate and comes in several colors, giving it that perfect '70s vibe. Starts at $275.
Black Optical's micro-fiber cloths and cleaning solution are helpful for maintaining and cleaning glasses and sunglasses. $16.
The exclusive Jacques Marie Mage and Black Optical Collection features frames inspired by Oklahoma with hand-wrapped, ecologically sourced bison leather. Starts at $850.