What's it like to walk a day in someone else's professional shoes? Some of Tulsa's most taxing vocations are some of the most interesting, too. TulsaPeople profiles five Tulans whose jobs help us, inform us and provide a city full of opportunity and experiences.  
Katy Kramer
KTUL NewsChannel 8 meteorologist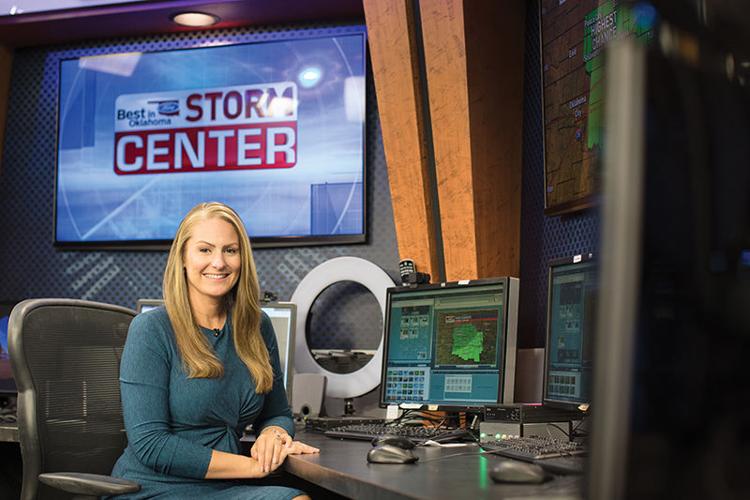 From Kramer's perspective, weather reporting in Tornado Alley is a plum job. "It's a meteorologist's dream to come down and work here in the plains," says the Indianapolis native, who has been at Tulsa's ABC affiliate, NewsChannel 8, since June 2018.
Kramer has been a meteorologist for about nine years, first in Columbia, South Carolina, then Champaign, Illinois, and Green Bay, Wisconsin. In Tulsa, the weather is unpredictable and more interesting.
"It's very active," she says. "For some people, their meteorology focus is more hurricane-based, so they want to be on the East Coast. Others, it's winter stuff, so they want to be up north.
"But for most, you'll find they are most curious about thunderstorms, tornadoes — stuff that you get here in the heartland and the central portion of the country. And Oklahoma is the prime area for that."
Kramer loves the job's challenging qualities, such as forecasting. "Constantly, things change — you're always going to see something different. And that makes it difficult, too; it's a very challenging job. The challenge, the volatility of it, the variety of things that I get to look for and look at, that's fun."
Her shift runs from the wee hours to mid-morning. When severe weather occurs Chief Meterorologist Dan Threlkeld calls on the weather team to assist with coverage, but Kramer says everyone is dedicated to keeping viewers informed.
Here is a breakdown of Kramer's typical work day:
1 a.m.: Alarm goes off. "The most difficult part of my day is probably rolling out of bed," she says.
2:30 a.m.: With makeup in tow, she arrives at the station in sweatpants. For the next hour and a half, she will "forecast, look at models, look at numbers, update websites, do radio. We record a radio segment in the morning," she says.
4 a.m.: Dons her on-air look.
4:30 a.m.: On air with "Good Morning Oklahoma" until 7. "Throughout the show I'm constantly updating stuff, doing Twitter, doing Facebook, changing out graphics because I don't want to use the same forecast every time because that's boring."
7 a.m.: After the show is over, records a couple of "weather hits" that will run during the national "Good Morning America" broadcast.
7:30 a.m.: A little break in the day for lunch.
8 a.m.: Reviews the new weather models that usually come out at this time, "just to see if anything dramatic changes." She also prepares for the guest interviews that she will conduct during the upcoming "Good Day Tulsa" show.
8:30 a.m.: Show meeting for "Good Day Tulsa."
9 a.m.: On the air again as "Good Day Tulsa" begins.
10 a.m.: Show wraps; Kramer updates Facebook, Twitter and changes a few graphics if necessary, and her shift is pretty much done.
10:30 a.m.: Go home. Any station-sponsored duties or community event opportunities, such as public appearances or severe weather education workshops, tend to occur after her shift is over.
Rebecca Mejia
EMSA paramedic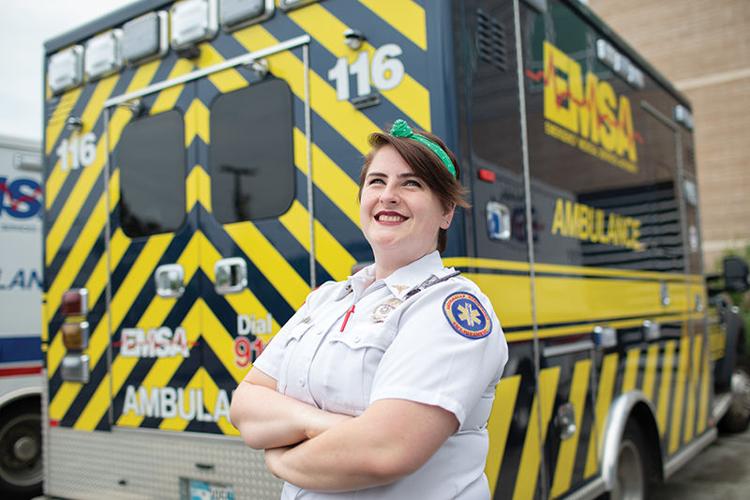 Mejia regularly encounters patients on the worst days of their lives. Her job is to get them the help they need, often in life-and-death situations.
With another team member, Mejia responds to emergencies and provides emergency medical care on-site, and, when necessary, transports the patient to the hospital. Now 27, she has worked for EMSA for seven years, upgrading from an EMT (emergency medical technician) to a paramedic about four years ago.
"Every day is different," Mejia says. "I don't like mundane, repetitive things. Every day is a new adventure."
Some days are busy, with call after call after call, and on others, hardly anything happens, but she loves her job.
"It's either feast or famine," Mejia says. "And things can turn on a dime. Always bring your food, and never pass up a chance to use the bathroom. Those are key lessons I've learned."
Currently working the overnight shift, Mejia's schedule assignment usually changes every six months. She also is assigned an EMT partner for the six-month period. She and her current partner, Jasob Henderson, have become close friends after spending so much time together. They work 12-hour days, four days a week. She likes working with the overnight staff, but she says her body prefers the day shift.
Each EMSA crew has one EMT and one paramedic. The EMT is primarily the driver of the ambulance, but occasionally the paramedic takes the wheel.
Below is an excerpt of a recent workday:
7 p.m.: Shift begins. A pre-shift check of all equipment and the truck already has been performed, ensuring all equipment and drugs are stocked, as well as making sure the cot and other components are clean.
7:05 p.m.: While traveling to first "post" of the night, there's a Priority 2 medical call, which means it's not urgent enough to warrant utilizing the lights and sirens.
7:09 p.m.: While still en route to the call, another call comes in, re-routing them to a Priority 1 emergency because they're closer than any other ambulance. Another crew is assigned to the first, non-emergency call. Now, lights and sirens are activated.
7:14 p.m.: Arrive on scene of Priority 1 call, where Tulsa Police have already arrived and are tending to the patient.
7:29 p.m.: Begin transporting patient to the hospital.
7:39 p.m.: Arrive at hospital. Transfer patient's care to the emergency department staff and complete patient care documentation.
7:59 p.m.: Leave hospital, assigned to new post just east of midtown.
8:10 p.m.: Arrive at post, then receive new Priority 2 call.
8:21 p.m.: Arrive on scene; patient is an older woman who has fallen. "She was very nice and feisty," Mejia says.
8:37 p.m.: Begin transporting patient to the hospital.
8:54 p.m.: Arrive at hospital and put on "bed delay," meaning the hospital either didn't have space or staff available right away to care for the patient. In these cases, Mejia and her partner remain, overseeing patient care until resources become available.
9:31 p.m.: Patient's care transferred to hospital; paperwork completed. Assigned to post just east of midtown.
9:38 p.m.: Arrive at post. With a little downtime, Mejia and her partner attempt to watch the previous episode of "Game of Thrones."
10:06 p.m.: New Priority 1 call comes in. They drive with lights and sirens, or as they call it, "running hot."
10:10 p.m.: Arrive at scene. After providing a breathing treatment to the patient, she decides she doesn't want to go to the hospital.
10:55 p.m.: Finish with patient. Assigned a new post in midtown.
… And on it goes until the shift is over at 7 a.m. the next morning.
Gary Shepherd
Head groundskeeper, Tulsa Drillers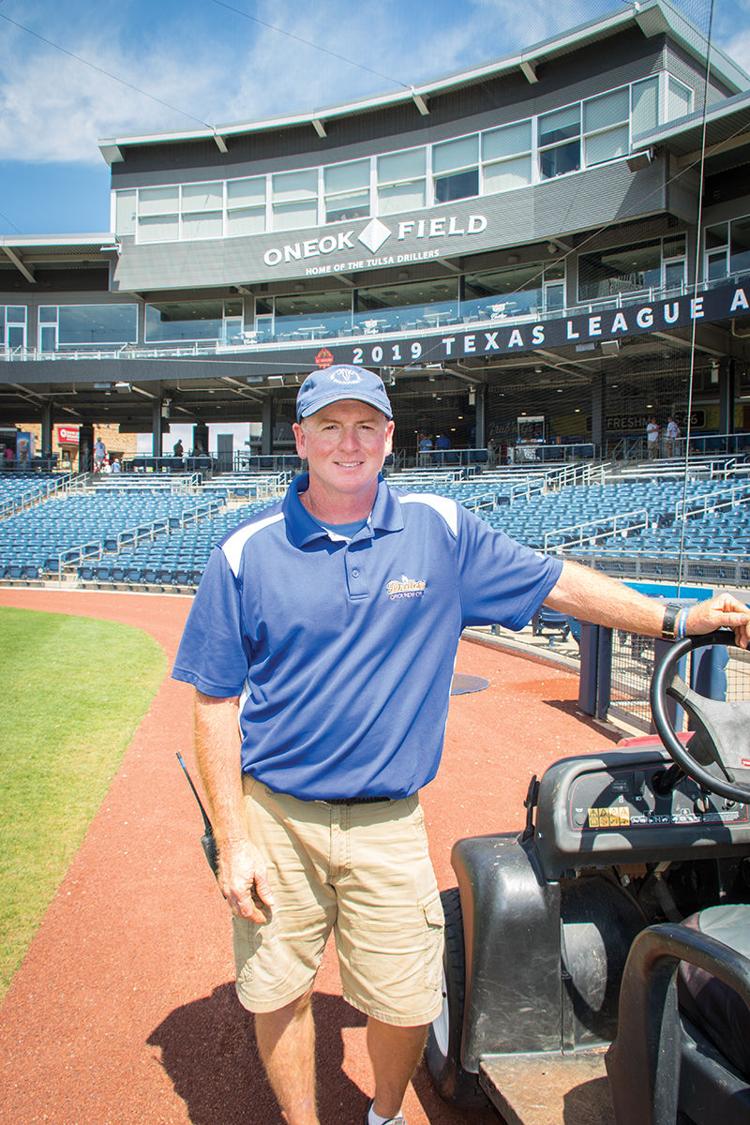 Shepherd takes his job maintaining the playing surface at ONEOK Field just as seriously as the athletes who play on it.
His most complex task is coordinating the transformation of the field from baseball for Tulsa Drillers to soccer for Tulsa Roughnecks (and back again). Since the two clubs share the stadium and their seasons are concurrent, Shepherd usually performs the conversion 8-10 times a season. Typically two matches occur per conversion, but occasionally there is only a single game. Pre- and post-baseball season soccer matches might see more field uses.
Shepherd, who joined the Drillers in 1993, has been the club's head groundskeeper since 1999. "I knew immediately when I first started working out here, that I would want to do this on a full-time basis for a long time," he says. "There's nothing else I'd want to do."
The conversion from baseball diamond to soccer pitch makes for a long day, but five years since the Roughnecks began, Shepherd has the process down to a science.
The work begins immediately after the final out of the last Drillers game of the series:
10 p.m.: Once the baseball game ends, Shepherd and his grounds crew of six remove the top quarter-inch of conditioner from the infield dirt. "That's guys with rakes and shovels and utilizing our utility vehicle to remove it and then put it in a pile down here in our storage area," Shepherd says. They also have other typical post-game duties, such as covering the bullpen areas and the pitcher's mound with a tarp, among other things.
11 p.m.: Home for the night.
7:30 a.m.: The next morning, Shepherd coordinates with a private company, JonesPlan, which handles much of the grass overlay. With about six to eight of its own employees, JonesPlan begins preparing the infield, taking some more dirt off the edges, to eventually blend the new grass in with the existing outfield grass. They also lay down a barrier on top of the infield dirt. "It's called a geo-textile material — it's real thin, but it's permeable so water can get through but not dirt or sand, so that the soil from the sod will not mix with our infield dirt," Shepherd says.
8 a.m.: While JonesPlan works on the infield, Shepherd and his assistant take care of the pitcher's mound area. The retractable mound drops into the ground. Eight pie-shaped pieces of solid foam material levels off the mound, which Shepherd tops with a tarp, and then 2-3 tons of sand on top of that. "That levels everything out to the existing grade of the infield," he explains.
11 a.m.: Once the sand is in place on the pitcher's mound area, a layer of that thin fabric is put down to prepare for the installation of the grass on top of it.
Noon: Truckloads of fresh sod grass arrive, and JonesPlan starts laying it down on the prepared infield, as well as the pitcher's mound area and some small sections of the outfield warning track where the soccer field also extends. "They lay the sod because it comes in big rolls, 40 inches wide and 150-feet long rolls, so it's huge," Shepherd says. "And you need equipment to lay it out, which we don't have."
While JonesPlan installs the sod, Shepherd follows behind them and begins hand-watering the areas already down. He also sets string lines to prepare for painting the soccer field markings afterwards.
5 p.m.: When the sod is down and the grass is watered, JonesPlan leaves, but Shepherd still has a few other tasks. Next, he'll get out a big, 1-ton roller and drive it all over the sod to secure it. "That firms it up a little bit and then we top dress it, putting a ton and a half of sand on top of the sod to help keep it in place," he says.
6:30 p.m.: "Sometimes it needs to be mowed, sometimes it doesn't," Shepherd says of the newly installed sod, which he has to blend in with the already-existing outfield grass.
7:30 p.m.: Shepherd paints the soccer field lines onto the field, or perhaps he'll wait, depending on how much time there is before the next soccer game.
Erin Muller
Store manager at QuikTrip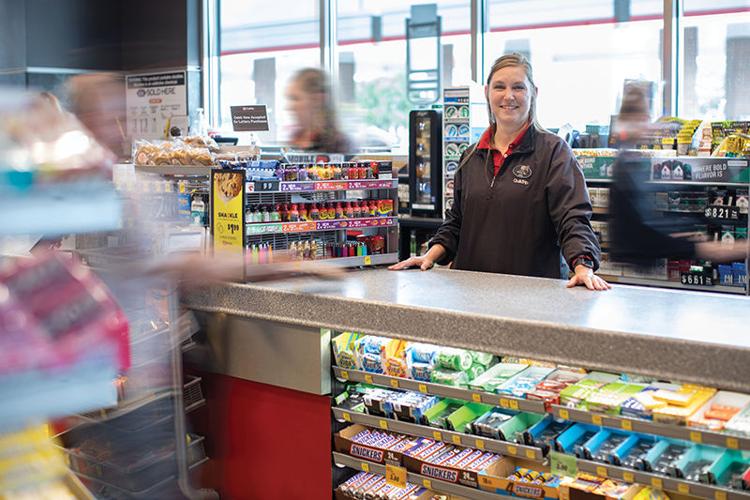 Muller puts a lot of time and effort into preparing her store for a customer experience that averages about 3 minutes.
The Wichita, Kansas, native has been in Tulsa for about a year and a half, with the past five months as the manager at the QuikTrip at the corner of West 23rd Street and Southwest Boulevard. She has worked for QT for about 15 years. She has been a store manager for five years and worked for QuikTrip in Wichita; Greenville, South Carolina; and Phoenix before coming to Tulsa.
"What I love most about the job are the relationships I get to build with my customers, and also with my employees, to be able to watch them grow," says Muller, who has 22 employees, including four assistants.
She oversees the store and works Monday through Friday, 5 a.m.-3 p.m. "I like coming in early," Muller says. "Sometimes it's hard to wake up that early, but once you get going, I'm just, boom, in the zone."
Here's a typical day for Muller:
4:45 a.m.: Arrives a little early before the breakfast rush to get a head start on the day. "First thing I do, I go through and make sure the store is perfect, per se — ready to go for our first rush of customers," she says. "They start coming in almost as soon as I get here, and we're selling food like crazy. So I've got to make sure all that is ready to go, and then from there, we just have to maintain it."
9 a.m.: Volume of customers dies down; she orders supplies and catches up on some paperwork.
10 a.m.: "Everything that needs to be done in the morning has to be done before 11, because otherwise we will get our butt kicked," she says. "If not, then we're chasing our tail." Muller and her team tackle trash, restocking coolers, wiping and cleaning the store, writing orders for food and any action items that arise through the shift. An assistant manager works with Muller four days of her work week.
11 a.m.: The lunch rush starts, so there are a lot more customers to serve. She's keeping eyes on what's happening in the store while also doing her best to monitor the activity at the pumps.
1 p.m.: With the lunch traffic slowing, "We can just touch up little things that we started to do in the morning, like merchandising chips or sandwiches or something like that," Muller says. "And then after that, it's kind of like smooth sailing, just have to maintain it."
2 p.m.: On Tuesdays, Muller writes up the following week's clerk schedule.
3 p.m.: Time to go home.
Terry Ball
City of Tulsa director of streets and stormwater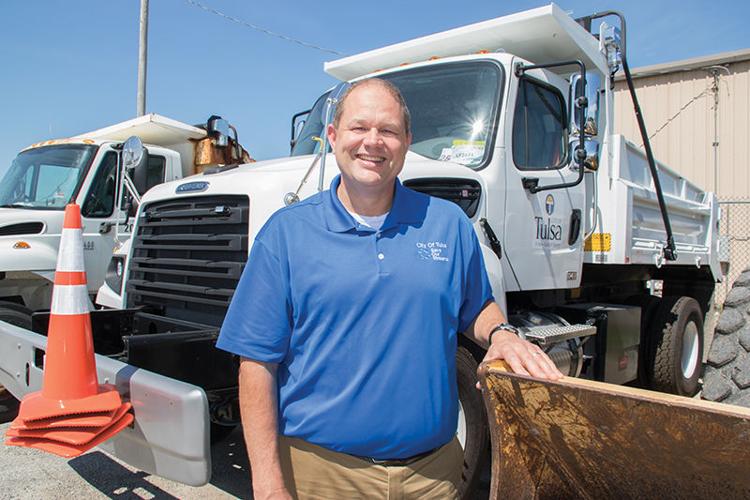 Along with a seemingly never-ending series of meetings, Ball supervises four major divisions and 351 employees.   
These workers hold jobs most of us don't even think about: in refuse and recycling, traffic engineering, stormwater management and street maintenance. They cover everything from trash and recycling collection, setting traffic light timing and road striping, responding to water drainage issues, street salting and snow plowing during weather events, and pothole repair.
So there are a lot of areas demanding Ball's attention.
"It's fun," says Ball, who has been in his current position four years. He has worked for the City for about 25 years since graduating from the University of Oklahoma with a bachelor's in engineering. "What I like the most is just the ability to help people through some of the activities that we do.
"That's a neat part of it. You're hoping at the end of the day, you've made somebody's life a little bit easier, a little bit better."
Theoretically, Ball works a fairly standard 8-5 shift, but it doesn't always work out that way, especially during severe weather. He spearheads the city's response, either to possible flooding or winter precipitation.
Here's what his day might look like:
7:30-7:45 a.m.: Arrive at work a bit early and start going through emails, responding to any issues. "You're pretty much doing emails any time of the night," he says, because "you never know when something needs a response that night." These emails come from the mayor, councilors, other department managers or citizens.
8:30 a.m.: Reviews, pays and approves department bills.
9 a.m.: Meetings, meetings and more meetings throughout the day, including a regularly scheduled stormwater group meeting. "Our stormwater group, with engineering and operations, gets together once a month for a focus time, where all we talk about is any stormwater-related issues that have come up over the last month. Sometimes it's long-term projects that we're continuing to work on."
10 a.m.: Another meeting. "We had a bi-monthly coordination meeting, and then we're having a meeting with our development team to talk about temporary use of streets and closing of sidewalks," Ball says. He also attends city council committee meetings that might impact his divisions, or the Tulsa Authority for the Recovery of Energy, or the monthly IT strategic planning meeting, or the monthly "walkability" meeting with BPAC (the Bicycle Pedestrian Access Committee), where they discuss current city projects that might impact more bike and pedestrian access.
1 p.m.: More email. "At some point in the day, I work on whatever has come into my inbox," Ball says. "I've got two different contracts that we're working on — renewals — so I'm working through that, making sure it's ready to go, proofreading it and getting it ready to be presented to the board for approval."
2:30 p.m.: More meetings, including standing meetings for the Vision projects being implemented by the City.
5 p.m.: Go home, unless there are weather-related issues or public meetings, which are held a couple of nights a month. 
When disaster strikes
Terry Ball's department is responsible for cleanup from tornado damage and stormwater flooding response.
During May's historic flooding event, Tulsa had all stormwater crews working in two 12- hour shifts, which allowed 24-hour response, Ball says. The Refuse and Recycling and Street Maintenance divisions worked 6 a.m.-6 p.m. to cleanup debris from the two tornado events and also perform road repairs due to the heavy rains.
Ball was stationed at the Emergency Operations Center from midnight to noon, and ended up working approximately 14- to 16-hour days, leaving only to get some sleep, he says. From there, he was able to coordinate needed efforts from his department for the overall city response, including barricade setup and sandbag duties.
"We are now in the recovery response of repairing roads, repairing stormwater systems that were damaged from the flooding and finishing the debris pickup from the two tornadoes," he says.