In the 1950s, Glenn Pray was a young industrial arts teacher at Tulsa Central High School who had a deep passion for a "prestige automobile" called the Cord. First manufactured in 1929, the Cord was the first American-designed and American-built automobile with front-wheel drive and independent front suspension.
The Cord and the Auburn, another '30s-era automobile, were originally made by the Auburn Automobile Co. in Auburn, Indiana. These high-priced luxury vehicles and the Duesenberg, another early 20th century automobile, ultimately ceased production when the Depression bankrupted their manufacturers.
In 1960, upon learning that the now-combined Auburn Cord Duesenberg Co. was for sale, Glenn traveled to Indiana and purchased the plant, auto parts and company trademarks for $75,000 from then-owner Dallas Winslow.
There was only one problem: Glenn didn't have the money. He ultimately finagled the sale via a loan from Winslow.
Glenn then moved the auto manufacturing plant, including over 700,000 pounds of auto parts, to an abandoned pickle-packing plant in Broken Arrow.
There, in 1966, Glenn began manufacturing "second-generation" (G2) Cords, later to be known as "Glenn Pray Cords," as well as manufacturing and selling new old stock (NOS) parts. Developing a respected reputation as one of the most knowledgeable dealers in Cord and Auburn parts, Glenn manufactured some 350 second-generation Cords and Auburns and one Duesenberg.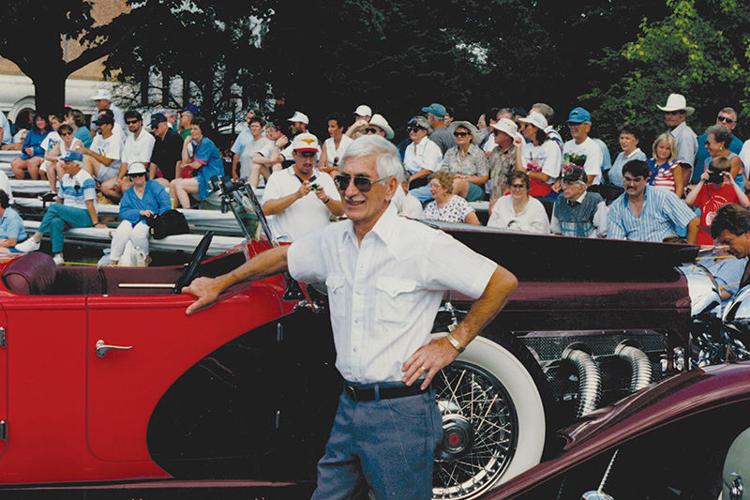 Glenn often rubbed elbows with the rich and famous through his manufacturing efforts. Among his celebrity customers were Dick Clark of "American Bandstand" fame and Rod Serling, the narrator/actor of "The Twilight Zone" series.
"Dad even appeared on the 'To Tell the Truth' television show, and Walter Cronkite came to visit in 1966 to do a story about the G2 Cord," Glenn's son, Doug, recalls.
When Glenn died in 2011, Doug decided to forge ahead with the company. Today, Glenn Pray Cords and Auburns are still in demand and are recognized by the Antique Automobile Club of America.
"We sell parts to collectors from all around the country," Doug says. "Also, I get calls from people wanting to buy or sell Cords and Auburns. So, I broker these transactions."
He also is manufacturing a new all-steel body 1935 Auburn Boattail Speedster that he expects to unveil at the annual ACD Festival in Indiana on Labor Day. The car will have a price tag of $750,000.
The company's 16 employees perform restoration work for nearly 40 projects on various Cord and Auburn models for clients across North America and Europe.