As 3,000 people wait for dinner in the Tulsa ballroom at the Cox Business Center, Executive Chef Devin Levine drizzles a wild mushroom sauce on beef tenderloins.
His team works quickly and surprisingly quietly, arranging roasted vegetables and making sure the plates look perfect before they're placed in hot boxes and taken on a quarter-mile ride from the kitchen to the ballroom.
It's far from the frenetic kitchen scenes of TV shows. Levine remains calm, never raising his voice, even in the midst of occasional kitchen disasters. (Levine admits he can't be trusted to toast bread for canapes. He'll burn it every time.)
Pulling off a multicourse production like this — carting salads, entrees and desserts through narrow corridors and freight elevators — seems like a feat. But it's a feat that's accomplished multiple times a week, every week, at the Cox Business Center.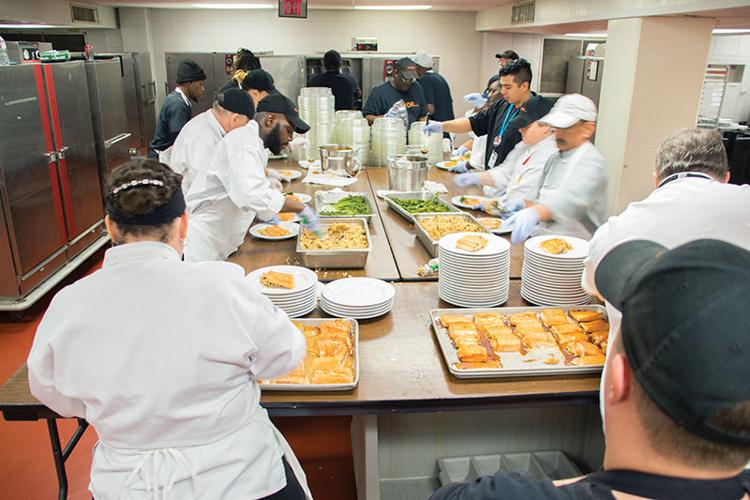 Most months include a combination of conferences, galas, weddings, luncheons and tastings for groups ranging from 40 to 4,000. The preparation for the large events in particular is months — and sometimes more than a year — in the making.
"It reminds me of a giant jigsaw puzzle," says Angela Boswell, senior food and beverage manager. "Everyone's got their pieces, and everything's got to fit just right. But we've all done it enough, and we've all gotten used to the flow, so it works."
The puzzle begins with sales staff, who talk with the clients to determine their vision for the look, feel and taste of their event. Catering Sales Manager Sarah Kusler works with clients to customize the Cox Business Center's general menu to the clients' vision.
This often means talking about expectations. "What's beautiful for 12 people is sometimes impossible for 600," says Sarah Leavell, executive sous chef.
The sheer distance from kitchen to ballroom can flop a soufflé, spill a soup and melt the ice cream in a profiterole.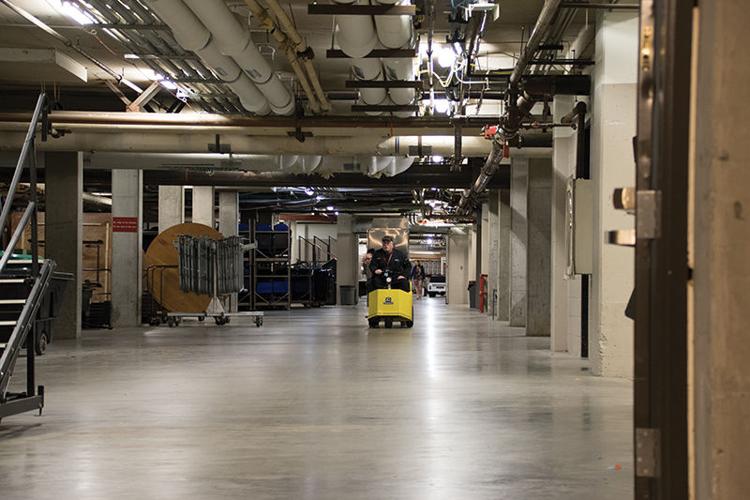 These are lessons Levine has learned the hard way, though large-scale events have become part of his DNA. Levine's entire career has been spent in big kitchens, turning out meals for hundreds and thousands at a time, mostly at Southern Hills Country Club and, for the past eight years, as chef for the Cox Business Center and the BOK Center (both managed by SMG Tulsa).
Levine has seen it all. He's cooked for presidents and celebrities, athletes and philanthropists. His decades of experience have taught him what works and what doesn't when feeding 1,000-plus.
Once an event is on the books, Levine begins by writing the menu. And once the menu is written, a tasting event is set up for the main players to give their opinions on each dish. Photos are taken of each approved dish, so that when it comes time for plating, each dish will look exactly as planned, down to the garnish.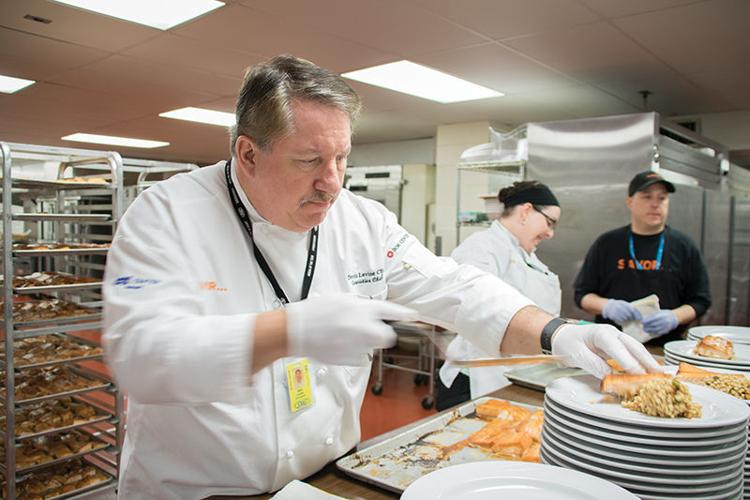 Planning makes perfect
Levine knows what it takes to create a seamless event. And that starts with the staff. For a large event of 1,000 patrons, food preparation would require Levine, the sous chef and five cooks, plus eight to 10 stewards and dishwashers to assist moving the food to the ballroom and then cleaning up and breaking down an event. For an even larger event (4,500 is the max the Cox Business Center can currently serve, though an expansion is coming soon; see box), Levine would bring in 12 additional cooks and 15 stewards.
Some foods, like salads, can be made ahead of time, but most other foods are made shortly before serving.
"We cook it and move it," Leavell says.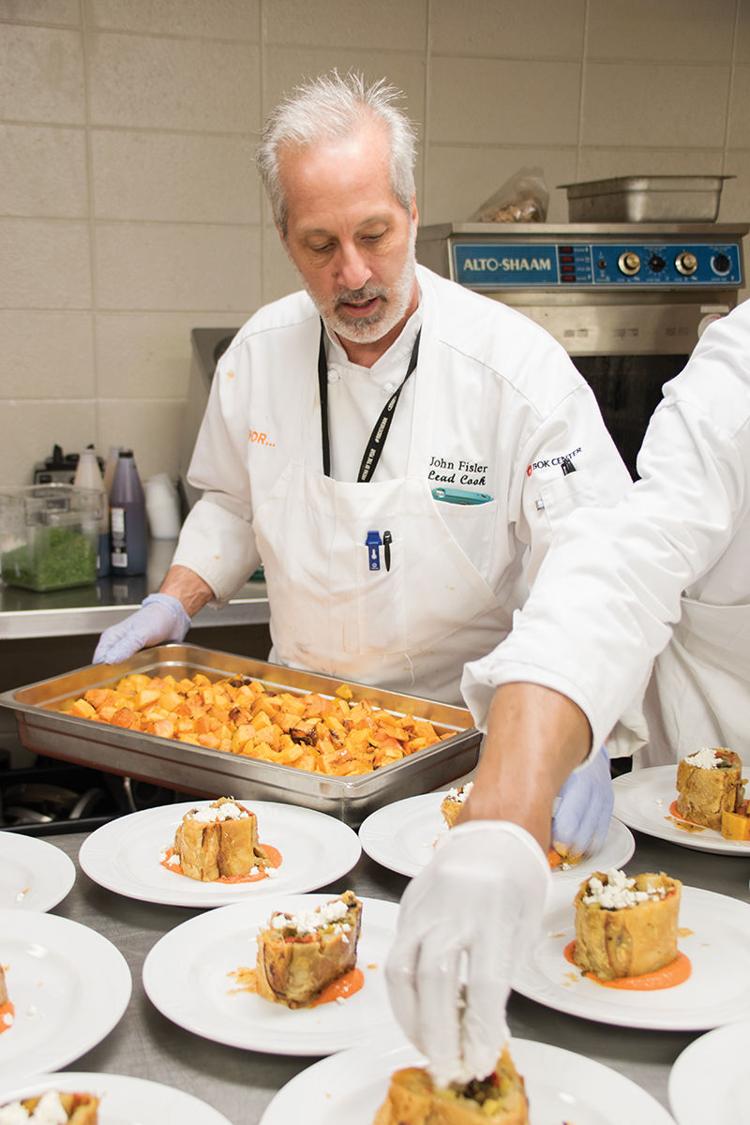 All of that, including what travels well and what holds on the plate well, is considered when Levine is writing menus. Levine also considers food trends and the theme of the event. As the chef for Tulsa's biggest charitable galas and philanthropic events, Levine knows each event's menu must be unique. Many of these events share patrons, and each is expecting a one-of-a-kind meal.
On the other hand, Levine knows many event organizers want foods that will be palatable to their large groups. And as adept as Levine has become at preparing chicken breasts, he's happy when clients want to branch out to something more adventurous.
At a recent conference of oil and gas executives, Levine was charged with creating lunch for 570 guests, many of whom were not beef eaters. The group's organizer wanted salmon served as the main course, something not often served at large events since it's not as generally liked as chicken and beef.
It was an enjoyable challenge for Levine, who created a menu of salmon with couscous and dried fruit with a Moroccan barbecue sauce and spinach and napa cabbage salad. That same group had 50 guests who requested a vegetarian plate; they were served a vegetarian Wellington, puff pastry stuffed with roasted vegetables and feta cheese.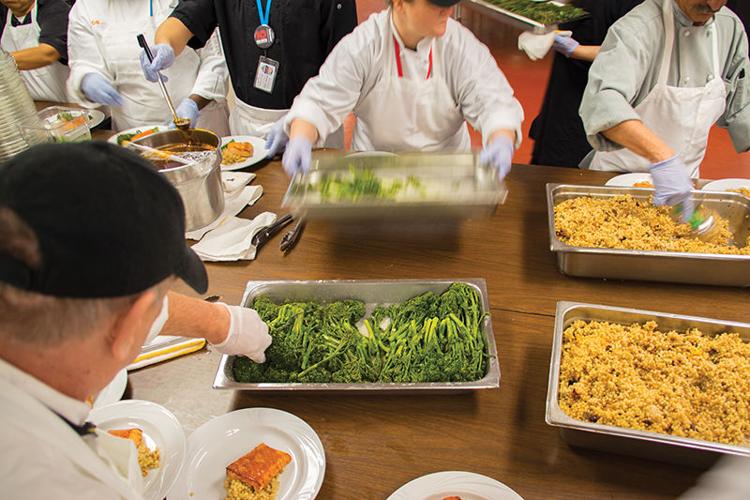 One area where the Cox Business Center kitchen thrives is in specialized menus. Levine's team can handle any number of specialized meals, including vegan, gluten-free, dairy-free and others.
Smaller events allow Levine and his sous chef to get even more creative. At a recent client lunch, guests were served liquid nitrogen ice cream with homemade ice cream cones. It's something that works beautifully for a few dozen but not at all for a group of thousands.
And when it comes to seasoning, Levine considers all the factors. Seasoning food for a dinner party of 12 is quite different than cooking large quantities. But it's important to produce exceptional meals rather than banquet-style food.
"When you are cooking in small batches it is easy to 'eyeball' the seasonings based on the volume of product you have," he says. "When you are dealing with very large amounts — 100 gallons of soup, 30 gallons of a sauce, 4,000 filet mignons — you can ruin a lot of food if you're not careful. It's easy to add, but hard to remove once it's there."
Levine and his team must balance creativity and practicality, and 2,900 successful Cox Business Center and BOK Center events and concerts have demonstrated they can accomplish both.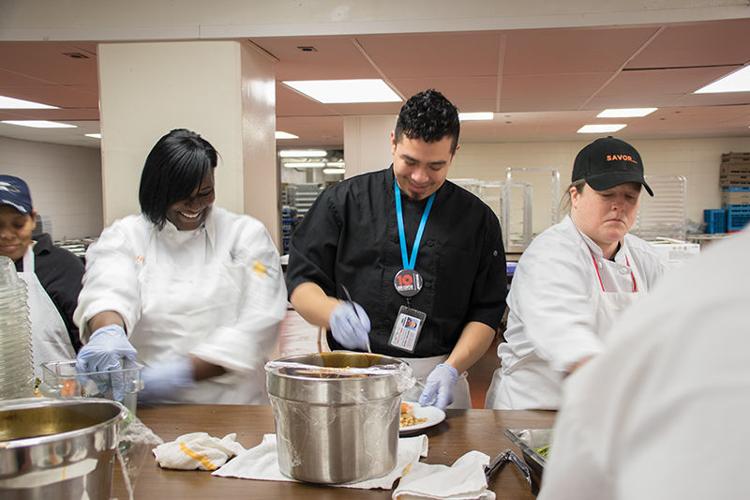 Chef talk
Devin Levine was 9 years old when he began cooking and doing prep work at a burger restaurant in St. Louis. After school, Levine would walk to his mom's photography studio and then to Burger Chef, the burger restaurant across the street. He hung out there so often and got to know the staff so well that they let him come to the back, where he learned to cook. He was paid in burgers and fries, and the experience set him on a path for a lifelong career in food.
When his family moved to Tulsa a few years later, he missed the rush of the orders coming in and the camaraderie of the kitchen. He worked for a short time at restaurants in Tulsa until they discovered how young he was. When he was just 13, he began working at the Camelot Inn, where he stayed through his teen years. At 18, he began working under professional chefs at Southern Hills Country Club, where he would stay for 34 years, working his way up to executive chef.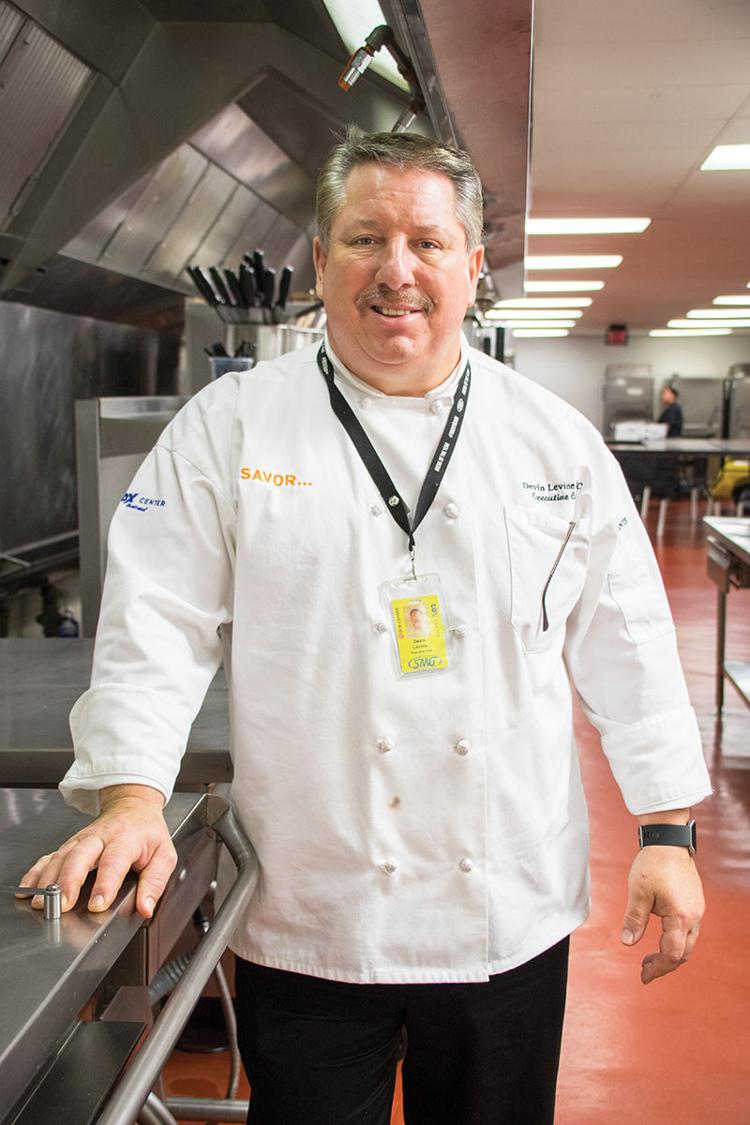 How did you become an expert at large-scale dining events? I've only had four jobs in my life: Camelot Inn, the Bank of Oklahoma Executive Dining Room, Southern Hills Country Club and the BOK Center/Cox Business Center, and all of those establishments held large, upscale events.
Camelot Inn was a very busy hotel in its day and had hundreds of events every year. The largest dinner we did there was for 2,750 people. As a teenager that was certainly eye-opening for me and helped me understand large-scale events. At Southern Hills, over the 34 years I worked there, we always had large weddings, holiday parties, holiday buffets, off-site caterings and, of course, the many major golf tournaments where we would serve thousands of people every day of the event. Everything pales in comparison to the large events that we do at the BOK Center and the Cox Business Center. Our largest sit-down dinner is for 4,500 people and we routinely have dinners for anywhere from 300-1,500 along with the many concerts at the BOK.
What's your kitchen like at home? Actually it is a very normal, smaller kitchen, but I have most every chef tool I need to cook with. I also have my professional chef's knife bag and small tools bag I use at work, and I bring them home when I need them.
What do you do in your spare time? I like to work out as much as my schedule allows. I spend time with my wife and two grown sons, my Labrador Retrievers and our married son's new family addition: a purebred Rottweiler puppy. As a chef I love to try new restaurants here in Tulsa and especially when I travel. I read and study a lot about culinary arts and its history, and I always have a couple of mystery novels on my bedside table to read and wind down each night.
Can you tell us about any memorable meals you've made or guests you've served? There have been so many important events, and I have been very fortunate to have the opportunity to be a part of them. Here are some of the most memorable.
Prepared a multicourse "State Dinner" for 50 people for President Gerald Ford at the Bank of Oklahoma Executive Dining Room.
Prepared lunch for President Barack Obama during the 2012 NATO Summit in Chicago. The host site, managed by SMG, asked Levine to be a guest chef. The team fed more than 24,000 people that week.
Prepared dinner for four Masters Champion Dinners at the Augusta National Masters Tournament in Augusta, Georgia, 2002-2005.
Prepared a farewell retirement dinner for 500 people hosted by Rolex for Arnold Palmer's final PGA Championship at Southern Hills Country Club.
Prepared dinner for British Prime Minister Margaret Thatcher. The event was catered by Southern Hills Country Club and hosted at a member's home when Thatcher visited Tulsa.
Through your travels, where have you experienced the best meals? Patina in Los Angeles, Charlie Trotter's in Chicago, Ad Hoc in Rome, La Tour de Argent in Paris, Taillevent in Paris and La Bernardin in New York City.
What's something people would be surprised to know about you? I am a second-degree black belt in Kang Duk Won Kempo Karate under Roger Greene of Tracy's Karate System. Also, I practiced calligraphy when I was young and made extra money doing wedding invitations and menus.
---
---
Center renovations begin
This summer, the Cox Business Center will begin a reconfiguration of its arena and east entrance. Funded by Tulsa Vision economic development projects, the $55 million project is expected to be completed in 2020.
The reconfiguration will provide a more prominent and visible entrance, an additional ballroom and more meeting and event space. The project also will further connect the venue to downtown Tulsa and the Arena District. The three-story, glass-
fronted atrium will look out to downtown and provide greater lobby space for mingling. The former arena will be transformed into event space, including a 40,000 square-foot ballroom — Oklahoma's largest.
During construction, operations and events will continue in the remaining portion of the more than 300,000-square-foot facility.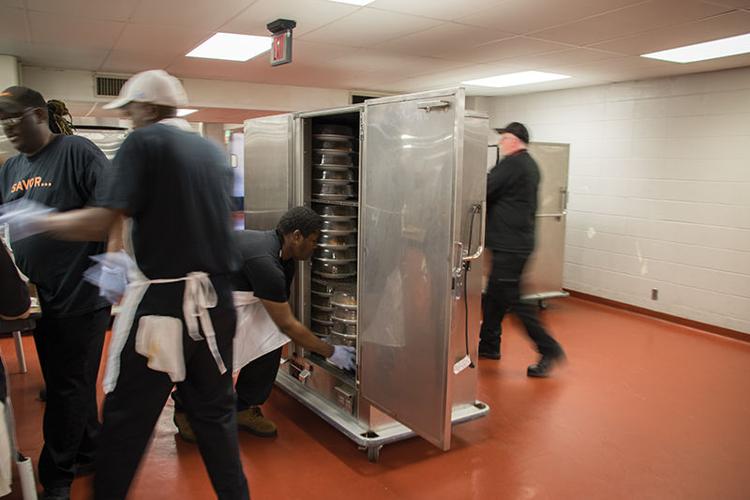 ---
---
Start to finish
What does it take to seamlessly feed 1,000-plus people?
It takes a capable team, experience, planning and adaptability, according to Levine. Here's a timeline.
3-4 weeks before event:
Executive chef receives menu request from catering sales managers with information, including number of guests attending, type of event, served or buffet, food budget, themes and special requests.
Executive chef develops menus for client review with several options for each course. Client reviews and adjustments are made. Any special ingredients that require preordering are addressed.
Week of the event:
Kitchen receives menus chosen by client. Sous chef and executive chef review item by item for each course and determine the proper ordering amounts and availability for each ingredient of the meal.
Sous chef and purchasing agent work together placing food orders from primary suppliers to be received the day before the event.
Day before the event:
Shipments are received and checked in for accuracy and outages, and food is distributed to the various food storage areas.
Executive chef and sous chef develop production boards for each event with prep assignments for cooks detailing amount to be prepped, portion sizes and special preparations. Prep cooks break into teams working on various assignments together to increase productivity.
Stewarding manager and his staff transport all wine glasses, silverware, coffee cups, plates, pitchers, etc. for the wait staff from the kitchen area to the ballroom.
Day of the event:
Depending on the size and complexity of the event, staff arrives to work at their scheduled time and begins final preparations of the food. For a 7 p.m. dinner, pre-plating of cold courses, including salads and some desserts, begins at 3 p.m. Between 1,000-1,200 plates are prepared per hour, and then stored in refrigerated walk-ins until service.
Hot food is cooked and plated right before the time to be served to minimize food sitting in a hot box for too long.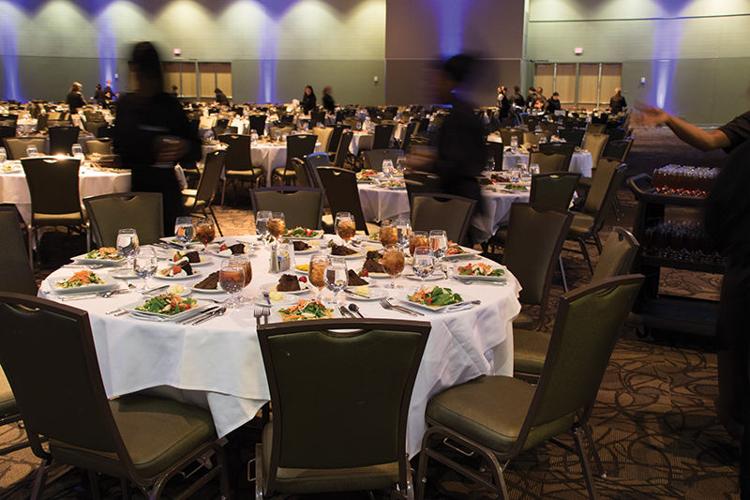 Just before serving:
Food is transported a quarter-mile from the main kitchen through a service corridor and up a freight elevator to the ballroom.
Based on the timeline of the event, food is distributed to the wait staff by the chefs and stewards for service to the guests. Each course is served with chefs in the kitchen to address any special requests or issues that may arise.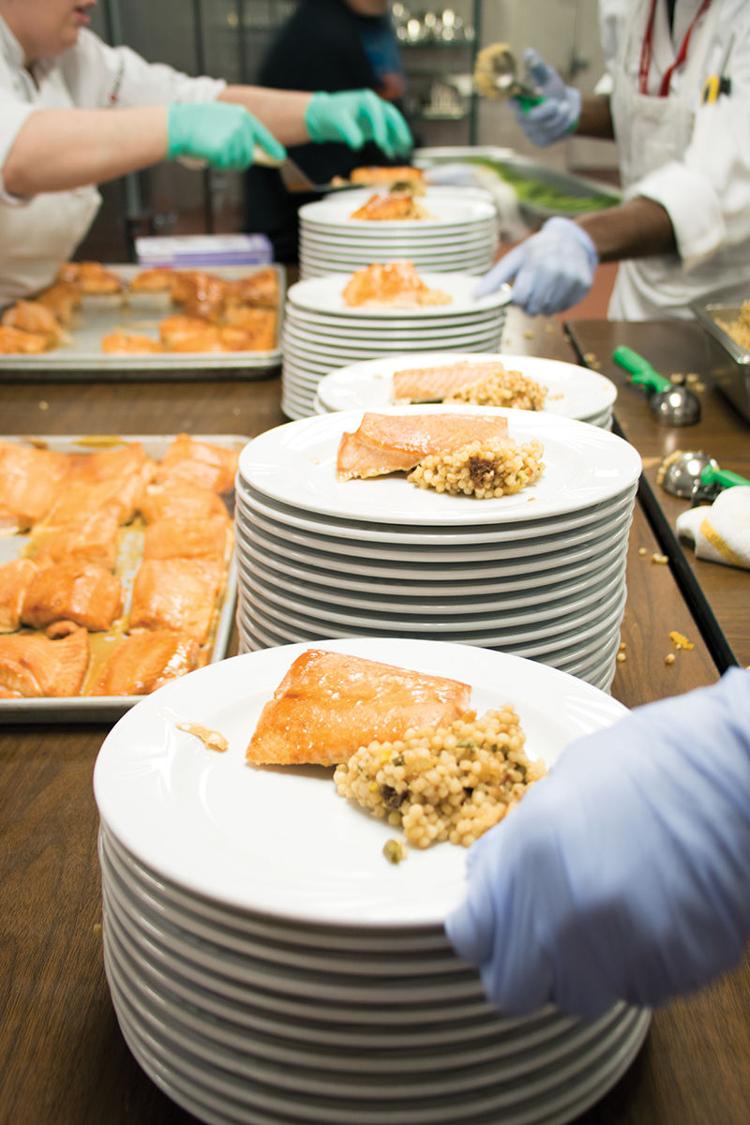 After serving:
During the meal service, kitchen staff begins the cleanup and reorganization of the kitchen. When the kitchen is notified that dinner is complete and all courses have been served, they shut down ovens and clean stations completely around 10 p.m.
Stewarding manager and staff transport all items back to the kitchen for cleaning and storage. Stewarding staff may be there as late as 3 a.m. to finish the cleanup.