There are those among us who are wired a little different.
If you're reading this in a coffee shop or bookstore, glance around at the other people in the room. They might look average, but appearances can be deceiving.
Be warned: There are some of these folks in your workplace — there might even be one in your house. It might even be you.
While some rely on a leisurely walk, meditation or a massage to relieve stress, these individuals look to amp it up. They need to push the limits to escape the stresses of everyday life.
They like to press the gas pedal a little harder. When they fly commercial for a business trip, they glance out the window and imagine falling back to Earth. For them, roller skating isn't for couples; it's for trading elbows. They're not content fishing with a bobber when they can use their hands to wrangle a fish from an underwater hole.
They are adrenaline junkies.
Here are four Tulsa professionals who are among the thrill seekers, whether it's from 12,000 feet above the earth or going 50 miles per hour through the backwoods.
Tess Maune
Outdoors Woman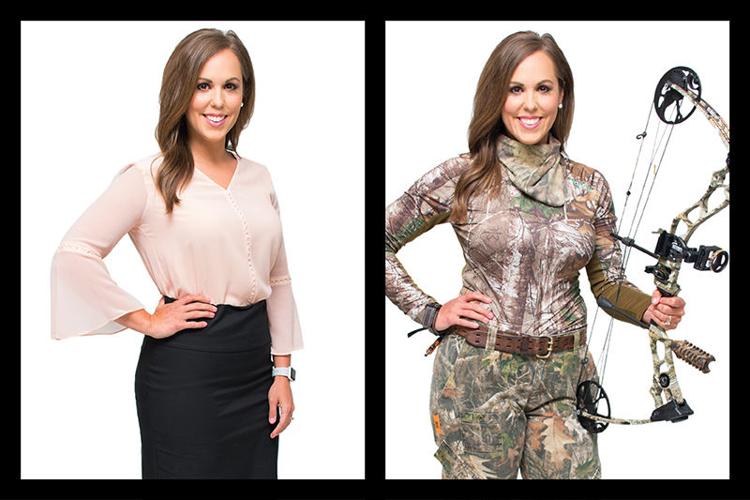 In June 2012, Tess Maune was a new reporter for News On 6 when she was assigned to go noodling with then-reporter Lacie Lowry and then-meteorologist Dick Faurot. Noodling involves pulling a catfish out of an underwater hole using just your hand.
It's nearly six years later, and Maune is at Gypsy Coffee House across the street from the station. She was on the air 45 minutes ago and is still wearing her dress from the broadcast. Five hours later, she'll post an Instagram picture of herself in a tank top and shorts on a boat, boasting about the crappie she has caught.
"What started out as a story turned into a hobby," Maune says. "I was really nervous the first time I noodled. I asked myself, 'What have I got myself into?'
"I reached down into a hole. It's a feeling you can't describe to someone unless they've felt it. It's like, 'boom, boom, boom!'" She does a three-peat gesture striking her hand forward.
Her biggest noodled catch to date is a 52-pounder, which she calls "one of the easiest catfish I caught."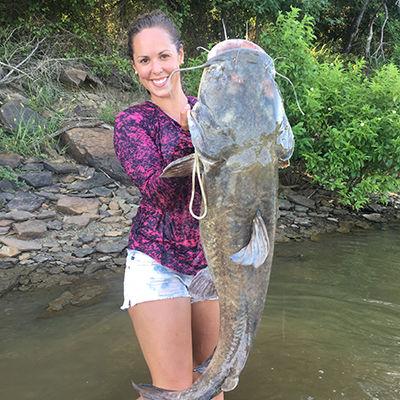 Growing up in El Reno, Maune wanted to be like her two older brothers. She was raised by a single mother, and outdoor opportunities were rare. When she did fish, Maune says it was at a friend's farm where they used hot dogs for bait and didn't catch a thing.
A month after her first noodling adventure, Maune met her future husband, Matt, who is an avid fisherman and hunter. She's now going into her seventh hunting season. To date, she has bagged eight deer, using tools from a compound bow to a rifle. Her biggest kill to date came when she shot an 11-point buck with a muzzle loader this past fall.
She has quickly gone from one of the less-experienced reporters to one of the most-tenured at the station. Her social media accounts showcase her many outdoor adventures, and her posts are among the most popular on the staff. Griffin Communications has used her love of fishing and hunting as a marketing opportunity alongside Lowry and meteorologist Lacey Swope, both of whom are fellow fishers and hunters.
"It's cool because of the connections I get from viewers," Maune says. "I recently talked to someone who told me she shows her daughter my pictures so she knows it's not just a boy's hobby. That's great. I'm proud to showcase outdoor Oklahoma as a woman."
Throughout her career, Maune has reported on numerous tough stories at all hours of the day. She recently switched to mornings, which means she gets afternoons and evenings to catch a break from her work.
"After I've had a tough day or week at work and I get to go fishing or hunting, it means I get away from my phone and people. It's just me and nature," Maune says. "You can't be thinking about other things. It's hard work, but it's fun."
Crystal Acuff Walters
Therapy In The Sky
For the past five years, Crystal Acuff Walters has worked as a graphic designer for Cherokee Nation Businesses. She has helped create award-winning ad campaigns like Cherokee Nation Cultural Tourism's "Osiyo" campaign.
At any given time, there are hundreds of active projects that need to be created, edited or updated for the tribe's diversified businesses. As with any marketing department, there are rush jobs that need to be pushed to the top.
It can be intense work at times.
Acuff Walters also is board chairwoman of Art Director's Club of Tulsa, which is a nonprofit that showcases and awards creators of all types. The group hosts monthly meetings, board meetings and award programs.
Following a divorce, Acuff Walters found herself juggling a new career while raising three children. She was stressed, depressed and anxious. She needed to find something to give her a boost.
She loaded the kids in the car and drove to the Oklahoma Skydiving Center in Cushing. Acuff Walters went through the class and did a tandem jump, which she describes as uncomfortable and weird.
She returned the next weekend ready to jump on her own.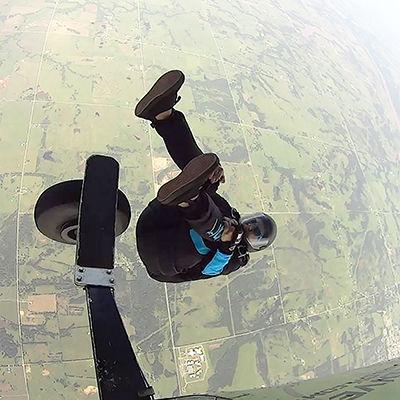 "It was definitely ignited by the divorce," Acuff Walters says. "I thought if I could do that and overcome the fear, I could do anything. It was an extreme step out of my comfort zone, and it was something I knew I had to do on my own."
Each week she returned to the skydiving center, sometimes doing multiple jumps in two days. She took her kids, and they would make a weekend of it, staying at the airport, which warmly welcomes families. While mom preps for jumps, her kids take on jobs like mowing, taking lunch orders and picking up jumpers in golf carts after they land.
"Before that first solo jump, I was so stressed about everything in life that I felt like I couldn't eat," Walters says. "The more I jumped I realized it would level out my stress for the whole week."
Acuff Walters has completed about 175 jumps to date.
Every time she packs her parachute, gets dressed out and boards the plane, there's still that adrenaline boost. Her heart rate increases. She gets amped up, slides on her goggles and smiles. The door opens and soon she's en route back to the ground.
"I feel like the entire reason I decided to overcome the fear of jumping out of an airplane all has to do with having the fear of surviving and supporting myself and my kids on my own," she says. "I wanted to overcome that fear to help me realize that I could accomplish anything that comes along."
Shane Fernandez 
Lifelong Passion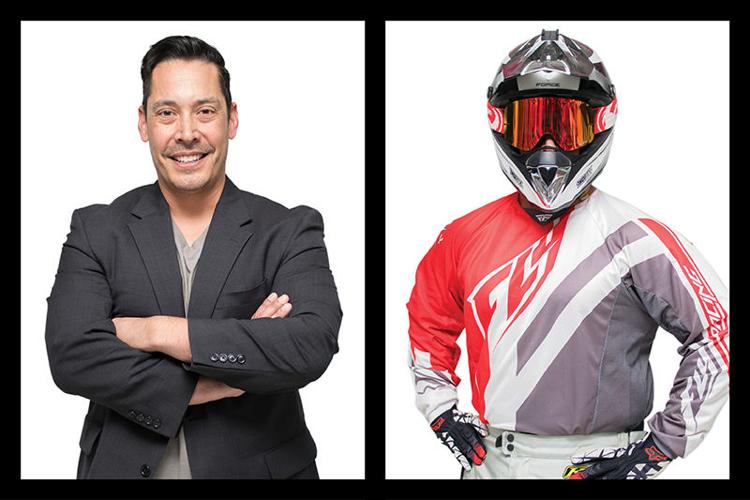 Shane Fernandez is always on the go. He is the president of the southwest region for Nabholz Corp., a multi-service contractor that offers a full range of construction, industrial, civil and environmental services.
He has worked for the company since 2014. His company bio states Fernandez's hobbies include anything with two wheels. When talking to him, one learns that it's more than a hobby. It's a lifelong passion.
Born in Hollywood, California, Fernandez got into BMX as a kid. His family relocated to Copenhagen, Denmark, where bicycling is popular. It helped fuel his obsession.
"I started riding for the fun of it," Fernandez says in a phone interview. "I started building ramps that I used to jump over cars and friends. I'd ride all over town. My parents were very supportive."
His world changed at 11 when he was introduced to dirt bikes. Fernandez says it meant he could explore further and faster, and also jump a lot higher. By 15 he was entering motocross races and competitive trials. His passion for competition grew to mountain biking, cross country and downhill races.
Today, Fernandez limits competing to trials, but finds other ways to fill the void. He and a group of friends take trips where they travel hundreds of miles through the back country, living off their bikes. He also does 300-mile solo trips in the Rockies where he carries a satellite beacon that his wife, Marnie, can monitor.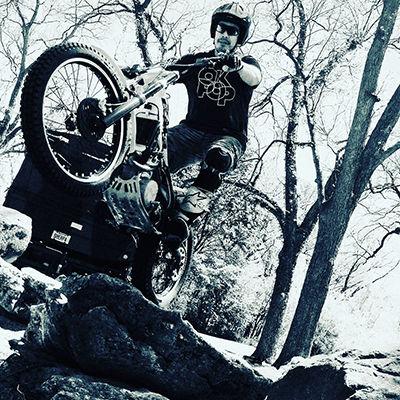 To date, Fernandez has suffered 23 broken bones.
"My oldest daughter loves to tell me, 'It's not that you're unlucky, you just make bad decisions," he says with a laugh.
Fernandez has four children, who have mixed feelings about his hobby. His oldest daughter used to be into it until she saw too many photos of riders' injuries on Instagram. His sons enjoy riding mountain bikes. It's his 8-year-old baby girl who has him worried.
"She really wants to race. The father in me is really concerned. It kind of worries me," Fernandez says. "On the other hand, my kids see me doing it and know I did it growing up. I don't know if I'm ready for that."
In the meantime, Fernandez will keep riding. He built a motocross track in his backyard. It features ramps and tons of boulders.
"I can't explain why I'm so drawn to it," he says. "It's in my blood. It's a lot like surfing, where they say it's in some people's souls. I think I keep doing it because it lets me clear my mind.
"You can't be going over 2,000 pounds of boulders and be thinking about the next board meeting or you'll bust your teeth."
Mel Shaw
Roller Derby Diva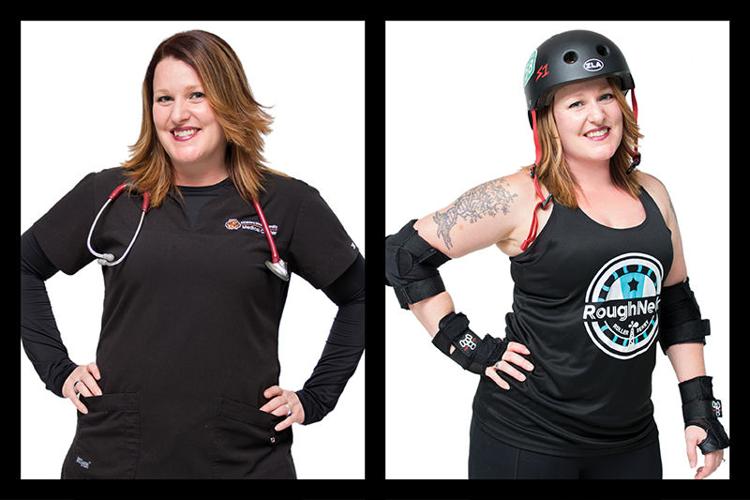 For the past 15 years, Mel Shaw has worked as an emergency room nurse, most of those years spent at the Oklahoma State University Medical Center. It's a highly stressful job where Shaw says she has seen and dealt with pretty much everything imaginable.
As she neared 40, Shaw set out to conquer a lot of things that would test her mentally and physically. She bought a motorcycle and went on long backpacking trips.
In late 2016, Shaw was talking on the phone to her 22-year-old daughter, Mercedes, who mentioned she was interested in trying roller derby. She agreed to do it with her.
They attended a Roughneck Roller Derby meet and greet, then went to a practice, where Shaw got leveled.
"Getting hit was exactly like I imagined. I went down hard," says Shaw in a phone interview shortly before a shift at the hospital. But, she adds, "I was surprised by how loving and nurturing the ladies were. They helped me up, and that was it. I was hooked. The ladies are a lot sweeter than you expect."
Shaw is among the oldest in the sport locally. She says there are three or four women older than 40. Fittingly, her roller derby moniker is "Mother Mayhem."
Until she passes her minimum skills testing, Shaw is considered "fresh meat," which means she is limited to practicing a few times a week and cannot compete against other teams until she has passed a series of tests. Shaw says she expects to move up this year.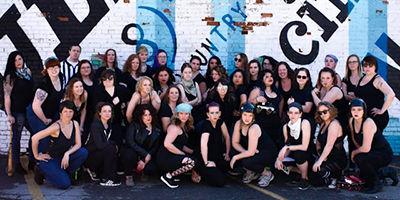 "It provides a great challenge and reminds me of what my body is capable of instead of this societal belief that women are supposed to be soft and demure," Shaw says. "It's a good reminder that our bodies can withstand more than what they normally do. It's also nice to see the skills I've developed and the progress I've made."
She could walk away. Maybe chase the next adventure. She's not sure if she'll ever sky dive, but she's keeping that option open. In the meantime, she's going to keep devoting her time to the track, which she says helps her deal with all she encounters as a nurse.
"It's definitely a stress reliever," Shaw says. "We see a lot. There are often times where there's not a place to put the things you see.
"Then you go out there and work yourself to exhaustion, and you get to hit your friends and they want you to hit them harder. There are no hard feelings. You leave it all out on the track and go on about your day. It's great."