1. As I have written in this blog before, Missy Eubanks was killed May 7 in a senseless vehicle accident at 6th and Peoria. She left behind a son, a sister, a mother and thousands of friends. She was a positive force in local club music around Tulsa – but even more so for those that knew and loved her.
This Friday night (July 9), Missy's friends and loved ones of will gather at the Flytrap Music Hall to honor her memory. Besides DJs and live music, there will be silent auctions, a raffle and door prizes. There will be a $5 cover charge. The event will run from 7 p.m. to 2 a.m.
100% of all money raised will go to her son, Jackson.
If you love music as much as Missy did, I'll see you there.
But not too early. Missy was never early.
---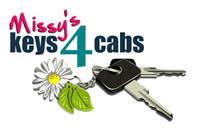 In accordance with this law of nature there is a new not-for-profit organization hoping to stop the events that led to Missy's death from ever happening again: Missy's Keys4Cabs.
Scheduled to start on September 1, 2010, the organization aims to start a partnership between establishments that serve alcohol with free taxis – an idea long overdue.
Their mission statement:
This program was developed to save lives by taking drunk drivers off of Tulsa streets. Its goal is to work with licensed liquor establishments and give them the tools needed to get an overly intoxicated customer out of their car and into a free taxi.
More information is available at the organization's Facebook page.