The ancient art of handweaving is alive and well in Tulsa. This technique of creating fabric by intertwining two separate threads on a loom dates back thousands of years.
Although the computer-driven, mechanized, mass production of textiles has made woven products cheap and readily available, handcrafted creations from scarves to wall hangings are still prized for their quality and beauty. One Saturday a month, the Tulsa Handweavers Guild meets at Hardesty Regional Library to celebrate the craft, ensuring this art continues from one generation to the next.
Lyn Lucas, a former social worker and one of the Guild's vice presidents, has been weaving for more than 30 years, much of that time as a Guild member.
"I started weaving potholders when I was 5, which was when I knew I wanted to be a weaver," Lucas says.
The Guild was established in 1953, and that sense of history is important to the group.
"A lot of the equipment that we use has been passed down from other Tulsa handweavers who are no longer with us," she explains. "There is a sense of reaching back and touching the hands of those who went before us. I think that's part of the appeal."
Several decades passed before Lucas returned to the craft, purchasing her first floor loom in her 30s. A longtime member of the Tulsa Handweavers Guild, Lucas enjoys the creative aspects of the craft and the processes that go along with it.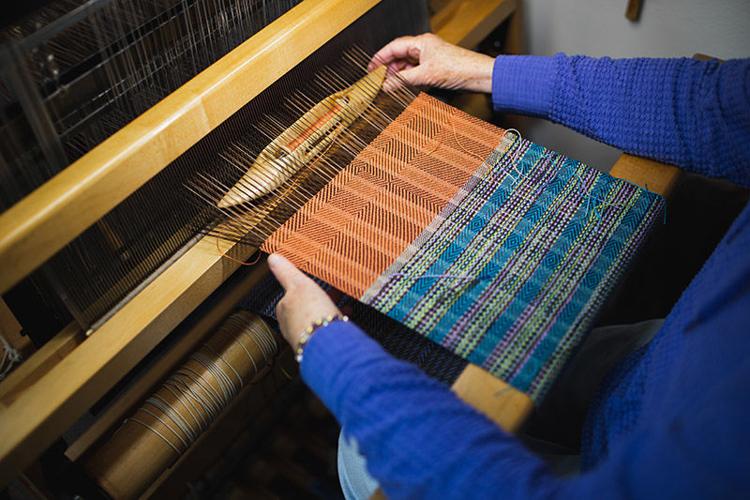 "I think weaving has a lot of processes in it. As a social worker, I'm all about process, so it just made so much sense," she says. "It also provides an opportunity to express some artistic ideas and you get to, hopefully, produce some pretty beautiful things."
Lucas often weaves her creations as presents for others.
"When I'm weaving something," she says, "I'll weave it with the idea of the person I'll gift it to so that every time I throw the shuttle (used to carry the thread in weaving), I am thinking positive thoughts about that person."
The group numbers around 30, mostly women and a few men. Their meetings start with business and a program before moving to "show-and-tell," which, according to Lucas, is everyone's favorite part.
"People get to show off and talk about what they did that works and didn't work and share that enthusiasm," she says.
The Guild hosts occasional exhibits and workshops and welcomes new members who can begin learning the craft on a simple, inexpensive frame loom.