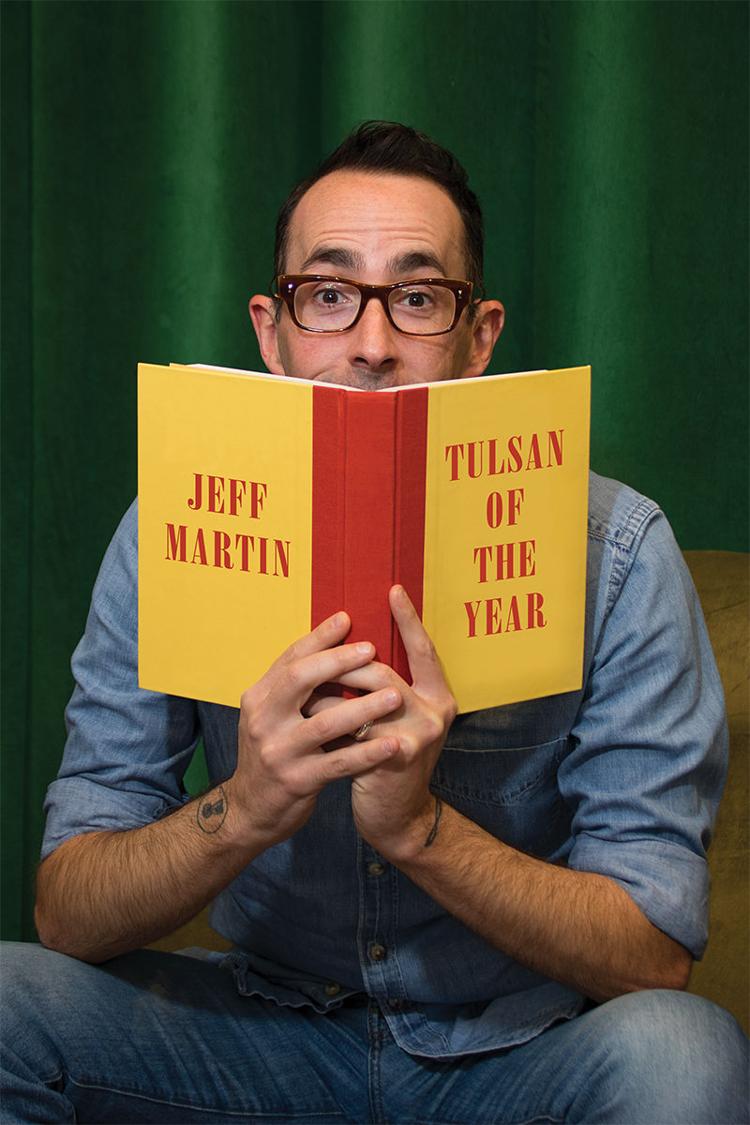 It's easy to think of Jeff Martin as the weird kid who exasperated his teachers because he liked to read but wouldn't do his schoolwork and talked all the time.
Which is fairly spot on.
What would his teachers think to see him now as the 39-year-old, pencil-thin, exceedingly loquacious man with a distinctive hipster style — skinny pants, skinny ties, cardigan sweaters and pink shoes — who has propelled Tulsa to literary prominence?
Martin's Booksmart Tulsa and Magic City Books have presented more than 1,000 author events in the past 10 years.
All of this without him being paid for the work.
Not paid?
"Not a single dime," he says. "Ever."
His "Museum Confidential" podcast, founded by his employer, Philbrook Museum of Art, is beginning its third season with thousands of fans.
Martin's love of books, Tulsa and making things happen has elevated the cultural reputation of the community, and that is why he is named TulsaPeople Magazine's Tulsan of the Year.
Martin is the first to say he hasn't done this alone. He had a gifted business partner in the late Cindy Hulsey, and he has talented, hard-working collaborators and colleagues, but others know he is the one with the dreams and the drive. Bestselling author Claire Dederer wrote Martin is "single-handedly bringing all kinds of authors to Tulsa and, what's more, getting Tulsans to come see the authors."
How has he done this? Mega-bestselling author David Sedaris, a Magic City advisory board member, says, "Jeff Martin doesn't seem to know what 'No' means. 'Not now' is vague to him, as well. It's pretty amazing how he makes things happen."
Growing up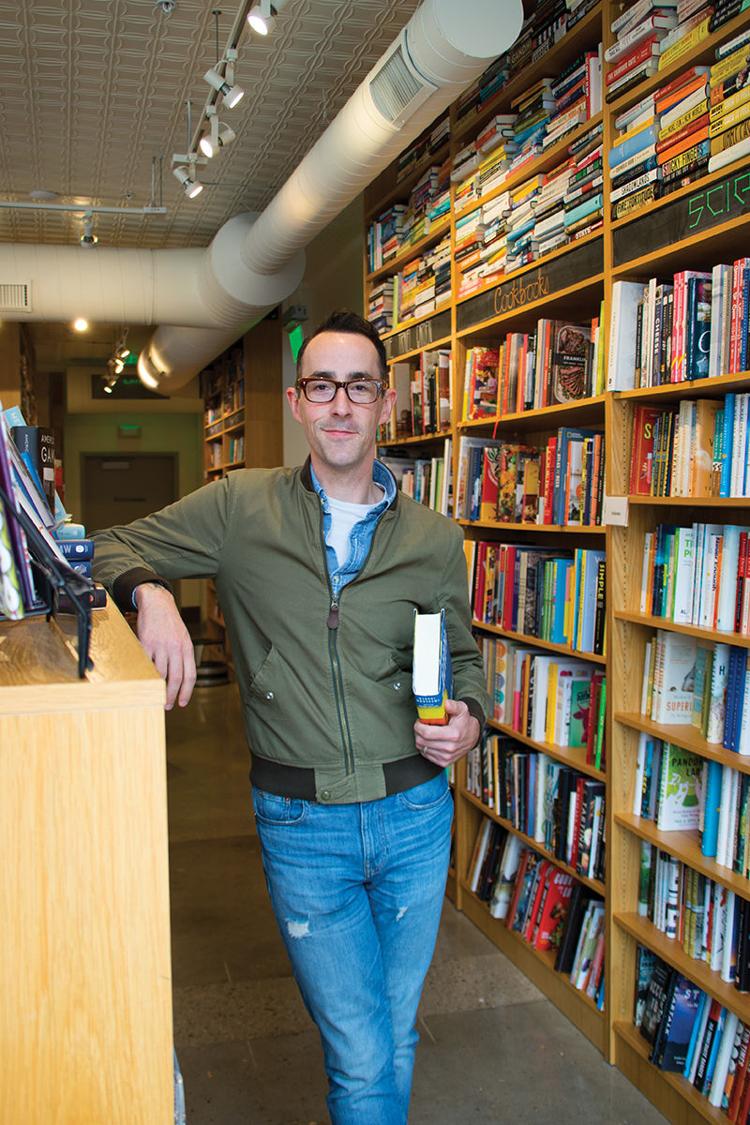 Martin was born and raised in Tulsa, where books were an important part of the family.
"I was read to a lot as a kid, especially by my dad," Martin says. Teacher reviews noted his potential, but Martin didn't like school and was not a good student. In the fifth and sixth grades he was often disciplined for not turning in his schoolwork.
"I lived in my own imagination," he says. "I loved the social thing, roaming the halls."
All through high school in Bixby, he worked in a video store.
"Best job I ever had," he recalls. "We watched movies and ate candy all day."
For a while Martin's goal was to be a screenwriter. Writing was always his first passion. Especially poetry. He tried college, but realized it wasn't for him.
For nine years he worked at Barnes and Noble at East 41st Street and South Yale Avenue, where he learned to arrange book signings and author events and saw the bookstore become something of a community center.
The bookstore is also where he met his wife, Molly, co-owner of Antoinette Baking Co. The couple married in 2005 and share a passion for leaving their mark on Tulsa.
For Martin, it meant building his own book community.
A new kind of author event
"Book clubs are often older people sitting around in boring discussions that erode into social events," Martin says.
Early in 2009, he and then-downtown business owner Mary Beth Babcock wanted a book club for an audience their age — 28 or 29 — so they staged BookPub, a citywide event featuring an author, books and beer at downtown McNellie's Pub. They had no money for advertising and gambled on social media and word of mouth; some 300 people showed up.
This would grow into Booksmart Tulsa, a project to present author events. "Tulsa is a literary town," Booksmart's website says. "Always has been. Our job is to keep it that way."
Martin is following in the tradition of iconic Tulsa booksellers Lewis Meyer with his Peoria Avenue book shop, Steve Stephenson of Steve's Sundry on South Harvard Avenue and Teresa Miller, director emerita of the Center for Poets and Writers at Oklahoma State University-Tulsa.
Tulsans love visiting writers. The University of Tulsa has long presented authors such as J.M. Coetzee and Seamus Heaney for public lectures, and the popular Peggy V. Helmerich Distinguished Author Award annually brings writers such as the revered Eudora Welty and the wildly popular John Grisham.
For a dozen years, Miller's annual Celebration of Books hosted dozens of writers each year for book lovers who convened on the campus. She featured Tulsa-based writers such as Darcy O'Brien, William Bernhardt and Clifton Taulbert, as well as national and international writers Alice Walker, Frank McCourt, Amy Tan, Edward Albee, Pat Conroy and more.
"Jeff has taken the tradition and made it flourish in a way only he could," Miller says. "Even though he is younger than I am, I consider him my mentor."
"Some people think all literary events are dry, stuffy affairs, but Jeff does things off the wall and with a sense of humor," says Scott Gregory, Magic City board member.
That makes all the difference. As Dederer wrote in her "Love and Trouble" memoir, "You can get authors to go anywhere, to the ends of the earth, to Tulsa even; it's getting their audience to leave the house that's difficult."
Martin does it by what he calls "curating the experience" — putting the author into the right space with atmospheric appeal. A poet is often presented in a smaller venue, whereas Ree Drummond, the Pioneer Woman, launched her new cookbook at Cain's Ballroom in 2012. Ambassador Samantha Power and novelist Alexander McCall Smith both drew large crowds at Congregation B'nai Emunah, Randy Krehbiel and his book "Tulsa 1921" had an overflow audience at the Tulsa Historical Society and Museum, and David Grann's first Tulsa appearance for "Killers of the Flower Moon" filled the OSU-Tulsa auditorium. Other common locations are All Souls Unitarian Church, Harwelden Mansion and Circle Cinema.
When Central Library closed for renovation, Martin spray painted it with graffiti to represent a raw fight club for Chuck Palahniuk, author of "Fight Club," and 1,000 people attended what was called an adult pajama party at the Library. He put eccentric actor Crispin Glover, of "Back to the Future" film fame, in the unconventional Nightingale Theater one July when the temperature was 102 degrees and the building's air conditioning was out. People lined up at noon for the 8 p.m. curtain. The program lasted until 2 a.m.
"It turned into sort of a Woodstock event," Martin says. "It was wild. People still ask me when we're bringing him back."
Day job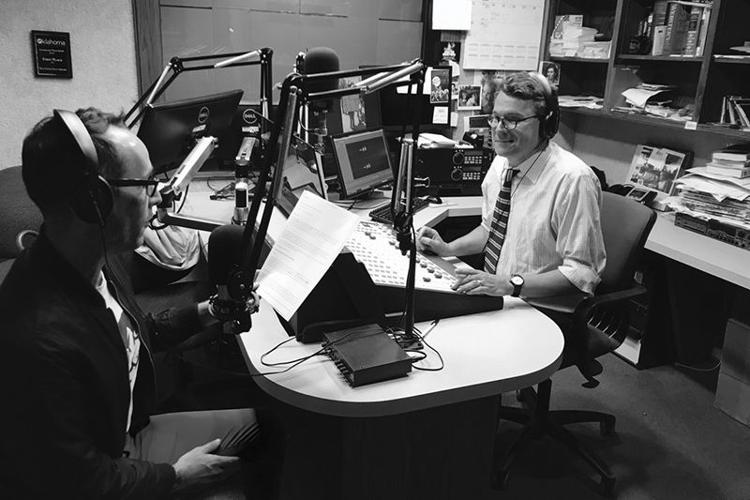 Martin does have a day job. For 10 years he has been communications manager at Philbrook Museum of Art. When Philbrook President and Director Scott Stulen came to Tulsa in 2016 he inherited Martin, and says the two of them are a good fit.
"We're very similar," Stulen says. Both like creative ideas and events that are fun and engaging. "I have been the Jeff at lots of places I worked," Stulen says. Currently, the two of them are doing readings at local schools from Katie Turner's new book "The Cat Who Got Framed," featuring one of Philbrook's famous garden cats.
It was Stulen's curated "Museum Confidential" exhibit at Philbrook that launched the podcast by the same name, a behind-the-scenes look at museums hosted by Martin. The podcast was such a hit, Public Radio Tulsa's Scott Gregory became producer and collaborator to continue the series.
They have gone beyond Tulsa to produce podcasts from New York City, New Orleans, Denver and elsewhere. The podcast airs twice a month on Public Radio Tulsa, and every time it appears on iTunes and Spotify, it gets 20,000 or more listens.
Magic City Books
For some, Martin's stellar accomplishment is Magic City Books in the downtown Arts
District at 221 E. Archer St. In 2015 Martin began talking with Cindy Hulsey about his romantic notion of opening an independent bookstore. Hulsey, then Tulsa City-County Library's director of adult services, was older than Martin, but the two had a strong connection through the power of books. She had worked in the securities field for 17 years when she switched careers, got a master's degree to pursue her passion in literature and reading, and became a librarian. Then she gave up that secure job so she and Martin could form the Tulsa Literary Coalition as the nonprofit umbrella for Magic City Books.
"If she had said no, I would not have done it," Martin says.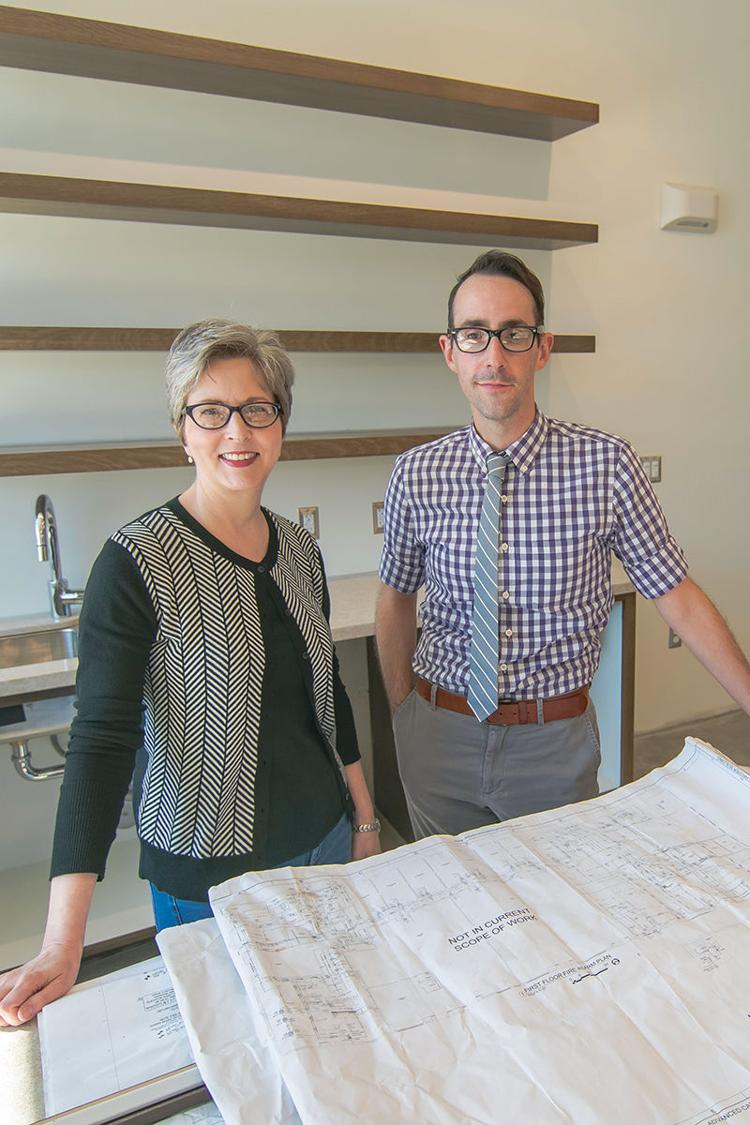 Hulsey and her husband, Shannon, figured out how to do it, Martin says, and after two years of planning and construction, Magic City Books opened in November 2017.
"One of the top days of my life," Martin says. People stood outside and cheered.
Tragically, Hulsey died in September 2018 of a brain tumor at age 58.
"Earth shattering," Martin says of the loss. "I miss her every day. She was a friend and my partner in the biggest thing I've ever done. I just had to carry on as a tribute to her. That was my motivation. Now it's a legacy project."
Being a nonprofit is one unique feature of Magic City Books. Funds are funneled back into author events and story times, says Pat Cawiezell, the store's buyer and author program coordinator.
Being an independent bookstore is another distinction and influences the inventory chosen for Tulsa tastes. Tulsa readers respond to national issues, public health, politics and social justice, but also have a special interest in books about this community, Cawiezell says. "'Lost Restaurants of Tulsa' by Rhys Martin was so popular. The high demand even took the publisher by surprise." The book is now in its ninth printing.
Magic City is the official book source for Booksmart Tulsa events. "'An Evening with Rachel Maddow' was far and away our biggest sales event," Cawiezell says. The MSNBC host and author launched her new book "Blowout" at a capacity crowd at Union High School's Multipurpose Activity Center on Oct. 5 and sold 2,800 books.
As a good citizen, Magic City partners with other nonprofits and sells books connected with events of organizations such as Hospice of Green Country, Tulsa Town Hall, Mental Health Association Oklahoma's Zarrow Mental Health Symposium, OSU-Tulsa's Business Forum (which will present Martha Stewart this April) and others. Six times a year, Magic City Books partners with Gilcrease Museum to create a book club inspired by art in the permanent collection or temporary exhibit. In the spring, Magic City Books will connect a Chamber Music Tulsa performance with a reading of Langston Hughes' poetry.
The guest authors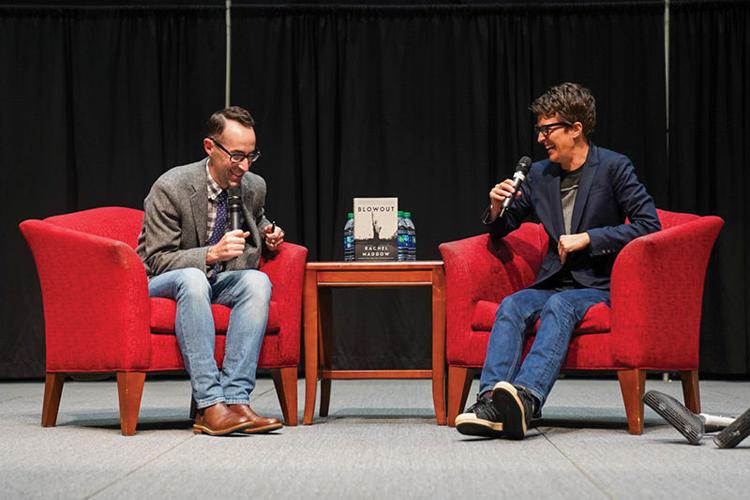 Martin wanted a big name for the first Magic City author event on June 15, 2016, so he got the biggest: Stephen King. Cain's Ballroom sold out of more than 1,000 tickets in less than one minute. Martin's long list of visiting writers includes Salman Rushdie (also on the store's advisory board), Elizabeth Gilbert, Jodi Picoult, Stacey Abrams, Jonathan Lethem, Walter Mosley, Lisa See, T. C. Boyle, Ian Frazier, Delia Ephron and hundreds more writers of cookbooks, mysteries, literary fiction, science, memoir, poetry and nonfiction.
"I draw the line at romance novels. I have to draw the line somewhere," Martin says.
He even brought controversial writer James Frey, who blurbed Martin's own fabricated memoir "My Dog Ate My Nobel Prize," with this inside joke: "Jeff Martin is a first-class liar. Even better than me."
The "special sauce" Martin puts on authors' visits to Tulsa is what he calls "double exposure," exposing the author to the city to make the trip more than a cut-and-paste book signing. "I don't show them only the shiny objects or the Chamber of Commerce tour. I show them who we are and what we represent, the real Tulsa: the Owen Park area, oilfields on Southwest Boulevard, East 11th Street with empty motels and car dealerships, along with Cain's Ballroom, the Center of the Universe, the Atlas Building and Tulsa's Frank Lloyd Wright-designed house.
"The beauty and the blight interacting — that's what makes a city interesting."
---
Getting Personal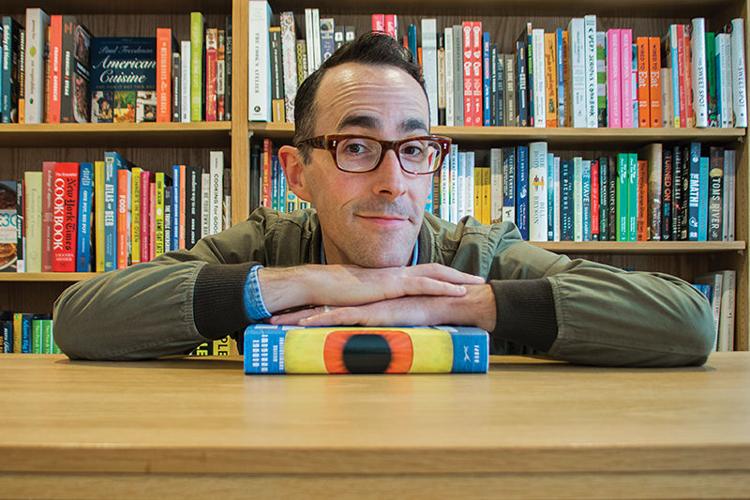 What three writers would you invite to a literary dinner?
Joan Didion, James Baldwin, Gay Talese.
Who is your favorite author?
If forced to choose, which is nearly impossible, it is Richard Brautigan. He wrote between the Beat and Hippy eras — poetry, novels, short stories. He had the most unique take on the world.
How many books do you read a month?
Four or five for pleasure. For work, 20-25 but that's more like skimming.
What do you do to relax?
I play the piano almost every day. I make a concentrated effort not to have a lunch meeting and not to read work-related material at lunch. I take that hour for myself. I'm out every night and engage with dozens of people every day. It can be draining. I need to resuscitate my soul.
Your wife, Molly Martin, co-owns Antoinette Baking Co. How do you stay so thin?
I don't particularly like sweets.
Do you have any pet peeve about Tulsa?
I absolutely do. It's the lack of city esteem. No point of pride. We're not a second-tier city.
And you really aren't paid for Booksmart or Magic City?
Never a dime. I don't measure success in money or accolades, but in terms of what's important to me, I'm the richest person in the city.
If you could be a character in any movie, which movie would you choose?
I would be Robert Redford's character Roy Hobbs in "The Natural."
What is your favorite spot at Philbook?
I work at the most beautiful place in town. Paradise is two steps away. My favorite place is outside on the grounds.
---
What Tulsans have to say about Jeff Martin:
"The 'Museum Confidential' podcast is now nationally known and lets Philbrook be known to new national audiences. I am blown away by the caliber of guests he can attract for Booksmart Tulsa. Philbrook loves hosting events when art and literature align. It's a win-win for everybody."
-Scott Stulen, Philbrook Museum of Art president and director
"Jeff is a beacon — a bright, shining light of energy, smarts, humor, warmth and relentless drive to make and keep our fair city of Tulsa a literary oasis. Many of the authors that Tulsa Literary Coalition (Booksmart Tulsa and Magic City Books) brings to town comment on how pleasantly surprised they are by what they find once they get here. Jeff is our ambassador to this world of arts and culture."
-John Schumann, M.D., president of University of Oklahoma-Tulsa and Literary Coalition/Magic City board member
"We love our electronics, but we also still love picking a good book off a shelf. Magic City Books provides all of that, and so much more. Jeff Martin has raised the literary profile for our region and truly made Tulsa a destination of choice for author tours. And that's great news for Tulsa. Across our nation, the cities that have seen the most growth are also the cities with the strongest quality of life. Magic City Books and Booksmart Tulsa help ensure we have the kind of thoughtful culture today's business leaders and talented workers seek."
-Mike Neal, president and CEO of Tulsa Regional Chamber
"We have the opportunity to have a positive effect on lives in our community. Our north star is Cindy Hulsey, co-founder of Magic City Books. Her guiding principle — and ours at Magic City Books — is, 'Books can change lives.' I know, because they changed mine."
-Pat Cawiezell, Magic City Books buyer and author program coordinator
"Jeff Martin has done a truly remarkable job — for many years — in bringing to Tulsa more literary talent than has visited any other city our size. And he has studied (or feigned knowledge of) the complete biography of virtually every author he has interviewed, drawing out interesting observations and not stepping on the lines of his guest. With Magic City books, he and (Literary Coalition Vice President) Susan Mase have given Tulsa the best of a dying breed, a local bookstore in which you can touch and discuss a book, meet authors and receive recommendations consistent with your preferences. Lewis Meyer is smiling."
-George Kaiser, businessman and philanthropist
"It's a wonderful thing Jeff is doing for Tulsa. It's fantastic. It helps our sales, too. People came in to buy Rachel Maddow books here, too. Books are books."
-Gale Courtney, Barnes and Noble assistant manager
"Active, engaged communities have active, engaged independent bookstores. Jeff has taken this truth to heart; he has built upon it, he has cultivated it. That's pretty much the story of the rise and vitality of Magic City Books. The all-important precursor for that success has been the Booksmart Tulsa series, his brilliant, homegrown brainchild. He has tangibly enriched the cultural life of the city."
-Scott Gregory, Public Radio Tulsa production manager and Literary Coalition/Magic City Books board member
"Jeff has great energy fueled by his passionate commitment to what he is doing. Booksmart Tulsa and Magic City Books are changing the way people feel about Oklahoma. Writers come and then share what they have seen. This is a big deal because the state still has some stereotypes to overcome."
-Teresa Miller, director emerita, Center for Poets and Writers at OSU-Tulsa, Magic City advisory board member