As the new year rolls over, many of us have resolved to build better habits. Whether it's our physical health, mental well-being or financial situation, we all desire to build a better life for ourselves.
But change is difficult, and it can be hard to know where to start. That's why TulsaPeople consulted some local experts to help set goals — and meet them.
Physical health
When most people think of New Year's resolutions, their first thought is taking care of their physical health. Who among us wouldn't like to get a little more exercise, or eat more healthily? But where should you start?
Carah Patterson, clinical programs manager of healthy lifestyles and a clinical leader at Ascension St. John, says exercise and a good diet are both vital to having good health, but simply making the decision to live a healthier lifestyle goes a long way.
"Just living intentionally is huge," Patterson says. "Making the decision to increase your physical activity is crucial, not only to your weight but to your overall health.
"As far as diet goes, we hate to use that word. It's literally just behavioral modification. Being intentional, choosing what you're eating,"
She also stresses the importance of the "why" behind the decisions. Remembering what that "why" is and returning to it as an incentive is crucial in turning a decision into action.
If you want to improve what you eat, maintaining a food diary can help you keep yourself on track. Reading back over your day or week can show you how far you've come and where you need to improve. Writing down what you eat also helps you choose food with more care, cutting down on mindless snacking.
"When I first started (journaling) I was surprised at what I eat but I don't realize I'm eating," Patterson says. "Just mindless eating, or grazing. Those are huge habits that people, especially in our culture, get into."
Incorporating more physical activity into your life can be done in small ways.
"Sitting in your chair, it's amazing how time flies by," Patterson says. "You don't realize you've sat there for three hours and have not moved."
Often, we don't realize how sedentary our lives have become, so setting a timer on your phone to get up, stretch and do some simple exercise every so often can be a big help.
It also helps to have a goal in mind. There are as many reasons to improve your health as there are people. Maybe you want to lose a little weight or build some muscles. Maybe you want better mobility to play with your grandkids, or to finally run that marathon. Whatever your goal might be, having it set in your mind can help motivate you when things get tough. It can also help you forgive yourself for slip-ups.
"Knowing the reason you're doing that and keeping it at the forefront of your mind is going to help you be successful," Patterson says.
Mental health
Taking care of your mental health is just as important as looking after your physical well-being. But improving your mental health is daunting; managing the stresses and emotional blows of everyday life can be more complicated than losing a few pounds or getting more exercise.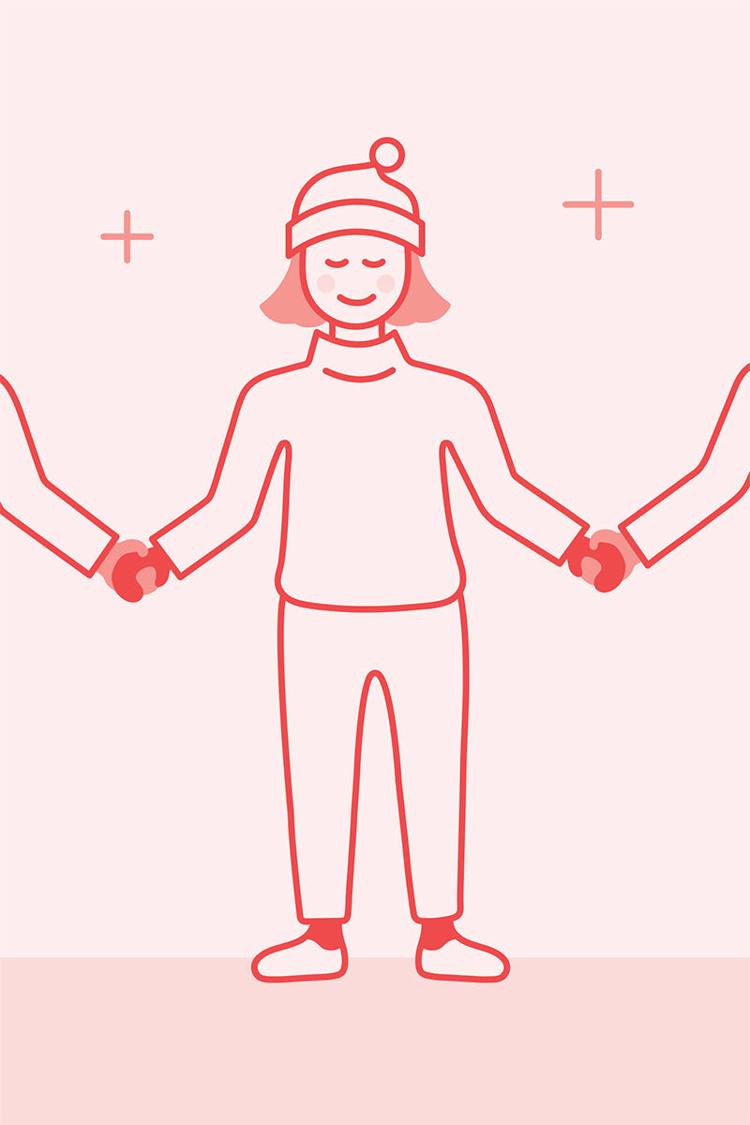 Cathy Olberding, assistant clinical director at Counseling and Recovery Services of Oklahoma, says a common issue is placing unrealistic expectations on oneself. This is especially problematic now, when many of us enter the new year resolving to change with the calendar.
"I think that we as Americans feel that we will change our habits overnight, and that we'll just be new people next year," Olberding says. Taking on too much can add unnecessary stress and sabotage your mental wellness.
Olberding says when people set goals for themselves, they need to be realistic about how much time they have, the resources they have at their disposal and what they need in order to support change. It's healthier to set small goals for yourself and meet them one at a time. Small, daily changes are more effective than big, dramatic resolutions.
"Mostly what we need to do is be consistent," she says.
Being an active part of your community is also a huge part of mental wellness. A community of trusted friends and family members can provide the encouragement, accountability and perspective you need to meet your goals and weather hard times, and help you do the same for others.
"I get concerned about people not preparing for hard times in their mental health," Olberding says. "The first holiday after a loved one passes ... I worry about that."
Having close contact with your friends and family can boost your emotional resilience.
It's also important to take time for yourself — to check in and be quiet. "You might have to take five minutes every day just to be quiet," Olberding says. "We tend to lose what's going on around us because we're so busy thinking about what just happened or what's going to happen. We need to be mindful about what's going on right now."
Financial health
Many Tulsans use the new year as an opportunity to reassess their financial situation. But planning, saving and navigating the shifting labyrinth of tax law can be daunting for many. Luckily, local experts can help steer you in the right direction at any stage of life.
Cindy McGhee is a CPA and managing director of NextGen Tax Services. For younger professionals, she recommends contributing to a long-term retirement account. This will shelter part of your income from taxes and give you a nice head-start in saving for your golden years. Even a small contribution, $20 or so per paycheck, is a good place to start, she says.
"For young professionals, getting started with small contributions could have no impact on their take home pay but put them on the path to saving for retirement," McGhee says. Using an online 401K calculator can help determine how much you should contribute without greatly affecting your paycheck.
For those further along in their careers but still working, McGhee recommends establishing a business. This could mean formalizing a side hustle such as consulting services, freelance writing or a service related to a hobby.
"More established professionals likely saw a tax increase when filing their 2018 return in light of the new tax law," McGhee says. "They lost the ability to deduct their employee-related business expenses, but if they start a business they have a new way to now take credit for those expenses."
You never know what you can do to keep a little more money in your pocket.
For those nearing or just past retirement, she suggests taking a proactive stance toward your finances.
"That could be engaging with their CPA to plan ahead for the 2020 tax year and ensure they're positioned to take advantage of any possible tax breaks," she says. "It could also be connecting with their financial advisor to ensure they're on track for retirement and have considered the impact of recent tax law changes."
One last thing to consider is the importance of estate planning. Having a financial plan is all well and good, but illness, injury and death rarely fit into our plans and never come at a convenient time.
Riley Kern, a partner at Tallgrass Estate Planning, says solid estate planning can relieve some of the stress during a difficult time.
"If something happens to you, you become incapacitated or you pass away, there are real emotional and spiritual concerns that your family will be dealing with," Kern says. "If they're instead worried about who has the authority to access the bank account or to talk to the doctors or the insurance company, all of those more important things can't happen."
Consider setting up a will, trust and financial plan with a trusted advisor. When the unexpected happens, your loved ones can have a clear plan for your property, finances and even things like social media accounts.