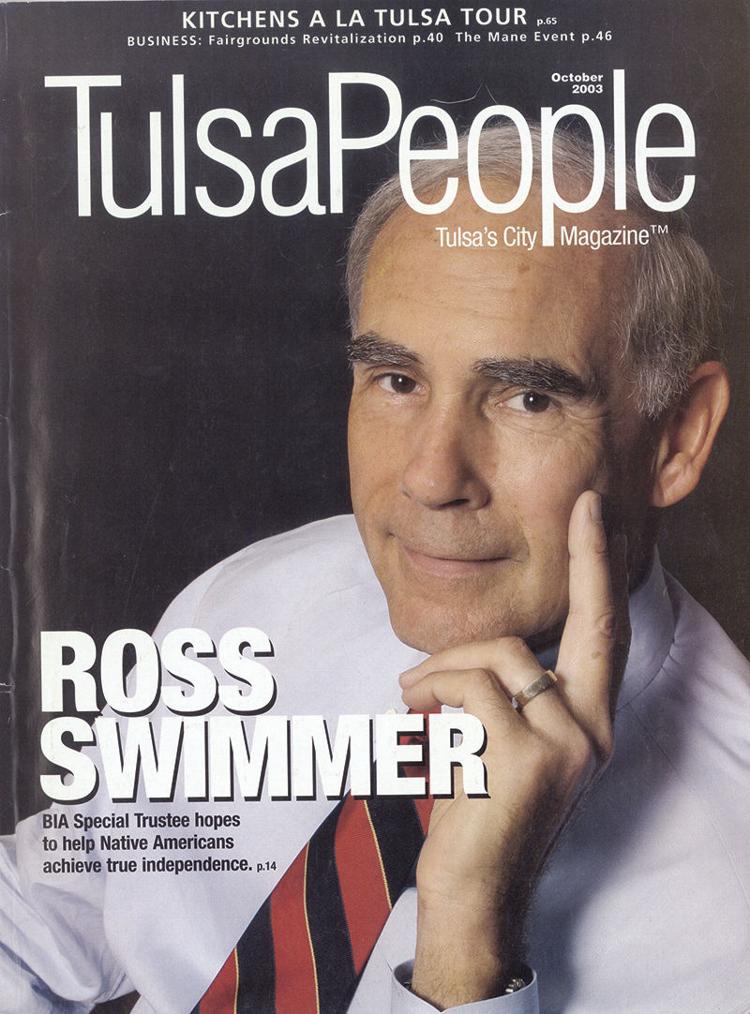 When TulsaPeople featured Ross Swimmer in October 2003, he was three years into his eight-year position as special trustee of the Bureau of Indian Affairs in Washington, D.C., having been appointed by former President George W. Bush. But Swimmer had already made a name for himself nationally 15 years prior, when he served as principal chief of the Cherokee Nation from 1975-1985.
Swimmer says he never envisioned a political life. He chose law as a career and practiced for five years in Oklahoma City.
"I worked in (Gov. Henry) Bellmon's first campaign in the late 1960s," Swimmer says. "He was always an inspiration as a politician, and I have tried to follow his principles in my later career."
Swimmer says former Principal Chief W. W. Keeler, as well as Swimmer's late wife, Margaret, supported his run for principal chief.
Margaret died in April 2019. "Nothing I have done would have been possible without her beside me for 52 years," says Swimmer, who has two sons, Joe and Michael.
A longtime runner and Tulsa Run participant, he continues to log at least 5 miles a day and usually an 8- or 9-mile run on Saturday mornings. "Margaret and I were often seen in the neighborhood walking or running, rather than driving."
With a home still in D.C., where Joe also resides, Swimmer is treasurer of the National Archives Foundation and has served for 29 years on the board at the University of Tulsa — including three one-year sabbaticals and his new role as trustee emeritus. Swimmer also recently accepted a board position at the Tulsa Garden Center and Saint Simeon's.
Tulsans often can find Swimmer at Starbucks at Utica Square enjoying an early morning coffee, where he might be seen with friend Joel Wohlgemuth at his usual seat "to catch up on our sons."