With a click-click-click of the stove on Wednesday night, Shane Bevel begins making chicken stock. The stock is the first step of his legendary gumbo served at his even more legendary Mardi Gras party. The Bevels' stove stays on for four days — until Saturday night, when the last baby has been discovered in the king cake and the boudin is long gone.
The tradition is born — and it evolves.
Shane and Fran Bevel have hosted their party the weekend before Mardi Gras since 2009. The first year, it started small, with 25 invitations to a Mardi Gras jazz brunch. Last year, upwards of 125 people signed the guestbook and helped themselves to 15 gallons of gumbo.
Fran, a grant writer, grew up in Monroe, Louisiana, where Mardi Gras parties were multigenerational affairs with lots of people and even more food. And that's just what her party has become, particularly since the Bevels have had their own children, Graham and Ruby.
"I tell people, 'Bring your kids! Nobody's getting naked. It's a Mardi Gras party, not a Bourbon Street party,'" says Shane, a commercial and editorial photographer.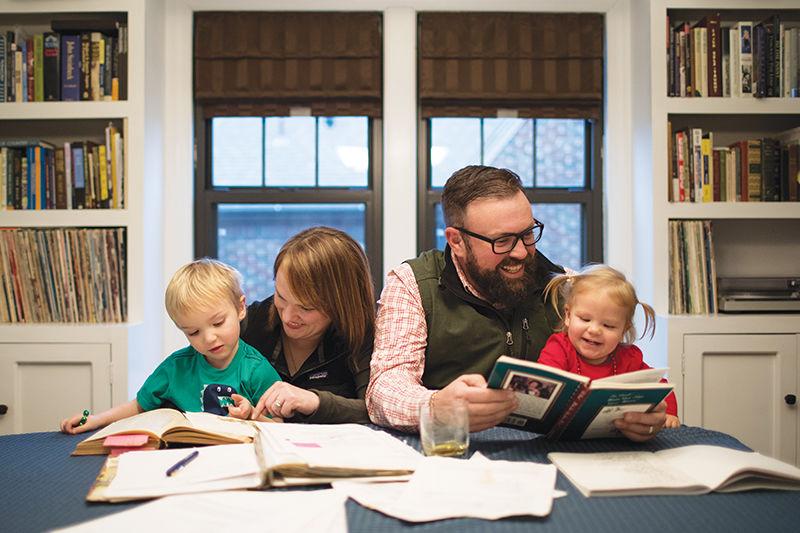 True, 125 people is a lot to fit into the Bevels' 1,200-square-foot midtown home. Many bundle up and gather in the backyard by the firepit, which is a good place to be when Shane pulls the stuffed chickens off the grill.
Friends and family are comfortably crowded, sometimes turning sideways to shimmy toward the chafing dishes of shrimp and grits or to say hi to an old friend. The crowd has only once posed any problem: A couple of years ago the party was interrupted for a moment by a loud boom, the result of a broken floor joist. But Shane brushed it off, deciding it made a good story and added to the folklore of the party.
"I love feeding people and love cooking for people. We love having people at our house," he says.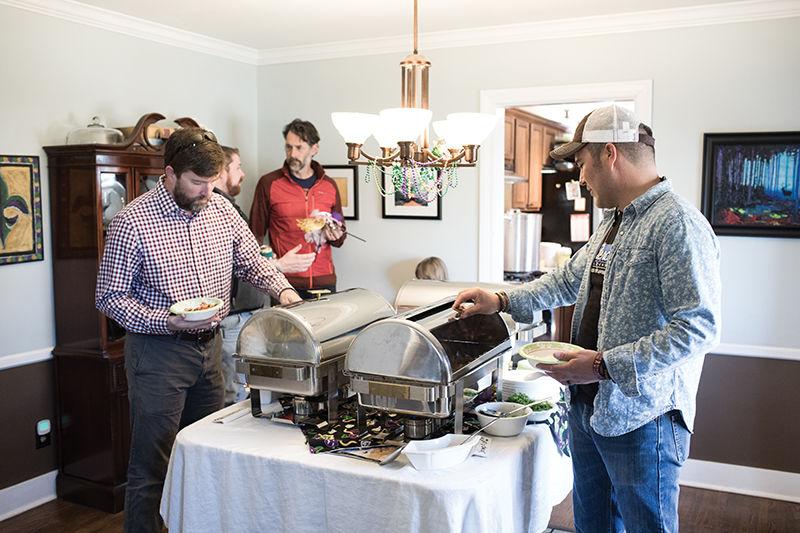 But secretly, Shane says, the party is a giant social experiment with a slightly curated guest list.
"We have a pretty diverse group of friends," he says. "From people who live out in the country who I bird hunt with to people with the opera. I like to make all those people eat gumbo together, and then I sit back and watch. It's really fun for me on that level."
Many have been coming to the Bevels' party for years, and for them there's a comfortable familiarity about it all. It starts with signing the guest book on the porch and grabbing some purple, gold and green beads. Inside, the air is filled with the smell of gumbo and the sounds of Zydeco music, punctuated by belly laughs and squeals from kids.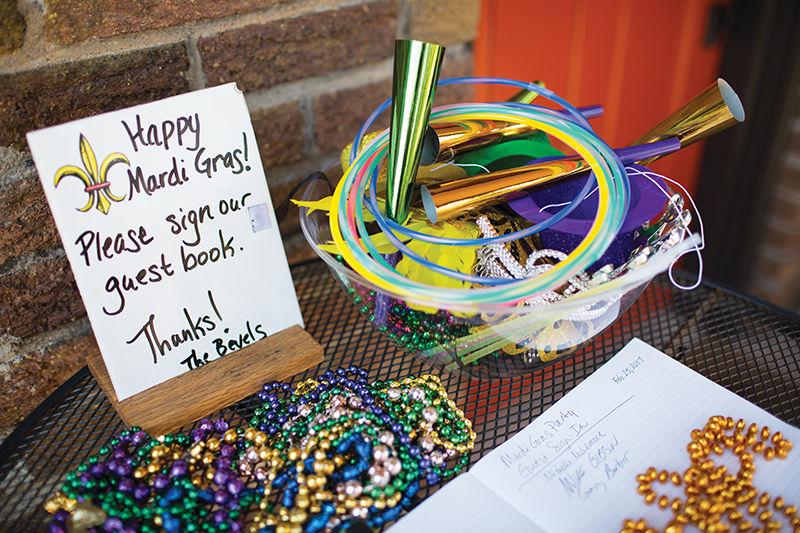 The making of an authentic Mardi Gras shindig
In the first few years of the party, Shane and Fran had many things, including the boudin sausages and king cakes, shipped from Louisiana for the party. But over the years, they've found good local sources. They buy a lot of meat from Hebert's and Siegi's, both places Shane recommends for authentic Louisiana food. And last year, they ordered their king cakes from Lassalle's, a favorite Tulsa spot for classic New Orleans-style food.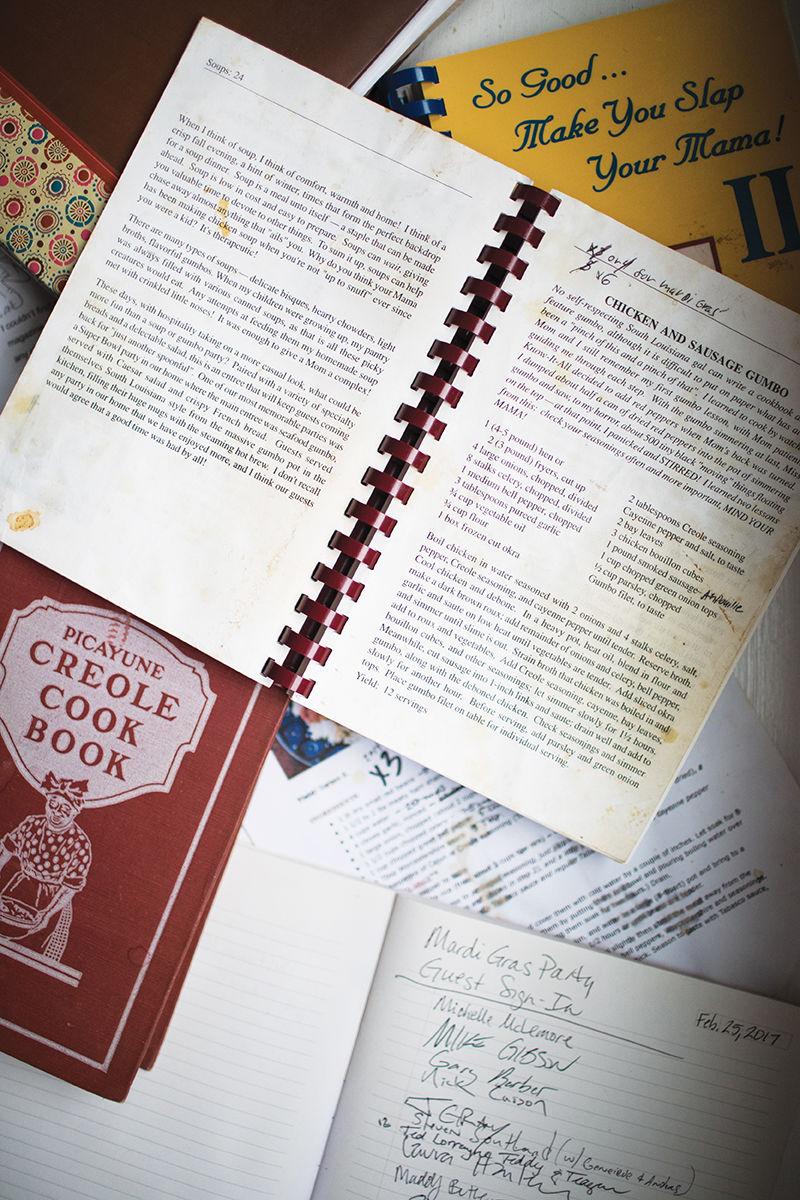 Shane's gumbo is the main culinary attraction at the party. And it's a process to make. First, he cooks a half-dozen whole chickens in his giant stock pot. To the pot, he adds spices and the Cajun trinity of onion, celery and bell peppers. The cooked chicken is reserved, and the liquid becomes stock. Shane keeps the fire on, but turns it way down.
He has learned to lock his dogs out of the kitchen — imagine that tempting smell for days on end — and to move everything away from the burners to prevent any safety issues.
The next day, he adds the vegetables, including "tons" of okra. Another thing he makes tons of is roux, which is added with the vegetables. "You have to turn your cell phone off and pay attention when you're cooking roux," Shane says. Back to the heat it goes for another 24 hours.
On Friday night, the chicken is added to the pot, and the okra seeds and some fat are skimmed out.
On Saturday, it's time for the sausage and another long simmer to meld all those flavors.
"We put pounds and pounds of okra in, but you won't find any okra in my gumbo. It cooks so long that it's not a chunky stock," Shane says.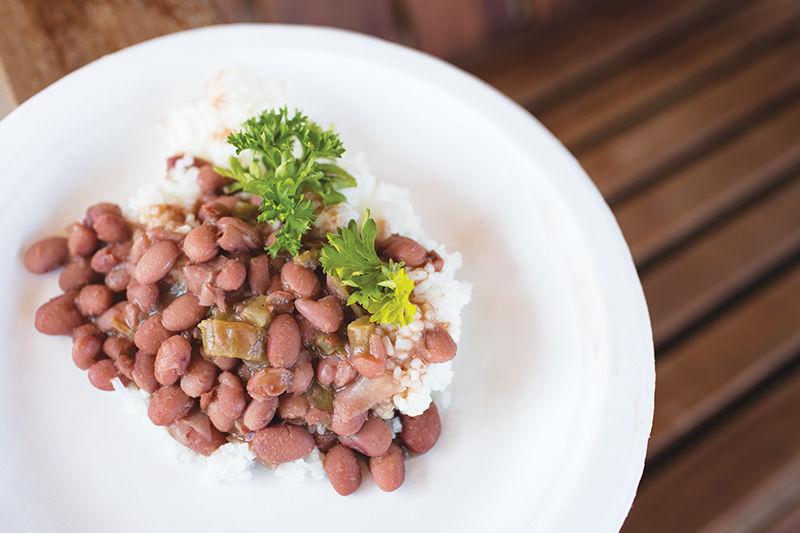 Along with the gumbo, people go crazy for the red beans and rice and shrimp and grits.
"We serve them early, and they don't last long," Shane says. "When they're gone, they're gone."
Other hot commodities are the whole, boneless stuffed chickens Shane grills during the party. Shane and Fran buy them at Hebert's in different flavors, including étouffee, cornbread dressing and alligator sausage dressing. Shane grills these 8-10 chickens, and party veterans know to follow his trail when they're taken off the fire. If you don't follow him and grab a bite when they're cut, you'll miss them.
Cooking for a crowd presents unique challenges
Shane and Fran use a few recipes as guides, but then add their own styles to their cooking.
Shane's gumbo base is a recipe from a friend, a food writer in Shreveport, Louisiana. Having that as a guide especially helped in the first few years of the party. He still follows the basics of that recipe, but it has been transformed into his own.
"My base is hers, but it's also everyone else's — trinity, chicken, sausage, roux," he says. "Cooking gumbo falls in the same category as cooking a good brisket or the perfect Thanksgiving turkey. It's less about the recipe and more about how much time and effort and care are you going to take to serve this thing to a lot of people."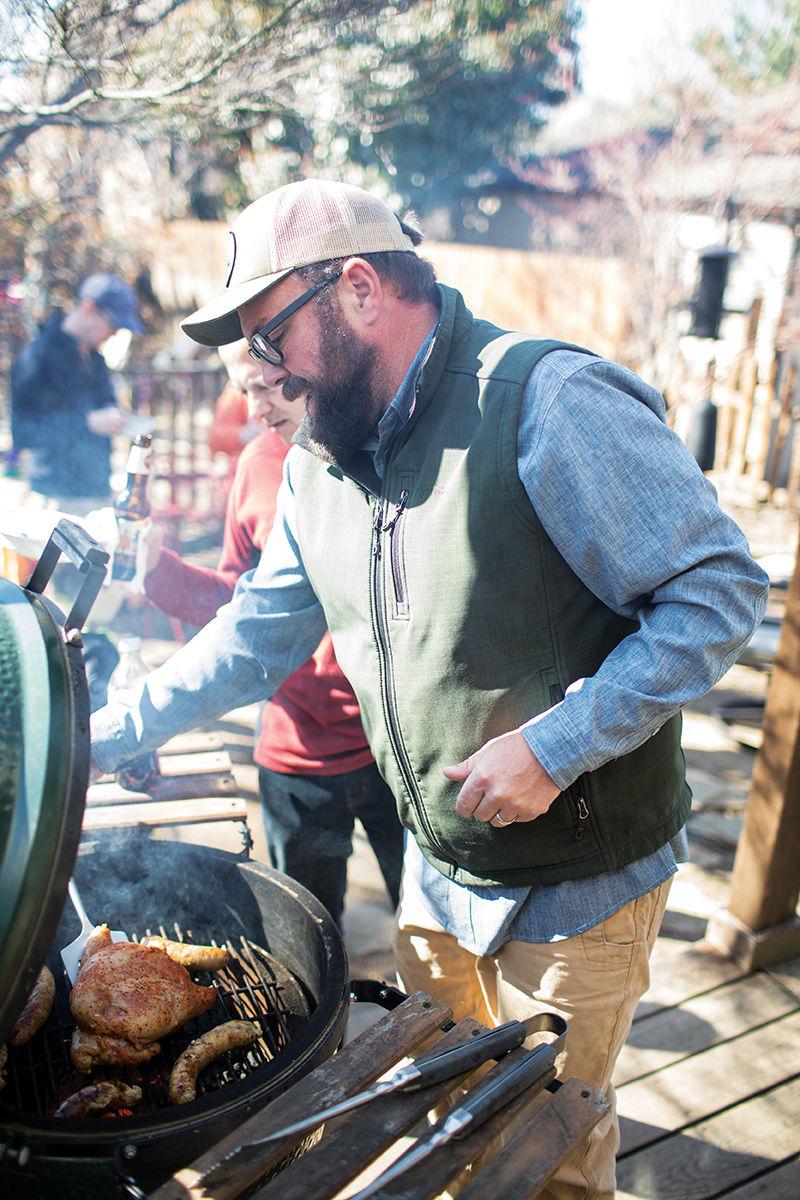 Mike Hays is a friend of the Bevels and has been coming to the party off and on the past eight years. Hays is the past-president of the Kansas City Barbecue Society and a champion barbecue cook who knows a lot about cooking for a crowd.
"It's really a hard thing to do when there's no RSVP or 6 o'clock seating for dinner," Hays says. "But Shane manages it very well and has gotten better every year."
Hays says he has met many friends over the years at the party. "It's fun to sit down and talk to people who you've never met and maybe don't have a common interest with," he says. "But you can sit there and start a conversation. That reflects on the way that Shane and Fran are — they've never met a stranger."
If there's a downside to the party, it has to be the cleanup, and the worst job has to be the cold, sticky chore of cleaning the daiquiri machine on the back porch.
But such an inconvenience isn't going to deter the Bevels. They'll be doing it all again — same time, same place, next year.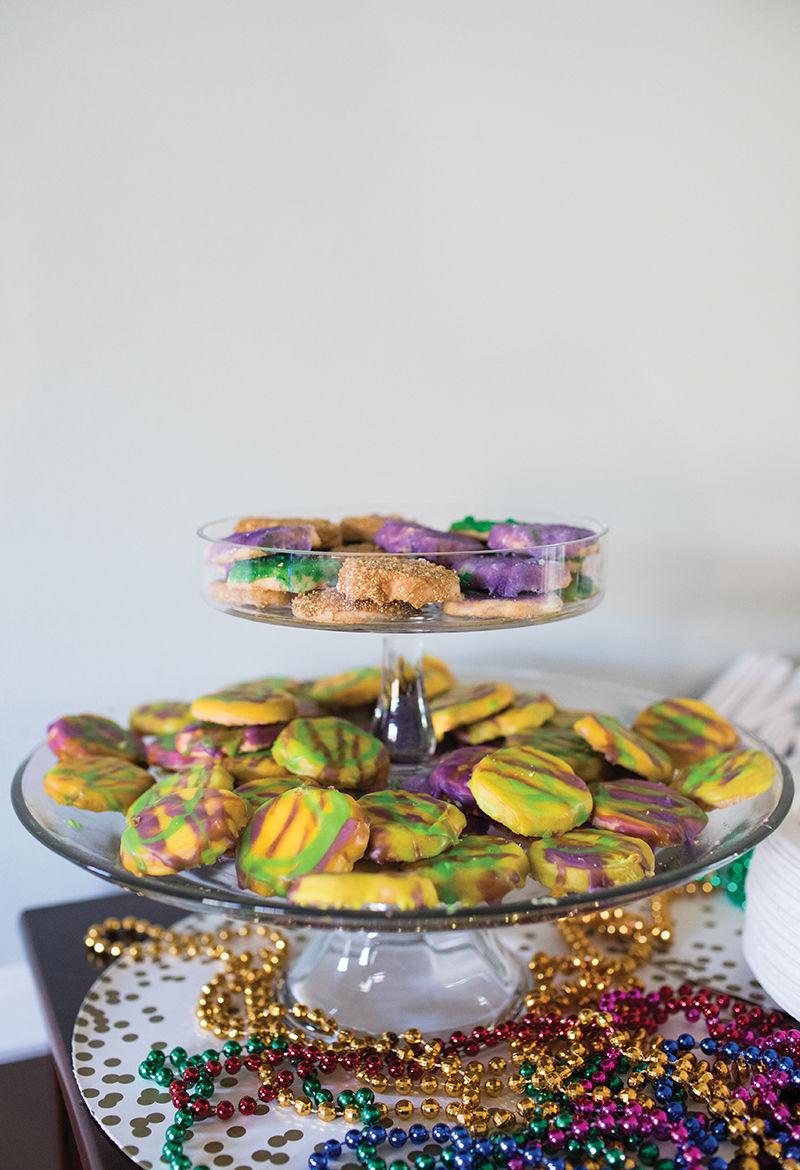 By the numbers
1 Broken floor joist
8 People who go home with a baby from a king cake
2 Outdoor firepits
5 Burners required to boil 15 gallons of gumbo
9 Gallons (170-ish) of Daiquiris consumed
6 pounds of okra
12 Pounds of boudin
50 Onions chopped
Time spent making roux:
Roughly three episodes of "The Simpsons" (or one to one-and-a-half hours)
Amount spent on the party:
Why ruin a good party by keeping track?
Get the recipe: Fran's shrimp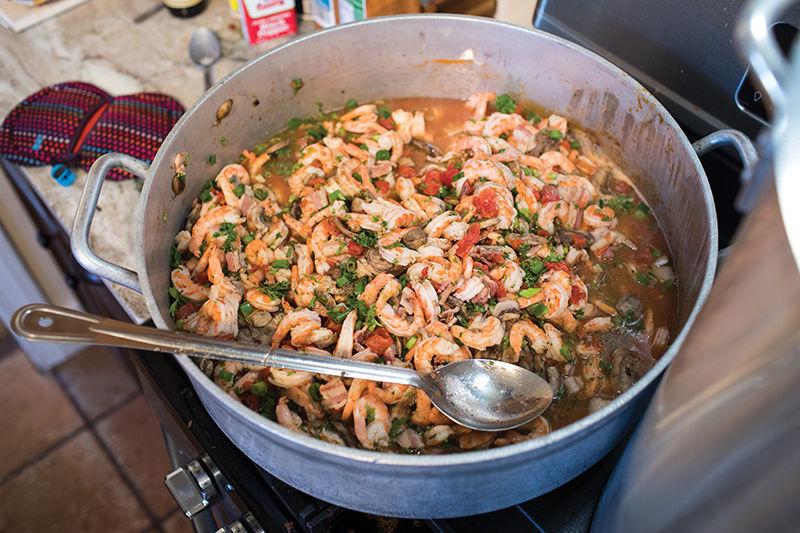 Fran's shrimp and grits is one of the first dishes to go at the party. Rookies who show up late might just miss it. She has made changes to this recipe over the years and uses it as a guide rather than following it to a T. It makes enough for a crowd, though Fran doubles it for her party.
Fran's Shrimp
20     slices bacon, diced
5 (8-ounce) containers fresh mushrooms, sliced
7 ½   pounds shrimp, peeled and cleaned
2       cups sliced green onions
5       tablespoons chopped fresh parsley
5 (14 ½-ounce) cans diced tomatoes
2 ½   teaspoons Creole seasoning
5       dashes garlic powder
1 ¼   teaspoons ground black pepper
Salt, to taste
Dash ground cayenne pepper or Tabasco
In a large skillet, cook bacon until done but not crisp; add mushrooms. Sauté mushrooms until just tender, adding a little oil or butter if needed. Add shrimp and cook, stirring for 1 minute. Add green onions and parsley; continue cooking for about 1 minute. Add tomatoes, Creole seasoning and garlic powder. Bring to a boil and simmer for about 1-2 minutes or until shrimp are cooked through and liquid has reduced and slightly thickened. Taste and add pepper, salt and cayenne to liking.
Serve with creamy, cheesy grits.