Traditions of all kinds — even unwrapping and sitting out a meaningful holiday decoration — can be especially comforting in the midst of a pandemic. These special pieces are not only reminders of our lives and relationships before the novel coronavirus, they also provide hope of a return to normalcy post-2020.
Family celebrations might look different this Christmas, but these five Tulsans, and many others, have never been more eager to usher in the season with decorations that harken to a simpler time.
The Grandma Tree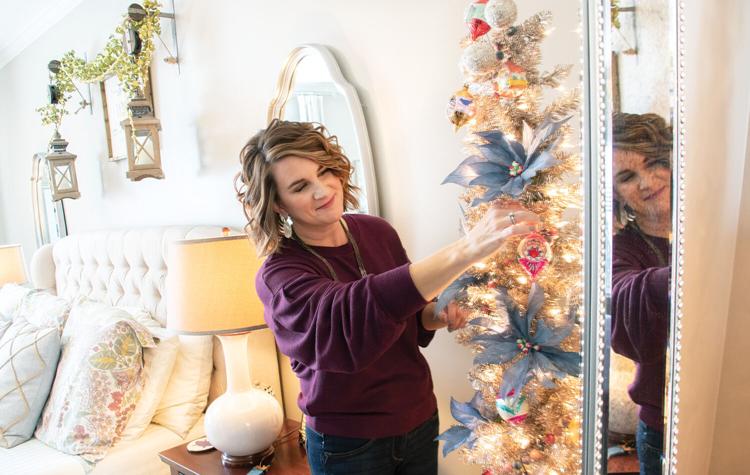 Louise Wesson was a survivor, and a stylish one at that, remembers her granddaughter Ashley Antle.
"She had scars on her chest from a double mastectomy and open-heart surgery, but she never let either of those things stop her," says Antle, a freelance writer. "I have a picture of her in Hawaii in 1999, right before she passed away. She had her (woven) grass-top handbag, and a scarf was tied around it. She was just kind of timeless in her style." 
Wesson's Christmas decor was just as classic. Her choices were hallmarks of the '50s: colorful glass ornaments and silver tinsel on the Christmas tree, a light-up snowman and reindeer on the front lawn.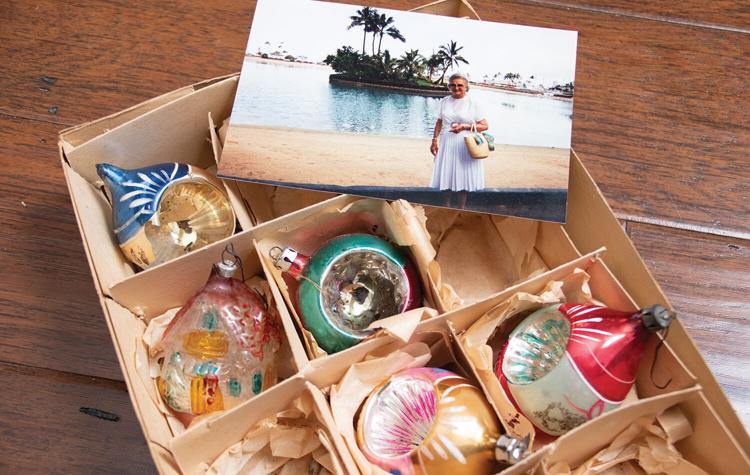 Antle grew up spending Thanksgivings and Christmas Eves with Grandma Louise, her dad's mother, in Grandbury, Texas, a short drive from Antle's childhood home in Fort Worth. Christmas Day was spent with her maternal grandparents.
When Wesson died, Antle, her sister and mother received some of her glass Christmas ornaments. Now retro, the bright colors are a throwback to an era Antle says she has always loved. Her favorite ornaments are oval-shaped with an inset starburst.
Though Antle doesn't know much about the ornaments, her father recalls the Fort Worth department store where his mother would have purchased them. They couldn't have cost much, he says. 
Despite Antle's best care — storing the ornaments indoors, in their original boxes, inside a plastic case — they are paper thin, and some have broken over the years.
"I don't hang those up, but I can't bring myself to throw them away," Antle says. "I just hang on to those that are cracked and broken because ... I don't have a lot of things from (Grandma Louise). So this is kind of the one thing I have from her."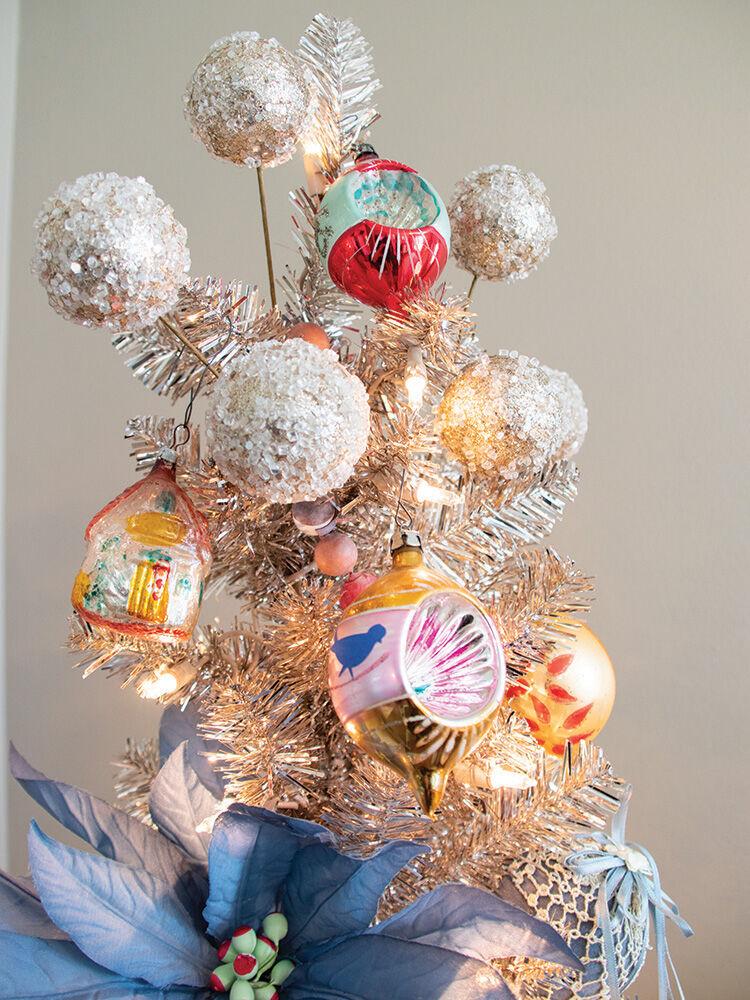 The intact ornaments come out each Christmas and occupy a place of honor in the Antle home: on a skinny tree in the bedroom Ashley shares with her husband, Sean. It's a safe place away from the horseplay of their three sons, ages 5 and 11 (the oldest are twins).
"My maternal grandmother — I also have some things from her," Antle says. "They're just old poinsettias and stuff from her tree. So that tree (in our room) has both of my grandmothers' stuff. It's kind of the Grandma Tree."
Decorating the tree each year brings back childhood memories for Antle, from picturing Santa at the end of the parade on Grandbury's town square, to running around Grandma Louise's backyard. "Putting out those ornaments each year are my little wink to her and a great conversation-starter with my kids about my grandparents, who they never met," Antle says.
Crazy for Christmas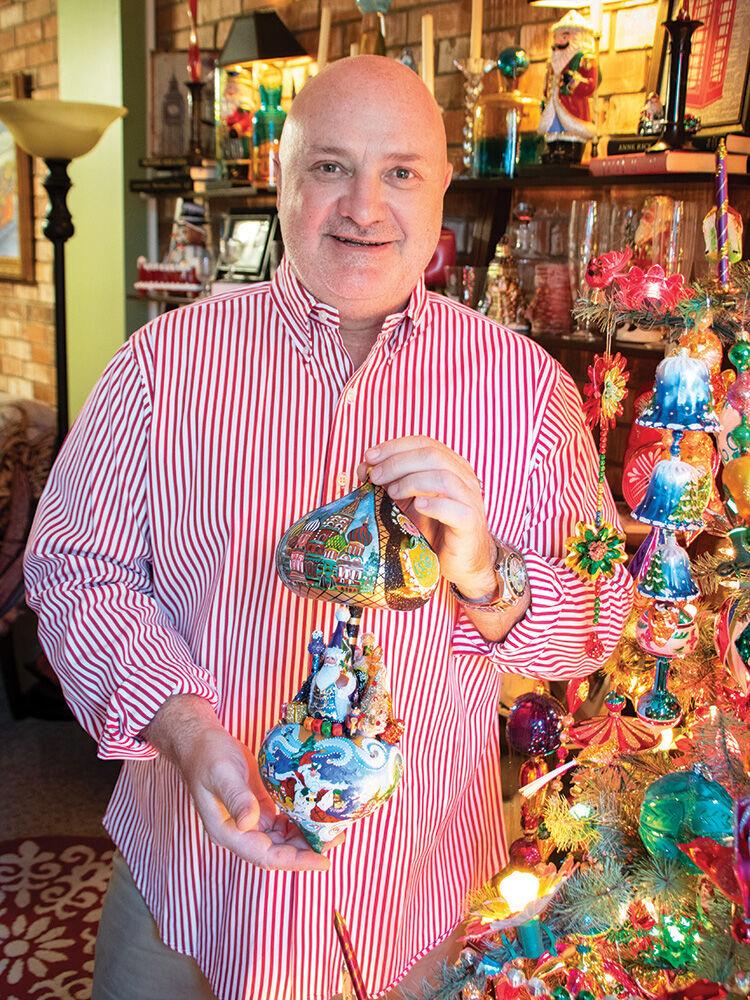 Can one have too much holiday spirit? Impossible, Jeff Clark would say. 
Of the Christmas, Easter and Halloween decor filling Clark's climate-controlled storage unit, about 2,000 of the pieces are Christopher Radko, a sought-after brand of European glass collectibles. 
Clark started collecting Radko more than 20 years ago, falling in love with the glitz and glimmer of the heirloom-quality ornaments. He purchased his first ornament from North Pole City in Oklahoma City, where Clark says he grew to love Christmas even more. He even worked there part time during the holidays.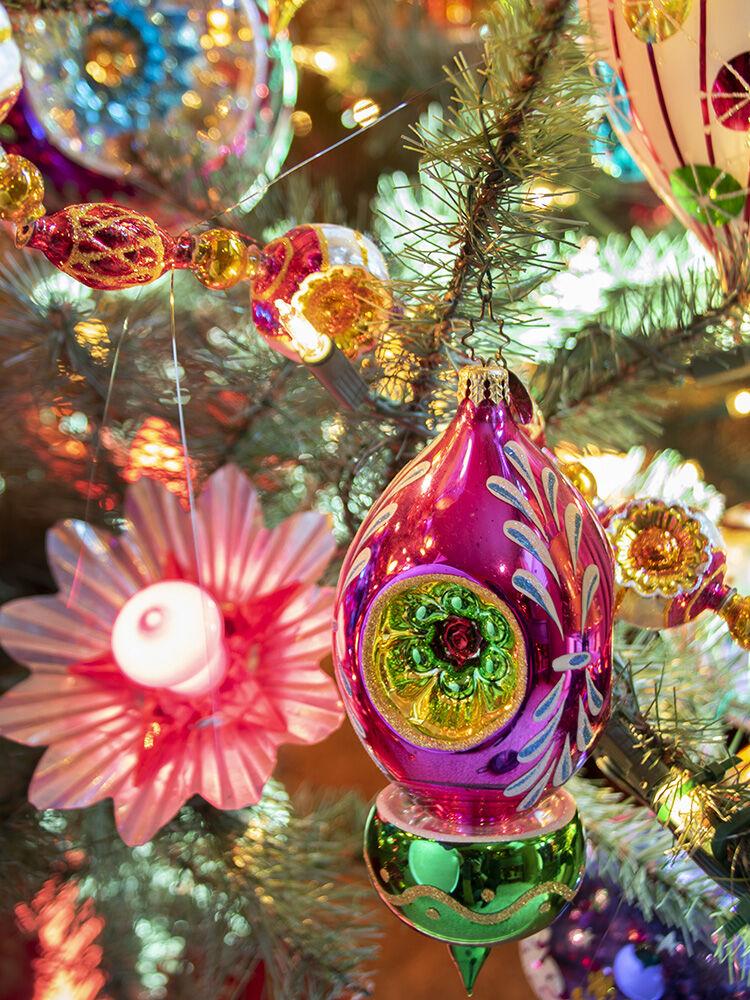 Eventually collecting became a year-round hobby. "For the first four years, I would say, my other half and I were probably on eBay every day or every other day buying older styles and trying to recreate the collection like we had been collecting from the beginning," Clark says.
Eventually the Radko pastime turned into a dream job. For the past 17 years, Clark has worked as a regional sales representative for the Christopher Radko company. Clark's oldest piece is from one of his dearest clients, Margo's Gift Shop in Utica Square, which has sold Radko since the ornament company started 35 years ago. 
Clark says his favorite Radkos are the "ball and drop" ornaments because they bring back classic Christmas memories, but he likes to mix in Radko figurals, available in nearly any theme, from Coca-Cola Santas to Hawaiian shirts.
Earlier this year, Clark was furloughed for three months and passed the time by photographing and categorizing each piece of decor he owns, including the Radkos and other brands such as Patricia Breen, Jay Strongwater, and Fitz and Floyd. "You're looking at well over 3,000 pieces," he says.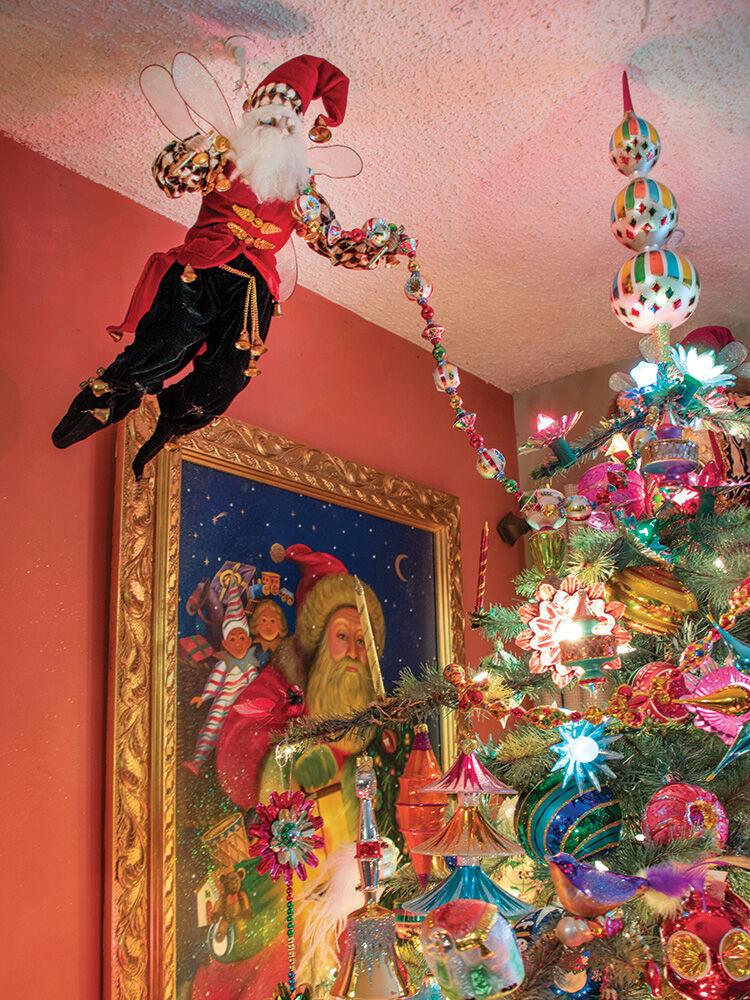 Just a fraction of Clark's Christmas collection will fit in his 1,500-square-foot midtown home, yet his extensive decorating process requires renting a moving truck for the day. This allows him to bring Halloween decor back to the storage unit and return with Christmas galore. He says he rotates the collection every year so every ornament gets displayed.
Clark is still adding to his Radko collection and says he has paid as much as $450 for a single ornament. Over the years, many have been collected while traveling. 
"Every ornament I buy or gift now has a memory attached to it," Clark says. "We (he and his partner of 21 years) went to London, so I bought the ornament with the Union Jack flag. We went to Paris, so I bought the Eiffel Tower."
Clark gives Radko for new babies, weddings, birthdays. His niece and nephew, 16 and 13, now have enough ornaments for their own Christmas trees in their bedrooms.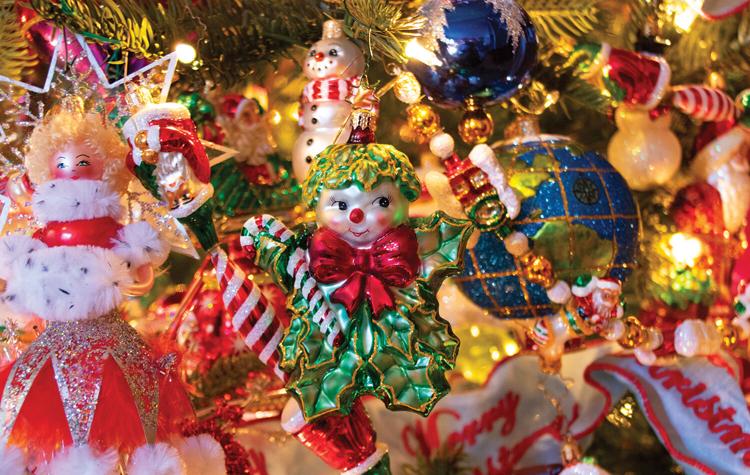 For all the effort Clark has put into growing his holiday collection, one wonders who will care for it after he, a self-professed "Christmas crazy person," is gone.
In the past few years, Clark took his niece and nephew to the infamous storage unit. "I told them, 'Look around. This all will be yours someday.'"
He laughs. "My niece just said, 'Oh, Uncle Jeff. Yeah, no.'"
Village people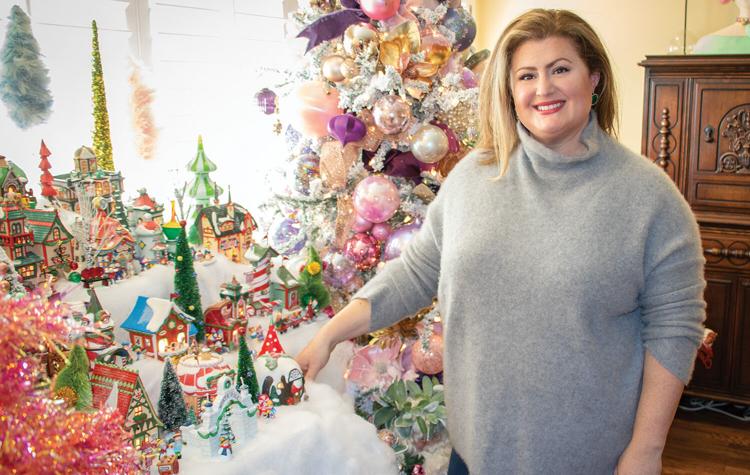 Whitney Eslicker's Pearl District shop, Adorn, is well known as a holiday wonderland. So is her home — especially at Christmastime.
In addition to trees, greenery and lights in nearly every nook and cranny, an ornate Christmas village with approximately 50 structures and characters is spread across 16 feet of table in her dining room.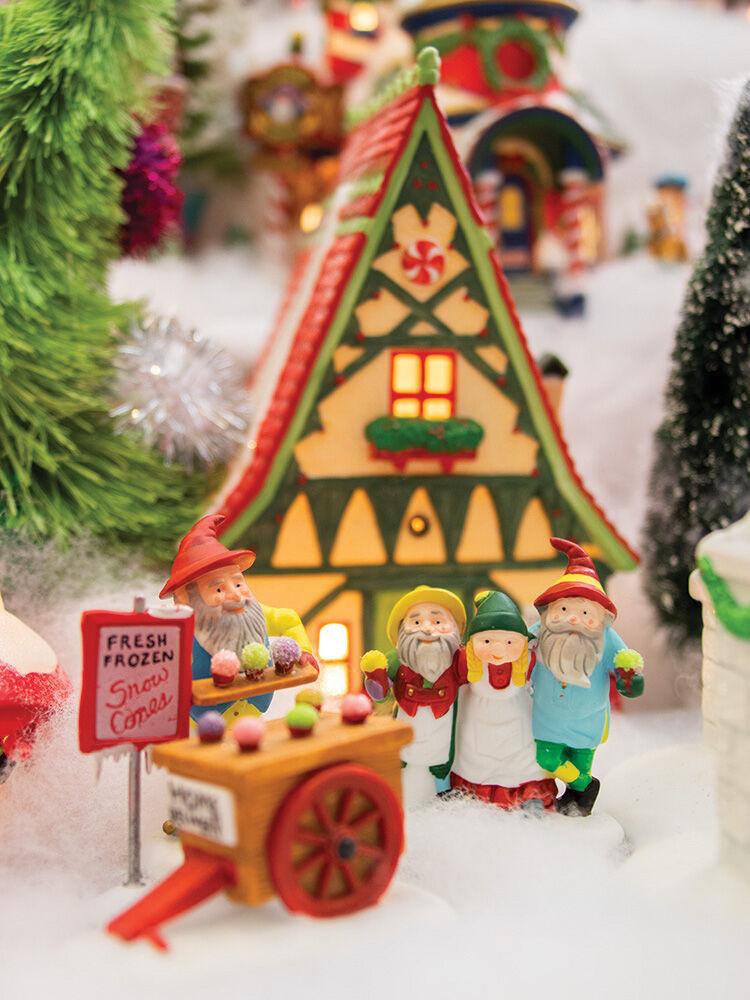 Collecting the hand-painted porcelain villages and characters is a hobby Eslicker inherited from her mom, Debbie Miller, and her paternal grandmother, "Goggy," who started collecting the Department 56 brand before she was born.
Growing up in midtown Tulsa, Eslicker has fond memories of Christmas shopping for new pieces at Et Cetera House, a former Utica Square retailer.
"If you went downstairs, they had an entire section that was a Christmas village and they had trains running through it," Eslicker says. "It was the most magical place."
Debbie's earliest collection is the Dickens Village, one of the first series released by Department 56 in 1984. "It's Ebenezer Scrooge's house and the little ale pubs based on that old Victorian England style," Eslicker says. "It's muted colors, very traditional."
Her village is quite the opposite: the North Pole, colorful and glittery, with homes for the elves and reindeer, as well as Santa's lookout tower. "I build it up with mountains and everything, so it cascades down. It's a process," says Eslicker, who takes two to three days to assemble the village.
She and her mother put up their villages together, and they continue to add houses every year. Now they're passing their tradition on to a third generation: Eslicker's sons, Liam and Jett, who have started their own villages.
Though mother and daughter have many Christmas memories, from Christmas candy to baking to spying Santa at night, one of their favorites involves the villages. "It's not just setting up the houses," Miller says. "It was getting dressed up and going to the stores and shopping and picking one or two out. It was an event."
Now the tradition has changed; Eslicker says she isn't aware of any stores in Tulsa that still sell Department 56, so the pieces must be purchased in Oklahoma City, Santa Fe or online. (Adorn doesn't carry the villages because they take up so much room, though Eslicker hopes to offer them someday.)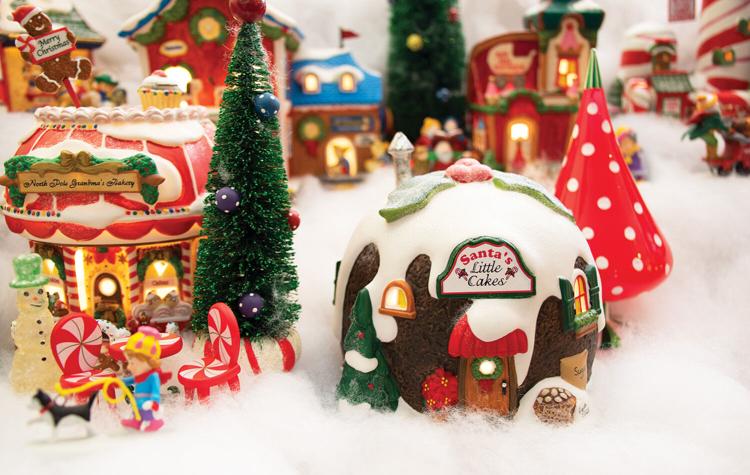 But both Eslicker and Miller, who work together at the shop, love hearing from clients who have the villages, and encouraging those who don't to start their own collections. 
Eslicker says each piece brings back memories that are relived each time it is unwrapped and displayed. "I just turned 40, and even now there are things I'll never forget about each piece, and especially when we do Mom's village because hers is even older than mine," she says. "I think that's what Christmas is about: tradition and family and love and joy. It's just a special thing to have in your home."
Display of affection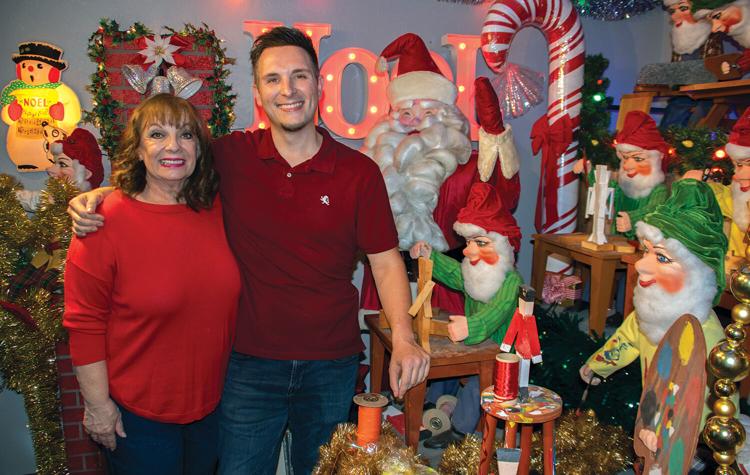 Each Christmas, people from miles around drive through a Jenks neighborhood to see the dazzling residential light display of local promoter Ben Sumner.
Seventy years ago, his great-grandfather, Matt Sumner, was experiencing the same joyful phenomena at his Sapulpa home. "It's something that's in our family's blood," Sumner explains.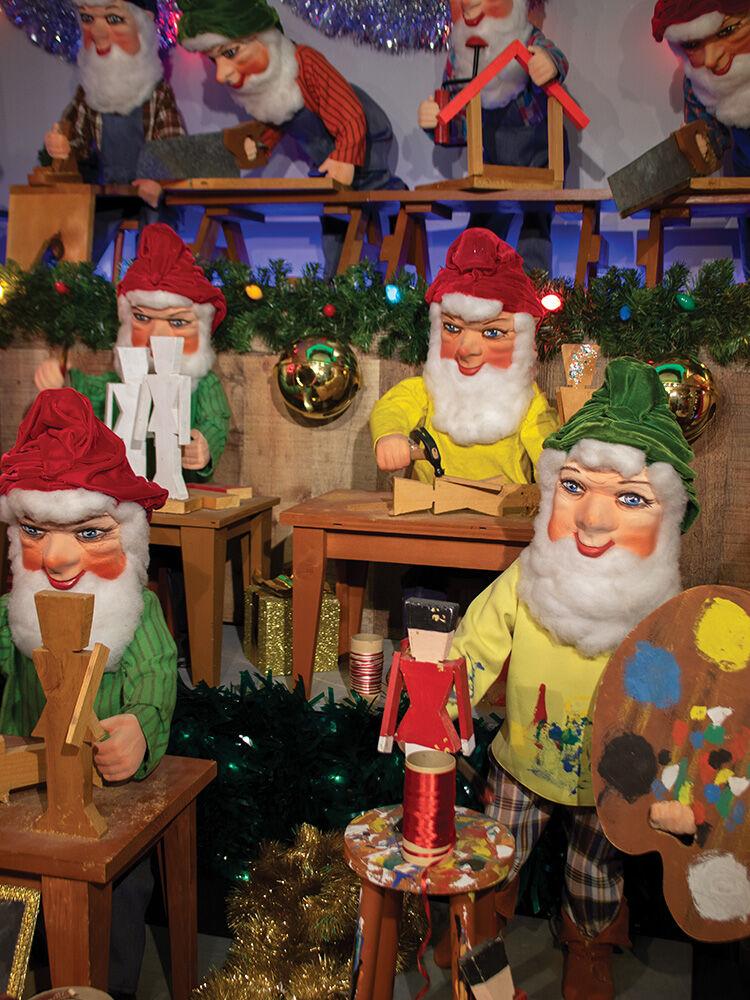 Aside from its grand scale, what sets Sumner's display apart from others is his collection of vintage and animated characters: Dickensian carolers, elves, toy soldiers and more.
Though most of the vintage pieces have been purchased over the years, several of Sumner's blow-molds — hollow plastic decorations, such as a thin plastic Santa face that lights up — were passed down to him from his grandfather, who used them in the 1950s. Another heirloom addition: a "Merry Christmas" sign his great-grandfather Matt put in his display in the '70s and '80s. 
The other side of Sumner's family is represented in his display, as well. "My Nana and Bampa (grandfather) on my mom's side — their Christmas lights they used on their Christmas tree, I use those in my windows," he says. "I also have many ornaments that came from my mother's grandpa's 5 and Dime store, which was located in north Tulsa in Turley."
Sumner's mother, GerryLynn Sumner, says it was clear early on her son inherited the "Christmas genes." As a high-schooler he offered to put up others' decorations, she says.
"He would do it for family, like my brother's house or my folks' house or my great-aunt," GerryLynn says. "And it just has escalated to the point where I just sit back and go, 'OK, boss, what do I need to do?'"
Like his great-grandfather, who won first place for his Christmas display in the Sapulpa Herald newspaper in the '50s, Sumner is being applauded for his handiwork. His display will be featured this month on ABC's "The Great Christmas Light Flight," a TV show that pits four home displays against each other for the grand prize: $50,000 and a huge winner's trophy. The episode will air on ABC from 7-9 p.m., Dec. 9.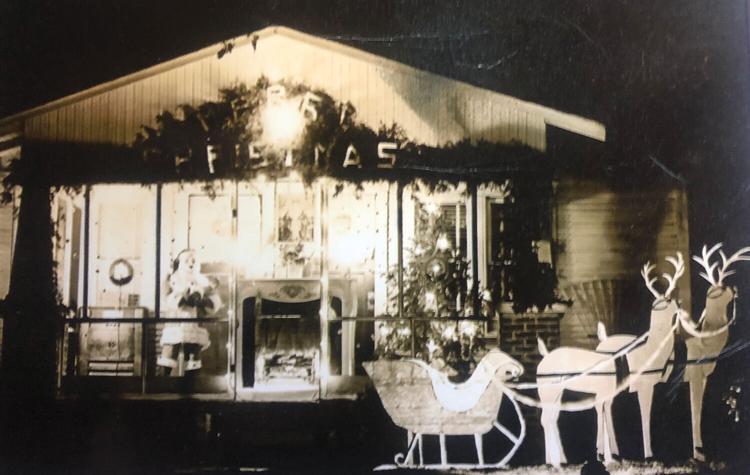 A casting agent reached out to Sumner in 2019 after seeing a TV interview with him about his Jenks display. "At first I was skeptical because when you get a phone call from Hollywood saying they want you to be on a national TV show — that doesn't happen every day," he says.
But after going through rounds of casting calls, Sumner was approved for the show in July 2019. Filming wrapped this past December.
For Sumner, it's an honor to the first Tulsa family featured on the show. "It's a family tradition for us to sit around on a Monday night and watch," Sumner says. "We put on large displays, so being able to see other families all across the United States that have the same passion we do ... I mean, it's literally my favorite show."
Sumner can't disclose the competition's results ahead of the episode airing, but for him it's not just about winning. "We do it because to us, Jesus is the reason for the season," says Sumner, who adds that a nativity scene is a staple every year. "It's very important for us to continue to show that love that Christmas brings to families."
A dose of Disney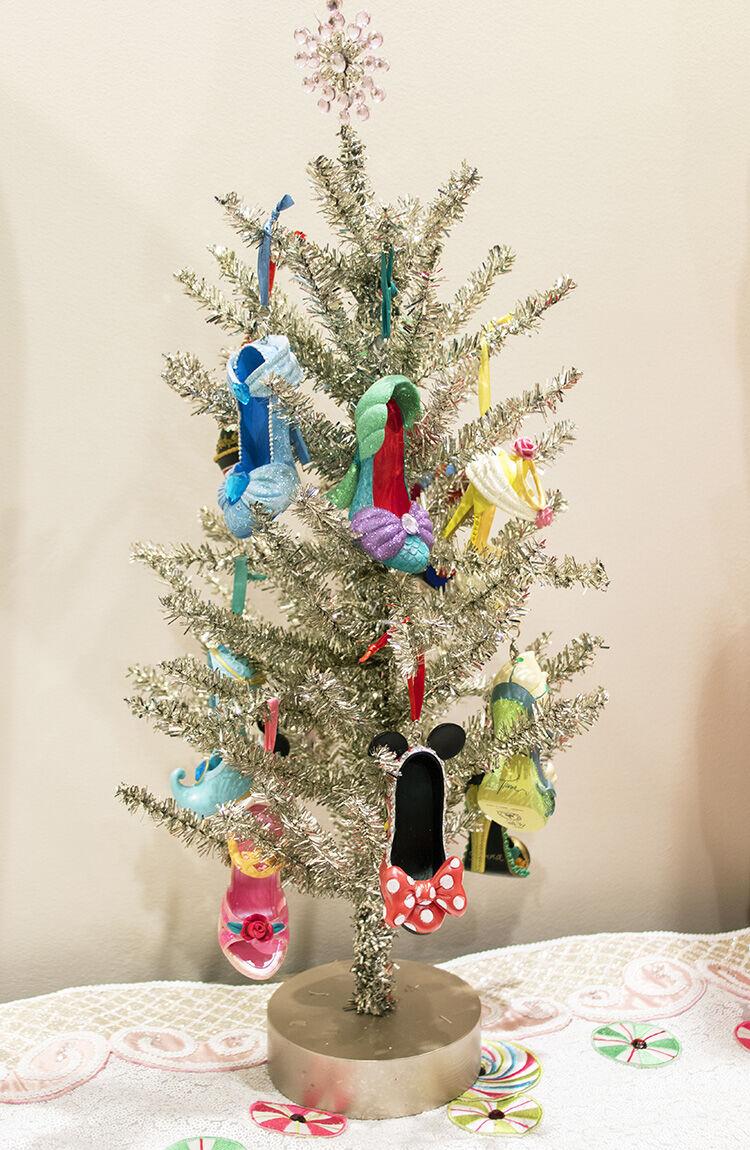 When one loves the "Most Magical Place on Earth" as much as Mariam Hanna, it makes sense to bring some of the magic home — especially for the most wonderful time of the year. 
Hanna, husband Nicholas and their two children moved to Tulsa from San Diego about five years ago. With close proximity to Disneyland, they made frequent trips. Eventually Hanna and the kids started a collection of Disney Christmas ornaments: shoes representing each Disney princess. 
"Every time we go, whether it's to Disneyland or Disney World or on the Disney Cruise, we'll pick one out," says Hanna, a dentist who owns Tulsa Modern Dental.
All her shoes are high heels with one exception: a boot for Anna from "Frozen." Since they're rather heavy, the shoes are displayed on a special gold tree with metal branches that allow all of the ornaments to be seen.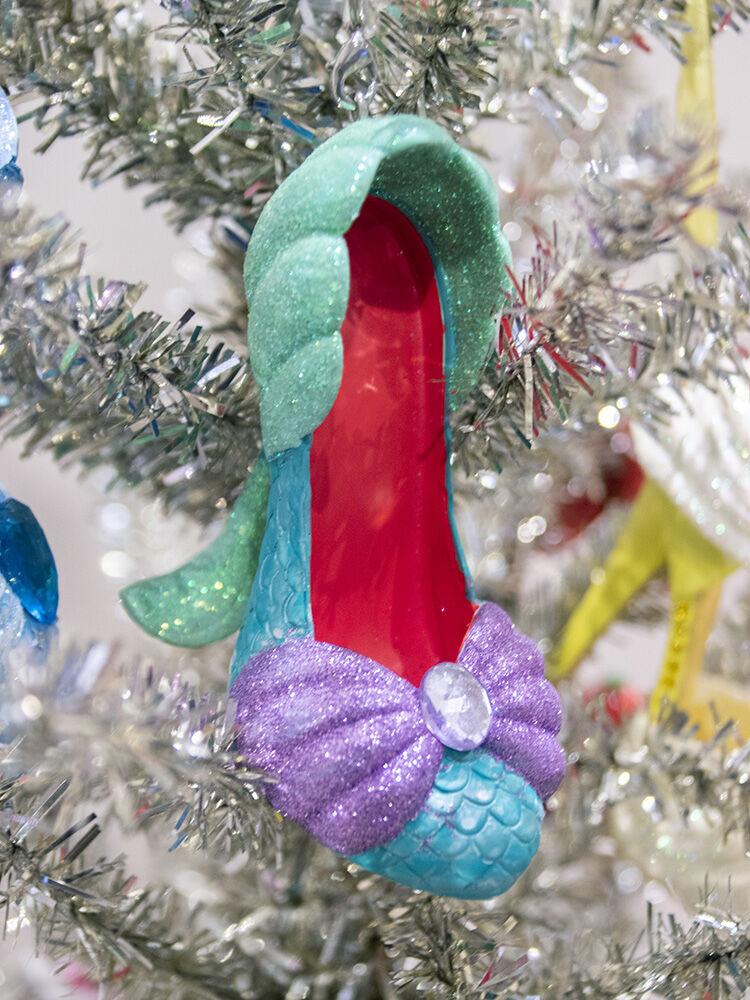 Shoe ornaments were a natural evolution for Hanna, who estimates she owns about 100 pairs of the real thing. "The ornaments were kind of the best of both worlds because they were so creative," she says.
While Hanna and daughter Sophia go princess shoe crazy on Disney trips, she says her son, Alex, usually tries to dial them back.
"He likes picking them out with us when we go, but he's our sensible one," Hanna says. "He's like, 'I think you guys got enough this time. ... No, no, you already have one Ariel.'" 
To that point, Hanna's version of Christmas decorating might be a scale on par with Disney. Each year she hires Whitney Eslicker of Adorn to decorate the family's home: a 12- to 14-hour job for six people, Hanna says.
Like the Disney princess ornaments, the rest of the family's decor also is nontraditional, from a huge Candyland area to brightly colored trees in turquoise and purple. Christmas hasn't always been such an obsession for Hanna, but she says having children flipped a switch for her. "You get to be a kid all over again, but with money," she laughs.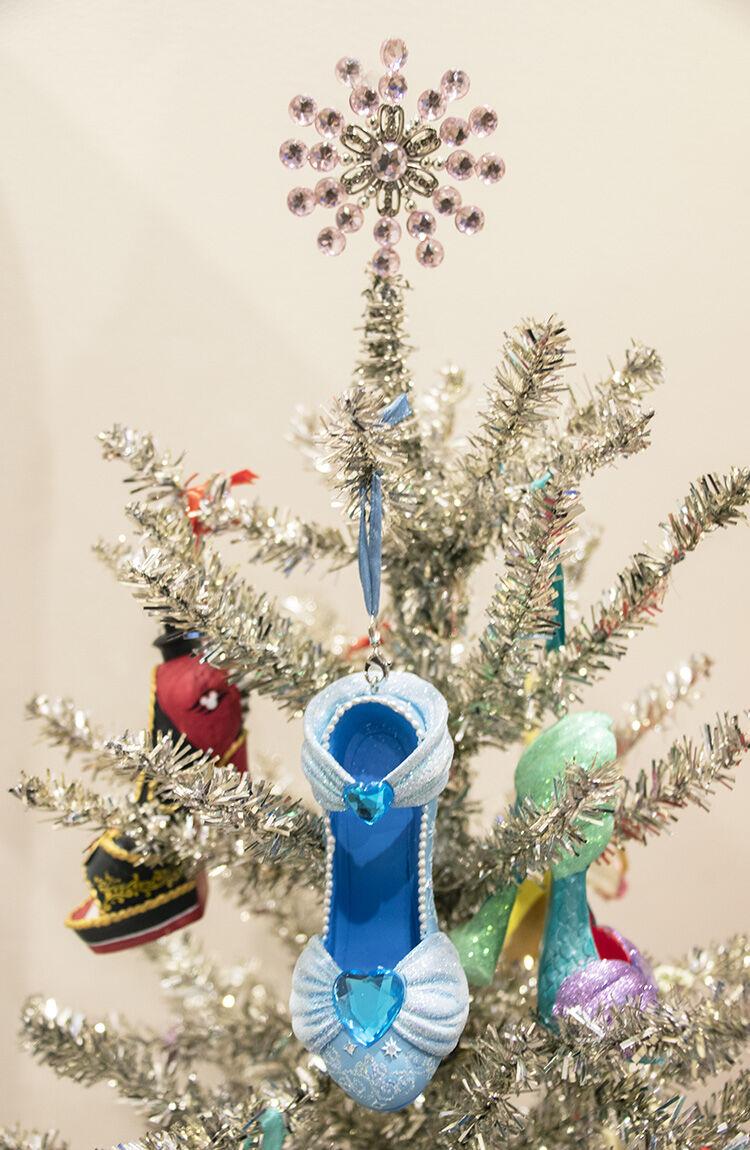 And so the Hannas' princess shoe collection grows as Disney expands the line into villains. (A second tree is in the works to separate good vs. evil, Hanna says.)
She says Sophia already knows the collection will be hers someday, and Hanna is happy to pass down something that holds special memories for both of them.
"(Your children) are not going to want your China or your serving sets," she says. "They just want you to pass on something fun. And so for Sophia, putting up her little tree and hanging the shoes ... she'll remember when she passes it down that we used to do this together."