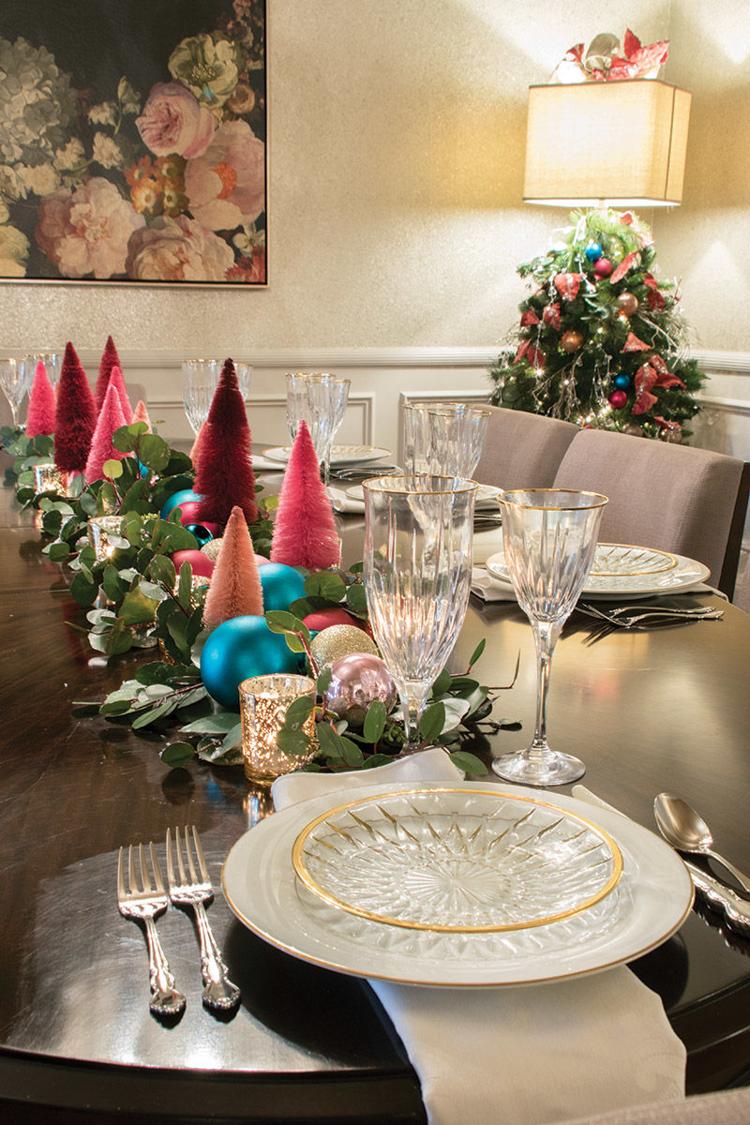 Who's to say red and green are the only colors of the holiday season? Designer Candace Hull of S&O Interior Design brought pops of pink to this dining room scene, which resides in one of the four midtown homes participating in the annual Cascia Christmas Walk on Dec. 8.
"I saw this painting and thought this room called for 50 shades of pink," Hull says, referencing the floral artwork on the wall. On the table, eucalyptus garland is accented with tethered metallic ornaments and miniature trees in various heights and shades of rose.
The designer also got inventive with the lighting options in the room. The floor lamps were transformed into Christmas trees by tying garland to the triangular base and adding accents that bring together the designs on the table and sideboard.
Jewel tones and hot pink will be incorporated into the formal living room, which features a view of the large aquarium in the entryway. Garland and accents will hang from the ceiling in the adjoining study.
Related: By the Numbers: Roosevelt's Christmas decorations
If Hull's work looks familiar, it's because she is behind the over-the-top decorations at Roosevelt's, Prairie Brew Pub and Mondo's.
This is the first year Hull has designed a home for the Cascia Christmas Walk, now in its 37th year. Along with the holiday home tour, the event includes a boutique that will feature more than 50 vendors and entertainment at the school provided by Cascia Hall students.
New this year, Cascia, 2520 S. Yorktown Ave., will host a midtown Christmas tree lot on the school grounds on Dec. 1 and Dec. 6-9.
Tickets to the Walk are $20 and available at the school prior to the event, or at any of the participating homes on Dec. 8. Visit casciahall.com/walk for more information.