After careers in the medical field, retirement wasn't going to mean hanging up the stethoscopes for Stan and Barbara Grogg.
For years Stan, an osteopathic pediatrician who retired from the Oklahoma State University Center for Health Sciences in 2014, and Barbara, a nurse practitioner who retired in 2011, were involved with numerous global outreach programs. Through these ventures, the couple has helped meet the medical needs of people in Nicaragua, Cuba, Haiti, Uganda, Vietnam, Belize, India, Guatemala, Ukraine, Greece, Mexico and the Philippines.
In 2013, the Groggs started the nonprofit Power of a Nickel to continue their medical service. Barbara had recognized just how much a nickel's worth could provide medical care across the globe. The purpose: to provide quality health care and health education to people in need.
Trips attract medical students and professionals from across the U.S. Trip teams vary in size from 15 to 35, but the nonprofit enforces a rule of only three medical students per one attending physician.
"Trips will have 50% non-medical (personnel) and we always have a considerable number of specialists," Stan says. Non-medical team members are always needed on the trips to help with organization and providing care.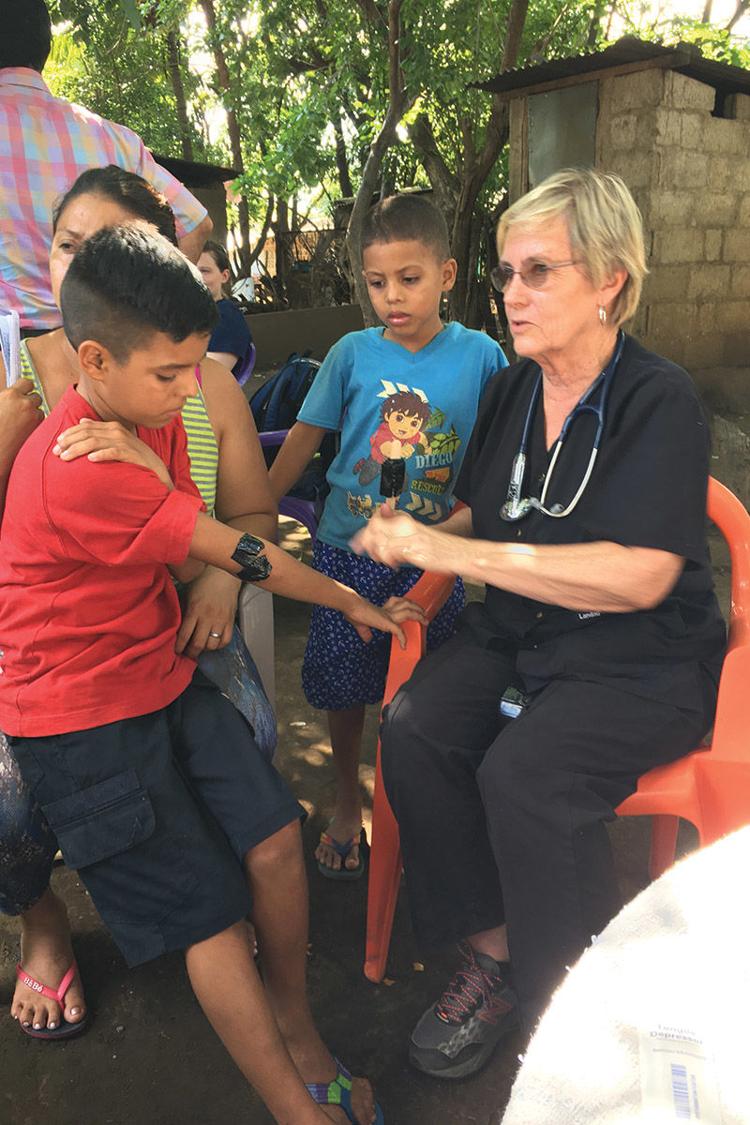 Each trip is extremely busy. Approximately 100 pairs of reading glasses are provided, and dental fluoride is applied to the children's teeth. In Uganda, deworming typically is offered, and a six-month supply of medication is left for further treatment. Power of a Nickel returns in six months to continue treatment and assist new patients.
Power of a Nickel works with organizations already working in the sites they visit. Those organizations must agree to provide follow-
up care to those who are identified as needing additional medical care in Power of a Nickel's visit. It must be a partnership.
More than simply providing medical care, Power of a Nickel also provides ongoing health education to students, teachers, parents, local health care students and professionals in the communities they serve.
The Power of a Nickel team also looks for partners to address a wide range of medical and wellness needs. For example, "we partner with Days for Girls by providing hygiene pads," she says. "Medical students and I teach about safety, preventing abuse and what to do should it happen. Stan has a projector through which we teach about other hygiene such as lice and ringworm, as well."
Education is often done through storyboards, such as educating about the importance of hand washing or using new facilities.
"Basically, whatever the school wants us to teach, we do," she says. "It's not about us. It's about them and their needs.
Learn more about Power of a Nickel, its needs and future medical trips at powerofanickel.org.