Children have the power to amaze, create and inspire, no matter their age or background. We tend to highlight their accomplishments once they reach the end of high school and are on the cusp of taking their skills out into the world, but kids are using their multifarious talents to make Tulsa — and the world — a better place before they even graduate high school. 
These 10 outstanding students, who excel in activities from Kung Fu to computer coding, represent only a small sample of the passionate young people who call the Tulsa area their home.
Mataya Woodard, 14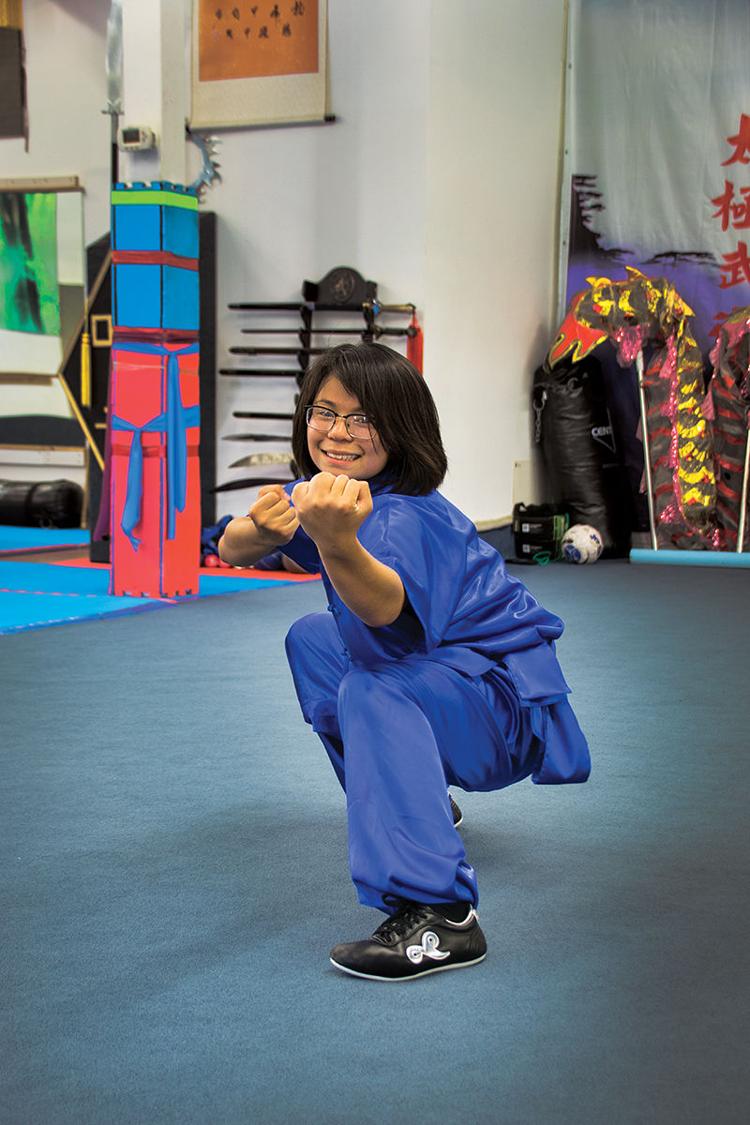 Like most kids, Booker T. Washington freshman Woodard grew up participating in various extracurricular activities. One of Woodard's activities was Chinese Martial Arts, also known as Kung Fu.
Woodard and her little sister, who both began training in Kung Fu at age 5, were adopted from China. Their parents chose Kung Fu to give the sisters a connection to their Chinese culture, as well as help them develop an enjoyable pastime. "It's something that we just always did,"
Woodard says. "It was second nature."
She also plays the piano and cello, but as Woodard grew older, Kung Fu became her favorite hobby. It wasn't until two years ago, when she actually began participating in Kung Fu competitions, that the sport would morph into the aspect of her life about which she is most passionate.
Woodard competes in the straight sword (sword usage with precise footwork and wrist control) and empty hand (similar to straight sword without the sword) events at an international level. At the Seventh World Kung Fu Championships in Emeishan, China, this past November, she impressively placed eighth despite it being one of her first international competitions.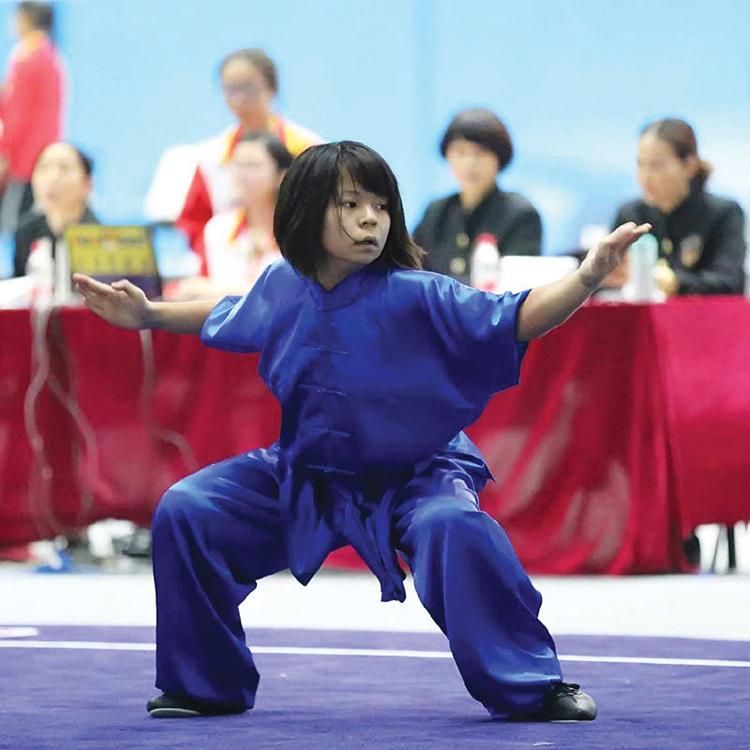 "It was amazing to see people doing traditional Kung Fu form," she says of the World competition. "The same techniques I am learning in Tulsa, I see people from over 50 countries across the world using."
Woodard has not let her age deter her from her goals, which was apparent when she tried out for the U.S. Kung Fu team in Dallas and was chosen to represent her country.
Deacon Herndon, 17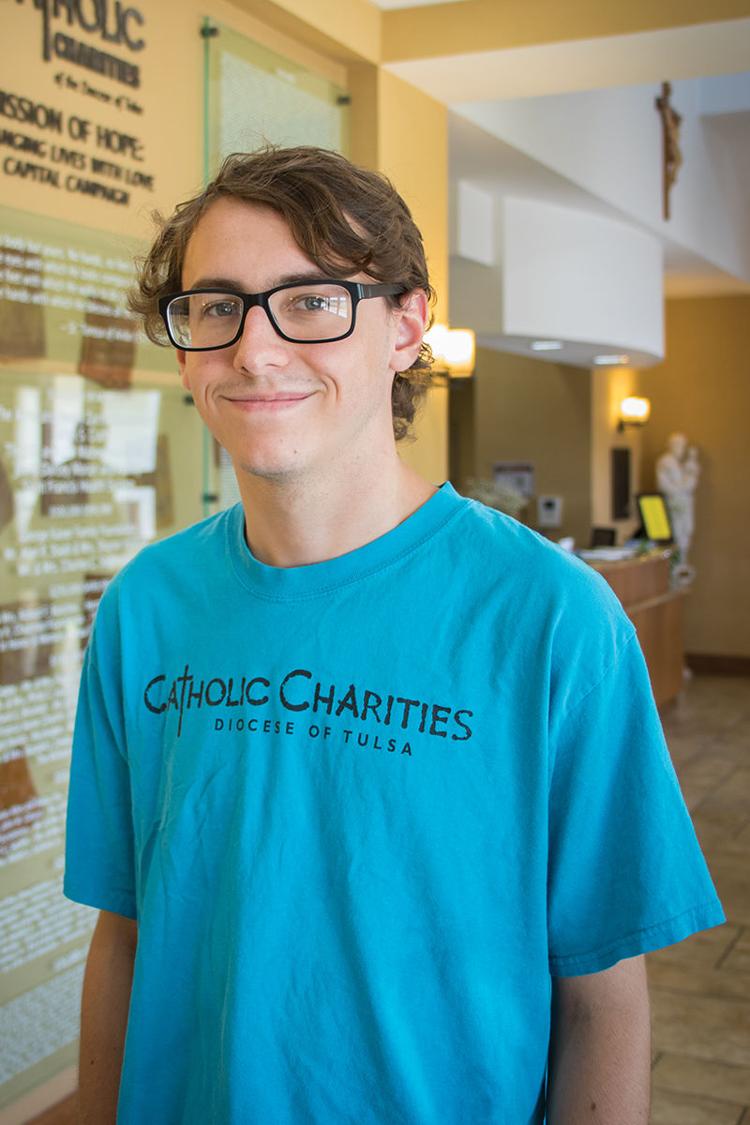 Herndon volunteers at Catholic Charities every Tuesday night simply because he wants to give back.
Even though Bishop Kelley requires students complete community service hours for graduation, the incoming senior knows how much it means to those he's helping. He says the feeling of impacting someone's life for the better is reward enough.
As a fifth-grader, Herndon began his weekly volunteerism when his older brother, Nigh, began taking him to Catholic Charities, whose 14 programs provide services to those in need.
"It doesn't take up a lot of my time, and it helps them in a big way," Deacon says. He hands out groceries, organizes the warehouse and occasionally helps those in need with clothes.
Like his older brother did, Herndon began taking his little brother, Bennett, with him to volunteer on Tuesday nights.
"I want to instill in him that sense of how important volunteering is and the difference you can make," Herndon says. "People really are thankful, and it means a lot to them. Volunteering has the potential to change their lives, and it's relatively easy for us to do, which is why it is so important."
Herndon is interested in biology and medicine and one day hopes to become a doctor, which he says will open up more avenues for volunteerism and allow him to contribute to the general culture of helping people in a larger way.
In the future, she has her sights set on being a surgeon or a musician.
Luke Sellers, 9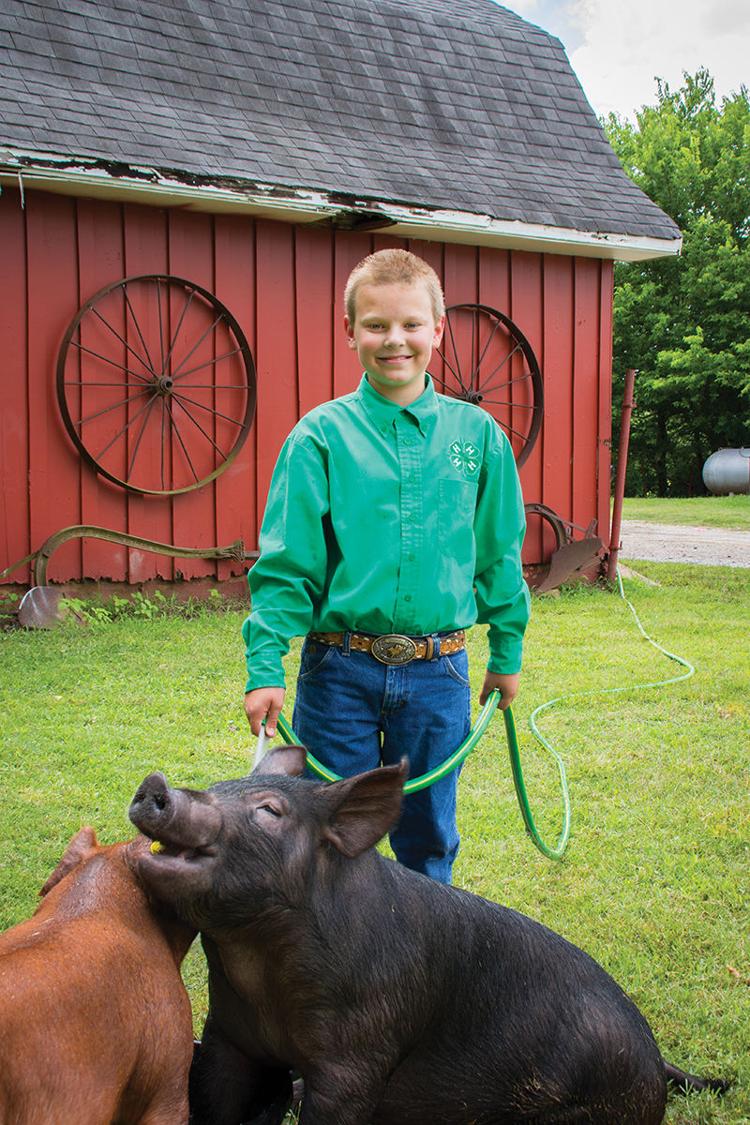 Head, heart, hands and health are the four words that 4-H club represents. Sellers' family has long been involved in the organization, which he joined as early as he could, first as a Cloverbud and now as a Junior.
For his first year competing, Sellers did pretty well: He and his hog placed first in his class in the Duroc Breed Division and seventh overall in the Duroc breed at the Oklahoma Youth Expo, the country's largest junior livestock show. 
Sellers is now a fourth-grader at Northwoods Fine Arts Academy in Sand Springs, where his favorite subjects are science and history.
In addition to school and homework, Sellers is responsible for tending to his four to six pigs before and after school, which includes walking, watering, feeding and cleaning the stalls. "It's a lot of work," Sellers says. But he's not alone in this endeavor; Sellers' experienced older sisters and dad often step in to help. 
By raising and showing his pigs, Sellers has learned much more than just how to take care of an animal. He had to keep a record book to track his expenses and perform in the Expo ring under the eyes of judges and audience members.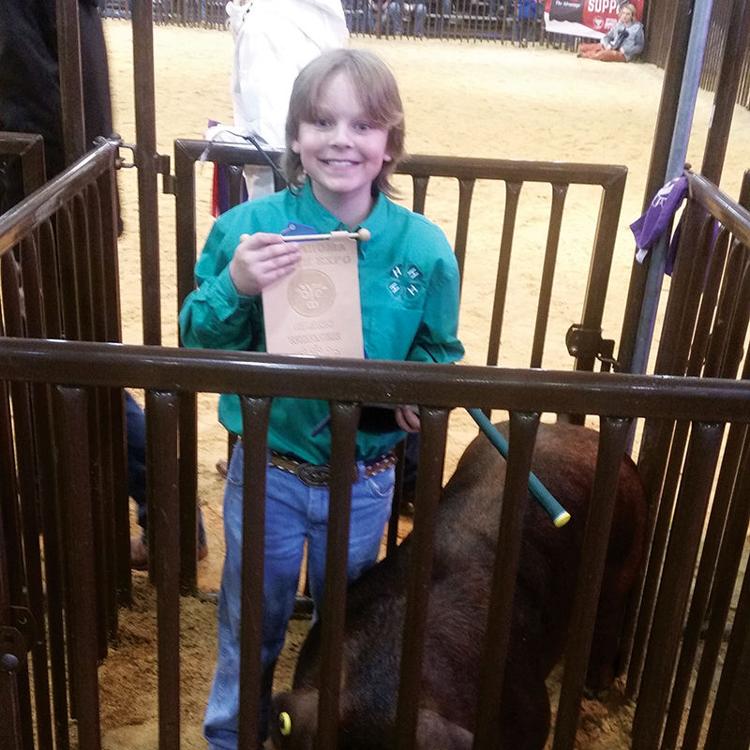 "The main thing (for the Expo) is to look nice and professional," Sellers says. "And for the pig to be full," meaning fed with special show feed to prepare the pig for the competition.
Sellers' experience in 4-H and what he has learned in school have shaped his future plans, which are many. "I want to work on a farm and be a scientist. I want to be an engineer, too. And an agricultural scientist," he says.
Sellers wishes people were more aware of where their food comes from. When given the chance, "I explain it to them," he says. "(Food) doesn't just come from the grocery store."
Shilpi Bardhan, 12
"It's possible to do anything with coding," says Bardhan, a seventh-grader at Jenks Middle School.
Last year she was one of three students at Jenks West — and the only one in her class — to try the program Digital Sandbox. Digital Sandbox bridges the abstract coding world with the tangible by allowing students to program a board that will react to physical stimuli like changes in temperature or sound. To the awe of her classmates, Bardhan successfully programmed the board to respond to the amount of noise her friends made and display a "mini light show." 
When Bardhan received the Digital Sandbox kit from the Jenks STEM lab, she had to program it within eight days. But she had a strong background in STEM (science, technology, engineering and math) to guide her. Bardhan took an after-school coding course in fourth grade, attended a Jenks Community Ed STEM camp last summer and has been regularly involved with the Tulsa Girls Math Circle. Bardhan also has been on the Jenks swim team since fourth grade and started playing cello last year.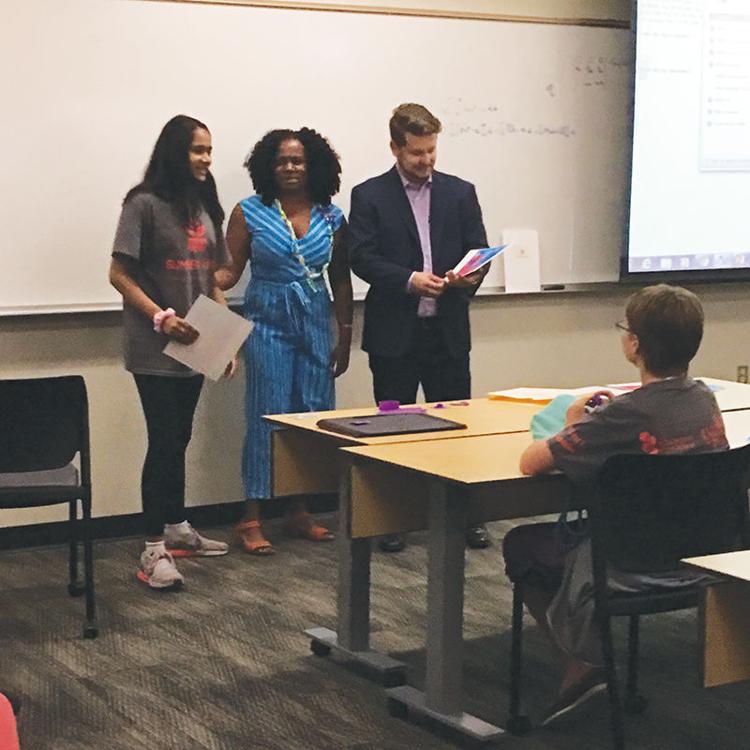 Bardhan likes problem-solving. Her favorite subjects, like engineering and chemistry, involve "hands-on science." In the future, she would like to be a computer software engineer or a patent attorney; she is attracted to both by the opportunity to "see how things are created." 
Bardhan recognizes that her interests lie in a field in which she, as a girl, is a minority. But she hopes women and men will have an equal number of STEM careers by the time she reaches the job market. 
Eli Griffin, 15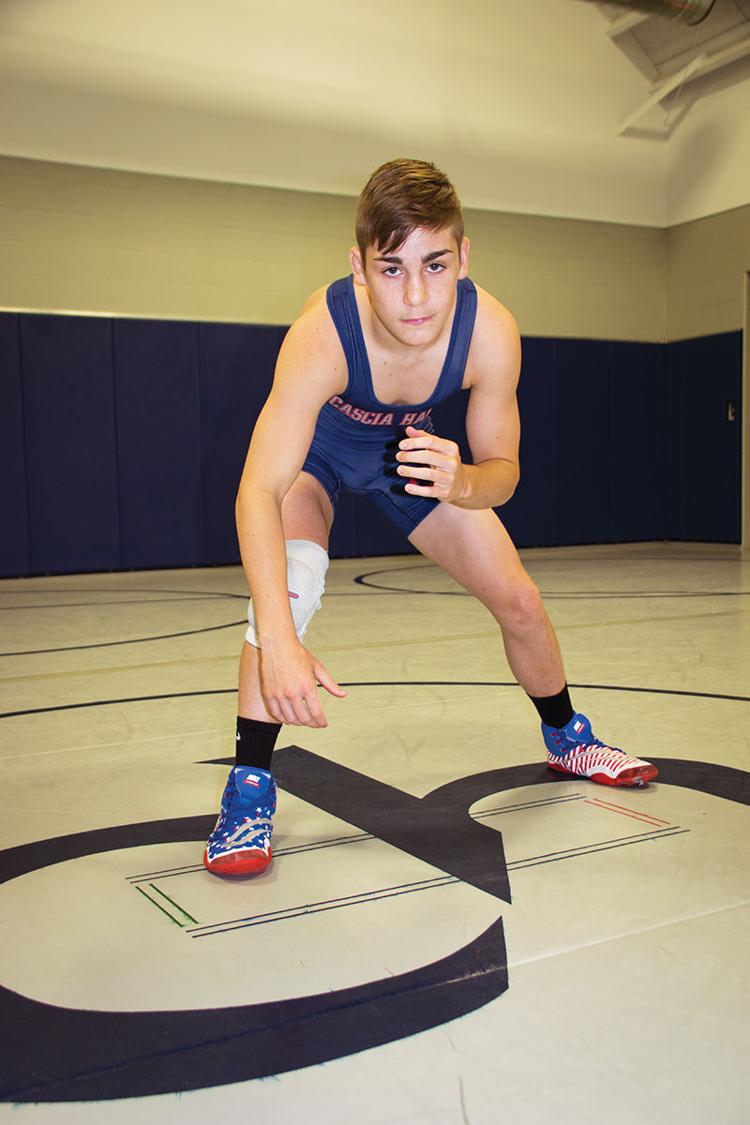 Since age 5, Cascia Hall sophomore Griffin has wanted to be a wrestler. "I had just started to read, and I saw a sign for wrestling and read it out loud," he recalls.
Griffin's dad, Mike Griffin, is a former mixed martial arts fighter, so when his son asked if he could start wrestling, he agreed. Griffin has competed at the regional and national level since he was 5, but says he likes wrestling in high school more because of the team aspect.
"Your efforts go toward the team," he says. "It's not just about how you perform. It's about how your entire team performs."
Griffin's effort was felt almost immediately when he won the 106-pound OSSAA 4A state title as a freshman.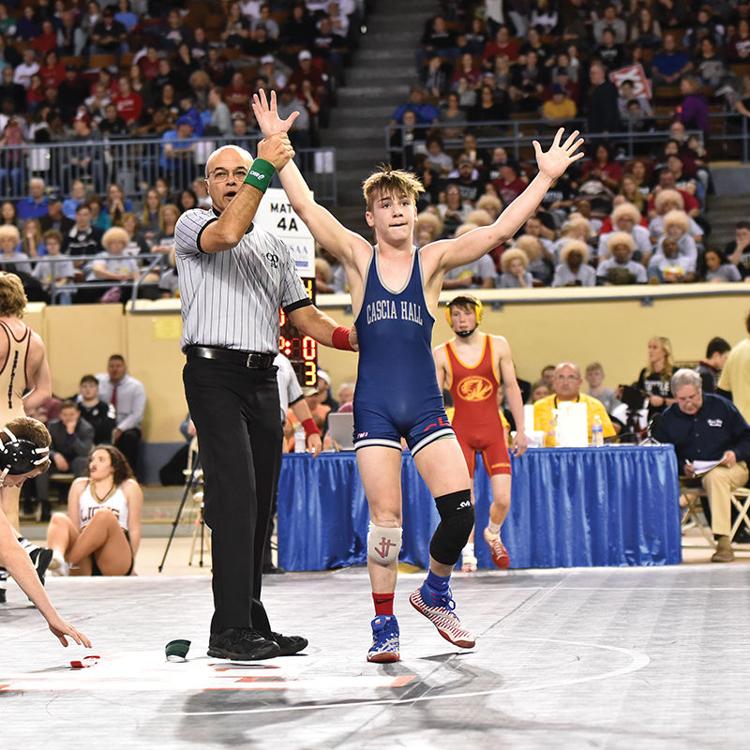 He says he has learned a lot from the sport. "Wrestling has taught me how to keep calm and keep my cool in tough times," Griffin says. "Like, when stuff is not going completely my way, not to panic, but to keep pushing because you can always go farther than you think you can."
His additional achievements in wrestling include becoming a two-time U.S.A. Wrestling Folk Style national champion and becoming a United World Wresting World Team Trials All-American. At July's World Team Trials, Griffin placed seventh.
Griffin hopes to wrestle at the University of Iowa and eventually move on to wrestle internationally and represent the United States in the Olympics.
He says, "I think one of the best parts about wrestling is not just the wrestling aspect of it, but how you grow as a person."
Reese Buchert, 13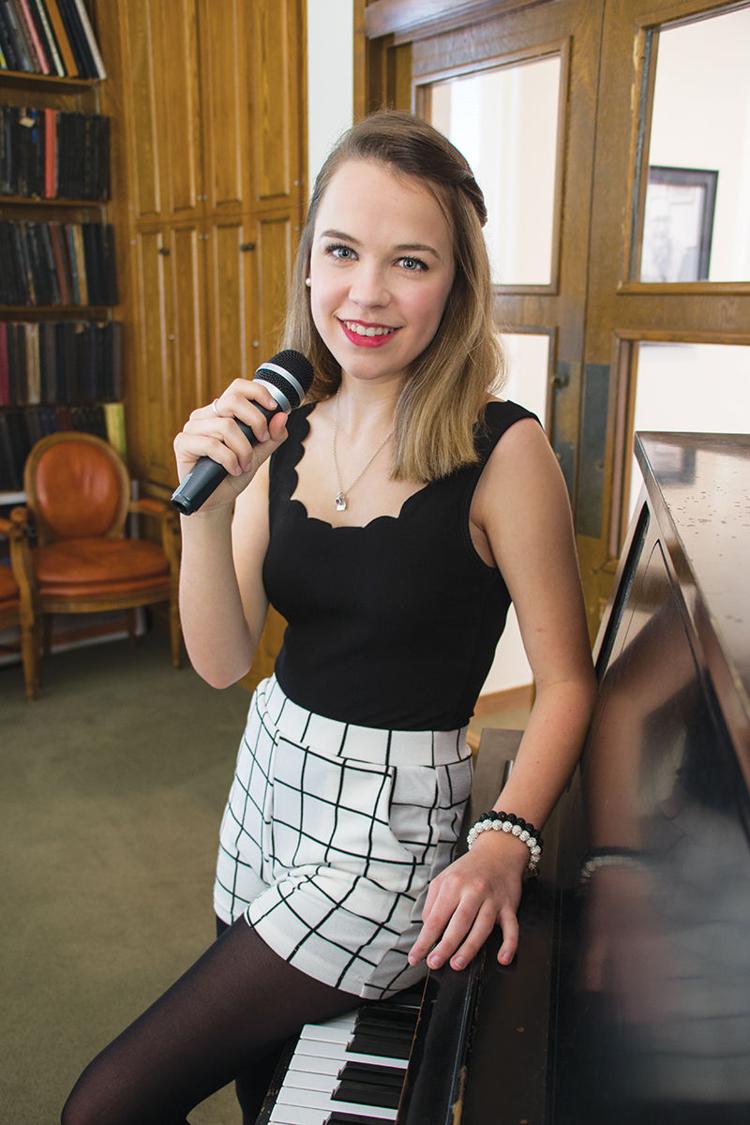 Close your eyes and listen to Jenks freshman Buchert sing a rendition of "A Heart Full of Love," and you might mistake it for an actual clip from the Tony Award-winning Broadway musical, "Les Misérables."
From singing around the house as a young child, Buchert discovered that not only did she love to sing, but that she also was good at it. With the desire to become a singer, Buchert found the Tulsa Youth Opera with the help of her mom.
Gaining inspiration from the operatic singing nuns in "The Sound of Music" and the "incredible Julie Andrews," as described by Reese, she would go on to join the Tulsa theater scene, as well, thus creating a foundation to grow as a singer and to feed her passion.
In addition to Andrews, Reese names her voice instructor, Catherine Ratliff-Conger, as a main source of inspiration. "She has made me love music even more than I already did," Buchert says.
Admitting she should probably focus more on school, Buchert says she puts a majority of her energy and time into singing and theater.
"I don't get much sleep," she says. "I'm always doing things, but it's OK because I like being busy all the time."
In the future, she hopes to study music education so she can follow the path of her longtime mentor and become a private vocal instructor. For now she will continue singing and performing with the Tulsa Youth Opera, Sand Springs Community Theater, Theatre Tulsa and others.
She says, "Singing is about being yourself, opening up and letting your creativity flow."
Jayla Moss, 12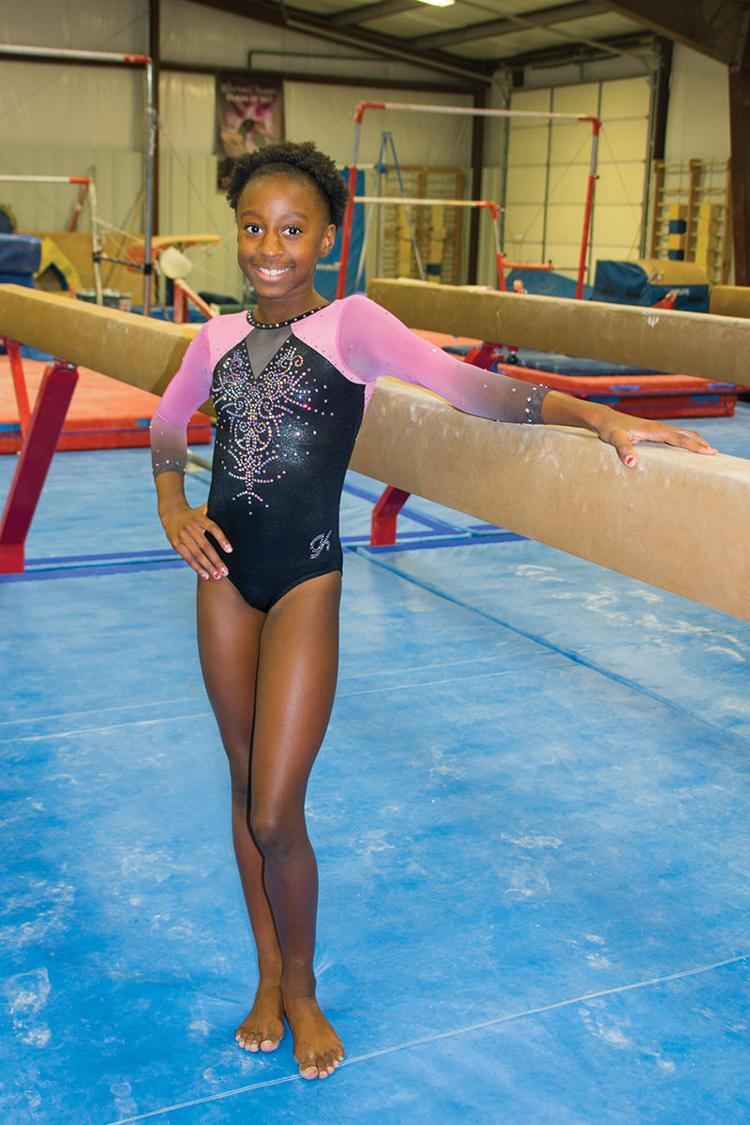 Moss' ultimate goal is to be on the Olympic gymnastics team.
She says the cameras and millions of people watching would be intimidating, but she would never let that stop her. As a seventh-grader, Moss has already been competing for four years and recently won the All-Around title at the 2018 Oklahoma Level 7 State Championships, out of all age groups. 
According to Moss, gymnastics requires hard work and consistent focus. Since it's an individual sport, she has to rely on herself to perform well and push herself to be better. Moss currently trains four hours a day, five days a week at Dynamo Gym in Sapulpa, but is preparing to increase her training hours next year.
During the school year, while Moss is a student at Holland Hall, her mom drives her directly from school to the gym, where she trains until 8 p.m. This schedule leaves little time for homework, let alone relaxation or friends.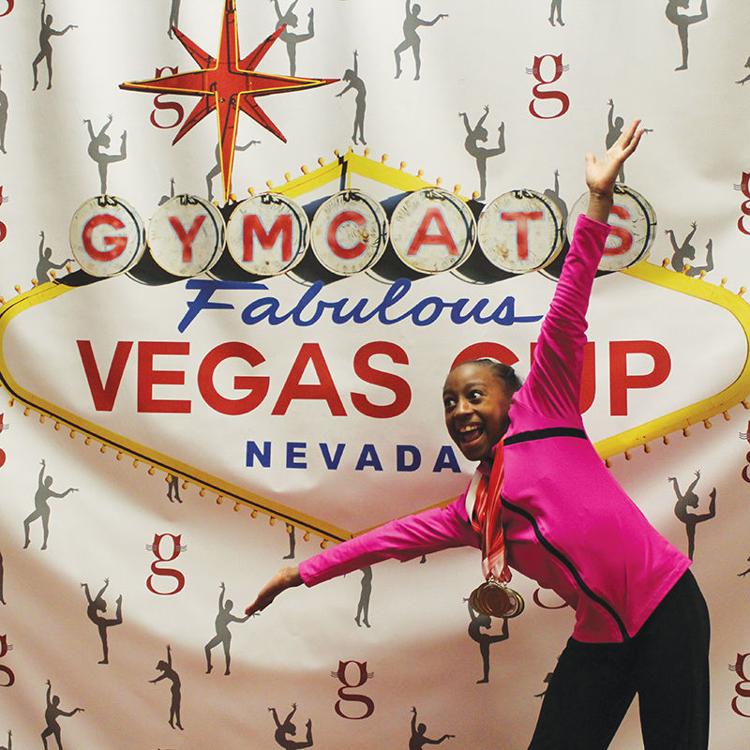 "You have your tough days, but you keep doing it because you love it," Moss says.
A well-rounded gymnast, Moss' favorite event used to be the floor, then it was the vault, then the bars. Now, Moss says her favorite is the beam because "I haven't fallen in two years."
At her age, Moss still has plenty of time to make decisions: about where she wants to attend college (the University of Oklahoma or the University of California, Los Angeles, two schools with top gymnastics programs) or what she wants to be when she grows up. Right now, she's considering an obstetrician-gynecologist, a pediatrician or a lawyer — which are all possible, considering the dedication she exhibits in gymnastics. 
Francisco Torres, 17 and Kiyanna Ostrander, 17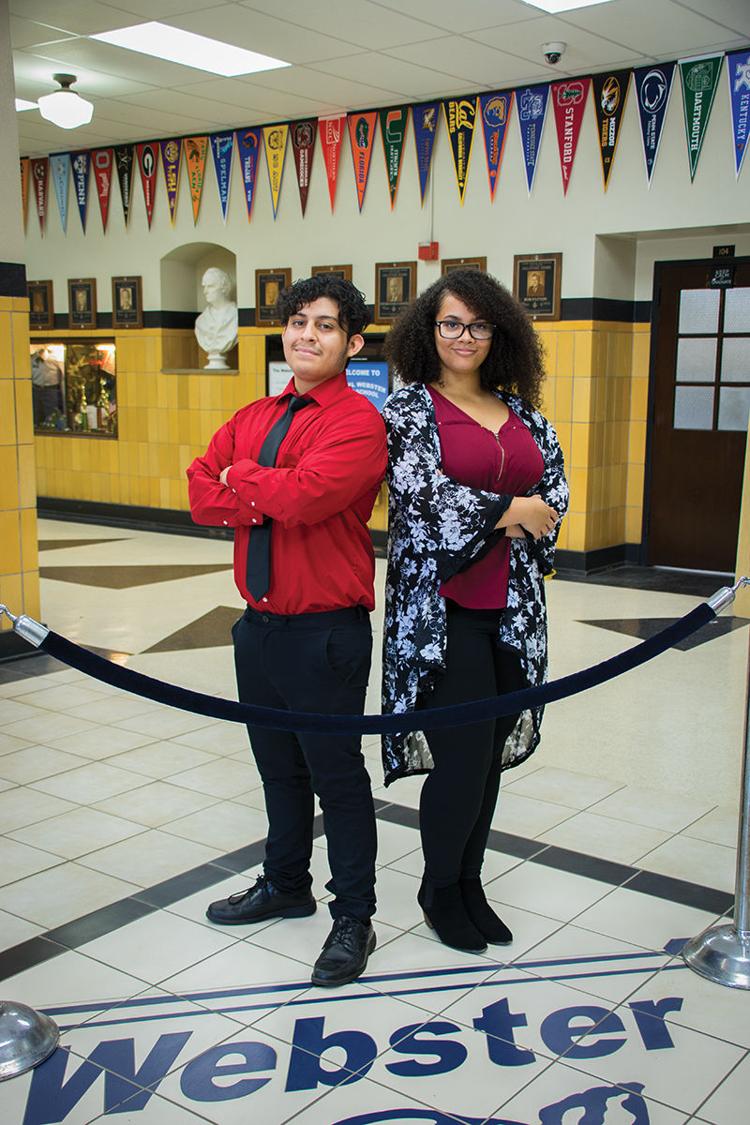 Both seniors at Webster High School, debate partners Ostrander and Torres are gazing apprehensively at their futures. But they will confront them head-on in the same way they would address a tough argument: by saying, "Let's do this," and improvising. 
So far, this method has worked well for them in competition. After winning the citywide Tulsa Debate League tournament, the pair went to Washington, D.C., in April to compete in the Urban Debate League National Championships.
"It felt like it was just a dream. It didn't feel real," Torres says.
Although the pair didn't have the same success as they've had in Tulsa, Ostrander says that the experience of competing against people from across the United States with different methods of debating was what mattered to her.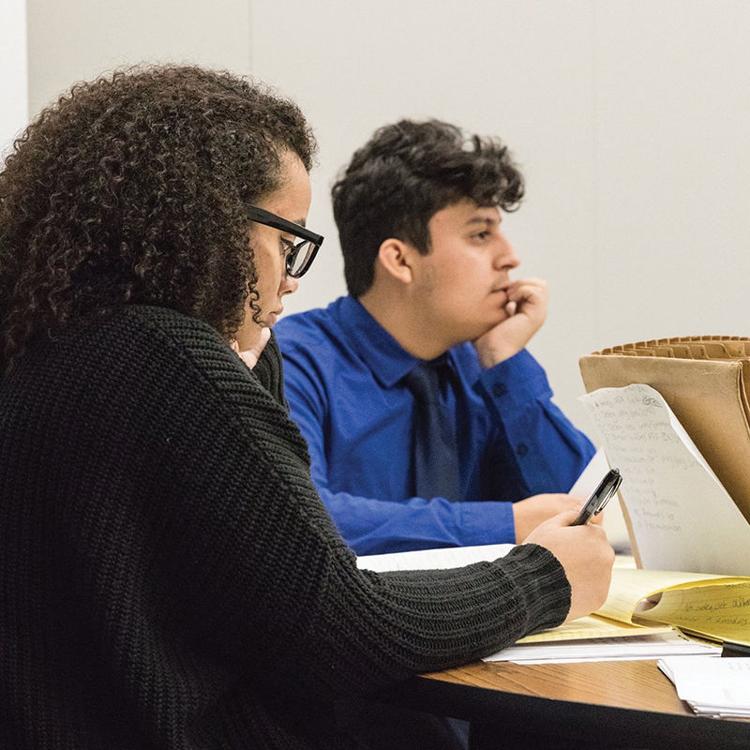 Ostrander and Torres both started debate as sophomores at Webster High School. Because of block scheduling, they sometimes have debate as a class, but sometimes they have to make time to prepare together after school, balancing it with school work and their other activities.
This past year, Ostrander was president of NHS and vice president of ABC, Webster's anti-bullying club, while spending half of her school days at Tulsa Tech in the culinary arts program. Torres describes himself as a "working man," serving tacos at a restaurant five days a week and focusing on his studies in math, his favorite subject. He hopes to become a high school math teacher.  
Because of debate, Ostrander and Torres are used to challenges, like facing a five-minute time limit to deliver a rebuttal or arguing something that goes against their morals. Regardless of the careers they choose, the partners understand that their efforts in the controlled environment of high school debate have taught them important skills like acting under pressure, listening to their opponents and understanding both sides of an argument. 
Amber Welch, 17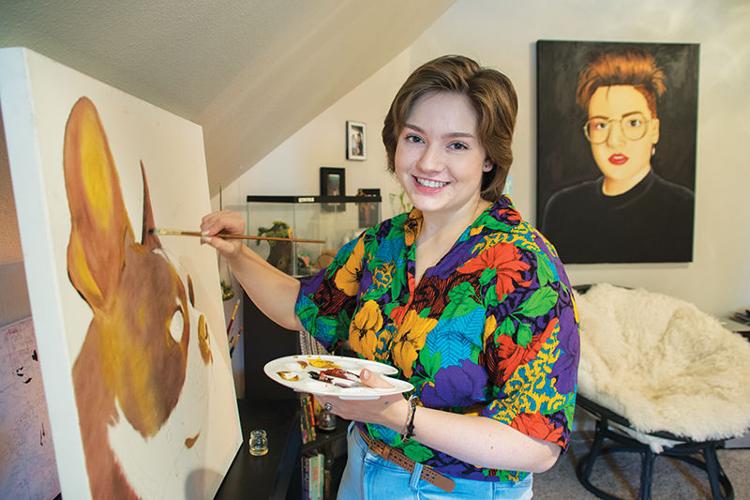 If Welch could, she would spend her days sipping lattes from Shades of Brown Coffee and Art, tending to her plants and walking her dog, a Boston terrier named Jewels. But mostly, she would continue to enrich Tulsa with her art.
Welch is a self-described "jack of all trades." She draws, paints, makes stamps and recently began printmaking. "Therapy," a colored pencil and pastel drawing of some of Welch's beloved succulents, won the 2018 PSO Mark of Excellence award, the highest distinction a high-school artist could receive at the 46th annual Tulsa International Mayfest. 
Welch recently finished her junior year at Broken Arrow High School. During the school year, she "started and ended her day with art," her two art classes framing her school day. When she got home, art continued, filling the hours between school and her restaurant job. "Art is kind of an escape for me," Welch says.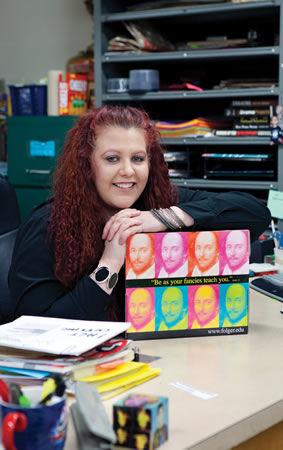 Broken Arrow Superintendent Janet Dunlop selected Welch's painting of a yellow jellyfish to be reproduced on a 5-by-5-foot canvas to hang in the Broken Arrow Performing Arts Center. Former Rep. Jim Bridenstine, the recently confirmed NASA administrator, also selected one of Welch's paintings — a re-envisioning of the NASA logo with "Okie" written across a blue rendition of the Osage Warrior battle shield from Oklahoma's flag — to hang in his Washington, D.C., office. Welch says, "I want it to remind him of home."
Since Welch will begin her senior year this fall, she is beginning to visualize life after high school. She is well aware of the "starving artist" stereotype assigned to those who choose careers in the fine arts, but she isn't letting it dissuade her from pursuing graphic design. "As of right now, I'm optimistic," she says.