For years, 11th Street, east of downtown, was synonymous with urban blight. The once venerable artery became a shadow of its colorful Route 66 glory days. A smattering of businesses — mostly appliance repair shops, garages and small auto dealerships — punctuated empty storefronts, degraded buildings and boarded-up windows along the street. Prostitution and drugs were commonplace.
What a difference the past few years have made.
As Tulsa's push to reinvigorate downtown gathered steam and boosted property values and rental rates over the past 15 years, a handful of intrepid developers, entrepreneurs and Route 66 enthusiasts saw a golden opportunity just beneath the tarnished reputation of 11th Street.
Today, a resurgence led by the private sector is well underway on 11th Street, primarily between South Peoria and Yale avenues. New businesses are popping up in renovated old buildings as organic growth, fueled by convenient location, affordability and Route 66 nostalgia, takes hold.
It appears 11th Street is back in business.
Evolutionary revival
Business was always the business of 11th Street, especially during its Route 66 golden era.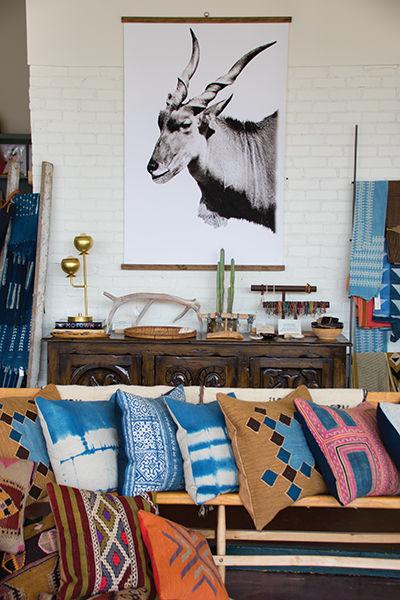 "The whole purpose of Route 66 was economic development," says Ken Busby, former chairman of the Route 66 Commission and executive director of the Route 66 Alliance, which was established in 2010 to build awareness of the road in Tulsa and beyond. "It was about moving people, goods and services and generating wealth, and that was true of Route 66 here in Tulsa. It's still about commerce and growth."
Back in the late 1920s, Tulsan Cyrus Avery, the father of the Mother Road, made sure 24 miles of the famous Chicago-to-Los Angeles blacktop passed through his hometown. Eleventh Street and Route 66 were one and the same for a magical era stretching from 1932 until Route 66 was decommissioned in 1985.
Today, 11th Street remains part of Historic Route 66 and, as such, has become a small part of a 2,400-mile-long tourist destination for bucket-listers from around the world.
For decades, up and down 11th Street, travelers and locals alike had many retail options. "In the early days, you had service stations, mom-and-pop stores and, not surprisingly, motels and diners," Busby explains. "Cars would break down, and you had garages to fix them."
Gradually, Route 66 lost its luster, a consequence of the more direct Interstate system and more reliable vehicles, which allowed people to get to their destinations both faster and with fewer stops. This is when 11th Street really took it on the chops, economically speaking.
"With less traffic going through here, a lot of businesses shut down and the street went into decline," Busby says. "The stretch between 11th and Peoria and Lewis became a sort of Red Light District for Tulsa."
Those less-than-desirable conditions prevailed on 11st Street and in nearby neighborhoods. Tulsa Police Officer Gerard Stege has patrolled 11th Street for nearly 20 years and recalls the area when it was deeply troubled. "Basically, what you had was drive-up drugs and prostitution on 11th Street and surrounding areas," he says. "There were lots of streetwalkers on the corners and other disturbances."
Slowly, clean-up efforts in the nearby Kendall Whittier neighborhood by the City of Tulsa, law enforcement crackdowns and the expansion of the University of Tulsa forced many of the bad elements back into the shadows.
"It's been an evolution," Stege says. "I've seen it gradually change. They took out a lot of the crappy hotels and apartment complexes. When you get more legitimate businesses in there, it makes the illegitimate ones nervous." He says the area today is much safer than it was just a decade ago.
Busby is excited about the direction 11th Street is heading. "The best thing that's happened is the repurposing of old buildings," he says. "Developers are taking buildings that are historically interesting and bringing new life to them. They're doing what the road was originally intended to do, which is generate commerce."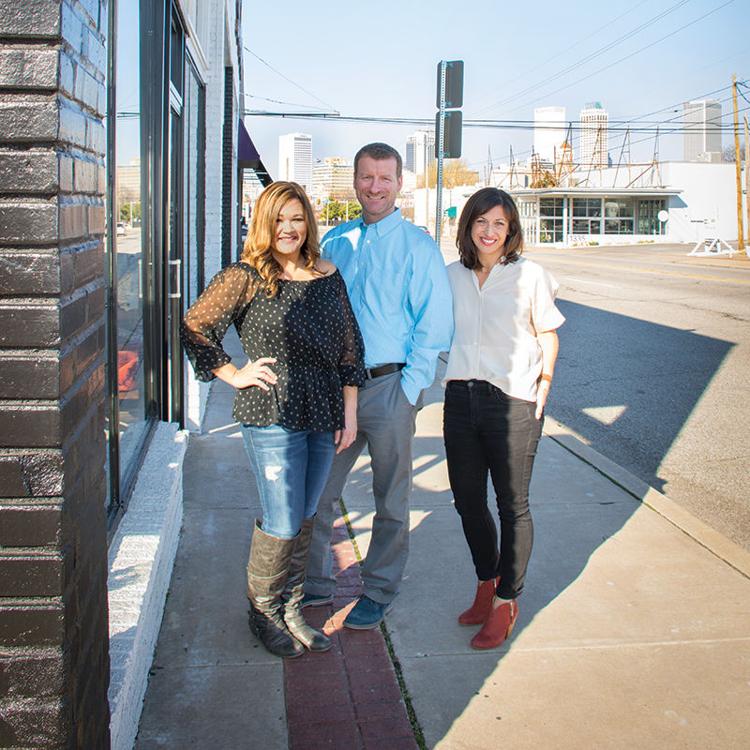 Risk paying off for developers
One of the busiest 11th Street developers is Aaron Meek. In a meeting at the Campbell Hotel at 11th and Columbia Avenue (a property he has redeveloped), he is joined by two other 11th Street area developers/landlords, Leanne Benton and Kimberly Norman.
Combined, they own more than $15 million in commercial and residential properties along and adjacent to 11th Street. Meek also owns Meek's Electrical Service, the trendy 11th Street Lofts and the new Pearl Shops.
Meek, Benton and Norman all began buying property along 11th Street long before it was fashionable to do so. Benton, of Good Day Properties, and her husband began buying in the area 20 years ago, while Norman (owner of O'Fallon Properties) jumped in 13 years ago. Meek got in on the action in the late '90s.
"Back then, everyone thought we were crazy," Benton says with a laugh. "Now they think we're brilliant."
She and the others say they noticed, or at least hoped for, a trend that would lead to an 11th Street resurrection. "Our philosophy was to surround downtown," Benton says. "We felt like people were going to come back to the urban areas, and we'd seen that trend on the coasts, though it hadn't hit Tulsa yet. We felt this area was primed for that."
Gradually, they bought, held and remodeled.
"It has been an evolution," Norman says. "We continued to buy because we recognized what was here and because of Route 66 nostalgia."
Meek also says the steady revival is due to the affordability of 11th Street, at least for now. As downtown exploded and became pricier for developers, merchants and tenants, they began to look elsewhere. Eleventh Street fit the bill.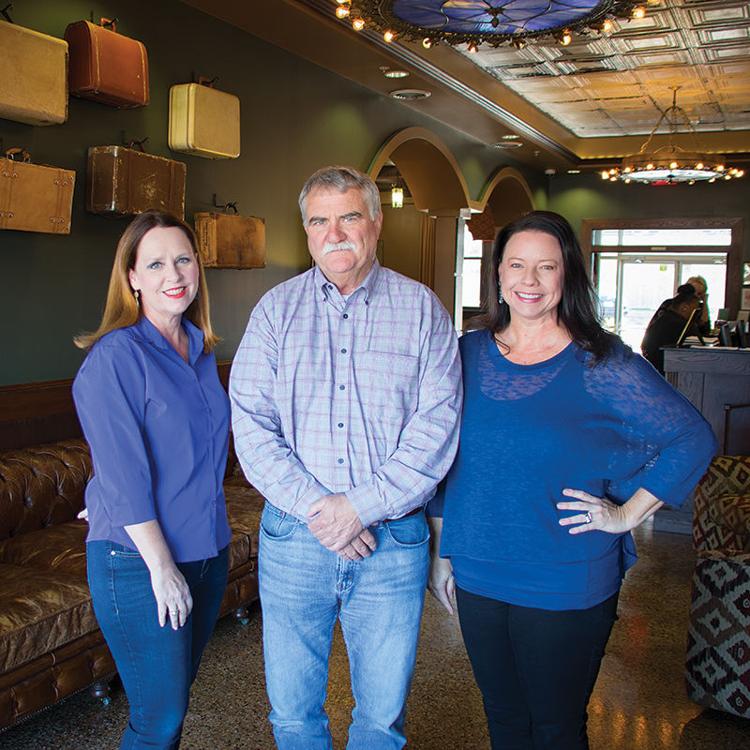 "You look at some of the other places, 15th Street, Brookside, downtown — they priced themselves so high that the average small business can't afford to be there anymore," Meek says. "They needed a place to go that has energy and the desire to bring them in, and this is it. We need another retail shopping district, and I believe Tulsa can support it."
Developer Marvin Shirley and business partner David Sharp took an interest in 11th Street about six years ago. The two have been involved in downtown development, including the Tulsa Arts District, but the lure of economic opportunity along 11th could not be ignored. "We saw a lot of buildings on 11th that had potential," Shirley says. "What 11th Street had was availability of old brick buildings that you could restore. My partner and I love doing that."
The pair have invested an estimated $3 million to $4 million into multiple 11th Street properties, including the building at 11th Street and Yale Avenue that houses Tally's Restaurant, as well as the building at 11th and Quincy Avenue that contains Timber and Beam, SoBo Co., JLA Art and Design, and Joseph Gierek Fine Art.
By and large, developers are keen to see 11th Street continue its current trajectory toward becoming an important homegrown retail strip for Tulsans and Route 66 travelers. "That's really our whole aim and emphasis, to make it more retail versus an entertainment area," Shirley says.
As development gathers pace, another thing is changing, too. "The (property) prices have gone up dramatically in the last five years and they continue to climb," Shirley adds.
Businesses and retailers find affordable homes
Business operators also are finding 11th Street to be an ideal spot to set up shop.
Jesse Boudiette, president and founder of marketing and public relations firm Propeller, moved the business from its downtown location to 11th Street about two years ago.
Propeller now occupies about 1,500 square feet in a renovated, former warehouse with 20-foot ceilings. "We kind of got in at the beginning, and the price was right," Boudiette says with a smile. "It was a cool space on 11th in an area that has a funky feel to it. Plus, we love the Route 66 history. It's only five minutes from downtown, and we don't have to pay for parking, either."
Lisa Wakefield is a partner with her family that owns the 10,000-square-foot building at 1335 E. 11th St., where Propeller is one of several tenants. Lisa owns and operates Jenkins and Co.
"We bought it in 2015," she recalls of Propeller's building. "It was boarded up, subdivided inside and full of auto parts. But we saw so much potential because of its location so close to downtown, Cherry Street and TU. And, it's easy to get to."
The building now has five of its six spaces leased out. "Being on Route 66 is huge," pointing out the high density of storefronts along the street that were ripe for development.
Such is the allure of 11th, that Tulsa's iconic Ike's Chili, now over a century old, moved onto the strip in 2014 after being located on East Admiral Boulevard for 52 years.
"We could see that 11th Street was rebounding big time and for us, moving was a matter of survival," says part-owner Len Wade, pointing to a decline along Admiral. He purchased the red brick building at 1503 E. 11th St. that has housed various businesses over the years, including a flea market and hair salon.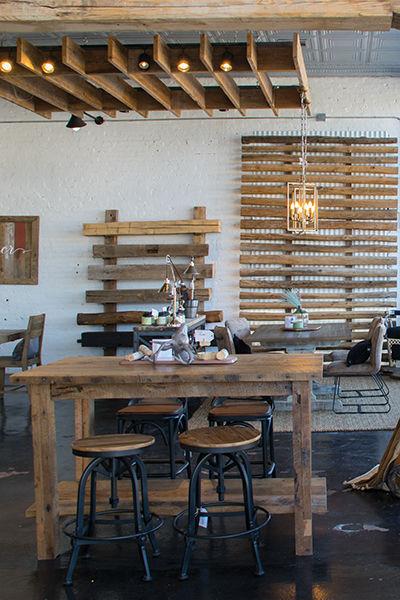 Constructed in the late 1920s, the building needed extensive remodeling, but today there is plenty of room for diners to get a classic bowl of Ike's three-way chili at a barstool or table. Wade says his clientele includes locals and Route 66 enthusiasts from afar.
"We had these German bikers show up on their Harleys on the way through," he says. "Being close to downtown on historic Route 66 and with all the development, this street is becoming a bigger draw."
Across the street from Ike's is Timber and Beam, an outfit founded in 2007 that sells reclaimed wood from old structures. The 11th Street retail revival coincided perfectly with the company's need for a showroom and retail front.
"We fell in love with this area," says LeAnn Conley, Timber and Beam's general manager. "It has the history, and what's happening here on 11th is totally in line with what we do, which is to revitalize materials."
They moved into the 2,000-square-foot space, remodeled and opened up the transom windows, letting in more light from the street front.
Business on 11th Street has been good since the shop opened its doors this past August. "A ton of people drive by and turn around and come in to check us out," Conley says. "This area is really on the upswing, and we feel really good about where it's headed."
All of these buildings are a stone's throw from the historic Meadow Gold sign, which sits on the corner of 11th and Quaker and is a landmark for Route 66 travelers. Developers are encouraging the establishment of a Meadow Gold District that would allow joint promotion of the area between Peoria and Utica avenues.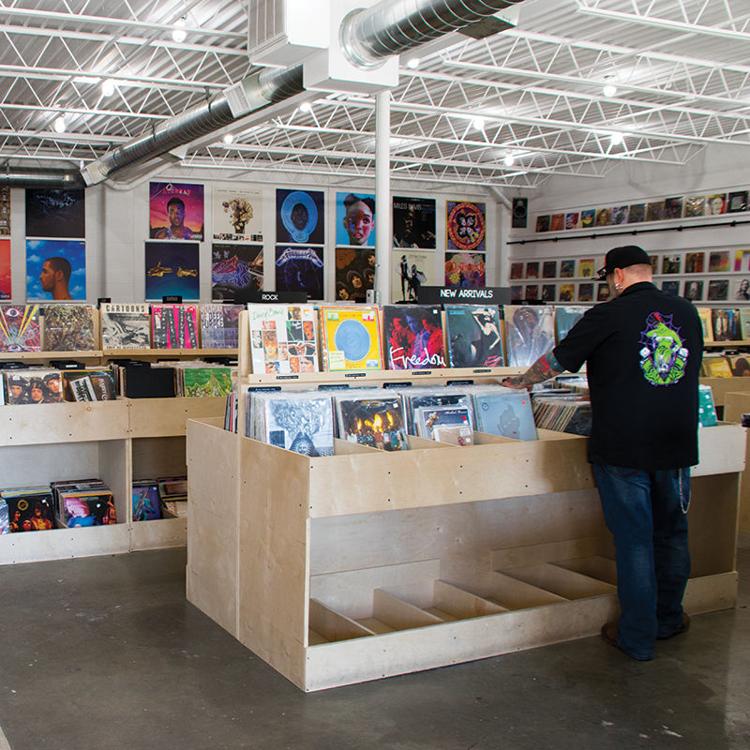 Early last year, the Pearl Shops, owned by Meek, opened at 11th and Rockford Avenue, offering several retail options, among them, Josey Records, a throwback vinyl record store.
"For our clientele, this is what a real record store is," says co-manager Josh Norrid.
The airy, 2,500-square-foot space with high ceilings features long bins filled with classic vinyl LPs. "Eleventh is a good spot for us," Norrid says. "It's Route 66, we've got parking and people coming literally from around the world who stop in."
Living on 11th is pretty cool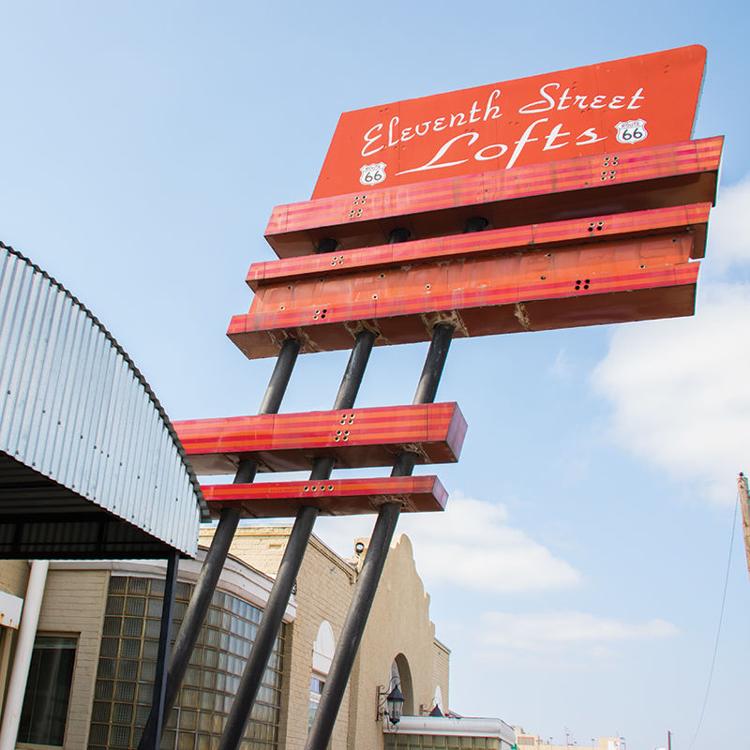 As business development erupts up and down 11th Street, so do the housing options. Bordering neighborhoods such as Renaissance and Forest Orchard are seeing an influx of renovations and residents.
Additionally, new living choices have popped up. Among them is the 11th Street Lofts at 11th and Xanthus Avenue.
These upscale lofts owned by Aaron Meek are attracting young professionals and students who want to stay close to the urban core where they live and work. One of them is 11th Street Loft resident Josh Langston. He is working full time and studying part time at Tulsa Community College downtown with plans to attend the University of Tulsa Law School.
"I love this area and what it's becoming," says the 28-year-old. "It's so convenient to downtown, Cherry Street and Utica. New stuff is happening all the time."
A Tulsa native who previously lived in southeast Tulsa, Langston remembers a not-so-nice 11th Street just 15 years ago but is impressed with the increasing retail and restaurant options nearby.
"One of the things I really like is the small businesses rather than the big corporations down here," he says. "I see a reflection of where Tulsa is going and it's something I'm proud of."
Old housing in the area is finding new life thanks to local landlords. In January, Kaleb Hinkel, 25, and Kiley Keel, 23, rented a 1,000-square-foot, renovated 1920s home near 11th and Peoria. The pair moved from Norman and were thrilled to find an affordable dwelling near downtown.
"We did notice all the new shops along 11th and that it's an up-and-coming area," says Hinkel, who is an auditor for a company in downtown Tulsa. His fiancée Keel attends TCC's Metro campus. "One of the key things we were looking for was the downtown lifestyle and being near 11th Street, it was affordable."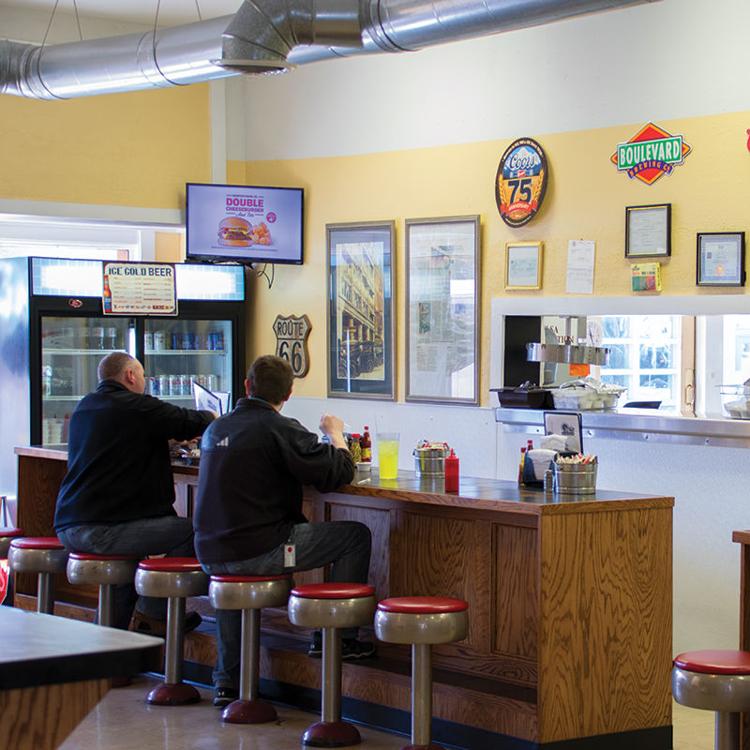 Investors frustrated by slow city pace
The massive Meadow Gold sign towers over East 11th Street just east of South Peoria Avenue. The 1930s era sign was rescued from destruction in 2009 and now stands as a testament to a public and private partnership that foreshadowed the renewal of 11th Street.
Fifteen years ago, voters approved Vision 2025, which included millions of dollars dedicated to highlighting Route 66/11th Street. This included the sign, planters, some streetscaping and other visual elements. As welcome as these improvements were, local developers and business owners want further public investment.
As the pace of private investment along 11th Street increases, developers and business owners are hoping the City of Tulsa jumps in with both feet to support it through infrastructure improvements.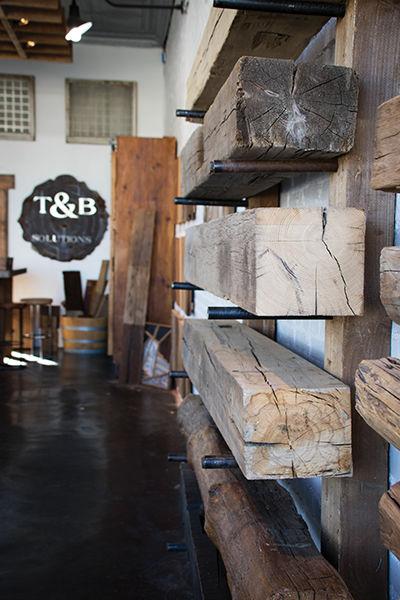 Several developers and business owners have expressed frustration that City Hall is dragging its feet when it comes to supporting the good things happening along 11th.
"We've got to get the City more involved," says Aaron Meek of Group M Investments, which owns millions of dollars in property along 11th. "Investors and developers have been way ahead of the City on this, and I think we've done our part in bringing back these old buildings. Now we need the City to step up and do its part."
Meek and others say the City has so far failed to fulfill its promises to make improvements such as adding a turn lane, bike lane, utilities and parking along 11th that would attract even more people. The money for such infrastructure (appropriated through the Vision 2025 package passed 15 years ago) has been ready, but little has happened.
"We've seen plans and we've waited for years and we're still waiting," says developer Leanne Benton.
City Councilor Blake Ewing, who represents the area, agrees the City's slow pace has been frustrating, and he believes 11th Street could likely be the "next cool spot" emerging in Tulsa.
He cautions that the City is sometimes hamstrung when it comes to coordinating complex urban redevelopment projects with private interests, as well as juggling the many interdepartmental challenges.
"Tulsa has a competency at repaving streets, but not really a competency at designing great public places," he says. "City Hall is not equipped to do comprehensive urban development like we want on 11th Street."
That, he says, had led to a slowdown and caution.
"One thing, I think, is that they don't want to mess it up," Ewing says. "If you look at other areas, like Cherry Street, and the problems it has encountered, they want to avoid those. They don't want to mess it up. They want to do it right." He points to a lack of parking and a history of tension between the commercial businesses and the historic neighborhood.
Ewing says there is $500,000 in Improve Our Tulsa funding for revamping Tracy Park and its playground at 11th and Peoria and progress is being made to introduce a proposal to apply an overlay to Route 66 to allow for attention-grabbing signs.
"This will allow for bigger signs, and that could really create an attraction and make 11th Street even more of a destination," he says.
For the time being, eager developers and businesses may have to cool their heels. "Unfortunately, sometimes the wheels of government turn very slowly," Ewing says.