The Golden Driller
This 76-foot-tall statue, built in 1953, symbolizes the days when Tulsa was known as the "Oil Capital of the World." The Tulsa landmark depicts an oilman standing proud and strong with his right hand on an oil derrick. In 1979, the Golden Driller was named Oklahoma's state monument. The 43,500-pound Driller towers over East 21st Street between South Harvard and Yale avenues, fascinating passersby with its grand size and providing a reminder of Tulsa's storied past.
Expo Square, 4145 E. 21st St.
Utica Square
Located in midtown Tulsa and established in 1952, Utica Square is a longtime Tulsa gathering spot and shopping area. This open-air center provides high-end shopping and dining year round and features scenic gardens and Old World clock towers.
The center hosts evening concerts every Thursday during the summer, and it is hard to beat the atmosphere during the holiday season, with lights filling the many trees, "Nutcracker" scenes and a traditional Santa Claus House for pictures with the kids.
East 21st Street and South Utica Avenue, 918-742-5331, www.uticasquare.com
ONEOK Field
Root for the home team at the Tulsa Drillers' ONEOK Field, located in the historic Greenwood District in downtown Tulsa. Fans can cheer from one of the 6,200 fixed seats, 30 suites or even a grass area for lawn chairs or blankets. The stadium opened in April 2010 and includes several concession and picnic areas, a playground, a gift shop and a path circling the entire field. Amazing views of the downtown skyline give this ballpark a major-league feel in a family-oriented setting. Other local sports teams to watch are the Tulsa Oilers (hockey), the Tulsa Shock WNBA team and the Tulsa 66ers NBA Development League team.
Tulsa Drillers: ONEOK Field, 201 N. Elgin Ave.; 918-744-5901; www.tulsadrillers.com
Tulsa Oilers: BOK Center, 200 S. Denver Ave.; 918-632-7825; www.tulsaoilers.com
Tulsa Shock: BOK Center, 200 S. Denver Ave.; 918-949-9700; www.wnba.com/shock
Tulsa 66ers: SpiritBank Event Center, 10441 S. Regal Blvd.; 918-585-8444; www.nba.com/dleague/tulsa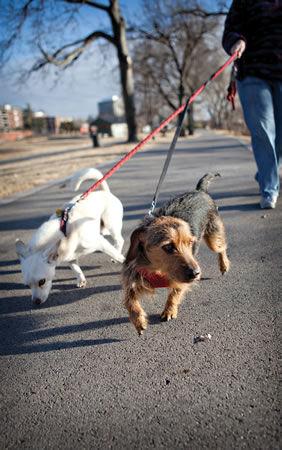 Tulsa's River Parks is a prime area for outdoor recreation. Running and biking trails line the Arkansas River for more than 26 miles with mile markers and water fountains along the way to help athletes keep pace. Other popular activities include fishing, rowing, kayaking, hiking and disc golf. As the weather gets hotter, so does the River Parks, which offers the city's biggest fireworks show on the Fourth of July, several concerts and festivals throughout the year, and fountains where kids can play and cool off.
Riverside Drive from East 11th to 101st streets, www.riverparks.org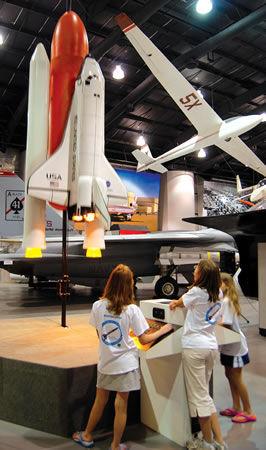 Travel through time and space at the Tulsa Air and Space Museum & Planetarium, which displays every era of Oklahoma aviation. The scientific exhibits and aircraft collection tell the story of Tulsa's ongoing improvements in aerospace technology. With hands-on activities, flight simulators and a trip through distant galaxies and stars in the planetarium's 50-foot dome theater, visitors are guaranteed an experience that will lift them off their feet.
Hours: 10 a.m.-5 p.m., Tuesday-Saturday; 1-5 p.m., Sunday; closed Mondays and most holidays.
3624 N. 74th E. Ave., 918-834-9900, www.tulsaairandspacemuseum.org
Expo Square
The multi-use facilities available at Expo Square attract a variety of special events year-round. Upgrades in 2008 make Expo Square even more of a major regional event center, providing several entertainment options, such as agriculture and equestrian events, boat shows, seasonal attractions, and home and garden shows. It also is the location of the annual Tulsa State Fair, which includes live entertainment, games, carnival rides and other fun for the family.
4145 E. 21st St., 918-744-1113, www.exposquare.com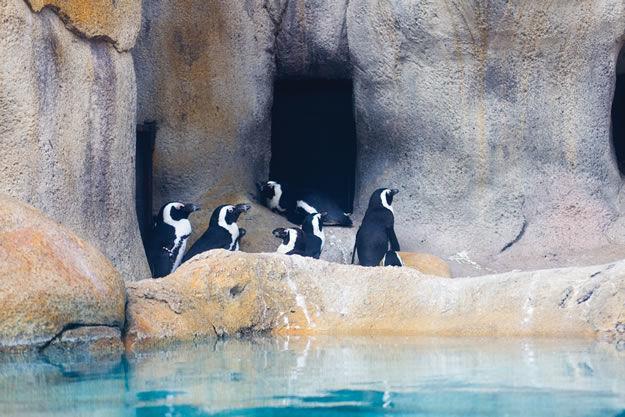 Experience the wild side of Tulsa at the Tulsa Zoo and Living Museum. Located on 84 acres in Mohawk Park, the zoo features more than 2,800 animals in exhibits ranging from an award-winning African penguin habitat to an interactive tropical rainforest to the new Helmerich Sea Lion Cove. Visitors can enjoy the children's petting zoo, education areas, restaurants and concessions, live animal presentations, a ride on the Safari Train and a gift shop to buy a "zoovenir" when the day is done.
Hours: 9 a.m.-5 p.m., daily; closed Christmas Day and the third Friday in June. 6421 E. 36th St. N. (Mohawk Park), 918-669-6000, www.tulsazoo.org
Gilcrease and Philbrook museums
Both the Gilcrease Museum and Philbrook Museum of Art have renowned gardens and art collections. Gilcrease has the world's largest collection of art and artifacts from the American West and themed gardens on 23 of its 460 acres. Philbrook, a 72-room mansion with Italianate architecture, was once home to oilman Waite Phillips and features art collections from around the world. Each museum offers tours, educational programs and dining.
Gilcrease hours: 10 a.m.-5 p.m., Tuesday-Sunday; closed Mondays and Christmas Day.
1400 N. Gilcrease Museum Road, 918-596-2700, www.gilcrease.utulsa.edu
Philbrook hours: 10 a.m.-5 p.m., Tuesday-Sunday; open until 8 p.m., Thursday; closed Mondays and New Year's Day, Independence Day, Thanksgiving and Christmas Day.
2727 S. Rockford Road, 918-749-7941, www.philbrook.org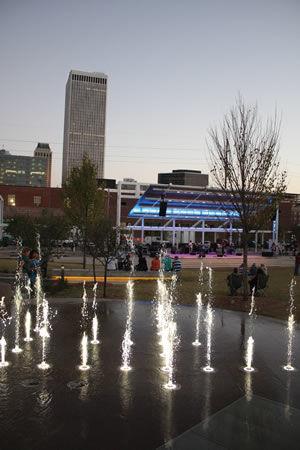 Downtown Tulsa's Guthrie Green offers visitors and residents alike a public gathering space amid the concrete jungle of skyscrapers and parking garages. The Green fills one square block of the Brady Arts District between East Brady and Cameron streets and South Boston and Cincinnati avenues and boasts a performance stage, pavilion, green space, splash pads and a restaurant. Thanks to Tulsa's George Kaiser Family Foundation, which developed the space, all events at the park are free and open to the public.
111 E. Brady St., www.guthriegreen.com
Local performances
Tulsa has talent and demonstrates its love of the fine arts through countless local performances. Facilities such as the BOK Center and Tulsa Performing Arts Center attract nationally renowned performers and shows. Tulsa's historic Cain's Ballroom and Brady Theater have hosted national and local performers for decades. With several fine arts centers throughout the city, nearly every genre is represented in Tulsa.
BOK Center: 200 S. Denver Ave., 918-894-4200, www.bokcenter.com
Tulsa Performing Arts Center: 110 E. Second St., 918-596-7122, www.tulsapac.com
Cain's Ballroom: 423 N. Main St., 918-584-2306, www.cainsballroom.com
Brady Theater: 105 W. Brady St., 918-582-7239, www.bradytheater.com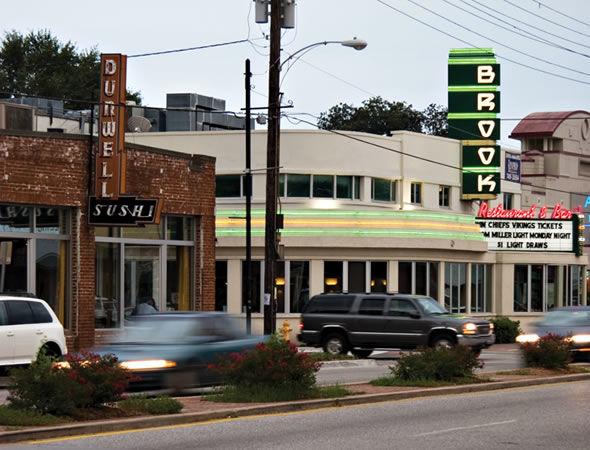 If you are looking for stores and restaurants that can be found only in Tulsa, Brookside and Cherry Street might be the perfect destinations. These areas are booming with a variety of upscale and locally owned restaurants, stores and galleries that cannot be found anywhere else. Antique stores, specialty shops and art galleries, along with numerous bars and restaurants, create a festive and uniquely Tulsa atmosphere in both areas. Whether planning daytime shopping and lunch or an evening dinner date, Brookside and Cherry Street are
solid bets for a good time.
Brookside: South Peoria Avenue between East 31st and 41st streets, www.brooksidetheplacetobe.com
Cherry Street: East 15th Street between South Utica and Peoria avenues, www.cherrystreet-tulsa.com