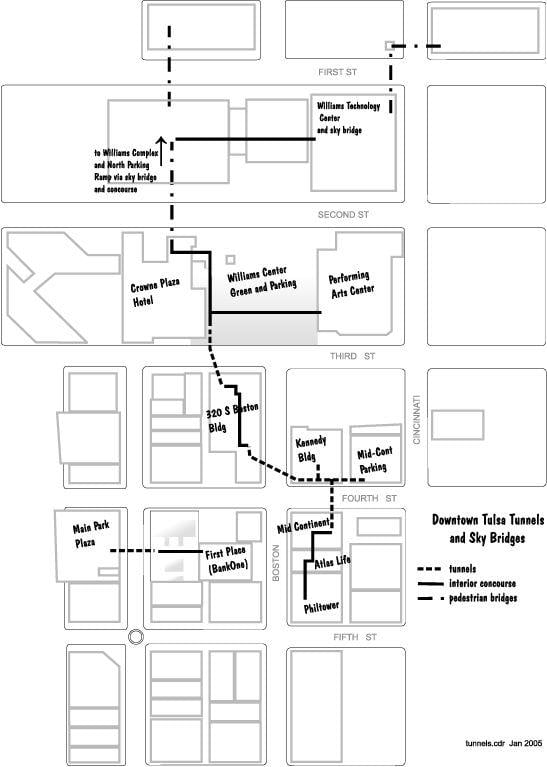 Locals who don't work downtown may not be aware of the subterranean links — the well-lit, art-on-the-wall lower-level passageways.
To many who office in Tulsa skyscrapers, the tunnels are a way to keep their collective hair from frizzing on rainy days and their feet from freezing in sub-zero temps.
In 1931, Tulsa oil baron Waite Phillips ordered construction of the first 80-foot stretch of tunnel "for privacy, safety and convenience," said Alice Froeschle, former teacher and current owner of Bandana Tours.
This was a time when wealthy businessmen were being threatened and their children kidnapped, Froeschle explains. So Phillips brought in miners from southwest Oklahoma to dig the link between his skyscrapers (and namesakes) — the Philtower and Philcade buildings at Fifth Street and South Boston Avenue. (He wasn't paranoid. One Oklahoma City mogul actually was abducted by gangster "Machine Gun Kelly" and then released when a $200,000 ransom was paid.)
That original tunnel is no longer open to the public, but a web of newer tunnels — built in the '60s, '70s and '80s — now connects eight office buildings, three parking garages and one premier hotel. Visitors can get from Fifth and Boston or from Third Street and Cincinnati Avenue to the Crowne Plaza Hotel without ever being outdoors.
Tulsa authors P.C. Cast and Kristin Cast chose the city's underground as a recurring setting in their "House of Night" vampire series: "On the run and holed up in Tulsa's Prohibition-era tunnels, Zoey and her gang must discover a way to deal with something that might bring them all down."
Their modern, "vampire-ized" version of "it was a dark and stormy night" conflicts with at least one Web posting that called the tunnels "really nice, not dusty or dirty, with polished floors and business people going to and from … Very cool."
Very true.
---
To download a copy of the tunnel map, please click here.