In 1966, Bob Dylan recorded his classic album Bringing It All Back Home, an RCA recording that featured a talented group of session players who'd never heard any of the songs before. They learned and tracked the album, live, right onto tape. On one track you hear Dylan mess up and laugh just before the band kicks in full-steam. Prior to the age of plugins, micro-edits, and autotuning, that's how many records were made.
Tulsa is experiencing a small resurgence of producers and artists interested in making records the old-fashioned way. Adrienne Gilley (Green Corn Rebellion, Grazzhopper) is one such artist, and she'll release her first solo album at a special dinner event on Sunday, March 11 at Auggy Reed Studios.
Gilley's new album sounds like a folk record from another time. It's a sparse acoustic affair emotionally centered on her soft, plaintive voice. The sound is reminiscent of those of bands like the Innocence Mission, The Weepies, and '70s crooners like Carole King. The songs are immensely personal. 
"I ended a twenty-year relationship at the end of 2015," Gilley said. "I was married for 18 years, and I hadn't really been alone before as an adult. So, it was really painful, and it was really eye-opening. It was an experience I needed to have. Lots of people have been through it, you know? So, I did that divorce thing, being on my own for the first time. I think the writing of these songs really helped me—even just hearing them at a later date after I'd written them."
The album is littered with aphorisms Gilley invented during this season of grief, truths she often repeats like quiet mantras. On the opening track she begins abruptly singing, "This boat's not big enough for two … You looked like the perfect fit. Honey, I need oxygen." She explores lots of life in these phrases.
At times, Gilley sings like she's trying to convince herself that these words are true. And at times the truths rain down like a torrent: "Shine a light into your own heart" or "Take your medicine and try to sleep in the grown-up bed. It's not the goodness you're attempting to shed." Perhaps the most devastatingly honest words appear on the track "Just Don't": "Don't cry. Don't need. Don't show regret. Don't expect. Don't question. Don't ask. Don't need someone to fall, to fall into." Her songs are hard-fought instructions for life.
Gilley credits Mike Gilliland and Conor Robb, the founders-owners-producers of Auggy Reed, for making this record happen.
"Mike Gilliland actually made these song selections," Gilley said. "I gave him creative control of that because I don't particularly enjoy listening to recordings of myself most of the time. I don't hate it. I just wanted someone else's ears to decide. Especially [in] picking the songs apart to decide which one is good enough or whatever.
"Mike encouraged me to do this as a gift to people who have supported me. I haven't had much fun recording before because I just don't have enough experience. That's all it is. So, I'm getting more experience now at a really comfy, nurturing environment at Auggy Reed."
Auggy Reed Studios, which opened to the public in 2008, has become a sort of home base for indie folk artists and garage rock acts in Tulsa. Touring bands often find a warm meal and a place to crash there. The studio also hosts intimate dinner music events like Gilley's upcoming album release. Taking a cue from the old '50s recording model, Auggy Reed offers an affordable one-day song production with a session band.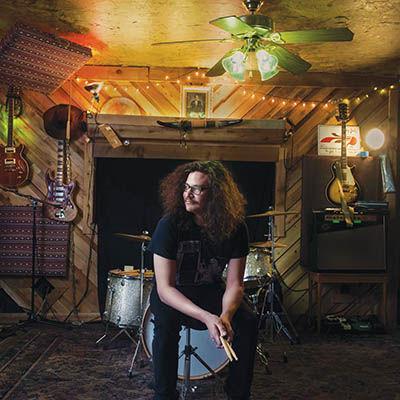 "Sun Studios in Memphis inspired us on the flat-rate thing," Robb said. "We went on a little tour of the studio while we were on tour with our band the Dull Drums. They told us Sam Phillips [the producer who discovered Elvis, Johnny Cash, and Howlin' Wolf, to name a few] used to have a four-dollar deal right after he opened. You come in. You basically had an allotted period of time. You paid him four dollars and walked out of there with a song on acetate record. Depending on the time it took, sometimes they'd do two."
"We call ourselves the Flat-Rate Band—Conor's on drums and I play bass," Gilliland said. "Then we flesh it out. It's 70 dollars, and we have two-and-a-half hours. One-hour practice, one-hour recording, and 30-minute mix-and-master. Then out the door with a CD. There's no limit, other than time. The people I'm seeking are songwriters that have little to no confidence in how good they are. They're people I've seen playing at open mics and they're just killing it in their own private world. Then you talk to them, and they just don't believe they can do anything more."
Perhaps this is why Auggy Reed Studios seems less like a house and more like a recording space where people happen to eat and sleep. Gilliland's brother, Rich, started renovating the old white house in South Tulsa into a recording space back when he was a minor Christian rock star in the early 2000s. The narrow hallway from the front door to the living room is full of old pianos, organs, random vintage instruments, and tape machines. The living room is basically just a network of soundproof partitions, mic stands, guitar amps, and usually at least one drum set surrounded by furniture. The tight space can only fit about twenty-five to thirty people at a house show, making each one a particularly intimate and unique DIY affair. Making the events feel like a Sunday family dinner is deliberate, but Gilliland and Robb both have greater long-term aspirations—namely, to grow into a bigger space.
"Doing events here is testing our process of live recording to see if it really works," Gilliland said. "The hope is to get a captured live recording and a real experience … Eventually we need a venue. All of this stuff is a cry for something bigger. I think of a place like the Tulsa Little Theatre."
But at the end of the day, for Robb and Gilliland, the communal aspect of the process is what they're aiming for.
"[We] get everybody who's gonna watch the show and perform in the show together to have a community moment," Gilliland said. "Drink some wine and eat some food. You just sat and ate with us … and we all went and smoked our cigarettes, and now we're all going to come in at the same time and sit down like freaking church and watch a band perform something beautiful."
---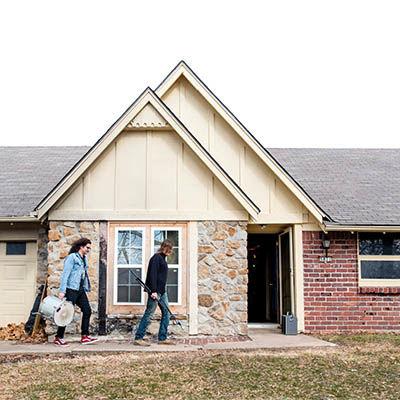 Adrienne Gilley album release with special guests Echoes and Copycats
Auggy Reed Studios
Sunday, March 11
6 p.m. dinner, 7 p.m. performance
$20 for dinner and the album
Tickets at adriennerosanne.bandcamp.com