Pinball was on life support in 1999. As industries recalibrated for the seismic media shift of a new millennium, companies churning out pinball table renditions of popular movies, TV shows, and characters went bankrupt. As the machines blinked out of life one by one, there was no one to replace them.
If you knew where to look—Chicago; Frisco, Texas; and Enid (yes, Enid, Oklahoma)—or more importantly, whom to ask, you could find warehouses rented for tournament nights on tables from the organizers' personal collections. Invite only, of course.
But the pinball machine at your favorite pizza place or movie theater? Busted for the 100th time with no chance of being repaired again. The games are notoriously hard to maintain, and no companies were making any new ones. Collectors were keeping the game alive, and thanks to them, resurgence was brewing. New and rebranded companies have tapped into this enthusiasm and started making games again.
The Max Retropub is known for its nostalgic video games from bygone eras, but in November, they brought in more pinball machines as part of their second-annual Pinballs to the Wall event. Now with a total of 10 machines, Tulsa's arcade bar is a haven for novice and seasoned ballers around town.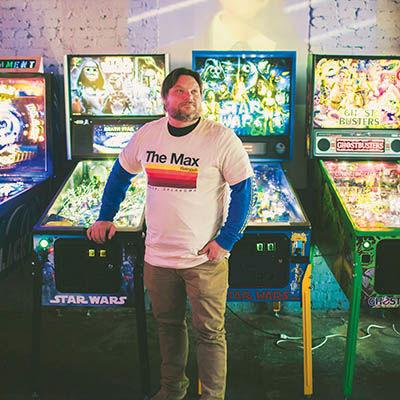 For the love of the game
Pinball tables are like classic cars. You have to regularly maintain and take care of them, clean them, and talk to them. That's where Todd Johnson comes in. Johnson has a mind-blowing amount of arcade game knowledge, and it's all self-taught. In 1999, Johnson and his brother started tinkering with arcade games. Today, he often works 14-hour days doing repairs, though not all of them are games. Recently, he's has been working on other computer-mechanical systems, like radars. It's all similar, though, he said.
Pinball tables differ than other video arcade games because they have so many moving parts in addition to their computation. For every one problem he has with a video arcade game, Johnson said he has five more with a pinball machine.
Johnson also said the decline of pinball's popularity is partly because of the surge in game consoles. "No one really went out to arcades anymore to play games like that, but they realized that you can't get that same experience. There are virtual pinball apps, but you can't feel the real feeling of the machine and the lights, the glow, the ball."
All of the tables at the Max right now except for one ("Doctor Who") belong to pinball enthusiast and collector Lucas DeWoody. Today, the machines he's carefully collected are worth anywhere from $6,000 to $12,000 each, sometimes even more. Like a proud boat captain, DeWoody refers to each machine as "she." Though precious to him, he still wants to share these valuable games with the public.
"I'm out of my mind in love with pinball and want to share it with people," DeWoody said.
In a sense, modern gaming has contributed to the pinball renaissance, according to DeWoody. People who enjoy playing pinball on the phones or tablets tend to seek out the tactile experience in real life, and the apps are good for learning how to play, how to score, and the rule sets.
The difference between those and real-life pinball, though, is you can have two machines that look identical, but each will play differently than the other. "Every [machine] is a little different," DeWoody said. "Every one is balanced a little different."
Pinball sorcery: tips and tricks
That's why they encourage everyone to come out and play, and to keep their eyes peeled for info on an upcoming tournament. If you've never played on these machines before, you're exactly like most people around town and have an equal shot at being the champion with the high score.
"The first move I always tell everyone to learn is the dead flip," DeWoody said. The dead flip is a tactic that gives you more control over your shot because you let the ball bounce off one flipper and catch the ball with the other, holding the flipper button until you decide the kind of shot you want to make, he said. "Then you can shoot it on your own terms."
One mistake novices make is panicking and hitting both flippers at the same time. "You should always be doing one flipper over the other," Johnson said. Another tip the pinball wizards had was about nudging, as in physically nudging the table on one side. "Whenever the ball is coming down to drain on the out lanes, you nudge the game forward," he said. "When you're wanting it to bounce around the bumpers at the top, you may nudge it side-to-side."
But you have to be careful with the nudging or else the machine will freeze up with a 'tilt.' Johnson explained that the plumb bob inside reveals when players are getting too rough. "There's a long metal arm with a metal weight at the end. That arm is attached to a positive, and the ring around the weight is attached to negative, so when they touch together, it completes the circuit and that's the 'tilt.'"
"It's always swinging in there," DeWoody explained. "So if it tells you to stop, let it settle down."
"Everything that makes up the game is so unique," Johnson said. "And there's a little bit of luck involved."
Tilt me back to Tulsa
Growing up, I would spend hours playing Space Cadet pinball on Windows 98, but I was never really good at the real thing. That changed after a few days of going head to head with my new spouse on our honeymoon. The Star Wars-themed suite we rented in Eureka Springs was above a toy store and was complete with a Star Wars pinball machine, ready for hours of free play.
The Max has two Star Wars tables, neither like the one I spent hours trying to master. Turns out the game I was playing, according to Johnson and DeWoody, was the worst of all the Star Wars tables made. At first I thought they were just being pretentious pinball gatekeepers, but then I played the two at The Max. For being made in the 90s, those games are extremely immersive, and the objectives are clear. Get good at hitting the ramps and loops on command, that's all I'm saying.
The newest of the pinball tables at The Max is Deadpool, which they unboxed new in the bar. Others include Ghost Busters, Total Annihilation, and a game called Black Hole which features two playing fields: one on top that plays like a normal game and one on the bottom that reverses play so that you're hitting flippers in the back, launching the balls toward you. Then there's White Water, which is difficult if you don't know how to nudge or land a good dead flip.
It took me a hot minute to notice there was another flipper toward the top of the table in White Water. Hit that left button at just the right time, and the ball launches into Insanity Falls, which drops the ball right back by your bottom left flipper.
Possibly the wildest game is Family Guy, which features a tiny "Stewie" pinball game within the top right corner of the machine. If activated, you play this mini-machine exactly the same as the larger game, but the cramped size increases the difficulty. The other great thing about that game is Johnson modified the table so that a tiny one- or two-inch TV plays short clips from the show.
With 10 machines, it's easy to get entranced in the flashing lights and familiar sounds of pinball. With $2 Coors on tap ($1 on Mondays) it's even easier. Get to know the games, each with its (or her, as DeWoody would say) own personality. And for the love of pinball, don't panic and hit both flippers at the same time if you're not sure which side to go with. That's one habit I'm trying to kick.