Late last year, two ramen restaurants opened within two weeks of each other and less than a mile apart in downtown. First on the scene was Roppongi Ramen at 6th and Boston, opened by local restaurateur Libby Billings, who also owns The Vault and Elote Cafe. Next, the corporate powerhouse JINYA Ramen Bar added a location at 2nd and Frankfort to its growing roster of restaurants found across the country. 
Authentic Japanese ramen is a sensory experience—wrapped in ethereal steam, a heady umami merger of unctuous meaty broth and subtle vegetable funkiness is at the core of the traditional noodle dish, but it can be prepared and interpreted in a variety of ways. I dove into the hot noodle fray, sampling both restaurants. What I found in each instance was a mixed bag—one restaurant saddled by a goofy corporate sensibility and the other still struggling to nail its flavors. Fortunately, the high points of JINYA and Roppongi make both worth visiting, despite their imperfections. 
---
JINYA Ramen Bar
Hiding in an unassuming spot on the eastern edge of the Blue Dome District, JINYA Ramen Bar may be small, but its sleek interior reflects big city roots. JINYA has been riding ramen's popularity wave since 2010, when it opened in California, and has since opened restaurants across the country and in Canada. 
As a food writer, I have mixed feelings when writing about corporate-run restaurants. They often carry the stigma of being too polished, lacking authenticity. My skepticism was already firmly in place when all the employees yelled in monotonous unison some sort of unintelligible greeting as I was seated. I am sure it was a Japanese "welcome," but it just added to the awkward, corporate demagoguery. My overly-familiar server sealed the corporate shellac, describing the menu with forced, cheesy analogies and mercilessly upselling. 
Distractions aside, the menu is well-appointed. JINYA offers chicken and vegetable broth options, but it's the pork-based tonkotsu that's king—ordering ramen with anything besides the tonkotsu is like ordering a salad at a steak joint, in this critic's opinion. You can order your tonkotsu as spicy as you like or you can lighten it up with their Tonkotsu White, which mixes in chicken broth. You can also kick it up spicy miso style, but I opted for the Tonkotsu Black with an unadulterated pork broth. For $12.95, the bowl came with thin ramen noodles (some bowls have fat noodles), green onion, dried nori seaweed, fried onion, spicy sauce and a "seasoned" egg. 
The open kitchen at JINYA gives patrons a bird's eye view of the ramen preparation process. Noodles are pulled from vats of boiling water, nestled into bowls, then floated in broth. A chef artfully places each ingredient on top of the mound of noodles, then gives the outside of the bowl a wipe with a clean, white towel. The colossal bowl of ramen placed in front of me was beautifully composed—bright green onion on one side, sheets of dark nori standing tall, a soft-boiled egg floating gracefully aside delicate slices of chonshu pork belly. And underneath all the window dressing was the glorious broth. 
Tonkotsu is made by slowly simmering pork bones until the bone and collagen break down into an emulsified broth. The result is a creamy, luxurious texture. JINYA's offering was textbook tonkotsu, viscous and satisfying. The chonshu pork belly was gelatinous and fatty, and did not deliver the texture needed to offset that of the noodles. I gave the soft-boiled egg a gentle prod, releasing its velvety contents, adding another layer of umami and fortifying the broth's creaminess.
Overall, JINYA was a solid ramen experience, and with a full bar, lunch specials and a great selection of non-ramen items, I can see it becoming a fast favorite for downtown crowds.
---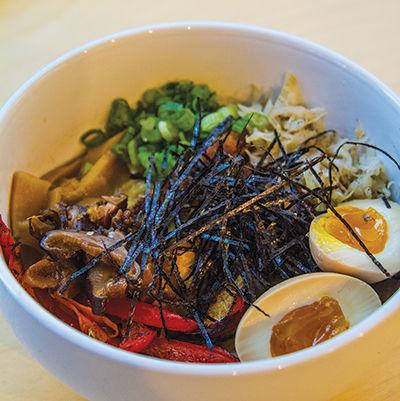 Roppongi Ramen
Libby Billings, proprietress of Roppongi Ramen, is no stranger to the restaurant world, but her experience with ramen has been a crash course. When the space that was home to Lassalle's Deli on 6th and Boston became available, she claimed it for her new restaurant, booked a ticket to Japan and explored the world of ramen. One area that appealed to her was the Roppongi district, an area of Tokyo home to many foreign embassies and exuberant tourism and nightlife. With that inspiration, she brought her own ramen concept to life.
What the space lacks in size it makes up for in personality, with bright fuchsia booths and anime-inspired characters painted on the walls. I stopped in to grab lunch on a dreary day that demanded a big bowl of comfort.
Roppongi's menu is simple and the atmosphere is fast-casual; patrons order at the counter, take a number, and wait. The line-up of ramen relies on a shoyu-style broth—a soy sauce-based broth that's clearer than tonkotsu, with less emulsified fat. Both the chicken and pork broths are shoyu style. Roppongi also has a seafood broth, a veggie broth and a vegan broth of rich coconut milk. They don't currently offer a spicy broth, but word is that they're working on it. 
Intrigued by the shoyu pork broth, I ordered a bowl of Pork Ramen for $10.99 that came with a slice of pork belly, marinated shitake mushrooms, a soft-boiled free-range egg and scallions. Other items can be added for $.49 to a $1.99, like miso-marinated corn or Napa cabbage; but I ordered the veggie gyoza appetizer instead of loading up my ramen with extras. 
The gyoza was served to me practically burnt on the outside. I dipped the stiff triangular piece into the accompanying sauce, which was both too sweet and too salty. The veggie stuffing in the gyoza oozed out of its chewy envelope with a gloopy plop. The unidentifiable concoction contained far too much moisture, while sharp notes of vinegar and ginger fought it out, masking any real vegetable flavor. 
My ramen was served in a large white bowl, streaked along the outside from brown broth that had been haphazardly ladled and not cleaned. Unlike the beautiful presentation at JINYA, this bowl lacked plating integrity—a monochromatic mishmash of dark brown broth, darker brown mushrooms, and a soft-boiled egg whose yolk had turned to gel—unlike the quivering golden river of yolk found at the previous stop. 
I sunk my chopsticks in to grab my first mouthful; I was impressed with the texture of the curly noodles and how well the broth clung to them. Unfortunately, the broth was not worthy of the noodle. In a blind taste test, I would have never guessed pork had been incorporated into this shoyu broth. The main flavor I detected was mushroom and an overwhelming sweetness—the marinated shitakes likely added
to the broth's mysterious saccharinity. Though the mushrooms had a great chew, the marinade was cloying. 
The choshu pork belly, however, was beautifully prepared. The large slice of marinated pork belly was given a quick sear on the griddle, rendering off some of the fat, adding a layer of caramelization. I had also ordered a side of the coconut broth, just to see the approach to the vegan ramen. It was outstanding; I can see myself coming back often for the vegan ramen (and adding chicken). This gives me hope. New restaurants always have hiccups, and with some kitchen tweaks and fine-tuning, Roppongi can easily overcome the ramen learning curve.
For more from Angela, read her review of Wanda J's Next Generation.