Need a way to practice listening to women? Living Arts of Tulsa's got you covered.
In three installations on view through Feb. 15, women artists explore a potency they know well, one that comes through making space. It's a power that hasn't regularly been visible in Western culture—one that's creative and playful, full of memory, poetry, softness, mystery, and change.
In many ways, the exhibits couldn't be more different from one another. Holy Mother Collective's "Space, Held" is a cozy, colorful tent made of fabric scraps that leads into a series of intimate altars to and about womanhood.  In "Chrysalis," Erin Rappleye fills a delicate playroom with meaning-layered objects. And Sarah Gross ("To Be Seen"), inspired by her study of Islamic architecture, works in ceramics.
What these three have in common is the idea of space-making as an empowering act: making space for a body, for rethinking femininity, for connection and empathy. It's space-making as art and as the process by which art is made.
It's striking to see these works arrive in front of our community at the same time the #metoo and #timesup movements flood the national consciousness.
"Talking to every single woman involved," said Sierra Kramer, a member of Holy Mother and director of the Honeybee Schoolhouse, "they all say, 'It was just perfect timing for this.'"
Holy Mother Collective started in response to the frustration, hopelessness, and stagnation the women were feeling, particularly after the 2016 presidential election.
"We needed to be able to speak to everything that was going on," continued Kramer, "but also show action. We're going to create these spaces we want to be in because those spaces don't exist here."
Led by artists Lydia Cheshewalla and Cyterica Kahl, 25 women met throughout 2017 to sew, paint, and collaborate. In open curatorial conversation with Living Arts director Jessica Borusky, their installation went up in just 10 days.
"It's a site-specific and responsive organism unto itself," Borusky said.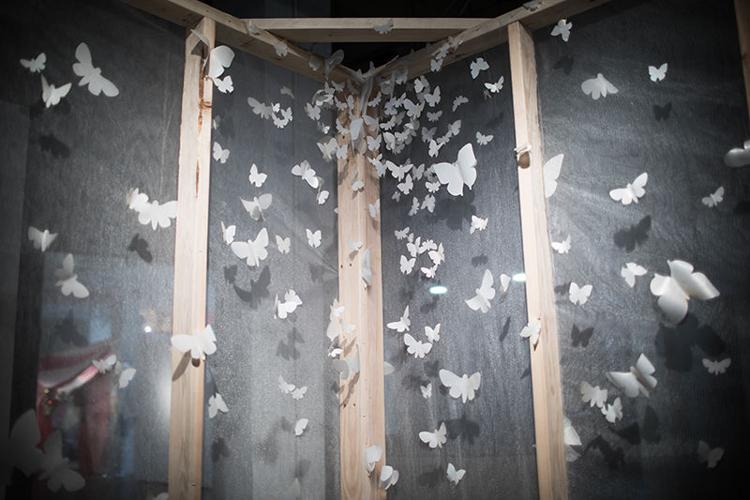 Collective member Rachel Ann Dennis, creative engagement lead at Philbrook, described it as being more about social practice than about a formal work of art.
"This installation is the visual record of what this community looks like in practice," Dennis said. "The way Holy Mother has been formed, there's a lot of active listening and considering of multiple viewpoints. One of the hardest things to do is listen and validate, even if you don't totally agree. It's an incredible precursor to empathy."
Some of the content in the "Space, Held" altars might be challenging in a society that prefers women's personal business to stay invisible. Finding men willing to share their impressions of the installations proved difficult. But photographer Western Doughty suggested that might not be a bad thing.
"What these exhibits did for me," he said, "is make me think about the women who have raised me, and my never really considering their struggle, or just being so privileged that I'm blind to it. I encourage every male to go to exhibits like this and keep their mouths shut and think about the women in their lives and honor them, and try to understand the history of oppression that plays a part in this."
"Some of it's a little PG-13," said sculptor David James. "But I think I should take my daughter to see this, maybe when some of the women who worked on it are here, so they could talk to her about what they created."
"There's all this softness here—blood, breasts, yoni imagery, the tent—and they're also the strong parts of us, the life, the livelihood," Kramer said. "For women to be able to communicate these things we know to be true about ourselves—that our softness is power—is huge."
Dennis emphasized that "Space, Held" isn't a militant zone.
"Difficult subject matter becomes accessible when it becomes personal," she said. "There's so much power in creating a quiet space where you say, 'This is where I'm at,' but also, 'Where are you?' It's been refreshing."
Rappleye's exhibition is a space of a different color—literally. "Chrysalis" is a mesmerizing pale cocoon made of 2x4s and cream netting. Fragile butterflies cut from edible paper flutter in a corner while strange yet familiar artifacts—a compact that's also a tape measure, a skeletal bustle, a cup that's also an ear horn—sit silently. Rappleye's research for the work ranged from the study of short stories "The Metamorphosis" and "The Yellow Wallpaper" to the gendered history of tools.
Rappleye will perform in the space on Feb. 2. During the event, a kettle will go off—"and then the house becomes activated: an angry house." Much of the installation will be destroyed as she rejects the varying ways femininity is defined in childhood and as her adult self finally sits in the throne chair in the gallery's corner window.
"It's a way of acknowledging one's own kingdom," she said.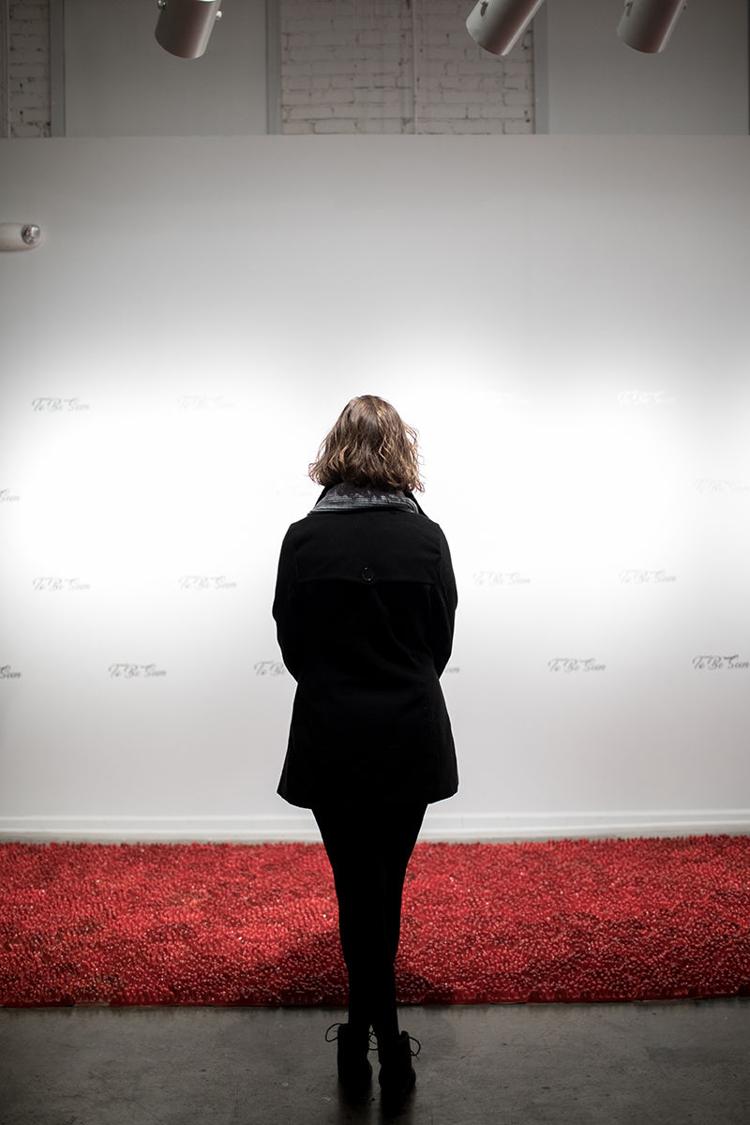 The complex idea of what Virginia Woolf famously called "a room of one's own" (in her classic 1929 feminist essay of the same name) informs Sarah Gross's work, too. Arrangements of deliciously textured ceramic tiles in her show suggest doorways, windows, and landscapes. A long "red carpet" called "Consumption" is made of 700 tiles, each created using casts of Gross's fingers.
"Each of the pieces is meant to create a space around it for people to interact," Gross said. "I want people to see that there's a void in the center that's meant for you, a place for you to center yourself in. It's a little bit of a critique of the 'I was here' culture on social media, but it's also a celebration of participating with the work."
In addition to Rappleye's performance, the Tulsa Women's March will convene at Living Arts on Jan. 20, and Holy Mother Collective will offer various programs and events, including a laughter yoga session, a writing workshop, and more, throughout the exhibition's run.
"To see people at ease and so delighted in this space is what we wanted," Kramer said. "How do you move through these things? You hold space for them, you express them and give them their time and their light, and let them go."