In the final decade of her life, Shan Goshorn combined her photography talents with her self-taught weaving skills to create stunning Native art. 
Gilcrease Museum is honoring her legacy with the powerful new show "Weaving History into Art: The Enduring Legacy of Shan Goshorn," a Gilcrease Museum-curated exhibition that is now open and runs through March 28, 2021. The exhibit also includes art from four of Goshorn's contemporaries who are all from Oklahoma. Advance tickets are required. 
Goshorn (1957-2018) was a citizen of the Eastern Band of Cherokee Indians and a longtime Tulsa resident. She was internationally recognized for her artwork comprised of weaving archival documents and photographs into baskets using traditional Cherokee techniques. The resulting artwork provides a political and cultural commentary on Native American issues.
We checked in with Gilcrease Museum Curator of History Mark Dolph to learn more about the new exhibit that celebrates Goshorn's work and legacy.
Why select Shan Goshorn to highlight in this special exhibit? What is special about her art or sets it apart from others?
Shan had a very special relationship with Gilcrease Museum. Her extensive research into the museum's art, anthropological and archival collections provided both the historical context and artistic inspiration for Goshorn to illuminate connections of past events to contemporary Native American issues found in several of her baskets such as Sealed Fate: Treaty of New Echota Protest Basket (2010), They Were Called Kings (2013) and The Stroke of a Pen (2016).
Shan's baskets are unique. Beginning in 2008, she combined her skill as a fine art photographer with her self-taught mastery of traditional Cherokee basketry to create works in which she wove American history into a singular, completely American art form.
Always a passionate activist for Native rights and issues, Shan occasionally found that her advo­cacy could be a barrier to the truths of history she was compelled to tell. With her baskets, she discovered they processed a power beyond her previous art.
As Shan recalled: "There's something about having a message in the vessel shape [her baskets] that makes people really curious … really engages them. They literally lean forward and look in and want to know more about it. It's the perfect springboard for honest dialogue. I've never seen anything like it."
Central to the exhibition is the premier of SQUAW, the last work Goshorn completed prior to her passing. SQUAW was inspired by the Venus de Milo, an iconic symbol of female beauty. Juxtaposing this model with the title SQUAW creates a tension and contrast to the Western ideal of beauty against a pejorative used to reduce Native women to disposable sexual commodities. SQUAW will serve as a catalyst for much needed conversations on why Indigenous women suffer disproportionately higher rates of violence than non-Native women.
Goshorn moved to Tulsa in 1981 and lived here until her death in 2018. What is the story behind this exhibit? Was this in the works before her death or did it come about as a tribute?
The genesis for "Weaving History into Art: The Enduring Legacy of Shan Goshorn" dates to the Dec. 30, 2018 memorial service for Shan held at Gilcrease Museum. A museum colleague and I were deeply moved by the genuine love and admiration the several hundred people in attendance showed for Shan.
My colleague said, "We should have a Goshorn exhibition."
I replied, "Great idea, but Gilcrease Museum only has one of Shan's works in our collection. Any exhibition will require that we go outside the museum for 90% of the objects we would need for a creditable exhibition."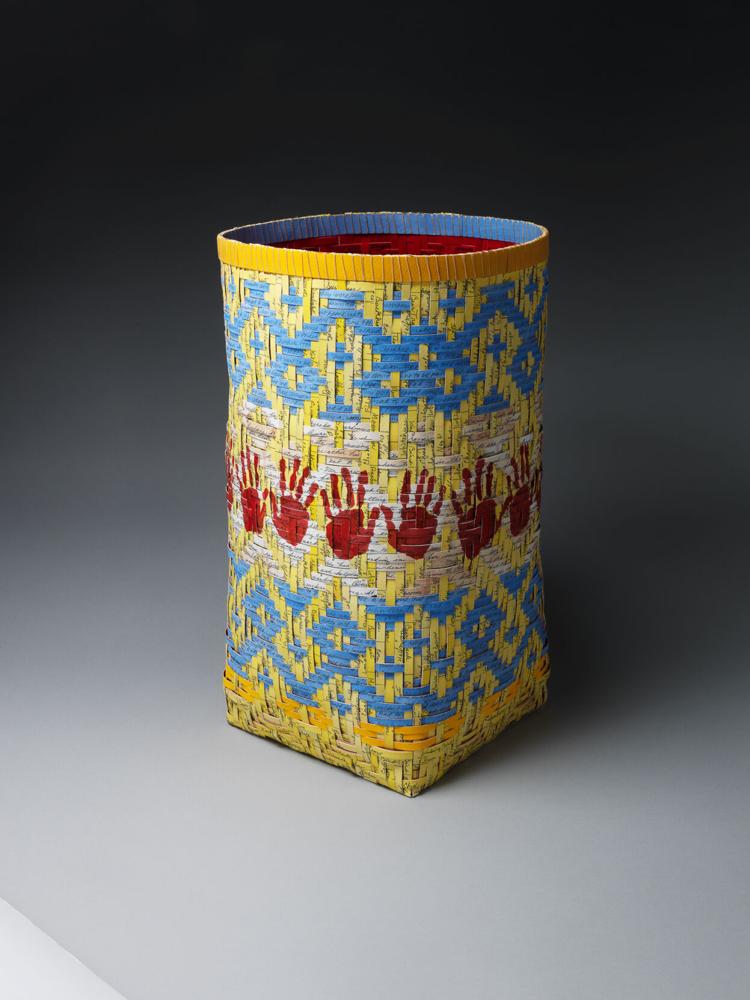 And that is exactly what happened; on Thursday, Oct. 8, we opened Weaving History into Art, which by the time we close the exhibition on March 28, 2021, will feature 61 of Shan's baskets (the largest exhibition of her works ever) from 13 private collections and seven institutions. Altogether, when the works from the Gilcrease collection (7) and the other four artists are included (21), museum visitors will experience over 90 exceptional works of art, plus two videos: one of Shan describing her work and another of Joy Harjo reading her poem First Morning, which she wrote for Shan and first recited at the 2018 Goshorn memorial service.
The exhibit also showcases four other Native women weavers with Oklahoma ties. There's Carol Emarthle-Douglas (Northern Arapahoe/Seminole), Anita Fields (Osage/Muscogee Creek), Lisa Rutherford (Cherokee) and Holly Wilson (Delaware/Cherokee). What is about these artists that you felt made them important to include in this show?
The exhibition's title, "Weaving History into Art: The Enduring Legacy of Shan Goshorn," defines Shan's basketry art as well as her legacy. The title's first half, Weaving History into Art speaks to the Native American history that Shan so effectively wove into her baskets.
The second half of the title, "The Enduring Legacy of Shan Goshorn," refers to Shan's artistic influence. This influence is represented in the exhibition by the art of four Native American women artists: Carol Emarthle-Douglas (Northern Arapahoe/Seminole) is well-regarded for her traditional and contemporary baskets, jewelry and paintings; Anita Fields (Osage/Muscogee Creek), is nationally recognized for her unique contemporary ceramic sculptures, mixed-media installations, and traditional Osage ribbon work; Lisa Rutherford (Cherokee), a Cherokee National Treasure, is a textile artist, potter and maker of traditional Cherokee clothing, beadwork, and baskets; and Holly Wilson (Delaware/Cherokee), is a contemporary multi-media artist whose works include bronzes, encaustics, photography, glass and clay. The works of these four women perfectly complements Shan's basketry and artistic vision.
What do you hope people take away from coming to see this exhibit?
To learn that Shan Goshorn was internationally recognized for weaving facsimiles of archival documents and photographs into baskets using traditional Cherokee techniques to create historical, political and cultural commentary on Native American issues that continue to resonate in the 21st century.
Exhibition visitors will experience how Goshorn's hand-woven basketry can encourage engaging, empathetic interactions with difficult subjects, including the loss of Native homelands, cultural genocide, violence directed at Native women and inappropriate cultural appropriation. These engaging experiences will take place in a non-threatening environment that promotes informed dialogue among Native and non-Native audiences alike.
Anything else you'd like to add?
Every Gilcrease Museum exhibition I curate reflects the time in which it was conceived and creat­ed. Whether virtue or vice, I understand the past through the lens of the present. Undoubtedly, the events of 2020 will influ­ence how Shan Goshorn's works and words presented in "Weaving History into Art: The Enduring Legacy of Shan Goshorn" will be interpreted by those who experience them in the museum or through the exhibition catalog we've developed.
Both the global pandemic, with all the glaring inequi­ties the coronavirus has made manifest, and the killing of George Floyd have served to confirm my belief that museums, particularly those like Gilcrease that position themselves as history museums, have a responsibility to serve as agents for change. This is a critical moment, one that necessitates that we use our voices to help facilitate the transformational changes now being demanded. As an institution we must rise to this challenge.
The pandemic and Floyd's death are forcing long overdue conversations on the injustices of systemic racism that have haunted America's history since the first encounters of Europeans with Native people and the enslavement of Africans. As a curator, I have too long assumed that most Americans were at least gener­ally aware of the genocide inflicted on Native Ameri­cans, the nation's legacy of slavery, and an infrastructure that continues to contribute to inequities and injustice. I have too long assumed that most Americans understood the result­ing historical consequences and how they continue to bedevil us in the present.
Sadly, the past several months have revealed a signif­icant lack of historical knowledge and confirmed that we all need to learn so much more about the troubled path our nation has traveled to arrive at where we now find ourselves. Understanding that history — what really happened, why it happened, and the profound consequences of what happened — makes "Weaving History into Art: The Enduring Legacy of Shan Goshorn" a very timely and necessary part of these conversations.