When's the last time you rode a bike? If it was recently, you might be one of the consumers responsible for Tulsa's "bike boom."
What's a bike boom? Well, it's when a bunch of stores are selling a bunch of bikes.
"This Saturday was the busiest day in the history of the business," says Bicycles of Tulsa (4733 S. Mingo Road) co-owner Scott Eckes, referring to the store's May 16 sales. "The week before that was the busiest day in the history of the business, and the week before that was the busiest day. Three weeks straight of compounding sales."
For Bicycles of Tulsa, that translates to around 35 bikes sold this past Saturday alone. That response has left Bicycles of Tulsa — along with several other stores — nearly running out of bikes.
And this isn't an isolated incident.
"None of these vendors saw this coming, including us," Eckes says. Increased demand for bikes — more often than not the cheaper sorts under $1,000 — paired with a hold on manufacturing and global shipping means a local (and national) shortage of the sought-after two-wheelers.
Haydn, a bike mechanic at Spoke House Bicycles (25 E. 21st St.), reports a backorder of 40-45 bikes at one point at Spoke House's Broken Arrow location (224 S. Main St., Broken Arrow). 
"Well, most bikes are made in Taiwan, so with the pandemic going on, it's been stopping exports and imports," he says. "There's probably at least 1,000 bikes just hanging out in some port in Taiwan. Most of our manufacturers, they just have no idea when they're going to get stuff available."
Owner Tom Brown of Tom's Bicycles (2648 E. 11th St.; 6861 S. Peoria Ave.) reports a similar scenario.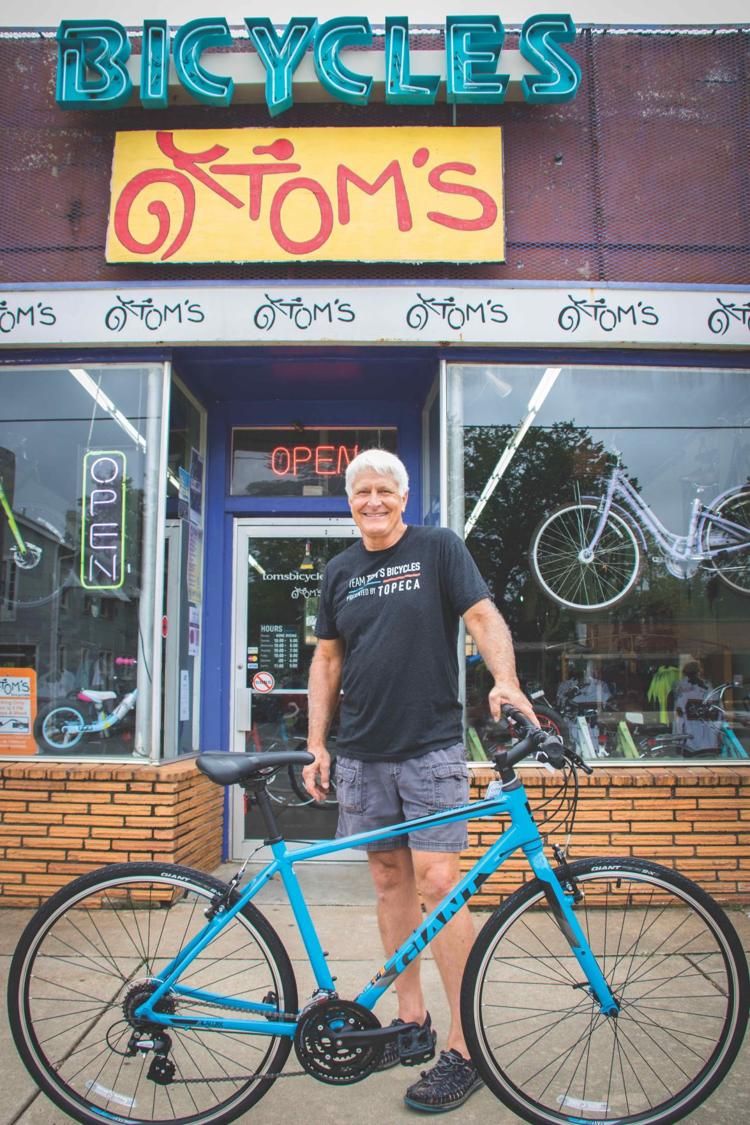 "China and some of the other countries where the bikes are manufactured were shut down for a couple months, so there's two months when they weren't even making bikes," he says.
Brown also says the time between a bike getting ordered, manufactured and received can be two to three months. "There's a lag for sure," he says. "I don't think we'll start seeing bikes again … probably (until) August, October," though some shops have reported minor orders coming in mid-June.
Brown and others have clearly been surprised at the local run on bikes.
"It's like every day's a Saturday," Brown says. "Usually, our whole week is geared toward Saturday because that's our busiest day, and every day is like that. We can't believe how many bikes we're selling."
And if every store is selling a record-breaking number of bikes and every store is experiencing the same issues in their supply chain, a certain truth is hovering around them all: They're running out of stock.
Jacob Lasley at T-Town Bicycles (4329 S. Peoria Ave.; 1660 E. 71st St.) says it's already happened to some extent.
"There's lots of different styles of bikes. There's mountain bikes that we've run out of stock; certain size kids bikes we're out of stock; hybrids, more cruiser-esque bikes, we are out of stock on," he says.
The other shops all reported more or less the same thing: Bikes under $1,000 (generally the sort to which a cycling neophyte may gravitate) are selling out. Fast.
This all begs the question: Why are people buying bikes right now?
Jake, a manager at Phat Tire Bike Shop downtown (420 E. Second St.; 9708 Riverside Parkway) chalks it up to the pandemic limiting access to exercise and the fact people still need and want to move.
"My guess would be gyms being closed and a lot of other outdoor activities that people aren't able to do kind of spiked the interest on the bicycle," he says. "Exercising is always good."
There's also the isolation factor. Many people want to get out more than ever, and whether seeking to repair the cobwebbed bike in their garage or to return to the sport with a new one entirely, it's got them biking in droves.
Though limited supply and dwindling inventories spell a bit of trouble for local shops in the near future — not to mention the increased workload — they're all tackling the challenge head-on.
Brown of Tom's Bicycles shares an anecdote from a day when he was alone at the store: "I picked up a tool to change a tire; the phone rang. So I answered that phone, then the other phone rang, and then my cell phone rang, and then two people showed up to the front door and one person showed up at the back door — all at the same time."
The conclusion: For Tulsans in the market for a bike, don't forget to be nice to your local bike store workers.
And be sure to wear a helmet.