If you're looking for a night of music, laughs, fun and booze, look no further than Shady Keys Piano Bar.
The new addition to the Blue Dome District at 111 S. Detroit Ave., Suite B, is Tulsa's only dueling piano bar — a massive space that feels like a revamped barn with its tall ceilings, raw wood and exposed brick. Opened Feb. 14, the venue hosts live music, dueling pianos style, every Thursday-Saturday night with two pianists covering the classics, sometimes joined by a drummer, guitarist or another singer.
After getting a drink at the bar, grab a seat at one of 33 tables while you wait for the dueling pianos to start. All 110 chairs in the bar are facing the stage, not gathered in clusters. The main focus is the dueling pianos; all patrons are unified by the shared experience of live music instead of being tucked away in their own groups. It feels like a venue filled with old friends. Owners Casey Bradford, Gregorye Epperson and Michael Tolman have plans to grow the seating even more to accommodate crowds of 150-160. Shady Keys has been closed due to COVID-19 but will reopen as soon as it's safe.
When two pianists get on stage and sit behind the pianos, the main event begins. The pair takes turns playing some of their personal favorite songs, cracking jokes and interacting with the audience as a whole under an electrifying light show. 
Pianist Chris Porcelli loves bringing a crowd together with the unique performance. "Dueling pianos is such a great format because it's unique from any other live music act," he says. "It requires knowing songs well and knowing what parts of the song the audience knows all the words to and giving them the opportunity to sing at the top of their lungs their favorite parts of the song. We often say it's a 'sing-along, clap-along, drink-along' show."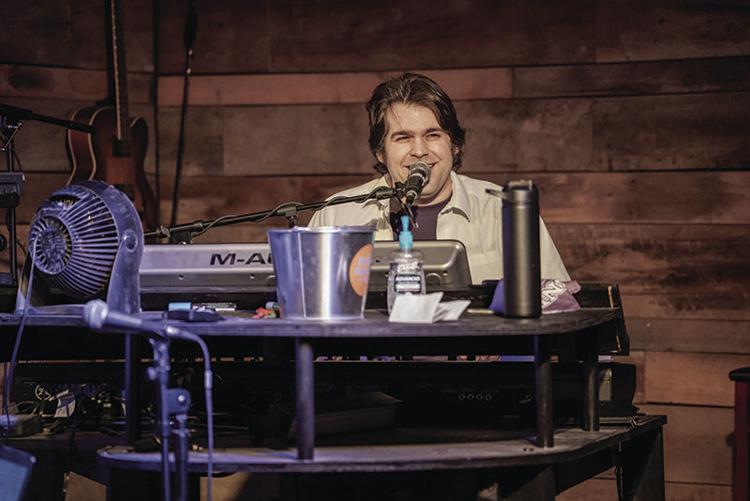 On every table and all across the bar are small slips of paper patrons can use to recommend songs. When you have a song, genre or decade in mind, write it on the paper, fold it in half with a tip inside and set it on either piano. The players try to play every suggestion, even looking up the songs they don't know and trying their best to perform them.
"I think it goes without saying that no one person can know every song ever recorded," Porcelli says. "Every player has their own catalog of songs that is constantly expanding and between any typical three players on stage, odds are they can play your song." And even if they can't play your song, they'll give you 'store credit' to suggest another. 
But it's not just the dueling pianos. There's also a drum set, several guitars and multiple mics on stage. The venue cycles through about 120 performers, who come from all over the U.S. Some, like Porcelli, are locals.
Porcelli urges Tulsans to check out the bar. "With different combinations of players and the unpredictability of the requests, you'll never see the same show twice," he says. "It's the perfect fusion of music, comedy and crowd interaction that no other cover band or stand-up comedy show can offer.
"It's something special to have your request played live and the camaraderie of singing your heart out surrounded by friends and strangers."