As beleaguered Tulsans endure the oppressive conditions of a deep Oklahoma summer, the urge to escape to an exotic locale is strong. But, for most of us young-yet-responsible humans, jet-setting to a luxurious beach isn't financially feasible. OK, so you don't have enough moolah to go on an extravagant vacay to Iceland, but do not despair; you can still have plenty of fun exploring your own town like a tourist thanks to this handy-dandy Tulsa staycation guide.
Tulsa is flanked on all sides by world-class casinos, which means easy access to a  resort-style experience is not only within reach, but also potentially lucrative. Each casino has its own flair, and its own unique nearby attractions, so it's easy to just roll the dice and plan a long weekend or midweek jaunt that won't break the bank.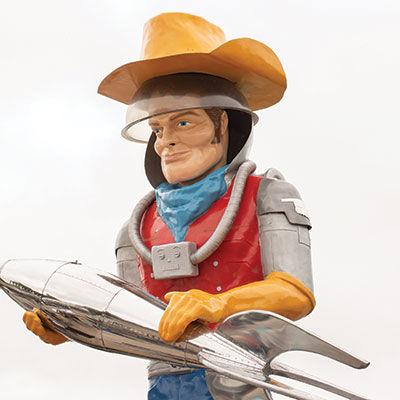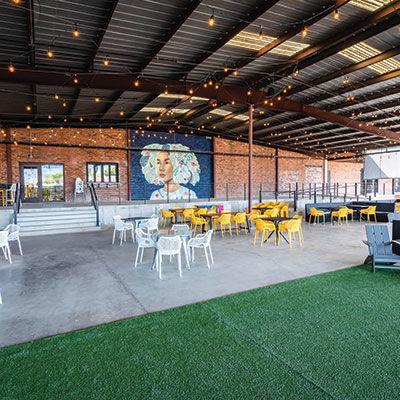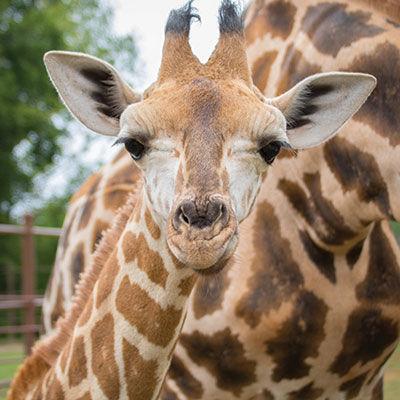 Buck Atoms: Valerie Wei-Haas; Tulsa Zoo: Michelle Pollard; Mother Road Market: Forsythe Creative
Get wild
Your local, friendly Tulsa Zoo has more than 80 acres filled with thousands of creatures from around the globe. Maybe you can't finance that trip to Asia, but you can meet some of the endangered animals who live there in the new Lost Kingdom exhibit, which features animals like tigers and komodo dragons in a cool, cave-like (read: chilled!) setting. And don't forget to stop by to say "happy birthday" to baby giraffe, Ohe, who turns one this month.
Down the road a bit, there is an extravagant animal of a different ilk worth visiting—the famous Blue Whale of Catoosa. Hop on Route 66 and make your way to this iconic roadside attraction to soak in a bit of history and snap some super 'gram-able photos. Stay on the strip and cruise back down 11th Street to explore the new shops and oddities that now line the famous stretch of road, and are now conveniently located in your very own town. A few stops you won't want to miss include Fuel 66 (drinks, food trucks, yard games) Buck Atom's Cosmic Curios on 66 (art, apparel, souvenirs), and Mother Road Market ("Tulsa's first food hall").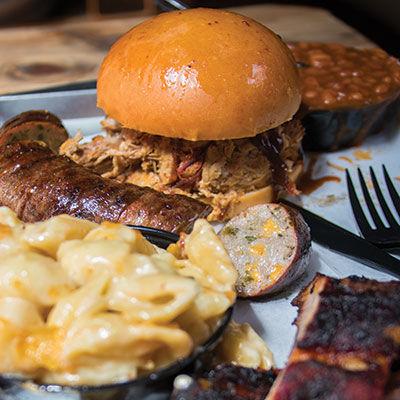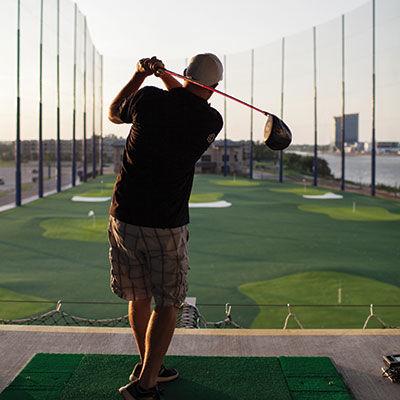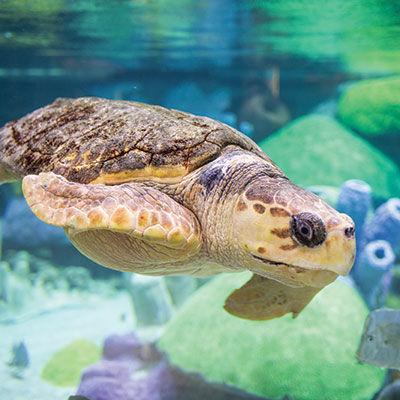 Burn Co.: Michelle Pollard; Flying Tee, Aquarium: Valerie Wei-Haas
Along the river
A short jaunt down the river from River Spirit Casino Resort is The Riverwalk, a strip of restaurants and shops nestled along River Parks trails. Tulsa restaurant mainstays—like The Bramble, Burn Co. (open for dinner!), Los Cabos and Andolini's give hungry staycationers options to satisfy any appetite. 
To add some friendly competition to your itinerary, perhaps a few rounds of golf are in order—but we're not talkin' about your grandpa's golf course. Flying Tee is where golf meets technology, featuring a huge driving range accessible from your own private air-conditioned bay. The cold beer and nacho cheese will flow while you explore some of the most famous courses in the world. Even if golf isn't your thing, Flying Tee is 53,000 square feet of entertainment options, like shuffleboard, pool and oversized yard games in their putting garden.
If crystal blue waters and beach appeal is what you're after, the Oklahoma Aquarium is just over the bridge in Jenks. Discover funky creatures from the deep, like gelatinous disco-hued jellyfish, or get up-close-and-personal with sea turtles, perhaps the most charming of all the sea creatures. Or, make your way to the shark exhibit (also known as Tulsa's most anxiety-inducing tornado shelter), a murky immersive experience where several species of these stoic eating machines patrol the 
waters above.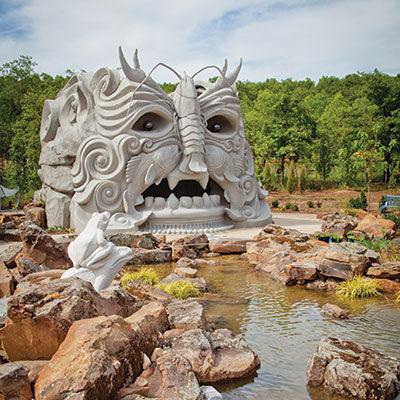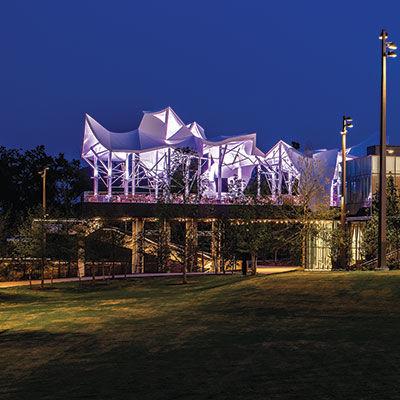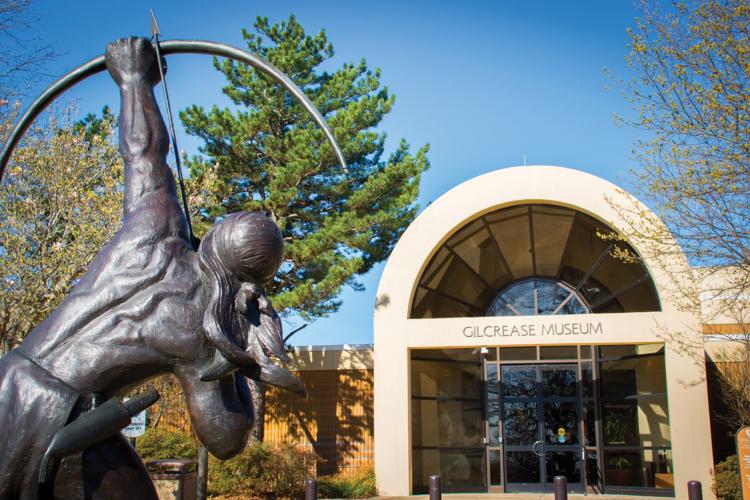 Botanic Garden: Evan Taylor; Gilcrease: Michelle Pollard; GATHERING PLACE, casinos: courtesy
Backcountry explorations
Within the rolling hills of northwest Tulsa are hidden gems just waiting to be discovered. Taking an early morning stroll through the Tulsa Botanic Gardens can make any Tulsan feel like they've been transported to a fairy tale world. Lush gardens resplendent with blooms and foliage blanket the grounds and create Secret Garden-esque paths that wind lazily throughout the grounds, including a three-quarter mile trail around the lake and a 1.5-mile nature trail. Embrace your inner faerie and traipse through some of the most gorgeous gardens and whimsical sculptures Green Country has to offer.
To cool off, take your day trip indoors and pay a visit to the Gilcrease Museum—the Philbrook Museum's brainier, less ostentatious older sibling. The museum contains a breathtaking selection of art, along with fascinating cultural and historical objects from North America. The Gilcrease is also home to the largest, most impressive collection of art of the American West, and hosts ongoing exhibits like Bob Dylan: Face Value and Beyond, currently offering visitors a sneak peek of The Bob Dylan Center's collection.
We would be remiss if we didn't recommend making Gathering Place a stop along the way. Tulsa's newest and most amped-up playground is bursting with wonderland-like appeal. The park's new restaurant venue, Vista at the Boathouse, opened its doors recently and features a beautiful menu with high-end offerings to elevate that picnic experience. Even if you've already made your rounds, with so much to discover, visiting GP is truly like the first time, every time. 
---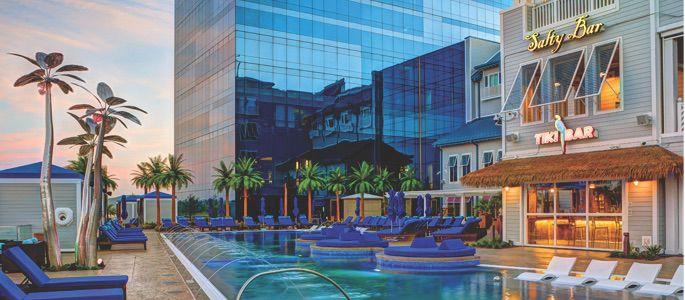 River Spirit Casino Resort
River Spirit is the perfect one-stop staycation that will transport you to a Caribbean cruise right from south Tulsa. Home to the only swim-up bar in town, River Spirit's pool resort is worth writing home about. (It's currently closed due to the recent flooding, but is expected to open again this month.) Non-hotel guests may purchase daily pool passes, pending occupancy. Booking a room gets you wristbands to access the pool resort. Hotel guests can rent the cabanas along the poolside, and enjoy food and beverage service from Margaritaville's Tiki Bar & Dining. 
Quick facts:
• Six dining and drinking spots
• Two casinos in one, each with a unique theme
• Poker, table games and 3,000+ electric games available 
• Paradise Cove Theater holds 2,500+ 
Upcoming shows: 
• Tony Danza (July 19)
• REO Speedwagon (July 27) 
• Chicago (Aug. 1)
Osage Casino Hotel
The Osage Casino Hotel north of downtown traffics in local flavor. With a craft brewery on site, you can sip artisan ales by the luxurious outdoor pool or hot tub. Nine Band Brewing Co. also features a full menu. The Osage Casino Hotel is known for its newly-renovated hotel, complete with art by Osage artists. In fact, they just broke ground on phase two of hotel renovations—a new tower set to hold 145 new rooms. Luxury loft-style suites are available and include freestanding tubs among other amazing amenities. 
Quick facts:
• Four dining and drinking spots
• Casino includes table games, black jack and 1,600+ electronic games
• No ante necessary Tuesday, Wednesday and Saturday
Upcoming shows: 
• The Fray (July 12)
• Spin Doctors (Aug. 17)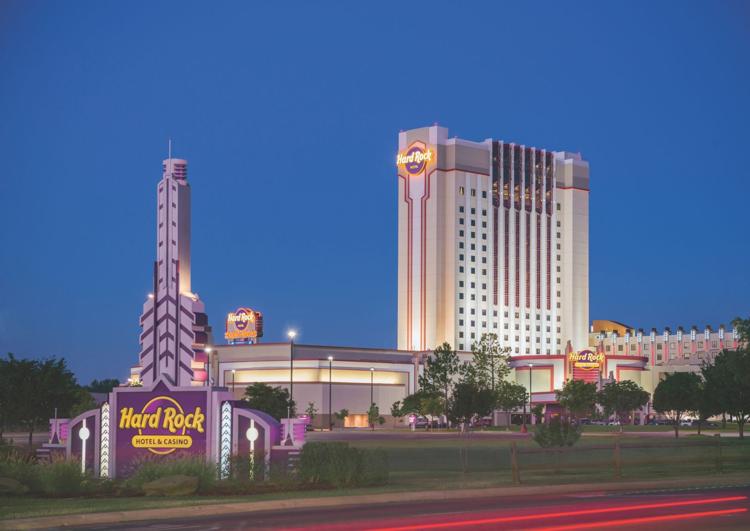 Hard Rock Hotel and Casino
The Hard Rock is known for knockout shows and world-class gaming, but they also boast a huge selection of one-of-a-kind music memorabilia. The Hard Rock is home to a snazzy Elton John costume designed by Bob Mackie, the denim bra Nicki Minaj wore on her 2012 Pink Friday tour, Carrie Underwood's custom-designed dress from her 2018 Super Bowl Performance and outfits worn by Johnny Cash and June Carter Cash, among many other iconic items. The 454-room hotel tower features state-of-the-art rooms, and guests can enjoy the free shuttle to Gathering Place and the adults-only pool (don't worry, they have a family pool too). 
Quick facts:
• Eight dining/drinking locations, plus a buffet
• Casino includes table games, poker and 2,600+ electronic games
• The Joint venue holds 2,700
Upcoming shows: 
• Sugarland (Aug. 1)
• 38 Special (Aug. 4)
• Deep Purple (Sept. 21)