Editor's note: Due to Covid-19 restrictions, confirm activities via event organizers prior to attending.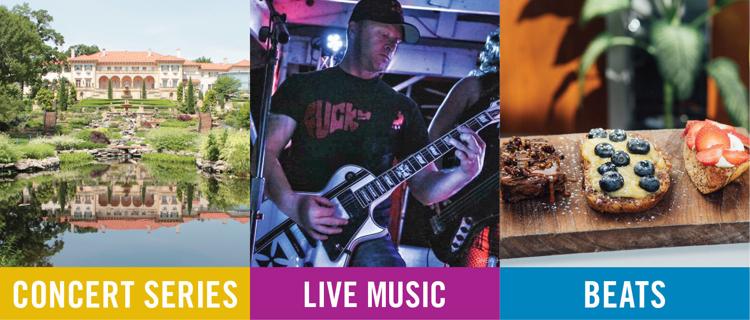 Oct. 2, 9 | Garden concert series | 7 p.m. | Packages start at $500 | Philbrook Museum of Art | 2727 S. Rockford Road | philbrook.org
Two Garden Concert Series events will celebrate music and mixology in the iconic Philbrook gardens. With capacity limited to 75 guests, attendees will enjoy craft cocktails, hors d'oeuvres and live music from local musicians in a socially distanced outdoor setting.
LIVE MUSIC
Oct. 3 The Venue Shrine, 112 E. 18th St., wants to help you Escape From 2020 at 8 p.m. with a rocking show featuring Sign of Lies, Groucho, Fist of Rage and Drek. $10. tulsashrine.com
BEATS
Oct. 7, 14, 21, 28 The Vault, 620 S. Cincinnati Ave., hosts Vinyl Night on the Tom Tom Room Patio from 7-10 p.m. with DJ Afistaface spinning vinyl. Food and drinks are available for purchase on the patio. Masks are required until you are seated at your table. Free. vaulttulsa.com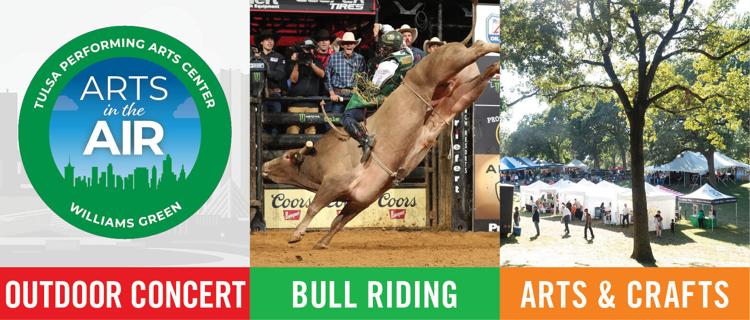 OUTDOOR CONCERT 
Oct. 10 The Tulsa Performing Arts Center Trust and Williams Cos. bring art back to Tulsa with Arts in the Air. At 8 p.m. every Friday and Saturday evening, through Nov. 13, live entertainment will be performed at the Williams Green, just west of the PAC, 110 E. Second St. On Oct. 10, expect a Poetry Slam Contest. Free. tulsapac.com.
BULL RIDING
Oct. 10-11 Professional bull riders are bucking into Tulsa as part of the PBR Express Ranches Classic at the BOK Center, 200 S. Denver Ave., kicking off at 6:45 p.m., Saturday. Pandemic precautions are in place, so check the BOK website before attending. $18-$113. bokcenter.com
ARTS & CRAFTS
Oct. 10-11 The 42nd annual Brush Creek Bazaar brings handcrafted arts and craft artisans, beautiful scenery, live music, food vendors and much more to 10900 S. Louisville Ave. BCB will be open 9 a.m.-6 p.m., Saturday; 10 a.m.-5 p.m., Sunday. $3-$5. brushcreekbazaar.org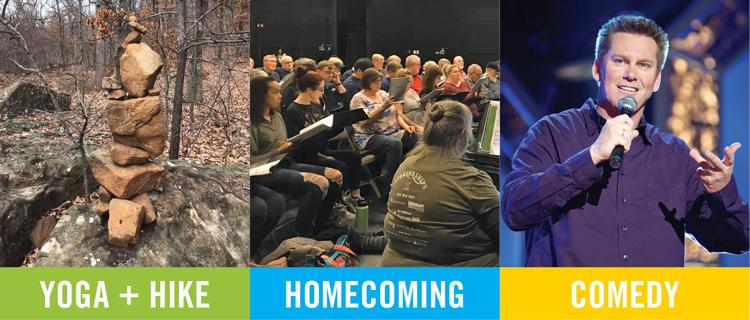 YOGA/ HIKE
Oct. 10, 24 Join Rachel Calvert at Turkey Mountain, 6850 S. Elwood Ave., for a 60-minute yoga session followed by a hike. Classes are for all levels and are a blend of flow with stretching to wind down. Half of the class proceeds support Turkey Mountain.
$10. facebook.com/turkey-mountain-yoga-285685331926088
HOMECOMING
Oct. 13 Admiral Twin, 7355 E. Easton St., will host Tulsa Chorale's Revolutionaries: Beethoven and The Beatles starting at 7:30 p.m. Attendees can see virtual live performances by Tulsa Chorale, Tulsa's Retro Rockets and screenings of live performances by The Beatles. $20 per car. tulsachorale.org
COMEDY
Oct. 14 Brian Regan stops at the Admiral Twin Drive-In, 7355 E. Easton St., at 7 p.m. for a night of stand-up comedy and laughs from the safety of your own car. Concessions will be available and masks are required. $100-$225. admiraltwindrivein.com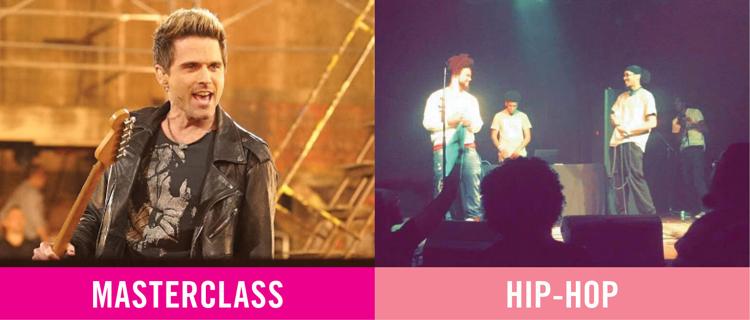 MASTERCLASS
Oct. 24 Actor and singer-songwriter Brennin Hunt will join Theatre Tulsa for a two-hour online masterclass offering artistic counsel to performers seeking a career in theater. $25.
theatretulsa.org/masterclass-brennin-hunt
HIP-HOP
Oct. 29 Celtixx Presents No Way Out Fest 2.0 at Juicemaker Lounge, 3508 S. Sheridan Road. Join local hip-hop artists Solomon Gee Snow, Dylan Howell and Ray Burns, Suny, KMJ, Gangar, Dee Hym, Quan the Greatest and Krash Love for a night of jams. Don't forget to wear a costume since it's almost Halloween. $5. facebook.com/juicemakermusic