From the second floor of Tulsa Welding School, you can see nearly the whole welding lab below. Students work behind translucent red curtains in the 180 booths that fill the space.
A pallet of 120 orderly supply buckets awaits the school's newest students: recent high school graduates. Meanwhile, Skye Boyce, 23, is about to enter the 10th and final phase of the Professional Welder program.
Boyce graduated with a bachelor's degree in criminal justice in 2018 but quickly became interested in welding because of her dad. Retired from the military, Boyce's father wanted to learn to weld. Three years ago he graduated from TWS, and now he works on cars on St. Croix in the Caribbean making $52 an hour. You can make a lot of money in welding — if you're good, Boyce says. 
"I just wanted to follow in his footsteps," she says. "I like to work with my hands, and that's how it started. I saw my dad doing it on his car, and he gave me a turn." She was hooked.
Day one at TWS covers safety, but day two students jump right into the hands-on learning. Although there is some time in the classroom, the majority of learning is done in the workshop. Campus is open from 7:30 a.m.-11:30 p.m. so students can get in as much practice as possible, says Chris Schuler, TWS director of training.
Boyce is at the school all day, every day. "I'm very repetitive about things," she says. "I like to do it over and over and over until it sparkles."
Schuler says perfectionism is a good trait for a welder. "This is similar to playing sports or playing an instrument," he says. "It's not something that I can send you home with a textbook and say, hey, go read a little bit extra. It's muscle memory, movement, actually doing it."
The program covers all welding processes, starting with basic stick rod, and can be completed in seven months. Each phase has tests students must pass before continuing, so if a student needs longer on a particular phase, they "re-phase" and take it over again. Because COVID-19 hit, it has taken Boyce about eight months to get to phase 10.
Boyce managed to get her school paid for through federal student aid and other scholarship opportunities. TWS, which celebrated its 70th anniversary this year, partners with companies all over the U.S. to help students land jobs upon graduation. "A lot of the work is in oil and natural gas," Schuler says. "We have companies that build wind towers, ships for the military, rail cars. Pretty much anything that's metal — if it's being built, we've probably got a contact."
Bridging high school to college
Navigating the college landscape as the first collegiate in your family can be a daunting challenge. Just ask Lauren Ireland, 20, a Broken Arrow graduate studying environmental sciences at Tulsa Community College. 
There's the overall cost to consider, not to mention planning for university housing — often a requirement for freshmen students. Add to that the culture shock of going from your home community to a brand new one, and college suddenly seems overwhelming, Ireland says.
"I come from a blue-collar family, and university was way outside of our budget," Ireland says. "TCC offered an affordable opportunity for me to gain an education," she says of TCC's Tulsa Achieves program. 
Tulsa Achieves pays full tuition and fees for every high school senior who graduates with a 2.0 grade point average in Tulsa County and commits to begin college the fall following their senior year. The program pays for up to 63 credit hours or up to three years of classes, whichever comes first, often cutting the cost of college in half for recipients like Ireland, who estimates she has spent between $70-$150 per semester for textbooks and supplies.
The program requires recipients to complete 80 hours of volunteer work, an experience Ireland enjoyed. "You gain connections in your community, you build friendships, you learn how to work with people because whenever you do volunteer work, it's a new group of people every time, so it's stressful and you have to acclimate," Ireland says. "It encourages students to give back to the community that's given to them."
After coming from a district with as many students as Broken Arrow, Ireland says it was a nice change of pace being in a school with a 19-to-1 student-to-faculty ratio. "I find I learn best when I can establish a relationship and I know that person one on one and I feel comfortable reaching out," Ireland says. 
Ireland will be enrolled concurrently at Rogers State University in the fall, where she plans to finish her four-year degree, a bachelor's in biology focusing on environmental conservation.
Preparing for a career
Sometimes work experience can give students insight into what their careers should (or shouldn't) be. Payton Ruberti, 25, always thought she wanted to be a nurse, so she obtained her Certified Nursing Assistant (CNA) credentials by taking courses concurrently with classes at Ontario High School in Ontario, Oregon, a small town on the border with Idaho.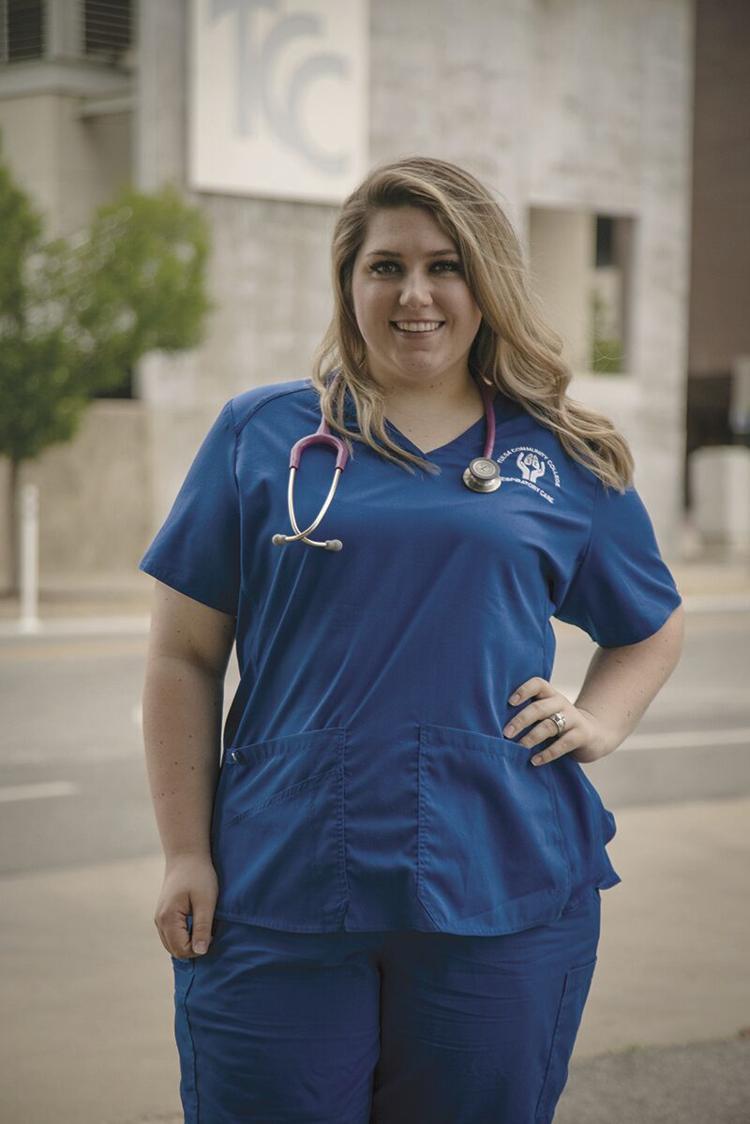 Working as a CNA in an ICU at a rural hospital gave Ruberti experience many health care students don't get until clinicals. "We got to see a lot of things there before they got shipped out (to bigger hospitals)," she says. "It was just more of a small local field, so you really got that hands-on experience."
There Ruberti witnessed respiratory therapists, or RTs, in action. "I just thought it was fascinating how we can control how somebody breathes and keep them alive, essentially," she says. "And so I just knew that I wanted to have that role because it's so important and so crucial."
After moving to Grove, Oklahoma, with her family in 2017, Ruberti researched RT programs in the area. She met with staff from a Kansas City school and TCC but ultimately decided TCC was the right choice because of the community and because of better job options in the Tulsa area. In fall 2019, Ruberti began her RT studies.
TCC has many programs like the RT degree that prepare students for a full-time career. Other popular options include the dental hygiene program and the RN program, says Pete Selden, TCC's vice president of workforce development, but options expand beyond health care. 
The RT program can be completed in about two years, with the first two semesters having the most time in the classroom, Ruberti says. After that, the hands-on experience begins. The school has partnerships with area hospitals, sleep labs and home health equipment companies.
"You get to see how different disciplines work together," Ruberti says. "And you kind of learn the lingo and just what some things mean, and you can relate them (to what you learn) in class. I'm like, 'I've already seen this. I know what it looks like. I know what it sounds like.'"
For Ruberti, due to graduate in the spring, becoming an RT was always about being a frontline worker, but it is even more essential today with the threat of COVID-19.
"Most people think of hospitals as like doctors and nurses, but they don't know really about respiratory therapy," Ruberti says. "I think that a lot of people are really learning about it with COVID because they are some of the frontline people fighting against COVID right now."
Road warrior
After years on the road delivering pizzas, Chris Girton, 25, decided to try something new — still behind the wheel, but this time with more cargo. 
"Truck driving right now is a pretty good field to get into because demand is very high, so you're not waiting around or having to put in a lot of work to try to find a place to work," Girton says. Born in Illinois and raised in South Carolina, Girton came to Tulsa with his dad, who now teaches classes at Tulsa Tech for the Light Medium Diesel Service Technician program. 
One thing that drew Girton to the Professional Truck Driver training was the time it takes to complete the program, generally three to four months. The program works in cohorts, so you can start in one cohort and if you fall behind, you can move to the next cohort, Girton explains.
The first few weeks of the truck driving program are spent in the classroom preparing for a permit test, but after that the real driving begins, starting in parking lots, Girton says. Then it's all about getting to know the truck, which is much different than driving a car. For example, shifting gears: "It's not just push the clutch down and just move to the next gear," he explains. "You have to match the engine speeds up to the correct speed before you shift, or you start clutching and moving into the next gear." 
Other programs under the Transportation, Distribution and Logistics umbrella at Tulsa Tech include pilot school, various vehicle mechanic programs and vehicle repair programs. Beyond the transportation field, the school offers education in the health sciences, construction, arts, information technology and more.
Now Girton is working in Witchita upon completing his program in July. "I can come back every three or four weeks pretty comfortably and probably double my income and just drive around make a living," he says.