Last summer, Shae Hampton launched her own company to "calm the chaos" through cleaning services. New Life Cleaning Solutions offers Tulsa-area residential and commercial cleaning services. 
To celebrate a successful first year, Hampton opted not to have a party, but instead give back to the community. She and the company's advisory board volunteered Saturday, Aug. 8, at the historic Vernon African Methodist Episcopal Church to help clean and organize some of the rooms and figure out more ways to help in the future.
Vernon AME staff provided tours to the volunteers to share the church's history that dates back to 1905 when congregants first started meeting.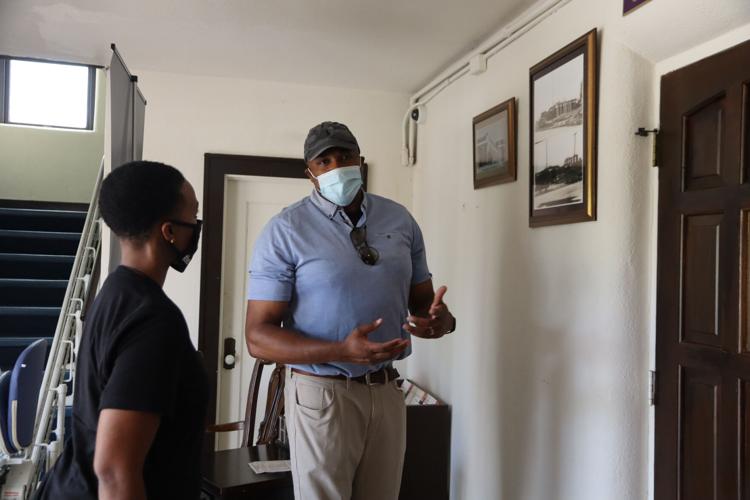 Hampton received a personal tour from Rev. Dr. Robert Turner. He escorted the Chicago native from basement to attic to share the story of the church and how it withstood the Tulsa Race Massacre and a tornado as it lives on.
Hampton, who moved to Oklahoma six years ago, took part in a Q&A to discuss operating a new cleaning business during a pandemic and what it means to help out the historic church and learn more about its history.
It's New Life's first anniversary. Congrats! How's it feel to have one year under your belt?
Goodness it went very fast. It's a fascinating thing. So as you go day by day, building your own business, building your own brand, you're so in a moment, having a one year anniversary really gives me the opportunity to take a step back, see where we started, where we are now and reevaluate what the vision is gonna look like five, 10, 20, 50 years from now.
You're based out Broken Arrow, but you don't have a brick and mortar. You go to the people so it doesn't really matter where you are, right?
That's for not just our clients, whether they're commercial or residential, but also the people that work for us. Anytime I'm hiring a new cleaner or a new salesperson, I go to their home and it's more of an intimate setting versus coming to an office and talking to someone. New Life cleaning is really all about just what it says: cleaning to calm the chaos. Especially right now with the pandemic, but even before the pandemic, whether you're a single mother, single father, working professional, everything just feels so chaotic, where can we step in to help? That's really the premise of what we do not just for our clients, but also for the people who work with us internally.
How has business been with the pandemic?
It's been up and down. You really have to work to gain the trust of all the clients because they have to trust what we're doing. They have to trust our process. And with this only using eco-friendly cleaning products is safe for everyone. We're masked and wear gloves anytime we come in. So it's to protect the people working internally and then also to protect our clients. We truly believe in that.
When people have an anniversary they typically celebrate with a party. But you are celebrating by coming to Vernon and doing some community work. What made you choose to come here to volunteer?
This is really the soul of New Life Cleaning, giving back and giving people time to do what really they need to focus on. So just talking to the pastor, I mean, you were there, he talked about how busy he is how many things he wants to get done. And at the end of the day, those things are going to be for the community. It's the longest standing Black church built by Black people in Oklahoma, so to be able to help him fulfill his vision, again, cleaning is going to calm the chaos for him, so he doesn't have to worry about this. Now he gets to focus on his top priority work.
What was it like to take the history tour and learn the history of this building?
Man, I feel so grateful to even have the opportunity to learn about it from someone who who knows the ins and outs of it, who lives it. There's so much gratitude it's hard to put into words and formulate what that feeling is, but it's very humbling. And I feel so grateful.
You mentioned looking ahead to future goals. What's your goal for the next couple years?
Keep getting better at what we do. And keep gaining trust in Oklahoma, as well as I'm looking to expand into Chicago, which is my home city. Have a strong ecosystem. My family's there. So how can I also bring New Life to Chicago, Illinois, which is where I grew up, because it can be used and it's needed everywhere, right?
A summer morning at Vernon A.M.E. with New Life Cleaning Solutions
New Life Cleaning Solutions staff celebrates company's first anniversary by volunteering at Vernon African Methodist Episcopal Church, where they also receive a history lesson on the historic church.