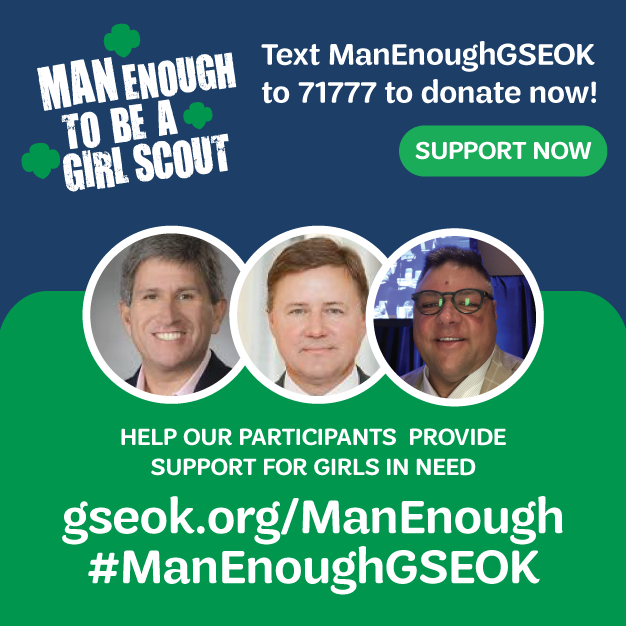 In times of COVID-19, it seems like everything and everyone is taking a hit. Many families are cutting back on expenses, including extra-curriculars for the kids.
Girl Scouts of Eastern Oklahoma began Man Enough to be a Girl Scout, a virtual fundraising campaign that ends July 10, to counter those hardships.
The campaign features three prominent Tulsans: Gentner Drummond, attorney and entrepreneur; Chet Cadieux, CEO of QuikTrip; and Jerry Ostroski, former University of Tulsa All American and NFL offensive lineman.
Rooted in the idea that every girl in Oklahoma should be provided the Girl Scout Leadership Experience, GSEOK set a goal of $15,000 for this new campaign. These funds will go directly to scholarships to provide girls the funds needed to participate in Girl Scout activities, programs and opportunities.
According to the organization, approximately 50% of Girl Scouts of Eastern Oklahoma's membership lives below the poverty line and requires financial assistance to participate in Girl Scouts. By leveraging their personal social networks, each participant has been challenged to raise $5,000.
"Great leaders are taught and nurtured from a young age," Ostroski says. "Now, more than ever, the world needs our girls to discover just how strong and talented they are to enable them to lead us towards positive change."
Ostroski hopes that by participating in the Man Enough to Be a Girl Scout campaign, he will help secure the opportunity for more girls to participate in Girl Scouting, regardless of their family's financial situation.
More information can be found and donations can be made at gseok.org/manenough.