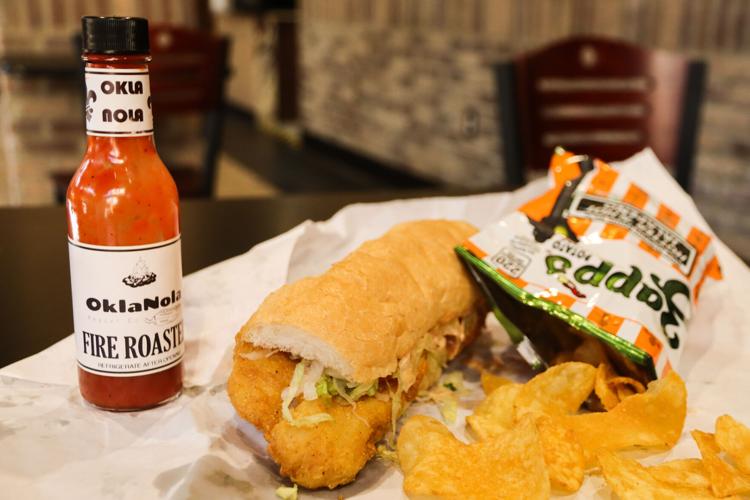 Lassalle's New Orleans Deli, 15 W. 5th St, has been offering downtown Tulsa diners an authentic Big Easy food experience for over six years. When the COVID-19 pandemic forced a shutdown, owners Chris and Amanda West started thinking of new ways to stay in business and generate revenue. 
When it comes to cajun and creole food, it's customary to add a drop or 20 of hot sauce to the meal. Chris used the downtime to go to work creating his own flavors. He already had the name: OklaNola Pepper Co.
The New Orleans natives announced the launch on social media this summer, and loyal customers bought every bottle, every week. Soon he plans to start increasing the size of batches and start shipping bottles to hot sauce enthusiasts nationwide.
TulsaPeople sat down with Chris to learn more about their new offerings, including the upcoming Thanksgiving special, and the recent collaborations with other restaurants. Being that he's a huge New Orleans Saints fan, we also gave him a chance to explain why he thinks Drew Brees is the greatest quarterback of all time. 
First off, how is business going?
We're down. I think everybody is. Down here is especially rough because so many of the businesses are working remotely in the part of downtown we're in. It's mostly business. We tried to supplement that by staying open later, we were closing at four, and now we're open till 7 p.m., so we're able to pull from some of the surrounding areas.
A lot of our night business is almost like a ghost kitchen. At night we do get people coming in, but most of our businesses is through DoorDash, Uber Eats and we have our own app. That's where most of it is.
I'd say overall we're down probably 14%. We've had some harder months now we've had a couple of months where we were only down like 5 or 10%. But when we stretch it all out, especially in March, April, and May. Those three months were where I got scared, and that's why I'm doing what I'm doing now. Because I couldn't just sit here and wait for people to come in.
So what are you doing to change things up? 
Some of the stuff we're doing, is we're collaborating with some other restaurants. I'm good friends with the Hurts Donuts guys. That's a husband and wife team. I'm good friends with Adam Green at Mac's Barbeque and some other people in the industry as well.
Everybody kind of helps each other out. I started making boudin as well. So we're making a traditional boudin and we had a lot of folks buying that and some restaurants buying that off of us. Then Adam and I just started to do a collaboration of doing like a play on a boudin, but making it kind of Okie, so we did brisket boudin and and that's really unique niche sausage. So he started selling that. Some other people wanted to buy some of that by the pound and sell that in their place.
Mac's has a deli case like we do, so they buy a lot of our product. We're able to get it in places in Owasso and a couple of coffee shops that want product. So we're kind of wholesaling some of it. That's kind of what we did there to just kind of stop the bleeding.
Then there's your new sauce line you're making.
Yes, and then OklaNola Pepper Co. I've always had that name trademarked and knew I'd get around to doing something with it. I finally did and it started with all the downtime. Since we are closed Mondays, I had Saturday, Sunday, Monday. So that extra day off that I had, I was able to take that and get creative with it, and started fermenting.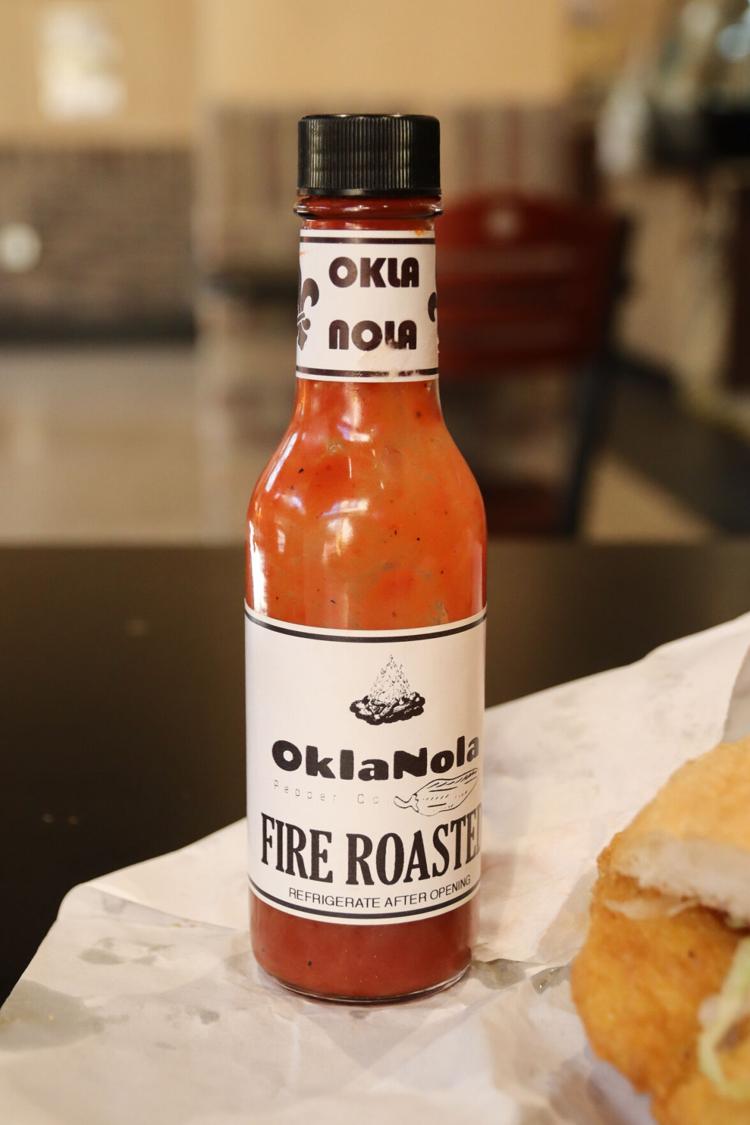 What I did is I bought like three or four bucks on it, and then went to Arkansas and rented a cabin, locked myself in and read all weekend. There's some great stuff out there that that will teach you how to do it. I then watched some videos here and there, but after reading it I was pretty confident and then also talking to people in the industry that are doing it already.
There's a lot of people I don't think realize how many local people in the market do fermentation, whether it's like kombucha, or you have Dale and Daughter as well. Those are my favorite people. Dale (Wissen) and I've been friends for a pretty long time.
I've always been curious about the fermentation process, so I just said now I'm gonna jump in, and that's kind of where the hot sauce started.
All my sauces are approachable. I don't believe in a lot of the super hot stuff. I try to come in at more of a culinary angle, than like I'm gonna blow your top off. Like the last batch, I did two batches with my Hasty Bake where we smoked a lot of the peppers, and then fermented them with other ingredients, and those have a really unique flavor, as well with that it's a heavy smoke flavor. It's cool man, because I feel like I'm incorporating the Oklahoma part of it with the Louisiana part of it, so the OklaNola thing just happens naturally.
We're close to getting to where we'll be able to ship nationwide. We're 're getting barcodes, we're adding more stuff to our product line. We have fermented garlic chili flights Those are awesome. We also have our Creole seasoning from Lassalle's that we've moved over to OklaNola Pepper Company. We have a blackening season as well that we're going to release here very shortly. So I'll have like four to five hot sauces, and we'll have all of our spice blend as well.
Right now you're doing small batch first come first serve, and they've been selling out fast, right?
I did a product mix because we're tracking everything on on what we've sold, and since May when I started this to now I've sold over 1,000 bottles of sauce.
Wow! That's great! What's the price point?
It's $8 a bottle, which is the market price. I know that a lot of people are gonna be like, "wow," but for a craft hot sauce, $8 a bottle is what the market is. You're talking about stuff like I'm in there checking it daily for everything and then all the ingredients. There isn't any shortcuts. We're roasting our own garlic. We're not using like a puree or a minced fake garlic. We're roasting peppers on a Hasty Bake, so that price point justifies itself.
It's just super unique and fun to do.
You teased your newest sauce coming soon, and it got me excited. Nightmare on 5th Street sounds tasty.
Nightmare on 5th Street! That's the one we're going to release as a Halloween sauce. Normally our names are pretty straightforward with what we're doing, but being that it's Halloween, and it's my wife and I's favorite holiday, We're like, "Let's get kitschy and campy and come up with a cool name."
The sauce started with Fresno peppers, black garlic and ghost peppers. So with that, we took those and put some other ingredients in there and decided to make it Nightmare on 5th Street. It'll be our biggest batch yet that we've produced, so we should have a sizable amount.
Does this mean we'll see more holiday related sauces soon?
We are gonna do a holiday one coming up soon for Thanksgiving and Christmas. I think it'll be a sweeter sauce and will have a cranberry base. It won't be super hot. We're gonna go at it from there and there'll be some more winter sauces we do coming up. I think we're going to do a curry hot sauce. I'm big fan of India Palace. We eat there often. So it's like I need to come up with a cool curry hot sauce I'm gonna put on my vindaloo to make it hotter.
I'm in talks with some friends of mine like Hunter (Gambill) from Oklahoma Distillery. We want to make a pirate sauce, and we're gonna take our rum barrel and we're gonna ferment it around barrel for like a year and then do something that'll have both of our names on it.
Are you surprised at all that you've got hooked on the sauces and going this deep into it? Or did you expect this would happen?
No I didn't. It's so like, one thing I've always been. I always have a pretty good garden at home. I look forward to spring. I plant late winter. We have a greenhouse, so I've always been into preserving with pickling. I tried preserving some cucumbers about 10 years ago, and it was a disaster. I was like, "I don't know what I'm doing." I just walked away from it.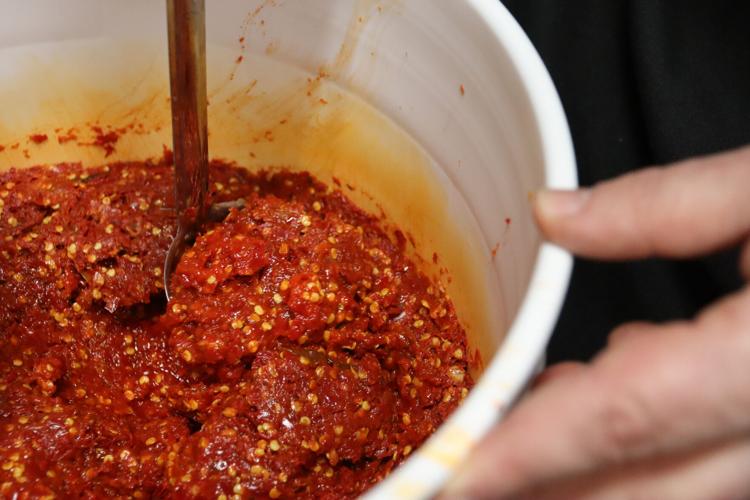 When I thought I'd get into it my goal was to make a traditional hot sauce and keep it at that. But what happened is you get creative and you're like, "Wait a minute, what if I add this, this and this and then play off of that" and that's what happens. You just go with it. It's been fun man. This summer was fun. We did a lot of the fruit flavors, which were a blast. We came up with some really cool ones. And we'll pick that up again next summer. I was releasing one every week and plan to do that again.
I'm gonna take it slow in the winter and just do big batches. Try to keep it once a month. 
You recently posted on your Facebook that you're going to do a deep fried turkey for Thanksgiving. When can I order one?
So yes, we're going to offer a Cajun deep fried turkey breast. It's going to be injected with Creole butter and then rubbed with our our Creole seasoning that we made. And we're gonna flash fry it and get the skin nice and crispy. They will range from four to six pounds of breasts. We'll have a sign up for that and people pick them up Wednesday with instructions on how to reheat it in their oven and we'll go from there. We're going to put out all the information soon how to do that. We'll be putting out that information within the next week or so. Keep an eye on our social media.
It's also gumbo season! People can bulk order it, right?
That's right! You can get it in 16 ounces, which is just just like a bowl. Then you can go up to a quart and then up to a gallon as well. The gallons work great for holidays and Thanksgiving. So one of the things that my family always starts is with the leftover fried Turkey. We shred it up and we make a turkey gumbo or freeze and then make the turkey gumbo for Christmas.
There's actually a football season. You're a big Saints fan. So tell me why you think Drew Brees is the greatest quarterback of all time?
Is he statistically the greatest quarterback? One hundred percent because his numbers are the best. There's nobody above that. How do you measure the greatest of all time? Statistically he's the greatest of all time.
Now he only has one Super Bowl. Tom Brady has five. OK, Super Bowls are a team sport, right? So can they talk about Brady being the greatest of all time, but Brady didn't win those games single handedly. He's a big part of them, but I believe because they've always had great kickers and special teams in New England.
So from my perspective, Drew Brees is the greatest because if you take away the rings, which is a team part of it, but the individual statistics when you put them together, Brees has got him beat. So yeah, he's the greatest of all time.