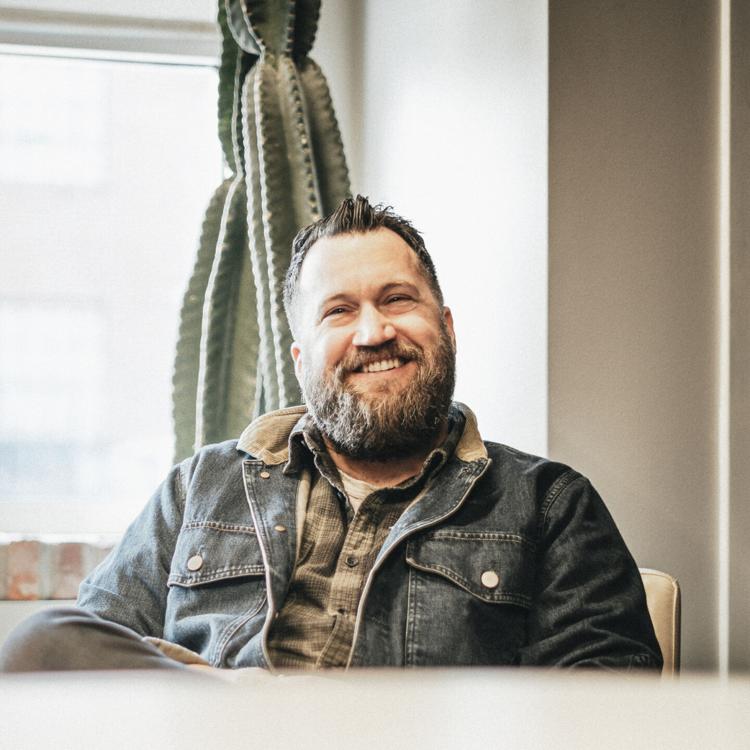 For four months, Oklahoma leaders did all they could to recruit Tesla's Elon Musk to build a new Cybertruck factory in Tulsa. There were websites created and our resident giant Golden Driller got a temporary face swap that generated international news. 
The marketing agency behind the creative effort was Tulsa-based Gitwit. 
While Musk ended up choosing Austin, Texas, as the home for his new plant, the Tulsa campaign shined a global spotlight on Tulsa and resulted in Musk visiting our city on a summer day to sit in a field and chat with state and city leaders.
TulsaPeople interviewed Gitwit co-founder Jacob Johnson to learn more about how the campaign came to be and their takeaways from their efforts.
This spring a website about a big f***ing field in Tulsa popped up and then there was Elon Musk's face on the Golden Driller. How did this all come to be? 
This all started back in March, when Elon first sent his infamous tweet: "Scouting locations for Cybertruck Gigafactory. Will be central USA."
That tweet, as we know, sent cities all across the midwest scrambling to come up with ways to get Elon's attention, including Tulsa. A few Tulsans got together to brainstorm how we could stand out from the crowd of cities and chambers of commerce vying for the bid.
Our team here at Gitwit piled into a room and opened up the floor to ideas. One brainstorm later, we came up with the Big F***ing Field concept based on Elon's own Big F***ing Rocket. The whole team got excited and started building the site like crazy and had it up within a few days.
It went viral with 50K+ visitors in the first week. A couple months later, the news broke that it was down to Tulsa and Austin. Our team FREAKED and kicked it into high gear, launching about a dozen more websites and campaigns.
As for the face on the Driller, we knew one of Tulsa's advantages over Austin was grassroots support. Austinites have a reputation for being a little unfriendly, a little NIMBY-ish to big tech moving in. We wanted to play up the stark difference that Tulsa brings — we're friendly, we're hospitable, and we welcome innovative companies like Tesla. But we had to communicate that in a way that would resonate with Elon and the Tesla world within the Internet. We thought it'd be funny to "meme-ify" the Driller with Elon's face — it's one of those stunts that generates more and more content until it becomes its own campaign.
It's rare to see a business campaign pitch be as public as the one for Tesla. Were you surprised by the reactions to the Tesla courting? It seems to have been a mixture of city pride and claims of Tulsa looking "thirsty."
There will always be some pushback any time there's such a public effort for one single entity or person's attention. At the end of the day, this was about putting Tulsa on the map for companies that likely would have overlooked us in the past, and making it clear to the rest of the country that we're a city perfectly poised for innovation. And we're willing to try some tactics that no other city has tried to get that attention. We have no problem being the underdog. People who are worried about looking "thirsty" typically don't do bold things.
Tesla didn't choose Tulsa, but you got Musk here for a visit and there's no telling what will come down the road with him and his companies. Do you consider the campaign a success?
A thousand percent. It's amazing that a company like Tesla saw Tulsa the way all of us already do. We're excited to see what comes of this — to see what companies are interested in the unique approach Tulsa is willing to bring to the table, and think they might be a good match for this city.
Are there any other takeaways you have from working on this project?
It's the single most important thing we say here at Gitwit: empathize with your target audience — even if it's a target audience of one billionaire tech CEO. Our team spent a lot of time researching Elon and his behavior and what he's into, and worked hard to make sure the BFF site and voice spoke directly to him.
Any other big projects GitWit is working on that has you excited?
Any time our team can get in, spot a problem, and make an impact, that's what we're built for.