With Memorial Day weekend in sight,  is making last-minute preparations for Saturday, May 23: its first opening day in a pandemic.
Because it operates outdoors, Safari Joe's H2O, located at 4707 E. 21st St., isn't subject to state regulations for Phase 2 reopening of businesses. However, the park will operate at 25% capacity to maintain appropriate social distancing, according to owner Joe Estes. He declined to state the park's capacity.
"The No. 1 concern, in all this conversation and looking at the research and asking professionals, was taking care of our guests," says Danielle Myers, the park's marketing manager. "That was the deciding factor: Are we able to open and be safe? It couldn't be, 'We can open, so we should.' It was really important we were able to make sure we had enough procedures in place to make sure everyone visiting would be safe."
Guests should anticipate changes at the park starting from the time they enter. Myers says although guests will be counted at the gate, the staff is working internally on a plan to ensure no guests are denied entry.
The park's COVID-19 procedures can be found here and include the following:
Staff will wear masks and perform temperature checks at the entry gate.
Staff will perform bag checks behind sneeze guards this season; guests are encouraged to use a clear bag, which will provide faster entry to the park. (If the patron does not have a clear bag, they will be available for purchase.)
Signage will promote social distancing, and the park grounds will be taped off with water-proof tape and stencils to encourage patrons to keep at least 6 feet apart.
Wipe dispensers and hand-washing stations are located throughout the park.
Each night after closing the park grounds will be fogged with disinfectant.
In certain areas, patrons and staff will interact with a sneeze guard between them.
Staff will frequently use hand sanitizer when handling cash and tube rentals.
The entrance to Reptile World (the park's onsite animal sanctuary) will be one way to promote physical distancing.
All signs point to a busy summer season at Safari Joe's H2O. City of Tulsa pools and splash pads are closed indefinitely, which could send Tulsans to the midtown waterpark as temperatures climb.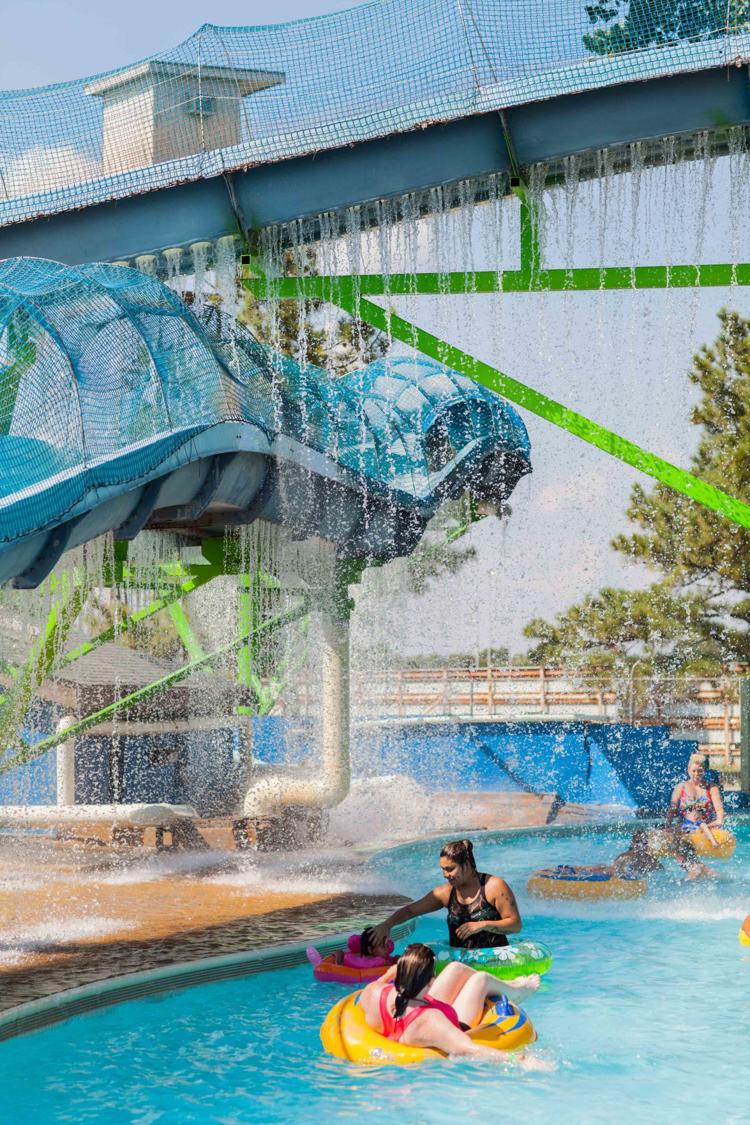 A recent online flash sale offered 50% off season passes, day tickets and cooler passes and was extremely well received, according to Myers.
"(Joe) put the sale into place because money's tight right now (for families)," Myers says. "He really just wanted to give families the opportunity to still have a great summer even with some unexpected financial circumstances."
Regularly priced passes and tickets can be purchased online or at the gate.
To increase cleaning and monitoring, Estes says the park staffed up for the 2020 season and is still accepting applications through its website.
When deciding whether to reopen, Estes says the park consulted health and waterpark industry experts as well as Expo Square since the park is located on the Tulsa Fairgrounds.
Myers points to promising research on the effects of chlorine on COVID-19. Proper operation and maintenance (including disinfection with chlorine and bromine) of pools, hot tubs, spas, or water play areas should inactivate the virus in the water, according to the Centers for Disease Control and Prevention website.
As the pandemic shutdown is starting to lift, many Tulsans will be eager to hit the wave pool or one of the park's many slides.
"People are really excited, and it's gearing up to be really awesome summer," Myers says