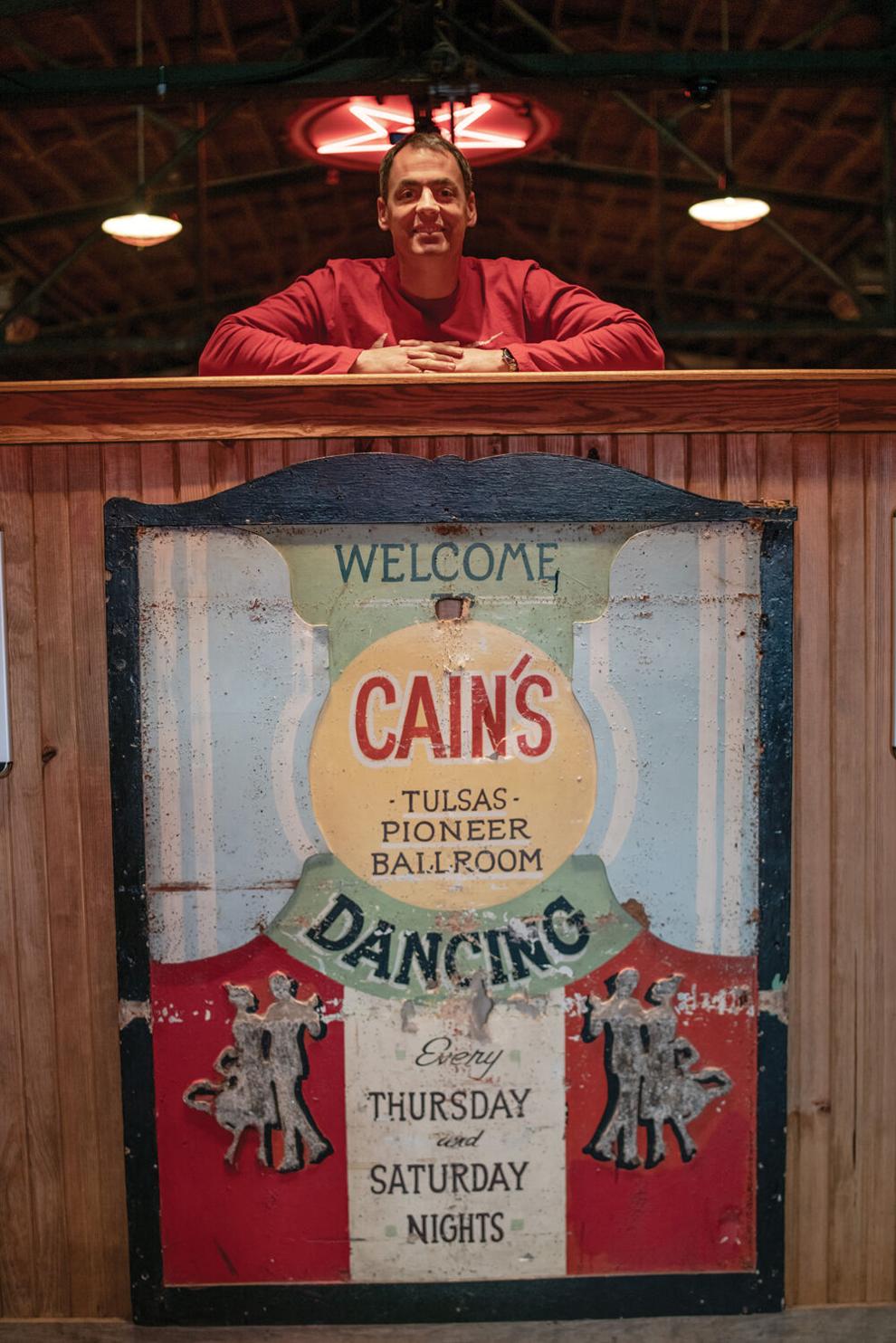 Cain's Ballroom is dark and quiet. There's no music rattling the portraits on the walls. There's no bounce in the floor happening. There's no spotlight shining on the disco ball hanging in the middle of the red glowing star. 
There were some performances live streamed in the past couple months to remind us of the good times and that Cain's is still there waiting. 
As the COVID-19 pandemic continues, the stresses of outlasting it grows for independent concert venue operators like Chad Rodgers, who oversees Cain's.
With no people filing into the venue to enjoy live music or standing in line to buy drinks, they need help to keep the lights on for when the concerts come back. 
The federal government is discussing ways to help.
Locally, Cain's has partnered with Flash Flood Print Studios to offer more merchandise to help both companies. There are Cain's masks, bandanas, shirts and more available through Friday. 
We checked in with Rodgers to see how he and the historic ballroom are holding up and how Tulsans can help keep Cain's Ballroom alive.
There have been multiple bills introduced to Congress that look to help venues like Cain's. Most recently Senators Amy Klobuchar and John Cornyn introduced the "Save our Stages Act." How important is it for the federal government to step in and help music venues?
It is imperative that the federal government step in to help live music venues. According to surveys, 90% of independent venues report they will close in a few months without federal funding and assistance. Venues were one of the first to close and will be one of the last to be able to reopen. Venues have zero revenue right now and many obligations like rent/mortgages, bills, taxes, insurance, etc..
Have you been in contact with elected officials, and are they keeping you updated on work being done? How important is it for constituents to be calling/emailing representatives and senators to help save live music?
We joined the National Independent Venue Association whenever this pandemic began back in mid-March. They began the #SaveOurStages campaign and they have been working extremely hard on behalf of all independent venues to try to get the federal government to understand how important live music is to local communities and expand the reach of all of us.
We ask that everyone continue to call and email our Oklahoma representatives and senators, as we must continue to push for assistance. Independent venues are where almost every artist gets their start and they are crucial to the live music industry. 
Do you still foresee Cain's Ballroom hosting live music with fans in the building this fall?
We hope to be hosting some very limited capacity shows in Cain's Ballroom this fall. We are also exploring doing paid live streams of these shows too (in conjunction with Live From Cain's), in case people still want to see a show but don't want to risk attending. We hope to have more information on all of this in the near future.
A conversation with Cain's operator Chad Rodgers about revitalizing Cain's Ballroom and making it a national music hotspot. 
You recently did the run of Live from Cain's shows. How did it go and will you be doing it again?
The Live From Cain's concert series that we recently did was phenomenal. We had some amazing artists like John Fullbright, Jackie Venson, Kyle Nix and Radkey to name a few. It generated a lot of interest, and I think it helped give us this idea of what the concert industry might look like in the future, as live streaming might be here to stay for every show, in my opinion.
You recently launched a presale for new shirts, bandana, face mask and a print that quickly sold out on your site. I missed my chance to grab a new shirt and mask. Will you be restocking those items, so more folks can support the ballroom?
Flash Flood Designs came to us with a fundraising idea while we are shut down, to help us weather this pandemic. They said, "Cain's Ballroom has played an important role for each of us at Flash Flood, bringing our favorite musicians to Tulsa throughout the years. We were inspired to create this collection because Cain's has been impactful in our lives and we want that legacy to continue for years to come."
This limited collection will be up for pre-sale until the end of day this Friday, July 31, and 50% of each sale goes directly to Cain's Ballroom.
Don't miss out, see the collection here and we can't thank you all enough for the support.