Amateur Hour is a new web series in which TulsaPeople's staff tries and reviews a local workout. Ratings are based on a scale from 1-5. Have a workout we should try? Email contactus@langdonpublishing.com.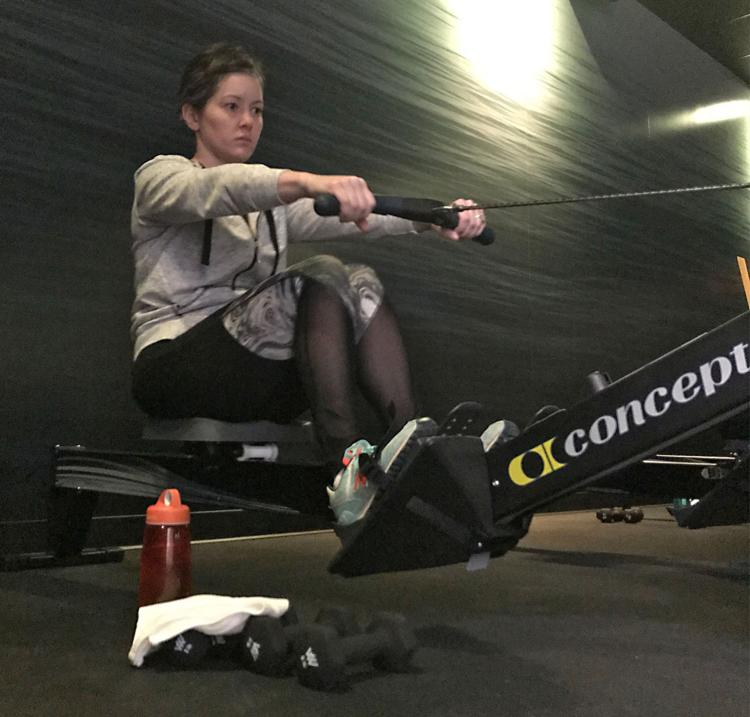 The workout: Row House's one-hour "Launch" class for beginners — a mix of rowing intervals, floor movements and light weights
REVIEW
Newbie factor: 4, but I think this was difficult for me because I'd only used a rowing machine a few times and struggled with the form. There's definitely a method to rowing, and I found myself leaning too far back on the pulls, which didn't fully engage my core. I also tended to forget to push through my heels to engage my legs. Assistant Coach Katie was a big help to correct my posture, but I still have a lot of room for improvement.
Intensity: 3, only because I was focused on getting the rowing movements just right.
Vibes: 5. Smiling instructor Stacy met me before class and showed me how to work the rowing machine. During the workout, she gave positive direction without barking orders. As the workout intensified, the lights turned off nearly completely and the music (acoustic techno) picked up for a cool experience.
Sweat factor: 2. Again, I'm confident this would increase if I further honed my rowing skills.
Next-day soreness: 2, in my quads and arms. 5, on my palms, from gripping the row bar, which caused a few blisters! (I later found out some people wear fingerless gloves for this reason).
Price: $79/four-pack of classes or $119/month for unlimited classes (a soft opening promotion)
Overall experience: 3/5
This workout was pretty challenging for me in finding the correct rowing form. However, the staff was extremely friendly, and I detected a real "we're in this together" vibe as I heard all of our fans whirring in unison.
It was nice to have a few breaks sprinkled in between rowing intervals (for lunges, walkout push-ups and weightlifting) because it seemed to keep the class moving, literally.
The new facility, which opened this week to the public, is small but well-designed (and aptly positioned next to several lunch spots and a Starbucks). The technology — a perk of the franchise — is on point. Row House has a solid mobile app, and I received an email after my workout with my stats.
Apparently I rowed 4,184 meters. Sounds like a good start!
---
4820 E. 61st St., Suite 120